The 2018 furniture upholstery trends are hotter than ever. With un-matched designs, fashion-inspired lines, the return of velvet, neutral weaves, and bold and beautiful prints, you're sure to find a trend to fall in love with. If you have some classic pieces of furniture that you love, but that just need some expert TLC, contact the upholstery, refinishing, and interior design experts at Graham's & Son. We will be happy to come to your home, bring samples to you, listen to your ideas, and help you come up with a plan that make your treasures look new again. Book your free in-home consultation today.

"The service at Graham's was wonderful. They were cheerful and friendly and helpful. Our new chairs are even more beautiful than I had hoped for, with great attention to detail! Thanks Grahams."
– Christy Hipel
Read More Testimonials
Click here to see a gallery of our work
TREND #1: Mix It Up: Mis-Matched Fabrics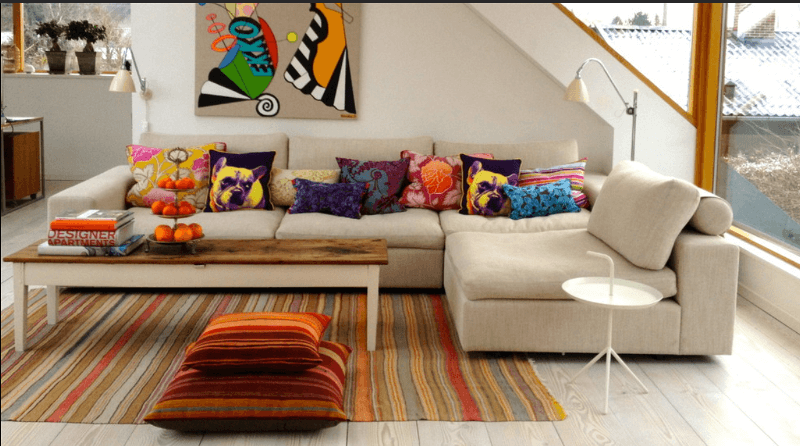 Forget what your mother told you about making sure everything matches. For today's contemporary spaces, the hottest trend is mixing it up, not matching it up; but in a clever way so that it doesn't look like a hot mess. The secret is to pull the whole room together by making sure that your furniture, walls, window treatments, and floor coverings all work together without having a "cookie-cutter" feel to them by combining hues, textures, finishes, and patterns that will give your space the perfect blend of complement and contrast. It's okay to pair up different patterns such as stripes with florals or damasks. Textured weaves or softer prints make the perfect neutral canvas for bold graphics. Try experimenting with using various sizes of a similar print to emphasize scale.
TREND #2: Fashion Runway-Inspired Furniture
The trendiest furniture of 2018 will be pieces inspired by the runways of Paris and Milan. You will see fashion-inspired details such as buttons, tufting, embellishments, and tassels on both furniture upholstery and window treatments alike. Elegant linens and suit-influenced fabrics with sleek, clean lines are very popular. Think of it as tailoring your furniture with neutral, monochromatic colours and hues to give an overall clean and elegant style, but make sure that you don't forget to introduce just enough colour to catch the eye. The overriding palette could be a combination of chic greys or the classic contrasting black and white with pops of colour using cushions or tonal print upholstery.
TREND #3: Let Your Furniture Be Your Canvas
One of the coolest trends this season is the resurgence of bold, vibrant prints. It's larger-than-life drama for your room. Get rid of the notion that less is more because this year more is definitely more. Don't be afraid to let your furniture become a canvas where you can express your passion for art. Whether you prefer modern graphic, travel-inspired batiks and ikats, geometric shapes, or even mid-century graphics, make them come to life on an armchair, sofa, dining room chairs, wallpaper, or flooring. Let your confident style shine through with your choice of upholstery fabrics. Remember, you're the artist, so paint your style all over your room!
Trend #4: Re-invent a Classic Piece With a Stunning Textured Weave



Solids never go out of style for upholstery and this year you'll still see a lot of them, but with a twist – a twist of fabric that is. Textured weaves are hotter than ever and the colour selection is just as exciting. These elegant European-inspired fabrics prove that neutrals are anything but dull. Re-invent a classic piece of furniture with a contemporary and chic new upholstery fabric and watch it come to life again.
Trend #5: Add Some Velvety Smoothness to Your Room
Velvet is so soft and it tends to add a nice warm texture to your interiors, says Angela Nuessle, a designer from Pulte Homes. You're going to see a lot of velvet in statement sofas and club chairs as well as drapes and accent pillows. Let's face it, who doesn't enjoy running their hands over the rich, smooth texture of high-quality velvet? What's even better is that with advances in technology, you don't have to worry about being so delicate with this once, easily-soiled fabric. So go ahead an enjoy the opulence and luxury of velvet. The gorgeous, rose-coloured accent velvet sofa pictured above is courtesy of Apartment Therapy.
Trend #6: Bring a Little Taste of Wildlife Into Your Room With African Inspired Textiles
Watch out for African-inspired fabrics and motifs to grace the trendiest furniture this season. Faux animal prints are very popular, especially when paired with natural wood accents and safari artwork. The look is definitely trend-setting, yet elegant. Don't be afraid to bring a little bit of the wildlife into your decor. It's trendy, it's fun, and it looks fabulous.
To learn more about Re-upholstery, check out our article: Reupholtery? Reupolstery? Reupholstery? We Speak Your Language
Graham's & Son: Come See Us for the Latest in 2018 Furniture Upholstery Trends
Re-upholstering your existing furniture makes sense both from a economical standpoint and an ecological one. It can save you the cost of purchasing new furniture and it will keep your old furniture out of our landfill sites. If you would like to update your treasured pieces of furniture, contact the upholstery experts at Graham's & Son. Graham's & Son has been re-upholstering furniture in Cambridge for more than 40 years. We are locally owned and operated and we can provide you with gorgeous and practical upholstery for any room in your home. We will give you expert advice, quality finished products, and top-notch customer service. Not only do we specialize in upholstery, but also any type of interior design, all types of window treatments (including blinds, shades, and shutters), flooring, and kitchen and bath renovations.

Our customers have been so pleased with the high standard of our work that they selected us for the "Best Business Service – Interior Decorating: Platinum" and "Best Shopping – Kitchen Renovations: Gold" awards in the 2017 Cambridge Times Readers' Choice Competition. Book a free in-home consultation today and find out for yourself why Graham's is the best in the interior design business. Contact us today to schedule a free in-home consultation. If you prefer, you can shop at home. Browse through our website, make your choice and simply give us a call at 519-658-9025 to place your order without ever having to leave the comfort of your own living room.