Blinds vs shutters vs shades: which should you choose for your windows? The answer depends on a number of factors. If you are on a tight budget then shades may be the best option for you. If the price isn't a concern and you would like to add value to your home and achieve a real "wow" factor, then you may want to invest in shutters. Maybe you fall somewhere in between – blinds can be beautiful as well as affordable. Having a tough time deciding? Let the window treatment experts at Graham's & Son help you out. Contact us today for a free, in-home consultation.
Blinds vs Shutters vs Shades: Comparison Chart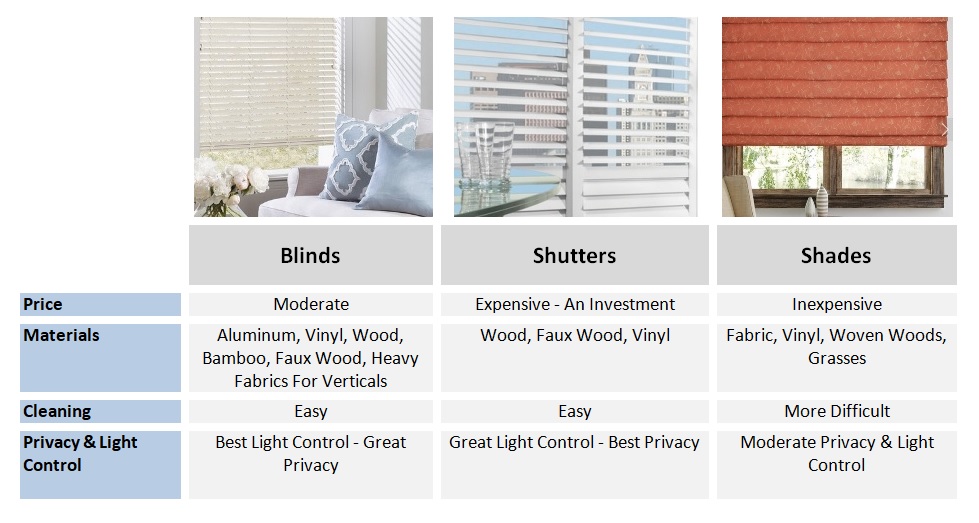 "Let me start by saying, I love my window treatments! Mr. Graham was very professional, easy to talk to; he talked with me, not above me, I was at complete ease. He listened to my thoughts, went through my options, and just like that – decision made. The installation crew was quite professional, friendly, and efficient. They were in and out in no time, with cleaning up after themselves, and ensuring that I was satisfied with what was done. I would highly recommend Graham's and Son Interiors to anyone, and I look forward to working with them again!"
-Anne Allen
Read More Testimonials
Blinds vs Shutters vs Shades – What's the Difference?
You may be familiar with the terms, but not exactly sure about the differences between blinds, shutters, and shades. Here is a brief definition of each one to help you out.
Blinds:
Blinds are window coverings that have horizontal or vertical slats which can be drawn out of the way. The slats usually can be adjusted to allow for different amounts of light.
Shutters:
Shutters can be either a solid or slatted window covering. The slats on shutters are called louvres. They can be opened and closed to allow varying levels of light.
Shades:
A shade is a solid sheet of cloth or paper that covers a window; it usually is attached to a spring roller which allows it to be raised or lowered over the window.
Price
Blinds:
Blinds usually fall in between shutters and shades for price. They can, however, range quite a bit in their cost, depending on the material and style that you choose. For example, wooden blinds will cost significantly more than vinyl ones.
Shutters:
Shutters are your highest priced window treatment. However, they are also the only type of window treatment that can actually be included in an appraisal of your home, therefore, they are an investment, not simply a purchase.
Shades:
Shades are usually your least expensive option of the three, however, you can purchase higher quality shades which look amazing even though they are relatively inexpensive.
Materials
Blinds:
Blinds are available in a wide variety of materials. The least expensive ones are made from aluminum and vinyl. The most expensive are made from real wood. They can also come in bamboo or faux wood to give you the look of real wood at a lesser cost. Vertical blinds are often made from stiffer fabrics.
Shutters:
The most common and expensive type of shutters are made from real wood. You can, however, also get them in faux wood or vinyl. The higher quality vinyl options can look very close to real wood.
Shades:
Unlike blinds and shutters which are "hard" window coverings, shades are considered "soft" window coverings. They are usually made from fabric, vinyl, woven woods or grasses.
Cleaning
Blinds:
Blinds are relatively easy to clean and maintain. You can simply dust them with a soft cloth or duster. If they require further cleaning you can use a soft cloth with a wood friendly product for wooden blinds or mild soap and water for vinyl or aluminum ones. The following video demonstrates how easy it is to clean your blinds, whether they are horizontal or vertical.
Shutters:
Shutters can be maintained in the same manner as blinds by simply dusting the louvres and using the appropriate type of cleanser with a soft cloth for removing stains. The following video demonstrates how easy it is to clean your shutters.
Shades:
Shades are a bit more difficult to clean. You can spot clean them as needed, or some fabrics can be removed and cleaned in your bathtub using a mild soap and water. Always check your manufacturer's specific instructions for cleaning and care tips. The following video demonstrates how to clean Honeycomb or Cellular shades from Hunter Douglas.
Privacy and Light Control
Blinds: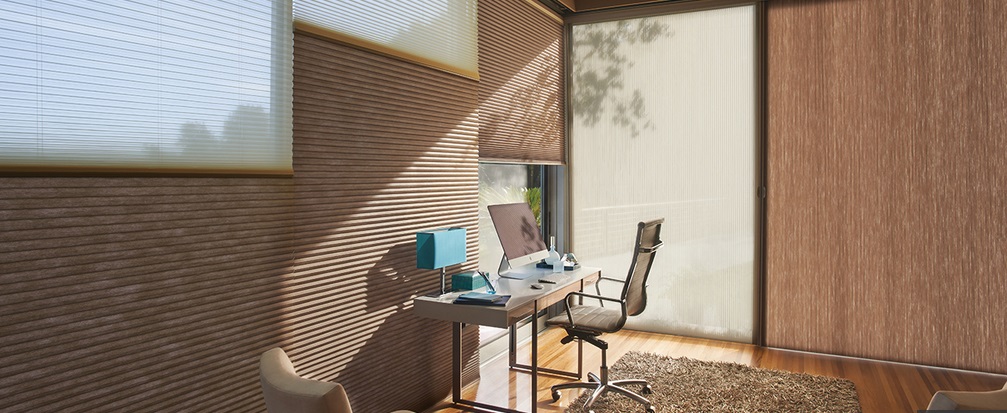 Blinds provide the widest range of privacy and light control options due to the fact that they can be raised or lowered as well as having the slats tilted open or closed. Purchasing blinds that raise and lower from either the top or the bottom can give you even more lighting and privacy options.
Shutters:
Shutters give you the best privacy options and when fully closed can darken a room the most as well. The slats can also be tilted open and closed to give you varying levels of lighting, and if you choose the styles that swing or slide open, you can achieve full lighting similar to when a blind is fully raised.
Shades:
Shades offer the least amount of privacy and room darkening ability, however, if you choose a darker and heavier material, you can achieve more privacy and light blockage. They also allow more room brightening when they are fully opened, and if you want to take advantage of the light, you can choose a sheer fabric that will filter but not block the light.
Installing Blinds, Shutters, and Shades
The following video will give you a sense of what is involved in installing blinds yourself. If you would prefer a more professional look or you don't have the time or expertise to do it yourself, get a professional installer to do it for you.
Where To Purchase Blinds, Shutters, and Shades
Whether you decide on blinds, shades, or shutters, Graham's & Son offers you the widest selection of custom-made, high-quality window treatments available. Contact us today to book your free in-home consultation. We'll come right to your home, measure your windows and give you a quote on the spot. Right now when you purchase any 2 shutters, blinds, or shades you will receive 1 more free of charge.