Eyebrow Shutters Kitchener: While reading this title, you may be raising an eyebrow and asking yourself, "Eyebrow Shutters Kitchener?"  Well, eyebrow shutters cover windows with an arched design similar to the arch of your eyebrow. Windows of this eyebrow shape are difficult to treat because of their unique shape, but Graham's and Son has over 45 years of experience and can help you fit shutters of this type to your windows in Kitchener.  Here are some examples of eyebrow shutters for your home. 
Here are four ideas for your Eyebrow Shutters Kitchener:
1. Eyebrow Shutters: Hybrid
Hunter Douglas offers NewStyle® Hybrid Shutters which are made from a combination of real wood and man-made materials that are more resilient.  
The shutters are coated with polypropylene and their panels are held together through Truemill® dovetail construction. Finetech® and UltraGrain™ Finishes replicate the look of solid wood. 
Click Here to see a selection of the colours and finishes available to you for your Kitchener eyebrow shutters. The shutters in the first picture have been finished in swiss cream and the shutters in the second picture have been finished in crisp white. 
Pictures: NEWSTYLE® HYBRID SHUTTERS by Hunter Douglas
2. Eyebrow Shutters Kitchener: Wood
Here is an example of Wood Eyebrow Shutters by Maxxmar.  Wood Shutters are beneficial because they provide insulation to keep your home energy-efficient and are easy to keep clean with a quick dusting.  
Maxxmar offers Tilia Wood Shutters and Cashmere Wood Shutters. Made in Canada, these Wood Shutters are made from superior grade North American Hardwood, Kiln dried for durability and strength, and available in a variety of finishes and stains.
Maxxmar also offers shutters made in Polysilk which are designed to withstand harsh UV rays.
Click Here for more examples of Maxxmar Shutters available to you from Graham's for your Kitchener eyebrow shutters.
Picture: Maxxmar Wood Shutters 
3. Eyebrow Shutters: Painted Wood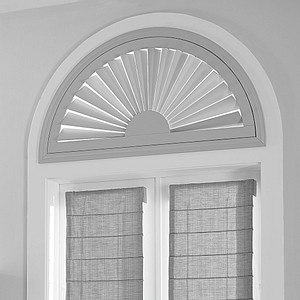 Here is an example of eyebrow shutters designed in a sunburst. This Graber design consists of painted wood louvres covering the eyebrow.  
Graber uses North American wood that has been processed in Michigan using a 3-step wood-drying process which provides the shutters with straight edges.  
Graber uses stains or environmentally-friendly water-based paint to coordinate the color of your shutters with the décor of your home. 
Graham's works with Graber to find you your Kitchener eyebrow shutters.
Picture: Graber Wood Sunburst Arches
4. Eyebrow Shutters: Vinyl Eyebrow
Eyebrow Shutters can also come in vinyl.  The video to the left shows PALM BEACH™ Polysatin™ Shutters by Hunter Douglas, another supplier that Graham's works with to provide you with Kitchener eyebrow shutters.  
This vinyl material is UV-resistant Polysatin™ which is ideal for hot and/or humid climates.  It is water-resistant and built to resist warping, cracking, fading, chipping, peeling or discolouring.  
Click Here for more information about Hunter Douglas's Palm Beach Shutters which can be fitted for eyebrow arches.
Contact Graham's & Son to set up a consultation to prepare your eyebrow shutters in Kitchener.  Don't forget that Graham's is offering a Buy 2, Get 1 for free right now! 
Testimonial:
"We needed something (shutters) custom and unusual for our window, we called a few places with no luck, found Graham's and Son Interiors. They worked with us and we got exactly what we hoped for. Great customer service. We would definitely go back and recommend to our friends and family."
– Debbie Wurm