This article will look at the variety of hardwood shutters Kitchener has made available to you through Graham's and Son.  With over 45 years of experience, Graham's can help you select the perfect hardwood shutters for your home in Kitchener.  We'll take a closer look at hardwood shutters including their advantages, the styles available, and examples from top suppliers.  Let's get started.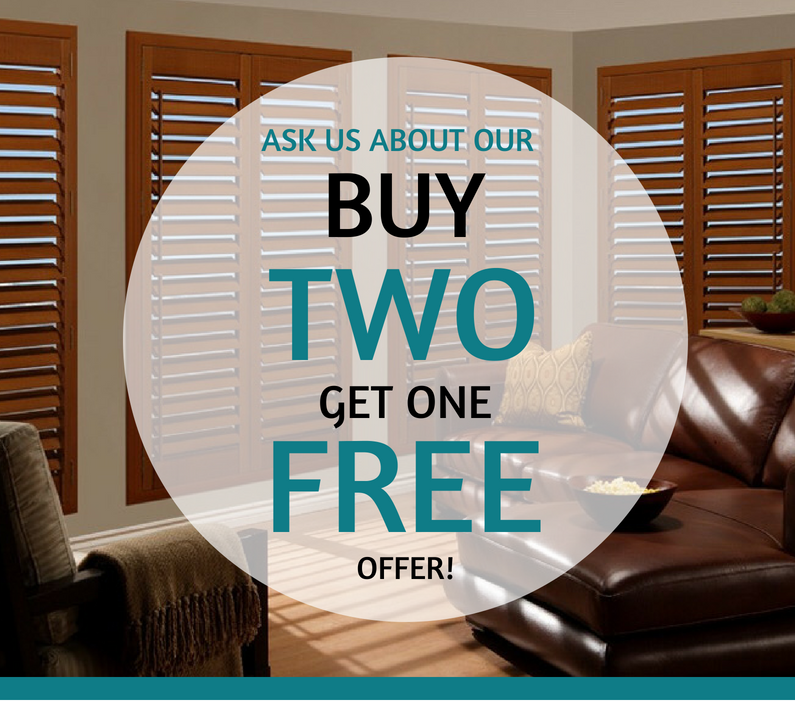 When you purchase any two of our shutters, you will receive a third one free of charge.
Advantages of Hardwood Shutters Kitchener
Graham's hardwood shutters Kitchener are ideal because they are:
energy efficient 
environmentally friendly
strong & durable; and 
finished with superior quality
Read more details about wood shutters on our shutters page.
Hardwood shutters Kitchener come in a variety of styles including:
Standard Panel Style  
Café Style
Bypass Track Systems 
Double-Hung Shutters 
Arch or Angle Top Panels
Sunburst Arches
Hardwood shutters Kitchener come with the following louver sizes:
2½" Louver – a traditional style for smaller windows and café styles
3½" Louver – a popular style with visibility and light control options that are versatile
4½" Louver – wide louvers with great visibility to the outdoors and fitting for larger windows.
Graber Hardwood Shutters Kitchener
Graber is one of Graham's top suppliers and they provide 100% North American hardwood for your hardwood shutters Kitchener with a lifetime warranty. Read more about Graber Shutters. 
Hunter Douglas Wood Shutters Kitchener
Hunter Douglas is another top supplier that Graham's works with. They provide wood shutters in custom colors, specialty shapes, genuine hardwoods or composites, and multiple louver sizes. Read more about Hunter Douglas Shutters.
Maxxmar Wood Shutters Kitchener
Made in Canada, Maxxmar supplies Graham's with shutters made from North American hardwood. These shutters come in a variety of finishes and stains as well as 3 different louver sizes. Read more about Maxxmar Shutters.
Whether you want 100% North American Hardwood or a hybrid material of wood and man-made materials, hardwood shutters Kitchener enhance the value of your home and increase it's energy efficiency. Contact Graham's and Son to custom fit wood shutters of any style or material to your liking. Since 1975, Graham's and Son has offered high quality window treatments to customers in the Kitchener region. 
Merv and I just wanted to thank Wayne for his advice and expertise. We are so glad that we decided to go ahead and put the California Shutters on both levels. What an amazing difference and feel to our new home. The installer did a fantastic job, very professional and informative. What a great decision to choose Graham's & Son Interiors! – Merv and Colleen Young