Looking for inspiration for Interior shutters Kitchener? With 45 years of experience, Graham's and Son will help you select shutters that suit your style, home, and budget. 
With their current Buy 2, Get 1 Free promotion on Interior Shutters Kitchener, Graham's is your go-to designer! Let's look at why interior shutters are a good choice for your home and explore some of the beautiful options out there.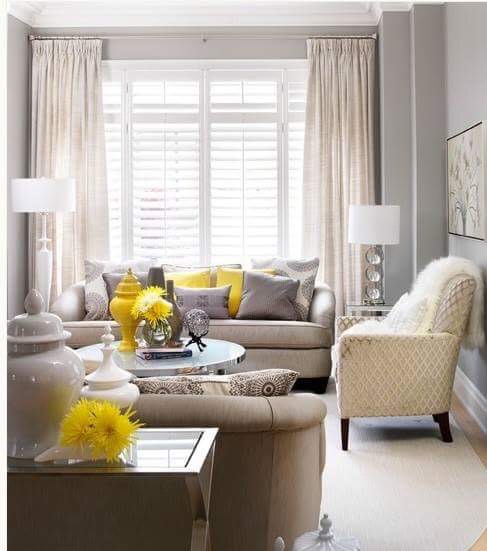 Here is an example of how Graham's has used interior shutters to decorate this living room, even adding drapery as an extra layer.
Why Choose Interior Shutters Kitchener?
While there are many advantages to installing interior shutters, let's look at the top 5 reasons.
You can precisely set the amount of light you want to shine through your window into your room
You can adjust the shutters for your desired level of privacy
Interior shutters are good insulators during warm and cold temperatures
Interior shutters allow air to flow in and out while still providing privacy and/or shade.
Interior shutters are versatile and can suit a wide range of interior designs
Still not convinced?  Read more about interior shutters in this article, "Remodeling 101: Interior Shutters", written by Janet Hall who was once opposed to all window coverings but now believes interior shutters are for her!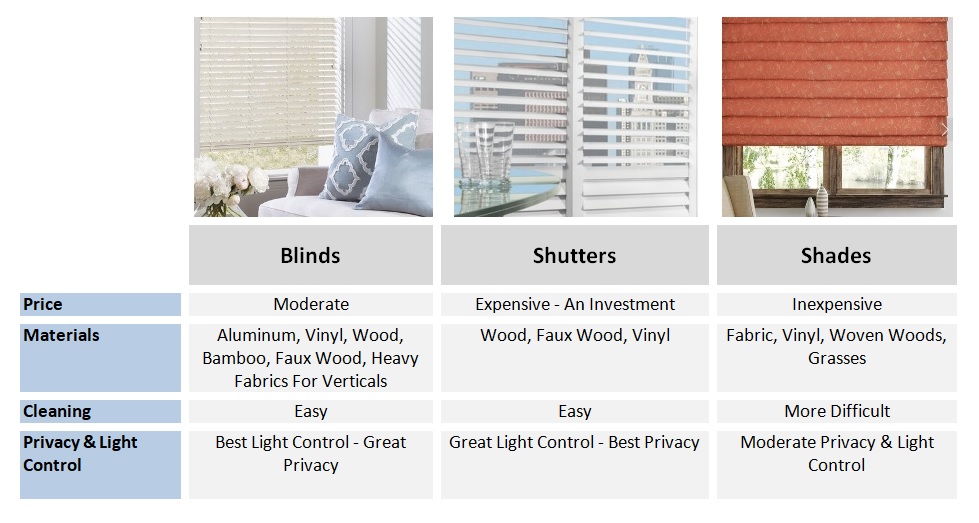 Consider this chart when comparing the options out there for window coverings.
Options for Interior Shutters Kitchener
Interior Shutters for Living Areas
California or Plantation Shutters generally look great in open spaces such as living rooms.  On the left, the shutters open to provide access to the sliding doors.  On the right, the shutters have been cut to suit these specialty-shaped windows.
Interior Shutters for Kitchens & Dining Areas
On the left, you see white café style shutters in the kitchen which offer semi-privacy and more natural light. On the right, you see dark colored hybrid shutters in the dining room, these add formality. 
Interior Shutters for Bedrooms
Shutters are a great choice for bedrooms since you can adjust the lighting for sleeping or studying.
Interior Shutters for Bathrooms
Shutters are also a great idea for bathrooms since you can let in some natural light and still maintain your privacy.
There are so many great possibilities for your interior shutters Kitchener, and Graham's partners with all of the suppliers you just read about so that you get the design you want! 
Graham's & Son has the knowledge, expertise and experience to help you make great decisions for your home's interior design. Contact Graham's & Son for a free at home consultation! And remember to take advantage of their promotion: Buy 2, Get 1 Free! Interior shutters Kitchener.
Merv and I just wanted to thank Wayne for his advice and expertise. We are so glad that we decided to go ahead and put the California Shutters on both levels. What an amazing difference and feel to our new home. The installer did a fantastic job, very professional and informative. What a great decision to choose Graham's & Son Interiors! – Merv and Colleen Young

The quality of communication, professionalism, installation and product is fantastic. We couldn't be happier with our new shutters. – Nicole Ensell