Today, we'll take a look at how you can choose the right floor treatment (or treatments) for your home. 
At Graham's & Son Interiors, we have over 40 years of experience in the home decorating and renovating business. We know all about the pros and cons of each type of flooring – because we've been working with it all for decades!
Here, we'll look at hardwood, tile, vinyl, laminate, and wooden floors, outline their pros and cons, and help you decide which type of flooring is right for your home. Let's get started! 
Choosing The Right Floor Treatment For Your Home
If you're renovating a major living space in your home such as finishing a basement, redoing a master bedroom, or remodeling your living room, one of the first things you should think about is picking the right floor treatment. Different types of flooring will change the overall look and feel of your space. 
It may also affect the usability! For example, if you have young children, you may prefer carpeting to help cushion falls as toddlers learn to walk. Or, if you have pets who come in and out of your home, you may be attracted to tile or laminate, as it's super easy to clean. 
Whatever you choose, each type of flooring comes with both pros and cons. Choosing the right one for you is important, because flooring can be a huge hassle to replace down the road, once all your furniture and fixtures are set in place!
Average Cost: $7 - $12 per square foot
Ease Of Maintenance: ★ ★ ☆ ☆ ☆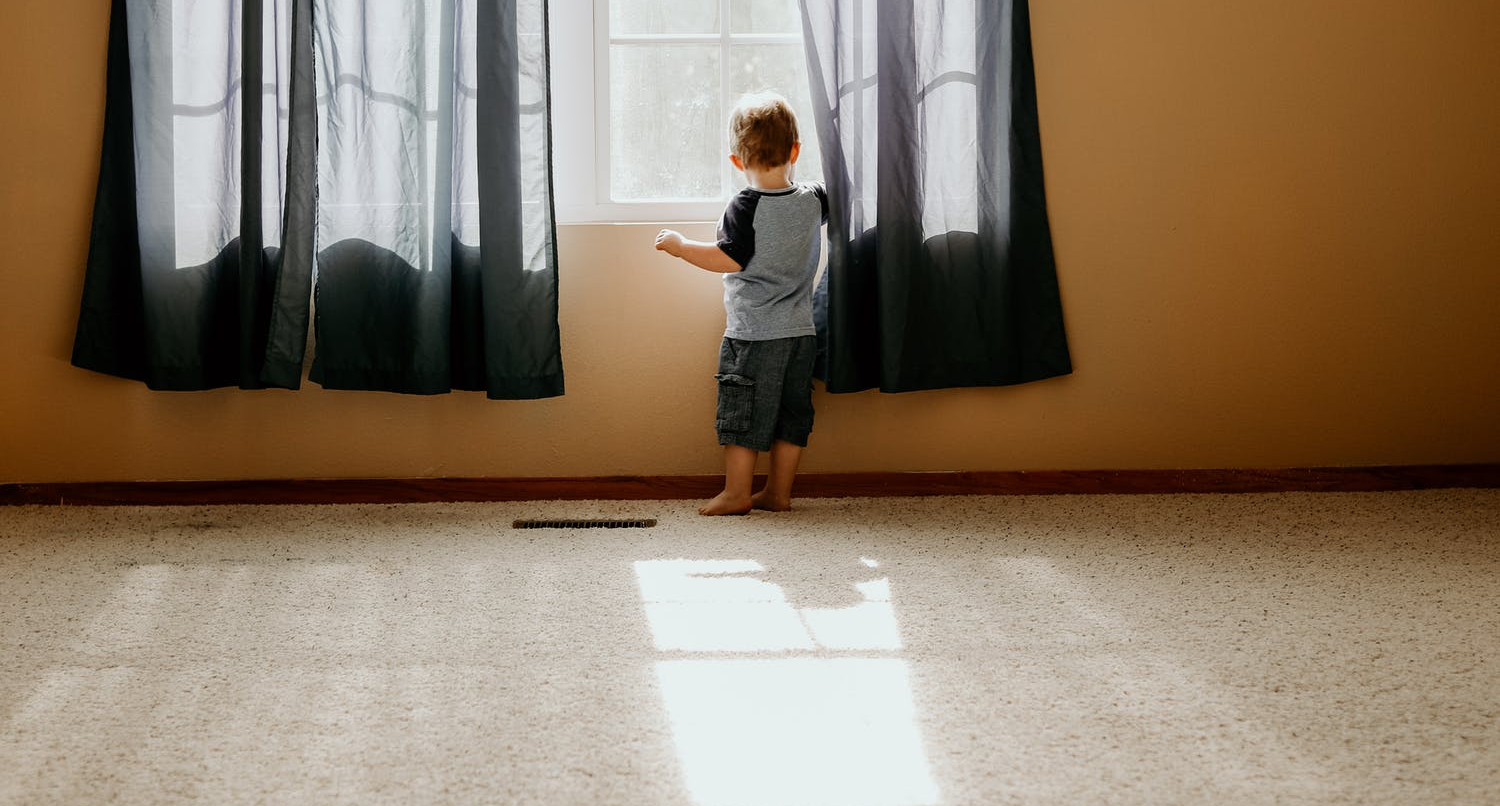 It's likely that you have, or at least had at some point, carpeting in your home. Carpeting was once more popular than hardwood floors, although in the recent years we are seeing a decline in its popularity and a growing trend towards lower-maintenance options. 
Although carpeting may not be as popular as it once was, it is a still an attractive option for homeowners because it is affordable, warm, and easily adds a cozy feel to any room. It's also great for bedrooms – especially kid's rooms – because it can cushion falls and is perfect for little ones to play on. 
Warms up your living space and helps retain heat
Cost-effective and easy to replace
Can muffle sounds 
Ideal for households with children
Many colours, patterns, and textures available 
Can collect dirt and dust more easily than other types of flooring
Not ideal for homeowners with allergies
Stains can be difficult to remove
Carpeting is often not a long-lasting option
If you love the idea of carpeting but don't like the extra maintenance, you may choose to put it in a lower-traffic area of your home or away from outside doors – such as just the bedrooms or basement rec room. If you have pets and love carpeting but do not love paw prints all over it, you can look into pet-resistant carpeting, like this one from Home Depot!
Average Cost: $3 - $18 per square foot (depending on quality)
Ease Of Maintenance: ★ ☆ ☆ ☆ ☆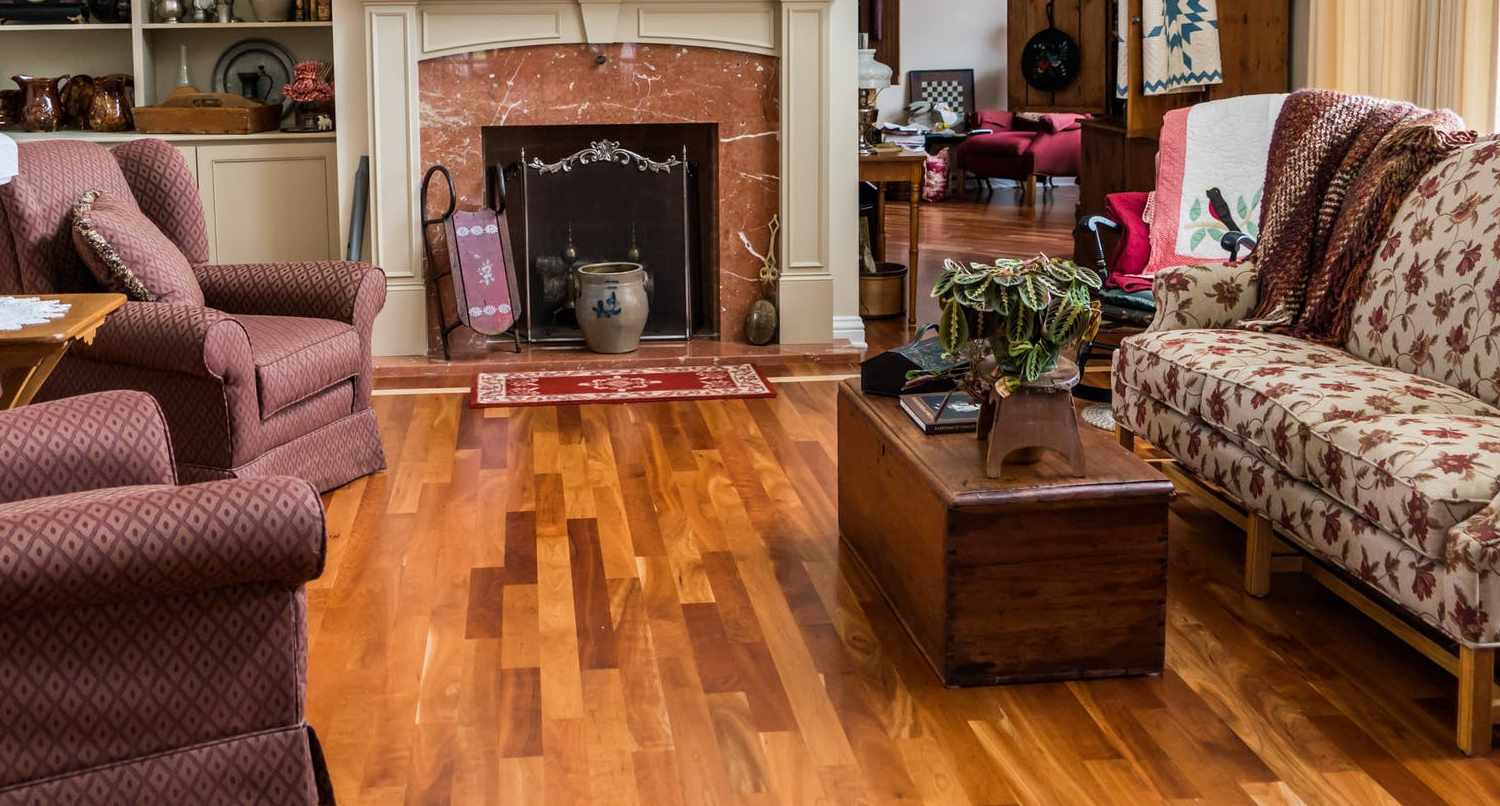 Environmental Impact: Low |  Variety Of Styles: High  |  Lifespan: 10-50 years | Care/Maintenance Required: High
There's no doubt about it – hardwood is a timeless classic, and many homeowners are beyond excited when they discover wooden boards hidden beneath old and dusty carpeting! However, hardwood is one of the most difficult types of floor treatments to maintain. In order to keep it looking great for years to come, it does require a good deal of upkeep. 
Even so, many homeowners don't mind the maintenance when it means they get to enjoy the natural beauty that comes with hardwood flooring. It looks great in nearly any room in the home, it's fairly durable, and can be stained to change its look and feel.
Gives your home a natural look and feel 
Large price range to suit many different budgets
Wide variety of wood types and stains to choose from
Ideal for many different rooms in the house
A timeless look that never goes out of style
Can scratch and damage easily
Requires maintenance to keep in good shape
Can easily get damaged/discoloured by the sun
May not be ideal for households with pets
To get quality hardwood floors, you will need to pay more
One of the biggest benefits of hardwood flooring is that is essentially never goes out of style. Because you can sand it down and re-stain, you can choose update colours and styles as trends come and go. Even if you don't do that, both dark and light woods are almost always "in" – so you won't have to worry about replacing your floor treatment every time a new style pops into fashion.
Average Cost: $2 - $8 per square foot
Ease Of Maintenance: ★ ★ ★ ★ ☆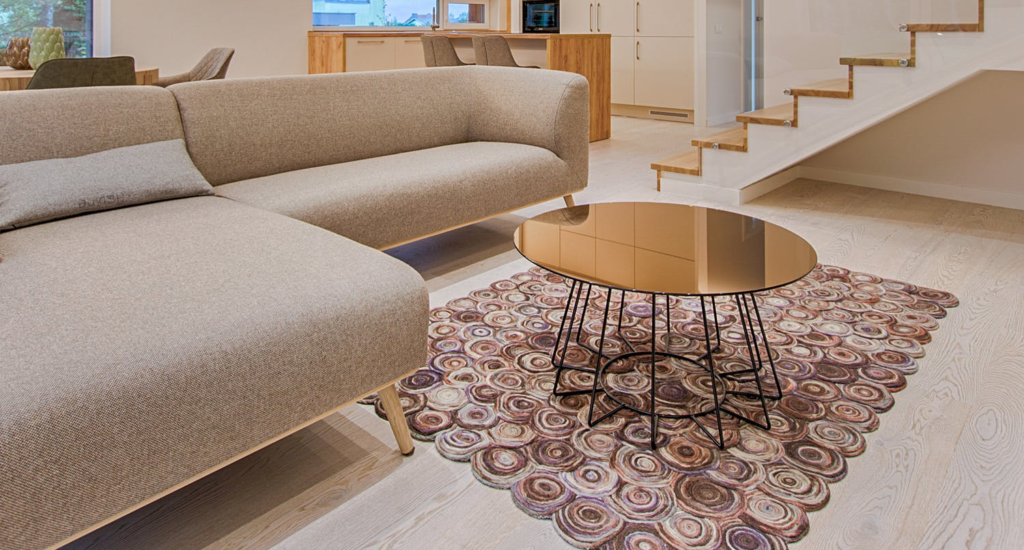 Laminate may have had a bad reputation in the past, but in recent years, it's steadily grown in popularity. Sometimes, it is even preferred over hardwood flooring! High-quality laminate floors are nearly impossible to tell apart from hardwood just by looking at them. This flooring treatment is easy to maintain, easy to clean, and cost-effective. 
However, even quality laminate floors may not have the same durability as their hardwood counterparts. Also, if design trends change, you won't be able to sand down and refinish your laminate floors – you're stuck with them until you fully replace them. 
Cost-effective flooring option
Easily mimics the look of hardwood 
Easy to clean and maintain
Scratch and dent resistant 
Wide selection of options available
Won't provide the 'natural' feel of hardwood
Can bend or warp under certain conditions
May not increase home value like other options will 
Can still be affected by water/spills 
Laminate is an excellent, cost-effective flooring choice. It's important to keep in mind that although high-quality laminate looks very close to hardwood, it definitely does have a different look and feel upon closer inspection. It's a good idea to consider all the pros and cons before choosing any type of flooring.
Average Cost: $2 - $8 per square foot
Ease Of Maintenance: ★ ★ ★ ★ ★

Vinyl tiles are a cost-effective and increasingly popular choice for both kitchens and bathrooms. Vinyl is highly durable and completely water-resistant, which is why it's so popular for these high-moisture areas in the home. Modern vinyl tiles look very much like their ceramic or porcelain counterparts.
Vinyl is also softer to the touch and warmer than tiles such as ceramic. Some homeowners prefer this – it means your feet won't freeze when you walk into the bathroom in the middle of the night! However, if you're looking for the longest-lasting option, vinyl is not the best choice. Also, because of the materials it's made from, it is not the most environmentally-friendly option either. 
Cost-effective flooring option
Very easy to maintain and clean
Warmer and softer to the touch than alternatives
Water-resistant 
Easy to DIY Install
Not environmentally-friendly 
Less durable than ceramic/porcelain tile 
Lower cost tiles may look "cheap" or "fake" 
Vinyl tiles are often selected because they are easy to DIY install. However, if you do choose vinyl, it's still a good idea to consider working with the pros. They'll make sure that your tiles are installed to last, don't pull up, and that there are no gaps between the tiles that could let in moisture between your tiles and floorboards!
Average Cost: $15 - $20 per square foot
Ease Of Maintenance: ★ ★ ★ ★ ★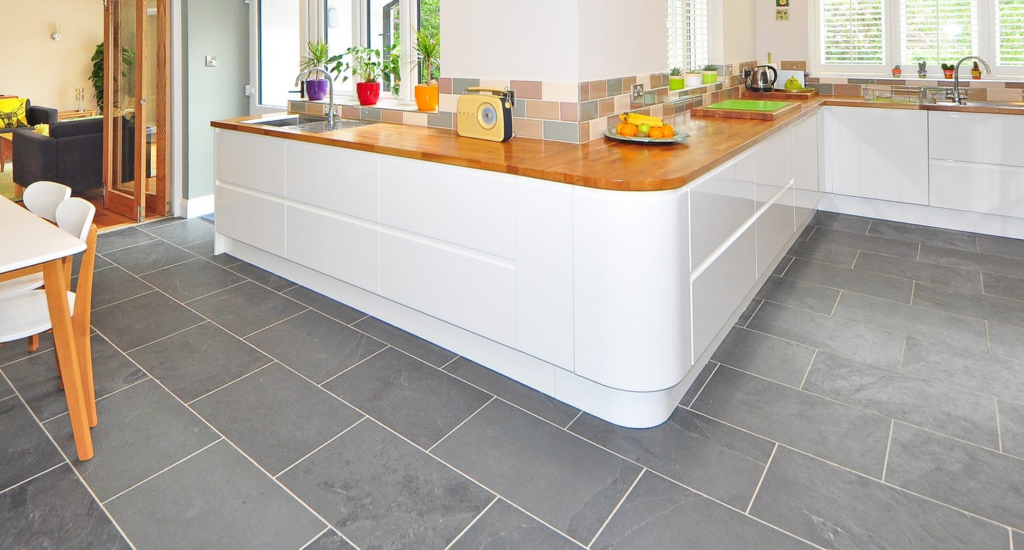 Tile is a timeless and ever-popular choice for kitchens, bathrooms, and other areas in the home. Ceramic and porcelain tile is also one of the more expensive options – however, they are sturdy, so you won't have to replace your high-quality tiles any time soon! 
Generally, tiles range more in price than any other flooring option. For example, according to Home Advisor 2019 cost estimates, ceramic tile can cost anywhere between $0.50 per square foot to $35.00 per square foot! 
Porcelain offers a similar range, from $3.00 per square foot to $35.00. When choosing tiles, it's important to look at all of your options and what styles fall within your budget.
Very easy to clean and maintain
Attractive and offers a 'timeless' look
Many different varieties available 
Durable, ideal for households with pets 
One of the most expensive options
Can be difficult to replace
Can be uncomfortable to stand on – cold and hard
Very difficult to DIY install
If you're looking for a easy to clean and maintain flooring solution, tile is always one of the best choices available. There are so many different types of tiles – they come in a variety of sizes, textures, designs, and colours! You won't have to worry about finding something that matches your style – there really is something for everyone.
Still Not Sure Which Floor Treatment Is Right For You?
If you still aren't quite sure which flooring material is right for you, ask yourself the following questions to help you narrow down your choices.
Do you plan on moving soon? If so, you might want to choose the option that will increase your home's value the most (for example, wood floors offer very high ROI).
Are you sensitive to chemicals? If you are, you may want to avoid flooring such as vinyl, which contains VOCs (volatile organic compounds).
Do you prefer eco-friendly options? Certain types of flooring have higher or lower impacts on the environment. If this is important to you, you may want to choose an option, like laminate, that has very little impact on the environment. 
What room(s) am I renovating? Depending on the room in your home, you may want to choose softer flooring, water-resistant flooring, or flooring that can handle a high-impact space. 
It's important consider all the above as well as your budget, your own style preferences, and how long you want your floors to last.
Need New Flooring? Graham's Can Help!
At Graham's & Son Interiors, we want to ensure you get the flooring that suits your unique needs, family, and home. We consult free at your home on your designs to ensure that the products you specify are the best for your requirements. Working beside you, we create the perfect floor treatments for every room! We offer a variety of floor treatments, including: 
Carpeting – We carry a wide selection of styles and will expertly install your new carpeting
Laminate – We offer beautiful, durable laminate flooring for any room in your home
Solid & Engineered Wood – We carry hardwood, laminate, and engineered wood to suit your unique needs
Tile – We design with you, create and install gorgeous tile to enhance your floors and home
Vinyl – We offer Sheet and Tile Vinyl in an assortment of colours and styles
If you still need help determining what type of floor treatment is right for you and your home, don't hesitate to contact the professionals at Graham's & Son Interiors. We have over 40 years of experience helping homeowners get the home they have always dreamed of!
Graham's & Son Interiors - Your Flooring Experts!
If you're looking for high-quality, professional interior decorating and flooring treatment services in Cambridge, Waterloo, Kitchener, or the surrounding areas, you can rely on Graham's & Son's 40+ years of experience to help you get the perfect home update. 
All of our projects start with a FREE, no-obligation, in-home consultation, so we can hear all about your plans and dreams. We can help advice you on what styles, materials, fixtures, and furniture will be best for your unique home, your wants and needs, and your budget.
We also offer window treatment services, reupholstering and refinishing, full kitchen and bathroom renovations, and so much more! Let's get started today!

Graham's & Son is looking for a full-time Window Treatment Installer and an Interior Decorator, and we would love for you to join our team! We operate out of Cambridge and are looking for someone who knows the Tri-Cities area well. Training will be provided – some experience required. If you think this may be the perfect job for you, see job requirements and overview by clicking here to learn more about the installer position, or here to learn more about the decorator position
"Merv and I just wanted to thank Wayne for his advice and expertise. We are so glad that we decided to go ahead and put the California Shutters on both levels. What an amazing difference and feel to our new home. The installer did a fantastic job, very professional and informative. What a great decision to choose Graham's & Son Interiors!"