Today, we'll take a look at everything you need to know in order to hire the best interior renovation contractor Kitchener has to offer!
At Graham's & Son Interiors, we've been helping homeowners in the Kitchener-Waterloo area get the homes of their dreams for over 40 years – and we are happy to share what we've learned with you! 
In this article, we'll go over some of the most important things to look for to ensure you'll work with the right company to get your unique project completed. Let's dive right in!
Hiring an Interior Renovation Contractor Kitchener - What You Need To Know
Choosing the right interior renovation contractor for your home is important – a renovation is often a big investment! As a homeowner, you will want to ensure that you get the most from your budget. 
You'll also want to ensure the process goes as smoothly as possible, since hitting many bumps along the way can delay your renovation progress and mean you have to live in a construction zone for longer than you planned!
In order to help you find the best interior renovation contractor Kitchener has to offer, we've compiled a list of tips and things to look out for to ensure you only work with the best. 
Remember, looking for online reviews (make sure they're real)  is one great way to find out some of this information, but that's only a start. Keep in mind that you should speak to your potential contractors in person or over the phone to find out as much information as you can before you sign any contracts.
1. Learn About Years of Experience & Previous Work
When you have a list of potential local contractors, the first thing you will want to find out about each is how many years of experience they have. Of course, a newer company might be great, but a company that's been around for decades will be more reliably great – a small business can't survive that many years unless they're doing something right!
You will also want to know if they have experience completing the type of renovation you are planning. For example, let's say you're planning a kitchen renovation. If your potential contractors have been in business for 50 years but have worked almost exclusively on bathroom renovations, it might be better to go with the company that has been around for 15 years but specializes in kitchen renovations. 
To see what kind of work they've completed in the past, ask to see a portfolio. They may also have a gallery or digital portfolio on their website, but those are typically limited as it can take up a lot of space to host so many high-quality photos! You'll want to see as much as possible, so when you meet in-person, ask to see a physical portfolio as well.
If you're about to complete a very large project, it might be a good idea to ask to see previous projects in person! A picture can't compare to the real deal. This is one of the benefits of choosing a local contractor. Many of their projects will probably be within close driving distance to your own house, so you can take a look without any inconvenience.
2. Ask About Licensing and Insurance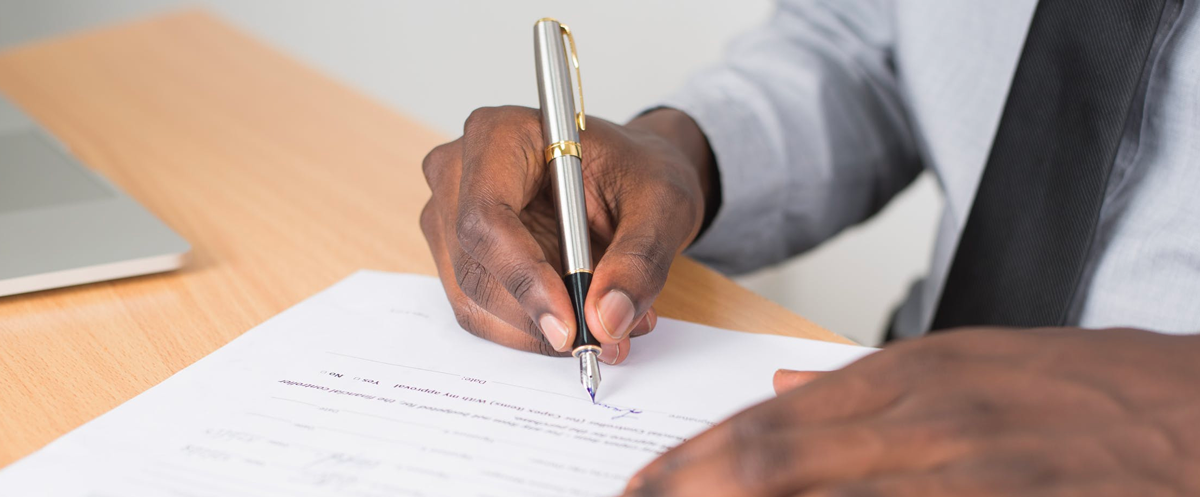 Your contractor should have no problem providing licensing information
Before you move forward with any contractor, always ask to see proof of licensing and insurance. Claims that they are insured on their website are not good enough – you need to see the real certifications to cover your bases. 
From Angie's List, one contractor says this: "I'll always provide licensing for myself and my subcontractors," Judd says. "I'm not allowed to have anyone step on the property without a certificate of insurance." 
Ensuring your contractors are properly insured and licensed can protect you from a host of serious legal and financial troubles. In many places, it is not legal for contractors to work without licensing and insurance.  
Insurance helps protect both homeowners and contractors. For example, it makes sure that if something were to get damaged in your home during the renovation, that is covered. 
If a contractor doesn't have the proper licensing and insurance or can't provide proof easily to you, that is a huge red flag – and you should work with someone else instead.
3. Ask About Sub-Contractors
Depending on the complexity of your interior renovation, your renovation contractors may not be able to do every single task you have planned out. For example, if you are planning a full kitchen renovation project, your contractors may sub-contract another contractor to deal with the plumbing and then use a second sub-contractor to complete your custom cabinetry. 
There is nothing wrong with sub-contractors, and in many cases, it is good to have different companies who specialize in each individual area of your project. However, you will need to know who is going to be completing the sub-contract work, and why your main contractors chose to work with them. 
Once again, you will also need to ensure that any sub-contractors working on your renovation project are properly insured and licensed. On top of that, you will want to make sure that each sub-contractor has a "lien release." A lien release makes sure that the homeowner is protected from financial issues if the initial contractor fails to pay the sub-contractor. 
Although sub-contractors are often a part of larger projects, it's important to keep in mind that a professional, experienced company won't need a great deal of sub-contractors for a smaller job. If you think the company is out-sourcing too much of the work to other companies and you aren't comfortable with that, you can look for other companies who are able to complete more of the work themselves.
4. Find Out If Building Permits Are Required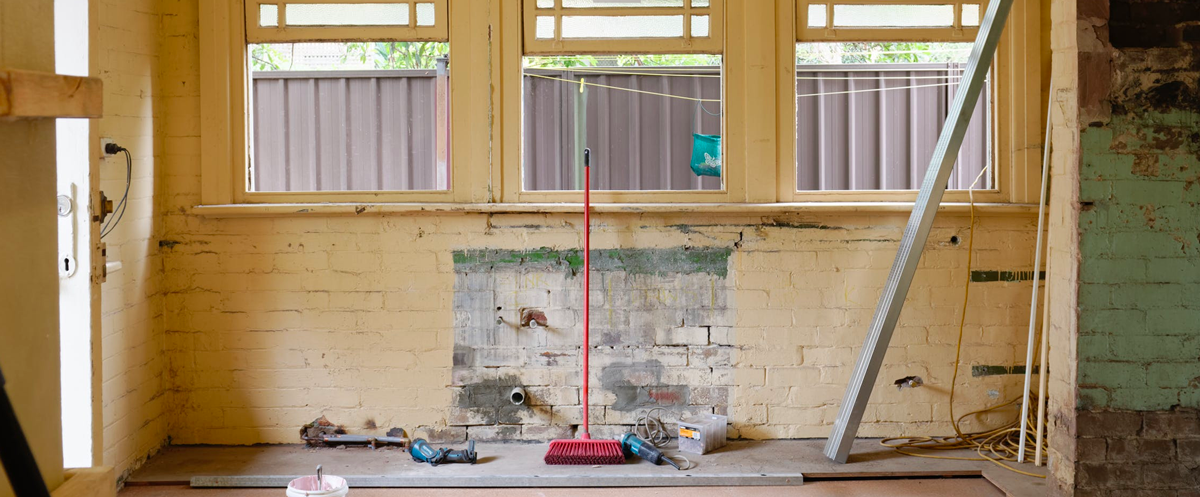 Building permits aren't just for exterior renovations - you may need one for your interior project
When planning your renovation, it's often recommended that you work with someone who lives in or is at least familiar with the area you live in so that they know about local building permits and fees. For example, in Kitchener, there are many interior renovation projects that require a building permit – that's right, building permits are not just for outdoor projects!
For example, some projects that require a building permit include:
Finishing your basement
Adding a bedroom to your basement
Adding/relocating plumbing fixtures
Adding windows or doors
Re-insulating (including walls, ceilings, floors)
Adding a wood-burning stove or fireplace
Removing a load-bearing wall, column, lintel, or beam
A professional contractor will know your area and already be able to tell you if a building permit is required for the work you want to complete. As well, many experienced contractors have will have no trouble obtaining the permits themselves, so you have peace of mind right from the start.
5. Determine The Timeline
It may come as no surprise that unexpected things can come up during any renovation, both big and small. Even the most experienced contractors won't be able to give you an exact deadline, since they won't know how long the job will take until they begin – and even then, there could be issues (such as mould under floors or behind walls) that delay the process.
With all that said, it's still important to get a general timeline. Living in a constant unknown is going to be stressful, and as a homeowner, you are going to want to have full access to your home as soon as possible! 
You should ask your potential contractor what their timeline estimate is. Square One Insurance suggests that you "Ask for a schedule that outlines not only the completion date, but also various milestones. This provides measurable goals to ensure that your project stays on track."
If a contractor can't give you any timeline, or makes hard and fast promises right away before learning adequate information about your project, both of those responses should be seen as a potential red flag. 
6. Set Expectations Ahead of Time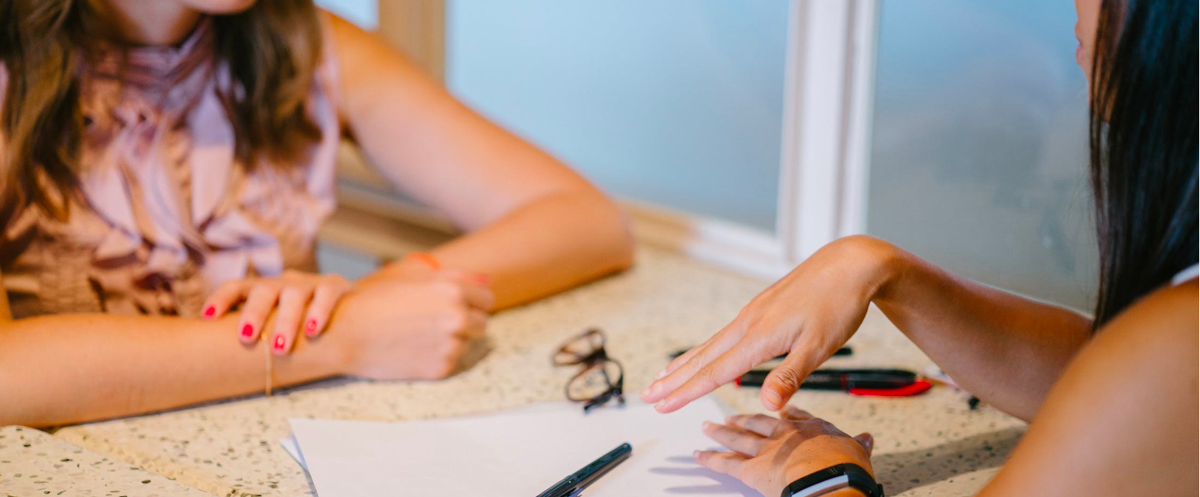 Meet with your contractor to ask questions and set expectations ahead of time
Once you have narrowed down your list to only one or two contractors, you should ensure that all expectations are set ahead of time. It is important to do this before you sign any contract. This will save both you and your contractor from the frustration of unspoken expectations. 
There are a number of "small" things you should determine before hiring your renovation contractors. These seemingly small things can quickly add up, so make sure that you ask your renovators all these questions (and any others you can think of) before you hire them:
Who Does The Clean-Up: Will your contractors take care of clean-up, or is that on you? Do they work with a sub-contractor to clean along the way? It's almost important to figure out exactly what "clean" means (does it mean a quick sweep of dust and debris, or a thorough, deep clean of the entire room?
What Happens If Something Unexpected Pops Up: Are small, unexpected problems assumed to occur, or will a new problem end up costing you a lot more than you were planning? Unexpected problems almost always occur, so you need to know ahead of time what you are responsible for and what your contractor is responsible for.
How Do We Stay In Touch: Does your contractor quickly reply to emails? Or are you going to be able to call or text whenever you want? Maybe you can only reach them during business hours. Whatever the deal is, you will need to know beforehand so you don't feel frustrated or stressed out when communication expectations aren't met.
Unspoken expectations can create a great deal of stress – stress that could be avoided if some of these nitty-gritty details were discussed ahead of time. Never feel like you're "asking too many questions!" It's your home and your money, and you have the right to know exactly how that will be used. 
7. Thoroughly Read Your Contract
We live in a world where we all "read" the terms and conditions. However, when it comes to your renovation contract, it's important to truly, thoroughly read it. A professional contractor will do their best to explain everything ahead of time, so there are no surprises in the contact. 
However, miscommunications do happen, so you will want to read your contract over a few times just to make sure that everything is clear and numbers add up to the estimates you agreed on verbally. Remember, timelines and costs are usually never set in stone because contractors always expect the unexpected.
From Angie's list, one contractor named Jack Cherco comments on this: "Cherco says he places strong emphasis on contracts, but each project requires flexibility for unforeseen circumstances. "I put together a contract that protects myself and the homeowner and includes items such as a timeline, details of the project and payment structure. But it's never definitive."
It's okay to take your time to read through your contract and talk it over with your spouse or family members. If a contractor makes you feel rushed or provides a poorly written contract, you probably want to consider working with someone else.
At Graham's & Son interiors, we have over 40 years experience in the interior renovations and decorating industry. That's why we're able to provide the best interior renovation contracting services Kitchener has to offer.
We are a locally owned and operated business – so we know the Kitchener area well! Because of that, we are able to offer you options based on our knowledge of the area (for example, the best window treatments for our unique climate!) As well, we know the most-desired options in the area and can suggest the best materials to use in your renovation to help increase resale value in the Kitchener-Waterloo region.
When you choose to work with Graham's & Son Interiors, you are choosing to work with a company that truly cares about their customers. We recognize that our customers are the reason that we have been in business for more than four decades. We do our utmost to ensure our customers feel comfortable and confident throughout the entire renovation process. When you work with us, you can also expect:
Free in-home no-obligation consultations to discuss plans, options, and budget 
Interior design and plan drawings
Reupholstering 
Flooring services including hardwood floors, vinyl, and tile 
Custom window treatments 
Review of styles, materials, and options 
Clean-up after project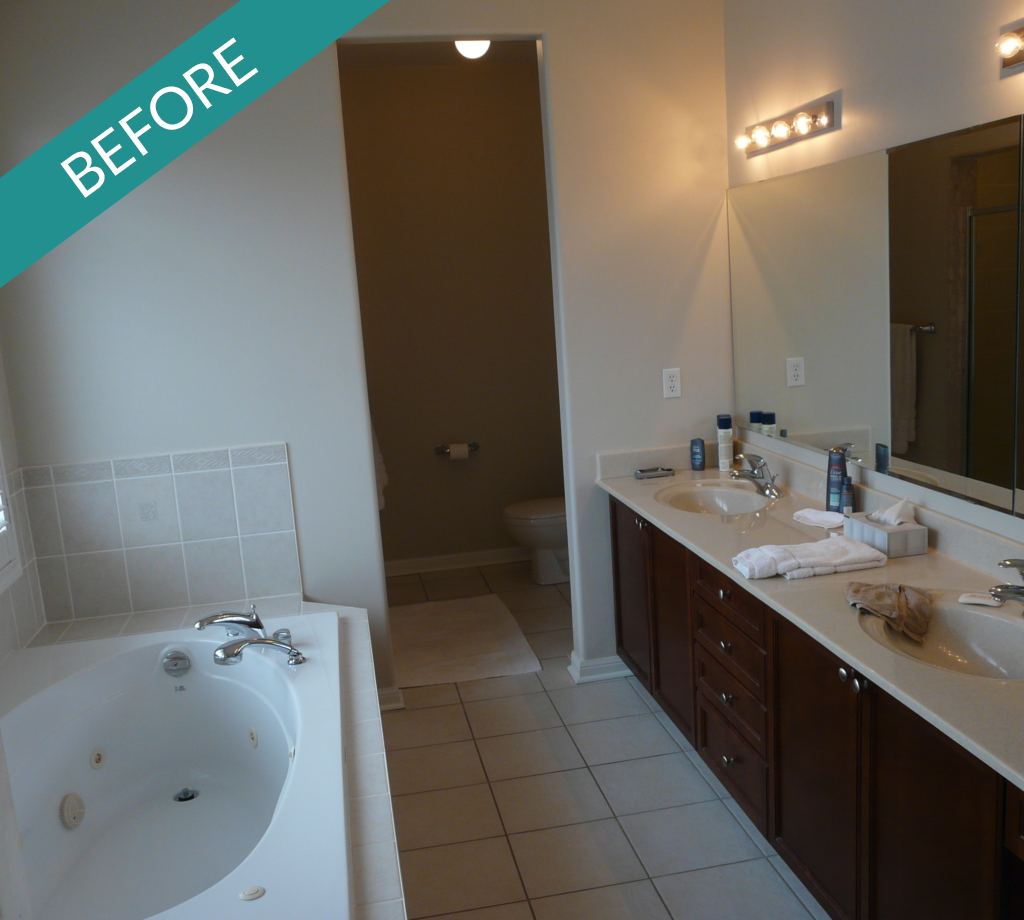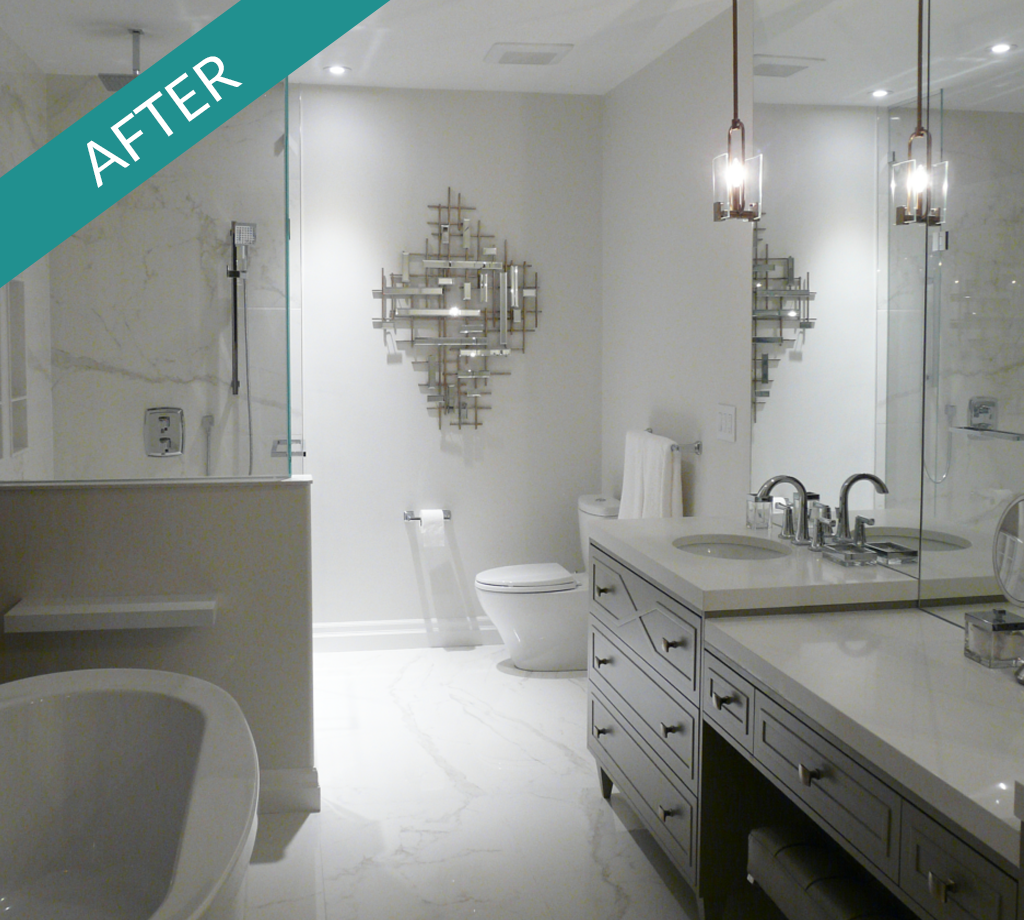 "We really loved the variety of flooring they had for us to choose from. Also Mr. Graham [was] very knowledgeable and professional. The installer was absolutely fabulous. He went above and beyond."
Renovating your kitchen, bathroom or other area of your home doesn't have to be scary or stressful. We understand that this process may feel overwhelming, but with Graham's & Son, you can feel peace of mind that we are here to help you from beginning to end.
We know that every person has an individual style (and budget) in mind. Whether your style is modern, rustic, contemporary, or something in between, we are ready to work with you to ensure you get the home you have always dreamed of!