Choosing a renovation contractor can be a daunting task. A renovation is a large investment, so you want to be sure that you hire a company that is going to do the best job possible at a reasonable rate. To help you find renovation contractors in Cambridge, Ontario, we've put together a listing of the best review sites where you can search for a contractor or, if you have already hired one, check out their reviews. If you are planning on beginning a renovation soon, talk to the interior design and renovation specialists at Graham's & Son. We'd be happy to come to your home and give you a free, in-home consultation.

"Dear Mr. Wayne Graham, May 2016 be the best year for the Grahams and their company! I must take this opportunity to thank you for the renovation job done on my house, not only the input idea that made my home more modernized, but the skill work that made the job done perfectly. I will not hesitate to refer you to my friends who may need a renovation on their house. Thank you again and have a healthy and prosperous year in 2016. Yours Truly,"
– Daniel Yu
Read More Testimonials
Click here to see a gallery of our work
Renovation Contractors in Cambridge Ontario – Best Review Sites
The following is a listing of what we consider to be the best review sites to help you compare or find renovation contractors in Cambridge, Ontario. We've listed them from the best to the worst and have included some helpful tips on how to find what you are looking for on each site, as well as the strengths and weaknesses of each one.
Brief Description: The Trusted Pros website is quite intuitive and relatively simple to use. It features a handy, easy to locate search bar right at the top of the page as well as a series of helpful links to popular home service requests. Choose from Bathroom Renovation, Kitchen Remodel, New Flooring, Tile Installation, etc.
How To Look Up A Company: If you know the name of the company you are looking for, you can type the name directly into the search bar at the top of the page. You can also use this bar to search a category of contractor, such as a plumber or general handyman.
How To Find The Top Rated Companies For A City: The search bar allows you to type in the city that you need as well.
Brief Description: Houzz is quickly becoming one of the leading online authorities on interior design and decorating, architecture, landscape design, and home improvement. They have over 40 million unique visitors to their site every month. A good review on their site carries a lot of weight.
How To Look Up A Company: Their website is nicely laid out and relatively easy to navigate. Click on the menu "Find Professionals" to choose the category of service that you would like. You have a choice of ordering your results by "Best Match," "Most Reviewed," and "Recently Reviewed".
How To Find The Top Rated Companies For A City: You can simply enter your postal code into the search box to get results from a particular city that you are interested in.
Brief Description: The Better Business Bureau has a rich heritage as the foremost authority on good and bad business practices. It is well known for being a great place to get honest reviews and a good idea about whether or not you can trust a business.
How To Look Up A Company: Even though the Better Business Bureau has a great reputation for helpful information on businesses, their website is rather difficult to navigate, especially if you are looking for a business in Canada. It is definitely set up for businesses in the U.S. After many attempts of trying to find a business in Canada, I changed strategies and Google searched "Better Business Bureau Cambridge Ontario renovation contractor" and clicked on the first link displayed. Clicking on that link will give you the following page. You can enter the name of the particular company that you are looking for in the indicated box.

How To Find The Top Rated Companies For A City: If you are looking for an American city, it is very easy to find as you can use the search box at the top. For Canadian cities, you need to scroll further down the page and enter your city or province in the box indicated below on the left-hand side.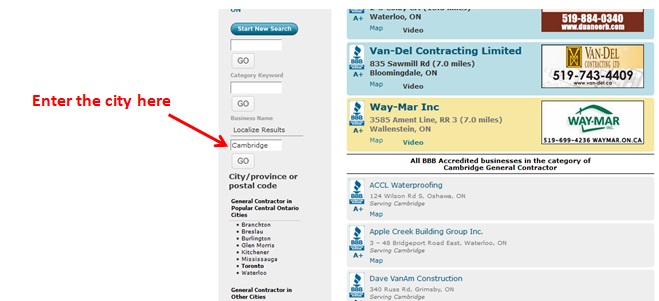 Benefits Of Hiring A Professional
Experience & Expertise: An experienced interior designer or contractor brings a level of expertise and skill that the average do-it-yourselfer most likely lacks. Their workmanship is usually of a higher standard and they know how to do the job safely and according to the current building codes.
Save Time: According to The Canadian Home Builder's Association, if you are short of time to do the work yourself, then hire a professional to do it for you. Because of their experience they can usually finish a project much faster than you can.
Professionals Have The Proper Tools: A professional contractor will have invested a lot of money purchasing the best tools to do the job right and to do it safely. You may not have the money to purchase all of the tools that you need for each job you want to tackle.
Save Money In The Long Run: Hiring a professional in the first place may end up saving you money in the long run. If you attempt a do-it-yourself project and you find that you cannot finish it or you mess it up, you may end up spending extra money to fix your mistakes.
You may also be interested in our post "Home Renovation Contractor Vs Interior Designer" to find out more about the difference between the two and which projects are best done by each one.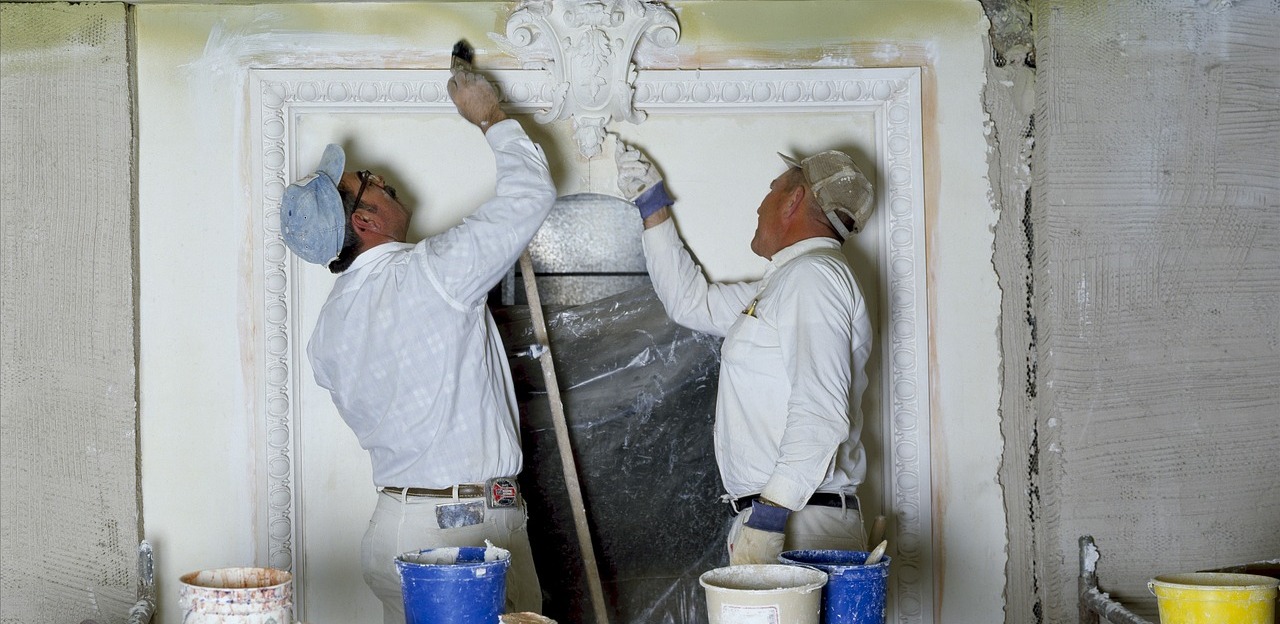 Renovations by Graham's & Son
If you would like help with your renovation, contact Graham's & Son. Graham's & Son has been in the interior design business in Cambridge, Ontario for more than 40 years. We are locally owned and operated and we specialize in all types of renovations, for every room in your home. Whether you are considering a complete renovation or something smaller, we are here to help. If you are on a budget, then you will appreciate the great savings that you can enjoy with our buy 2 get 1 free offer. Right now when you purchase any 2 blinds, shades, or shutters, you will receive a third absolutely free! We also offer free, in-home consultations If you are renovating soon, contact the interior design professionals at Graham's & Son to book your free in-home consultation today.