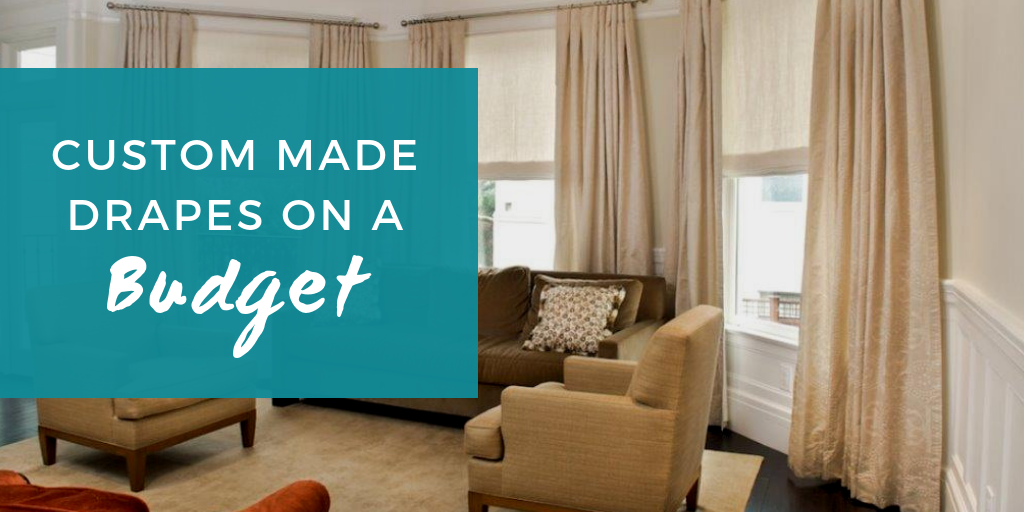 Are you looking for a way to get custom made drapes – but on a budget? Though there are many benefits to custom window treatments, the price can add up. If you love the look of custom made drapes but are on a limited budget, don't fret. There are many ways you can get the look of custom drapes without breaking your budget! To learn more about window treatment options for you and your home, contact the experts at Graham's & Son today!
Did you know that Graham's Offers FREE in-home consultations?

How to Get Custom Made Drapes On a Budget
When looking online to find prices of custom made window treatments such as drapes, you may begin to feel a bit overwhelmed! There are some stories of homeowners quoted in the tens of thousands of dollars for new drapes. Although there are many benefits to custom made drapes (such as high-quality, energy savings, and durability), it is not always feasible to re-do your entire home with custom drapes all at once! So if you're looking for custom drapes, there are ways you can get them while on a tighter budget.
1. GO THRIFT SHOPPING
Over the last few years, thrift stores have started to become trendy – not just for teenagers looking for deals on their favourite brands, but also for homeowners who want discounted decor. Although thrift stores were once seen as synonymous with "antique shop" – that is no longer the case! If you want to see one homeowner's huge 'thrift haul,' and some of the things you may be able to find in a thrift store, check out the video below!
Watch a "thrift haul" in the video above to learn more about thrifting quality items
Thrift stores are often organized into sections such as electronics, clothing, and home decor items. Within home decor, you may be able to find yourself some beautiful custom made curtains that someone has given away. They may have ended up in the thrift store not because they are old or damaged, but simply because a homeowner moved, bought new drapes, or decided on a different window treatment option (such as shutters) instead!
Now, with this option, you may have to be patient. It's unlikely you will find your 'dream drapes' at the very first store you try out. It could take a few weeks or even months to find curtains that fit your windows as well as your preferences. But persistence can definitely pay off. If you do find custom made drapes at a thrift store, you can get amazing deals! Drapes that cost previous homeowners thousands of dollars to make can cost you a fraction of the price. If you find drapes you love but are worried about dirt or grime, click here to learn how to clean drapes!
2. DIY CUSTOM DRAPES
DIY Roman shades are easy to make on a budget; Image source: diydecormom.com
If you love do-it-yourself projects, you can also create custom drapes yourself! Now, this is a pretty big project. It is much more than simply finding a fabric you like a sewing it together. There are lots of things you need to keep in mind, like the rod, rings, and more. However, if you have some time to spare and already know the basics, it is definitely possible to make your own custom drapes.
Making your own drapes is one of the best ways to get exactly what you're looking for. You have full control over the entire project, and many people find DIY projects fulfilling. As DIY projects of all kinds become more popular, you can find lots of different how-to guides online, like this one.
Keep in mind that even if you do make your own drapes, you may still want to consider hiring the pros for installation. Ensuring you get the right hardware is very important if you want your drapes to look professional. Laurel from Laurel Home writes this about getting custom drapes on a budget:
"PLUS, you absolutely need to have a professional installation. This needs to be embroidered, framed and hung above your bed."
Even if you do DIY your drapes, Laurel still suggests you get a professional to do the installation for you, especially because curtain rods you can buy at big-box stores are often lower quality and adjustable, and she really does not like adjustable rods! Working with the professionals may be a bit more expensive, but if you do everything else yourself, you will still be able to stick to your lower budget.
3. GET CUSTOM DRAPES – BUT NOT ALL AT ONCE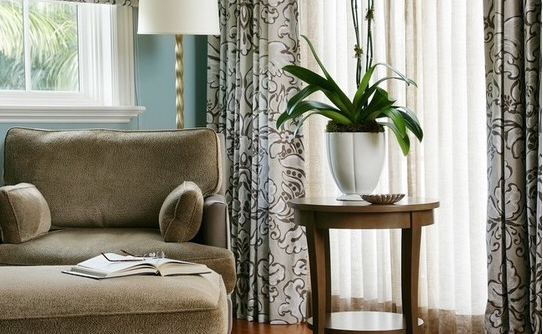 Custom drapes can completely transform any room; From Graham's Gallery
When homeowners decide they want to get custom made drapes, they sometimes feel like they have to go all out. That if they are redoing the living room, they must also redo the entire main floor. But that just isn't the case. It is totally fine to take your time and slowly add custom drapes to your home.
The one reader who wrote into Laurel Home was astonished that the final price for the custom drapery for most of her home would cost almost $30,000. However, if you do one room at a time and wait until you have the money saved for each room, that final price tag won't feel so overwhelming. It may take a few years to complete, but it's one way to get brand new custom drapes without breaking the bank.
You can also choose to select neutral, timeless colours or patterns. This will help ensure that you get your money's worth out of your new drapes, as they won't be going out of style any time soon! Although modern, unique, and fun patterns can be tempting, custom drapery is an investment and you will want to ensure they last as long as possible – in terms of both style and quality.
When you work with a professional window treatment company, they can also help you find the right materials and styles to not only perfectly suit your home, but also what best fits your personal budget. At Graham's & Son, we offer free, no obligation in-home consultations to help you get a better understanding of price and possibilities when it comes to your future window treatments – without any pressure!
Get Custom Made Drapes With Graham's & Son!

"We are very happy with not only our window treatments but with the excellent customer service we received all the way through from Graham's & Son Interiors. A special thanks also to Matt who looked after us from beginning to end. We are recommending you to everyone we know!"
– Sue & Stan
Read more customer testimonials
If you are considering adding custom window treatments such as drapes to your home, talk to the design experts at Graham's & Son. Graham's & Son Interiors has been producing beautiful interior designs for more than 40 years. We are locally owned and operated and we specialize in all types of renovations.
We offer free, in-home consultations and will take the time to listen to your ideas and dreams for your new space. If you are thinking of remodelling your kitchen, bath, or any room in your home, contact the professionals at Graham's & Son to book your free in-home consultation today.