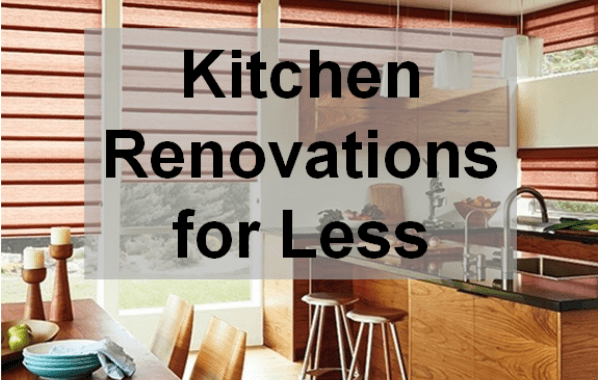 Are you thinking that kitchen renovations for less is an impossibility? Think again. Here are some great ways that you can save money on your kitchen renovation. At Graham's & Son we understand that everyone has a different budget; that's why we are willing to work with you to help you renovate your kitchen without breaking the bank. We can discuss which features are "must-haves" and which ones you could save money on. Contact us today and book an appointment to sit down with one of our design experts in a free in-home consultation and find out how you can do an easy kitchen remodel and still stay within your budget.

Kitchen Renovations for Less
On average most kitchen renovations cost between $20,000 and $50,000, but it doesn't have to be that high. By using the following tips, you could bring those numbers down considerably. Learn how to update an old kitchen on a budget.
Don't Cut Back By Doing It All Yourself

Hire a professional to help you
You might be tempted to cut costs by doing all of the designing and planning yourself, however, this isn't an area to cut corners with. According to designer Meredith Marlow, "Hiring a designer saves you time and money in the long run, so you don't make expensive errors." Hiring a professional who is experienced in interior design and renovations can help you actually find ways to cut costs while giving you the expertise needed to make correct measurements, order the right products, and advise on what design elements go best together. If you are concerned about the cost, why not contact Graham's & Son to set up a free, in-home consultation?
Don't Add in Extras or Substitute During the Renovation

Gather all your materials before you begin
Once you have a plan made for your new kitchen and a budget worked out, wait until everything that you need has been ordered and is on-site before you begin. Why? The number one reason why people go over budget during a renovation project is that they start the process before all of their materials are in and then if an item is back ordered, they are tempted to make a substitution. Substitutions are often more expensive than what you originally ordered, but you may feel pressured to just go for it because you have contractors who have been scheduled to do the work with nothing to install.
The other temptation is to add in extras that weren't originally in your budget. We know it is tempting, but the extras can add up quickly. Make a plan that you are happy with in the first place and then stick to it. Your wallet will thank you.
Replace Only Your Cabinet Doors

If you really don't like the look of your cabinets but you don't have enough room in the budget to replace them, why not just replace the doors? After all, the doors are really what gives you the overall design. As long as your inner cabinets are still solid and in good shape, replacing the doors for more modern ones will make it seem like you have replaced the entire cabinet, but will cost much less. You can also cover over your existing kitchen cabinets with new wood veneer; this is known as refacing. You can even cover up all of the exposed surfaces with a matching veneer or laminate to make the entire cupboard seem new. Here is a before and after example of kitchen cabinets from kitchencabinetdepot.com that have been refaced.
The following will give you an idea about the difference in price between purchasing new cabinets and refacing them.
Refacing cabinets – $4,000 – $10,000 depending on the number and materials your choose
Replacing cabinets – $10,000 – $35,000 depending on the number and type of cabinets you choose
Paint Your Cabinets Instead of Replacing Them

Painting old cabinets can bring them back to life – Source: Uglyducklinghouse.com
Replacing your kitchen cabinets is one of the biggest costs of any kitchen renovation project. Keeping your original cabinets and giving them a fresh, updated look by simply painting them can save you a lot of money. Designer Justin Riordan suggests painting your existing cabinets a bright white, but make sure you take the time to do it right. Purchase a high-quality semi-gloss paint and properly wash and prime your cabinets before applying the paint. Another inexpensive upgrade that you can do is to replace the old hardware with new, modern hinges and handles.
Use More Expensive Tiles Sparingly

Don't purchase an expensive tile for your entire wall – Source: Pinterest
A tiled backsplash can really add a "wow" factor to your kitchen but it can also greatly increase your budget. You don't have to forget the expensive tiles completely though, instead just limit them to the areas that you really need them. Strategically install those spectacular tiles immediately behind your stove and sink and then use a matching, less expensive tile for the rest of the wall. This will considerably lower your budget and it will actually make the impressive tiles stand out even more, and that's what you really want, isn't it?
The following will give you an idea of the potential savings if you use the more expensive tiles sparingly.
Basic Ceramic tiles – Around $2 per square foot
Elaborate Glass tiles – Between $7 and $30 per square foot
Don't Change Your Utility Layout

Keep your plumbing and appliances where they were
According to Justin Riordan of Spade and Archer Design Agency, it costs about $5,000 to move appliances like your dishwasher, sink, fridge, or stove. You can save a lot of money by simply keeping them where they are and working your design around them. A professional designer can help you make this work.
Try to Find Remnants or Scratch and Dent Items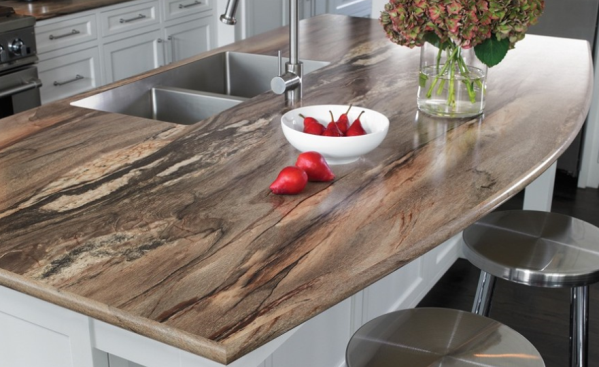 Buying remnants can save you money
Remnants are a great buy and nobody is ever going to know the difference unless you tell them. Go to a granite supply yard and see if they have any remnants that match the size that you need. This great savings idea comes from John Gerard, in his book Renovate Your Kitchen the Smart Way available on Amazon. Another great cost saving idea is to check out your local Habitat for Humanity ReStore for any items that contractors or builders have donated from their overstock. If you hit these places at the right time, you just might find an incredible deal.
You can also save a bundle on new appliances by checking out a scratch and dent sale at your local furniture stores. Often people return items that they just don't like and there is nothing wrong with them. You just might find a real bargain if you look around a bit. You can also check out online sites like Kijiji for slightly used but almost new appliances.
Additional Reading
Grahams & Son Home Renovations – We Come To You – Free In-Home Consultation
Kitchen Renovations – How Much Do They Cost
10 creative kitchen remodelling and design ideas
Choose Graham's & Son for Kitchen Renovations for Less
Graham's & Son Interiors has been producing beautiful interior designs for more than 40 years. We are locally owned and operated and we specialize in all types of renovations, especially kitchens. We offer free, in-home consultations and will take the time to listen to your ideas and dreams for your new kitchen and help you with a design that will suit your budget. If you are thinking of remodelling your kitchen, bath, or any room in your home, contact the professionals at Graham's & Son to book your free in-home consultation today. In addition, right now we are offering an amazing deal on all our blinds, shutters, and shades. when you purchase any two, you will get a third absolutely free.
Our customers have been so pleased with the high standard of our work that they selected us for the "Best Business Service – Interior Decorating: Platinum" and "Best Shopping – Kitchen Renovations: Gold" awards in the 2017 Cambridge Times Readers' Choice Competition. Book a free in-home consultation today and find out for yourself why Graham's is the best in the interior design business. Contact us today to schedule a free in-home consultation. If you prefer, you can shop at home. Browse through our website, make your choice, and simply give us a call at 519-658-9025 to place your order without ever having to leave the comfort of your own living room.
"Very happy with the Graham's & Son Interiors in terms of customer service, quality and price as well as workmanship. Can't ask for a better deal. We have already referred your company to three others."
– Jim & Joanne
Read more customer testimonials