There are so many choices when it comes to kitchen remodeling and design, so how do you make a choice. We've put together 10 of the most creative designs to help you with the decision. The kitchen is the most popular room to remodel because it is the heart of most of your home's activity, as well as offering the best return on your investment. Because of this, you want to get it done right! If you need expert advice about renovating, contact the professionals at Graham's & Son Interiors. We would love to come to your home for a free, in-home consultation and answer any questions you might have.

"Just bought a home that needed a new kitchen. The installers were amazing and the Price, Quality & Workmanship the BEST!"
– Natalie Dawson
Read More Testimonials
Click here to see a gallery of our work
1. Vintage Charm with a Hint of Dutch Flare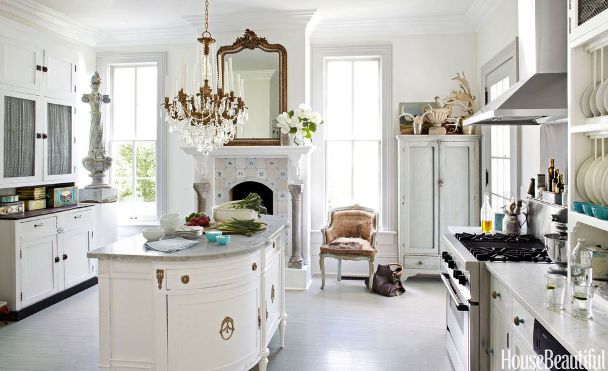 This beautiful, Dutch-inspired kitchen from HouseBeautiful by designer Annie Brahler features a gorgeous fireplace with 17th and 18th century Delft tiles and two majestic blue stone columns. The lovely brass chandelier, mirror and French provincial armchair add to the charming vintage feel. If you are looking for old world charm mixed with the modern day convenience of stainless steel appliances and a marble-topped central island.
2. Wood Is the Star of this Stable Conversion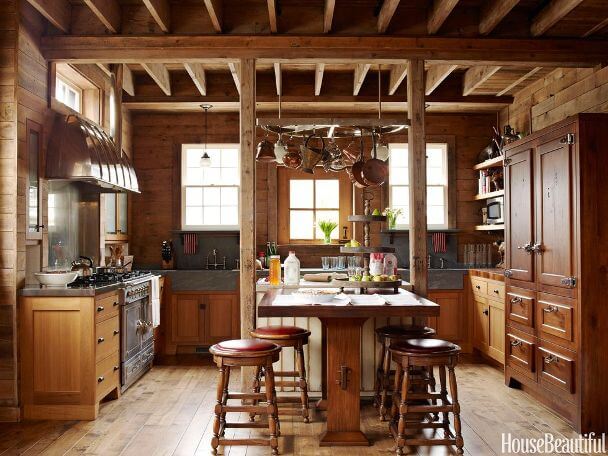 If you love wood and you are looking for a truly creative kitchen, check out this incredible former horse stable converted into a wonderful country kitchen. But this isn't your typical country kitchen; it's a much more sophisticated version. The exposed ceiling beams and support columns give this space a hint of its former self. The mixtures of wood stains give just enough variation to make it visually appealing from the light wooden floors to the rich dark cabinets. This great design by Mick De Giulio comes from HouseBeautiful.
3. Clean, Fresh, and Bright White – A Perfect Kitchen Colour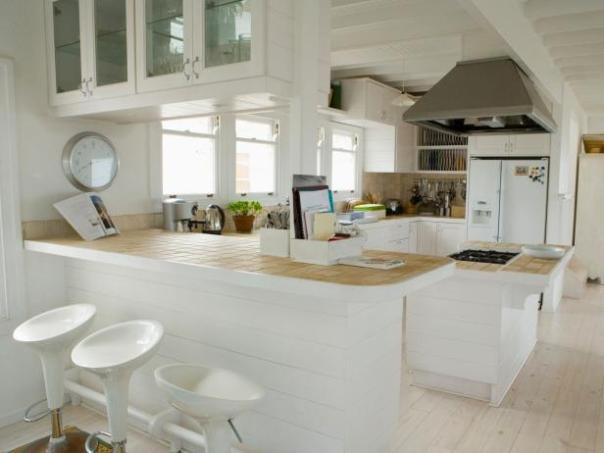 White is still a popular colour choice for kitchens; it's clean, it's fresh, and it's bright – all great descriptions for a kitchen. This beautifully bright white designed kitchen from HGTV is not afraid of using white almost everywhere, even on the floor and ceiling giving this space a very open and airy feeling. Even the appliances go against the trend of stainless steel, opting for a crisp white. If you get tired of the white, you can add a pop of colour with accessories, changing it up from time to time. And the beauty of white is that it will go with any other tone that you choose to pair it with.
4. Slate Blue and Brass – A Beautiful Combination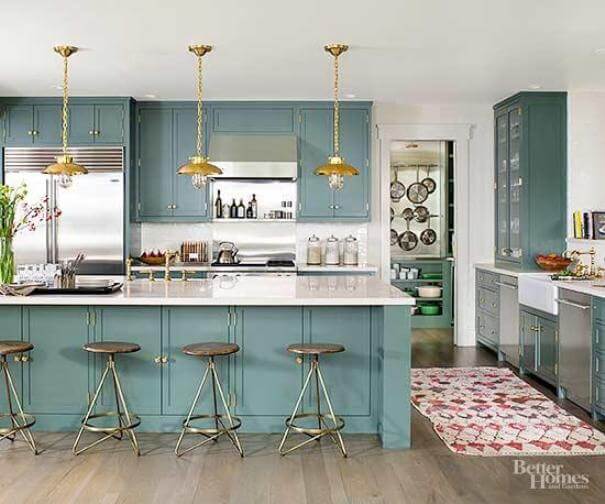 If white is not your cup of tea, why not try a cool slate blue. We think the pairing of soft blue with stainless steel is a great choice. In the past, you wouldn't have thought of mixing metals, but the addition of the brass hanging light fixtures adds an attractive focal point to this well-designed kitchen from Better Homes & Gardens. The extra wide island is the star working area in this space as it gives plenty of room for both food preparation and sampling.
5. Small on Space but Big on Design
Just because your kitchen is small doesn't mean you have to sacrifice style. This is demonstrated by Amanda Seyfried's weekend getaway home in the Catskills designed by General Assembly. The design is sleek and modern, but the compact layout makes it perfect for creating culinary delights with the fewest amount of steps. The open concept also means that you don't have to feel separated from your family or guests while you are preparing your meals.
6. Grey Is the New Black, Even for Kitchens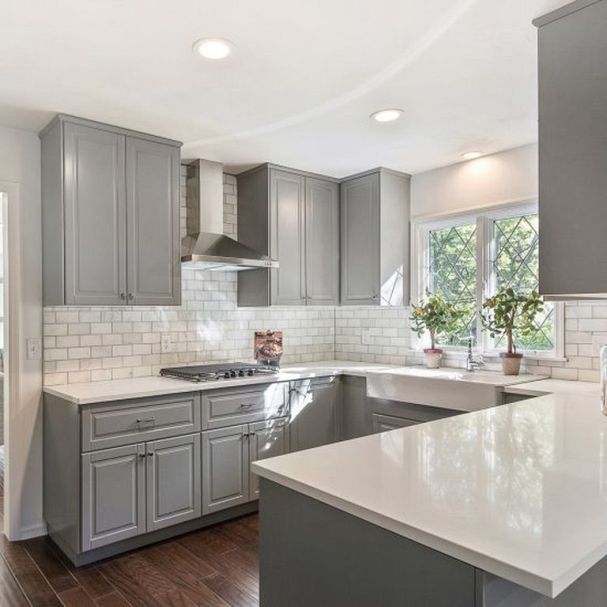 Not only is grey the new black for clothing, but also for kitchen cabinets. We love the combination of soft grey cabinetry accented by trendy and durable subway tiles. This horseshoe-shaped layout is designed with economy of motion in mind and even though it is a smaller kitchen, it is fitted with plenty of upper and lower cabinets for ample storage potential. This lovely design was found on dlingoo.com.
7. Mediterranean in Style and Character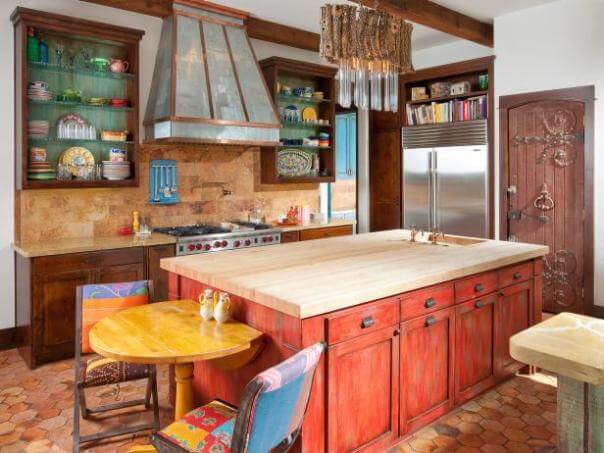 No one can call this kitchen boring. With its Mediterranean flare, bold choice of colours inspired from the region and wide variety of textures, this kitchen from HGTV certainly makes a big impact. We especially like the open cupboards displaying the characteristic pottery from the vicinity. Even though this kitchen is anything but "matchy-matchy," the deliberate choice of eclectic pieces really works and pulls this room together in one cohesive design.
8. Traditional Style with Victorian Charm
If traditional is more your style, you're sure to love this gorgeous design from kitchens.com. The cabinetry is beautifully ornate and very reminiscent of Victorian antique furniture. The mixture of both rich dark and creamy neutral wood tones blend naturally together in a room that shouts style and class.
9. Bring in the Bling with Brass
The brass accents of this wonderful design from HouseBeautiful make this kitchen a definite knockout. Brass is hot this season and with very good reason. It is the perfect pairing with the soft blue of the and the medium greys of the cabinets and drawers. Brass is even used to adorn the range hood and shelving. We particularly like the rich marble countertops and the unique choice of tiling for the wall behind the stove.
10. Make Your Ceiling the Focal Point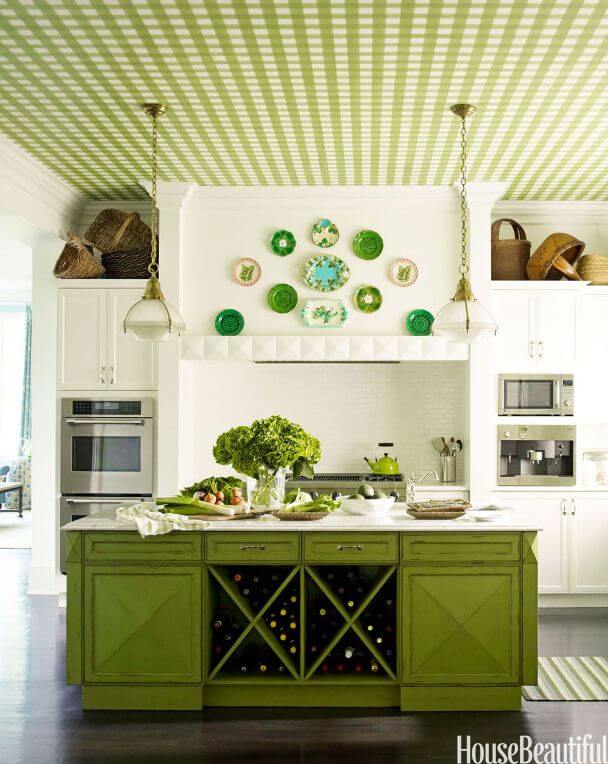 Ceilings are often referred to as the fifth wall, but ceilings are often forgotten about. After all, how often do we actually look up? This will not be the case with this highly unique green gingham ceiling. You and your friends will want to look up and enjoy the aesthetics of this design by Gideon Mendelson for a Purchase, New York home from HouseBeautiful. The coordinating green island and decorative plates beautifully complement this incredible ceiling.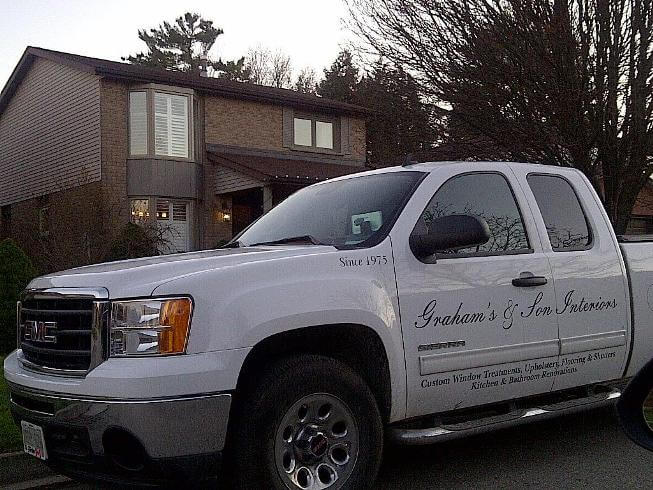 Looking for Kitchen Remodeling and Design Ideas? Contact Graham's & Son
If you are considering a kitchen renovation, talk to the design experts at Graham's & Son. Graham's & Son has been producing beautiful interior designs for more than 40 years. We are locally owned and operated and we specialize in all types of renovations, including kitchens.
Our customers have been so pleased with the high standard of our work that they selected us for the "Best Business Service – Interior Decorating: Platinum" and "Best Shopping – Kitchen Renovations: Gold" awards in the 2017 Cambridge Times Readers' Choice Competition. Book a free in-home consultation today and find out for yourself why Graham's is the best in the interior design business.