The following bathroom renovation tips can make all the difference between an average bathroom renovation and an extraordinary one. Take some great advice like trying out a tub before purchasing it and choosing the right type of vertical lighting on your walls to prevent shadows getting in the way of putting your makeup on easily. For more expert bathroom renovation advice, contact the interior design professionals at Graham's & Son. We'll come right to your home and give you a free consultation. Book your appointment today.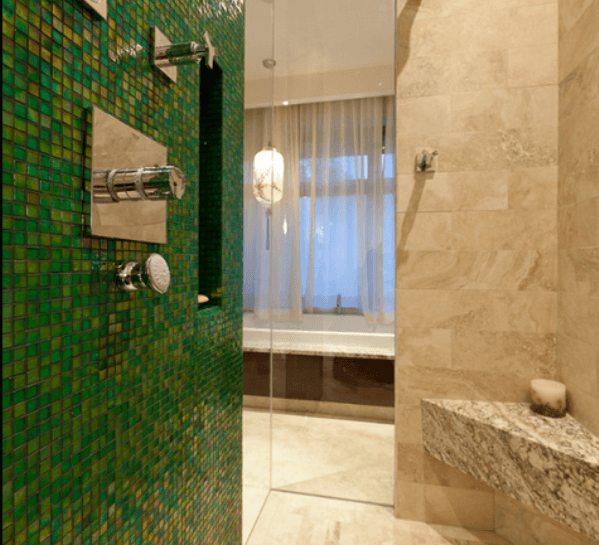 "Dear Mr. Wayne Graham, May 2016 be the best year for the Grahams and their company! I must take this opportunity to thank you for the renovation job done on my house, not only the input idea that made my home more modernized but the skill work that made the job done perfectly. I will not hesitate to refer you to my friends who may need a renovation on their house. Thank you again and have a healthy and prosperous year in 2016. Yours Truly,"
– Daniel Yu
Read More Testimonials
Click here to see a gallery of our work
Bathroom Renovation Tips
Here are 7 great bathroom renovation tips that are a must-read before you begin to renovate. Make your bathroom a luxurious retreat where you will enjoy escaping to at the end of a hard day by following the advice below.
Tip #1: Try Out a Tub Before You Buy It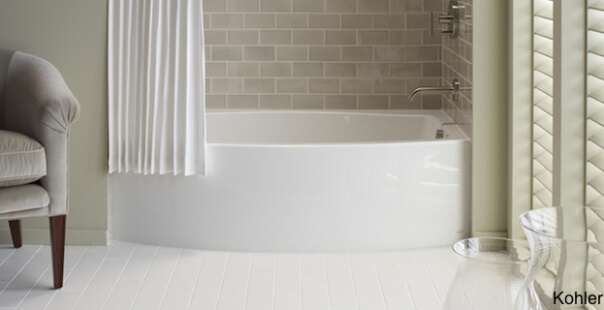 A great tip to remember before you buy any bathtub is to take it for a test drive, not with water, but sit down in it to make sure that it is comfortable. If you like long, luxurious baths, then this step is vital to make sure that you will be getting a tub that contours to your body and will give you the ultimate in relaxation pleasure. Try out the angled back and lip to find the optimum comfort and neck support. If the space in your bathroom is limited and you don't have room for a large tub, then try buying an extra-deep one. The average sized 60-inch tub should give you enough room to stretch out in it comfortably. You can even choose a curved basin like the one above from Kohler to give you a bit more space while still fitting in a compact space.
Tip #2: Add Some Luxury with a Free-Standing Tub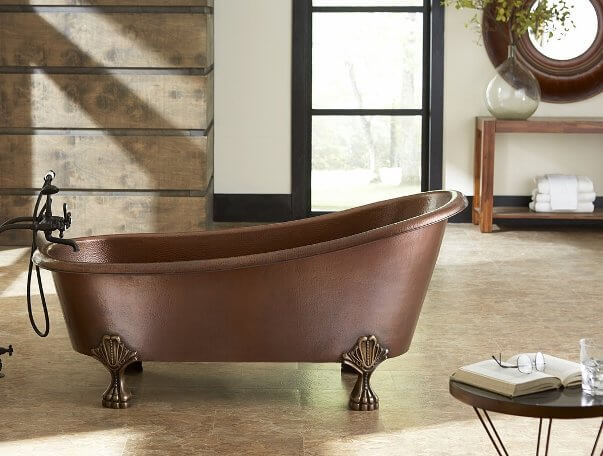 If you have space, then adding a free-standing bathtub with high-end faucets will add extra luxury and style to put your bathroom over the top. This slipper-shaped, solid copper tub, available from Wayfair, has over 100,000 hammer strikes as well as meticulously hand-cast solid bronze feet. This tub is designed to be a statement piece.
Tip #3: Install an Open-Concept Shower Area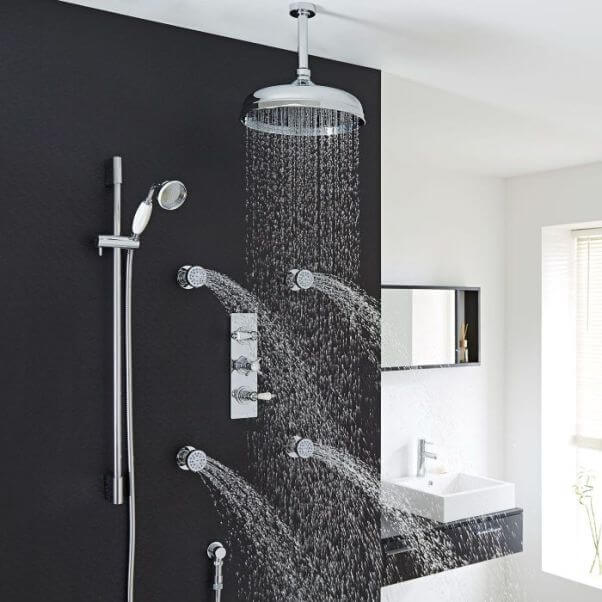 One of the hottest trends in bathrooms is installing a complete shower system; gone are the days of a single shower head with only one setting. You can create the ultimate showering experience with a similar system including ceiling mounted, rain shower ceiling apron, hand-shower, and 4 round jet sprays. This open-concept shower area by Hudson Reed has the added advantage of no doors or shower curtain to restrict access and create extra maintenance. Make sure that it the drainage is well-designed and the shower-head splashes less water to keep the rest of your bathroom dry.
Tip #4: Make the Most of Your Mirror Choice
A beautifully framed mirror hanging over your sink, like this oval Venetian glass one can really add to the elegance of your bathroom. Get the look from onekingslane.com. Pair it with a wall-mounted adjustable makeup mirror to make getting ready in the morning much easier. Another great idea is to install a lighted, mirrored shaving niche in your shower stall that the man in your life will forever thank you for.
Tip #5: Don't Leave Your Lighting to Chance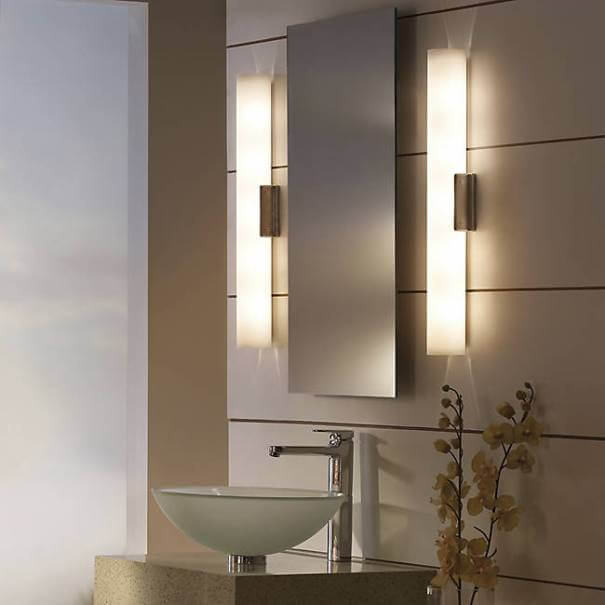 Often lighting for your bathroom comes from a single ceiling fixture. This, however, isn't adequate for the many intricate tasks that you need to do to get ready. It is important to have ample lighting right where you need it most for putting on makeup, shaving, and in the shower area. This Old House recommends that you avoid placing recessed ceiling fixtures over your mirror as they will cast shadows on your face and make grooming more difficult. Instead, opt for vertical fixtures or sconces mounted on either side of your mirror. These will give you an even lighting across your face. A recessed light with a glass lens is a good choice for your shower stall, or over a freestanding tub or the toilet.
Tip #6: Take Advantage of the Space Between Your Wall Studs for Extra Storage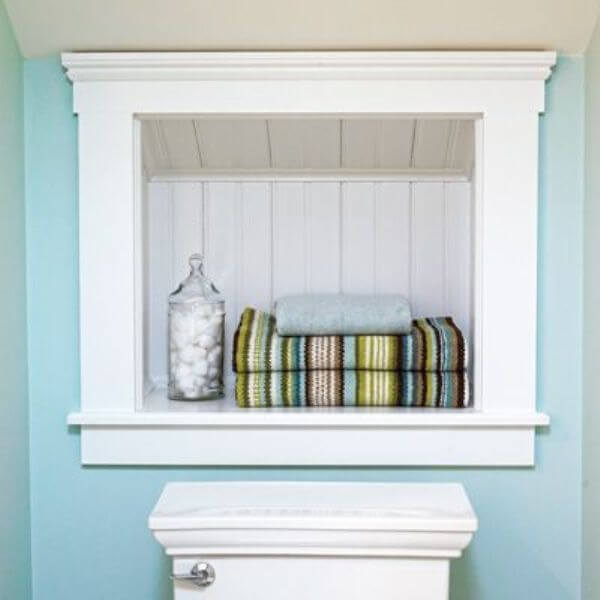 Storage is always an issue in a bathroom, especially if it is a smaller one. There is extra hidden space that you may not have considered tapping into before. It is located right between the studs in your walls! You can make a great recessed storage area with your walls, just make sure that the cabinet is at least three inches deep. Even if the space between your rooms is shallow, you can add more than one. Above the toilet, such as this great design form This Old House, is a great place as it is usually wasted space, then you will have a lot of extra space for your toiletries, bathroom supplies and towels. You can either keep it open or if you prefer to add a door, remember to make it flush with the wall. For an open, airy feeling choose glass doors.
Tip #7: Finish It off with Style and Quality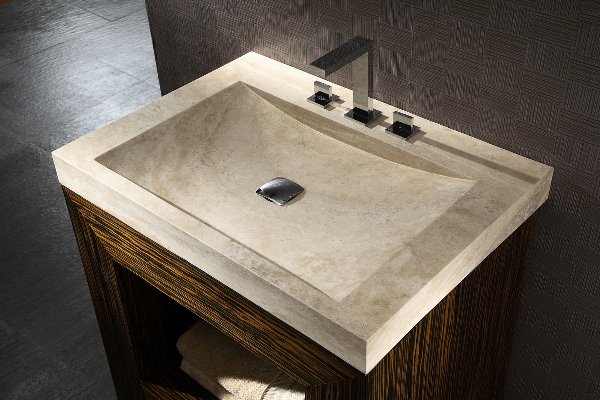 A bathroom remodel can give you a 100 percent return on your investment, according to Heikki Walden of Camber Walden Group especially if you choose expensive, high-quality finishes such as natural stone, granite, quartz or marble for your countertops and tiles. It's also important to not skimp on your fixtures. Buying higher quality will pay off in the long run; it looks better, lasts longer, and will give you a better return on your investment.
Graham's & Son: Your Interior Design Professionals
If you are wanting to update the look of your bathroom, talk to the interior design specialists at Graham's and Son for expert advice. Whether you are looking for a quick freshen up with new window treatments and wallpaper or if you are ready for a complete renovation, Graham's & Son can help. Graham's & Son has been in the interior design business in Cambridge for more than 40 years. We will give you expert advice, quality finished products, and top-notch customer service. Not only do we specialize in all types of window treatments (including blinds, shades, and shutters), flooring, wallpapering, but we also do amazing kitchen and bathroom renovations.

Our customers have been so pleased with the high standard of our work that they selected us for the "Best Business Service – Interior Decorating: Platinum" and "Best Shopping – Kitchen Renovations: Gold" awards in the 2017 Cambridge Times Readers' Choice Competition. Book a free in-home consultation today and find out for yourself why Graham's is the best in the interior design business. Contact us today to schedule a free in-home consultation. If you prefer, you can shop at home. Browse through our website, make your choice and simply give us a call at 519-658-9025 to place your order without ever having to leave the comfort of your own living room.

Sources:
Top 10 Bathroom Renovation Tips
6 Bathroom Renovation Tips From the Experts