Are you comparing Delta shutters vs Hunter Douglas shutters for your home's interior? Have a look at our comparison of these two companies and their products and discover why Graham's and Son is the local expert. Let's get started.
Delta Shutters vs Hunter Douglas Shutters
First, let's take a look at how these companies differ. While Delta may be a relatively newer name to some of you, it actually has been in the industry for over 20 years and, as their website says, "they are 100% Canadian owned and operated". Hunter Douglas on the other hand, has a longer history dating back to 1946 and is known worldwide. They offer a wide variety of innovative window treatments and even architectural products.
Let's take a closer look at both companies' shutters next.
Delta offers vinyl designer shutters that are:
Durable 
Lightweight
Waterproof
Warrantied for 25 Years
Fire-Retardant
Child-Safe
Easy to Install
Delta offers standard shutters in limited materials and colors, which is ideal if you want basic shutters for your home or want to add color and texture through other elements of your décor (like an added layer of drapes).
They come in either 2.5 or 3.5 inch louvers and in 1 of 2 colors: Arctic White or Cotton White. Click here for a link to the pictures and information on their website. 
Delta manufactures their shutters in Mississauga, Ontario, and provide some of the fastest deliveries around.
Graham's designed this room revolved around the clean and fresh look of white shutters.
Hunter Douglas offers a greater variety of shutters in a variety of materials and colours. Their shutters come in 3 different louver sizes, including 2.5, 3.5 and 4.5 inch louver sizes. They offer shutters in either a UV-resistant polysatin material or in a hybrid material which mimics the look of real wood (but with more strength and durability). In addition, you will find that there is a wider variety of colours.
Hunter Douglas features the following two types of shutter styles (Click on the links to see more information from their website):
Features:
UV-resistant Polysatin™ Material
Choice of 3 Different Colors (White, Bright White & White Silk)
Lifetime Guarantee
Water Resistant
PowerView® Automation Controls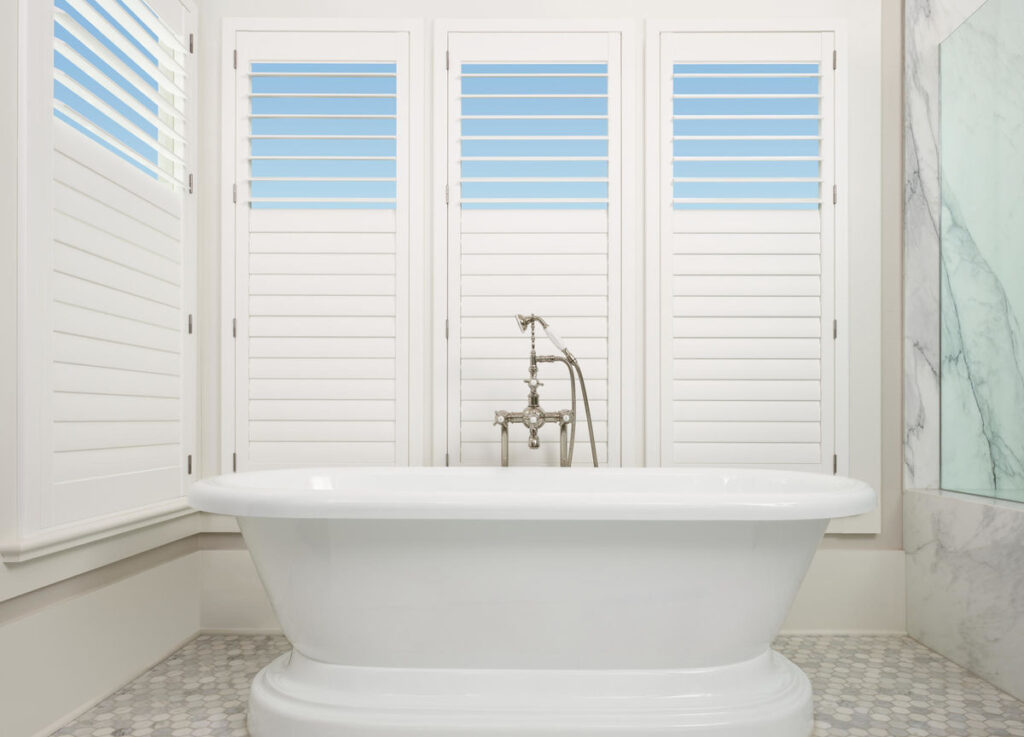 Palm Beach Polysatin Shutters in Bright White by Hunter Douglas
Features:
Choice of 5 Different Colors (Crisp White, True White, Polar White, White Lace & Swiss Cream)
Choice of 3 Types of Finishes (English Saddle, Sierra Sand & Urban Grey)
SoftClose™ Louvers
Truemill® Dovetail Construction
Available Specialty Shape
Newstyle Hybrid Shutters in White Lace by Hunter Douglas
Why Graham's for Delta Shutters vs Hunter Douglas Shutters?
If you are anything like me, the more the choices there are to choose from the more confusing it is! Graham's and Son has over 45 years of experience in Window Treatment Installation and Interior Design. They offer you high-quality installation and workmanship. Plus, they offer you better value for what you pay. Graham's will help you make decisions based on decades of experience and in-depth knowledge of window treatments. 
You are not just getting a product, you are getting a full service from a friendly, family-owned business! And your business helps support local businesses right here in the tri-cities.
Graham's and Son will consult with you, help you select the right window treatment for your home, order your materials, install it and make sure you are completely satisfied with your new look! Plus, if you are not familiar with shutters in general, take a look at some of their other blog posts, like "Discover the Advantages of California Shutters". 
Contact Graham's today to get started with a free consultation.
"We needed something (shutters) custom and unusual for our window, we called a few places with no luck, found Graham's and Son Interiors. They worked with us and we got exactly what we hoped for. Great customer service. We would definitely go back and recommend to our friends and family."
– Debbie Wurm
"Merv and I just wanted to thank Wayne for his advice and expertise. We are so glad that we decided to go ahead and put the California Shutters on both levels. What an amazing difference and feel to our new home. The installer did a fantastic job, very professional and informative. What a great decision to choose Graham's & Son Interiors!"
– Merv and Colleen Young