Dreaming about adding new window treatments to your home? California shutters are a great choice – they provide better insulation than alternatives, can improve the value of your home, offer great lighting control, and offer a lot of privacy. If you want to learn more about all the amazing benefits of California shutters, continue reading below! To find out more about getting the best window treatments in your home, contact the experts at Graham's & Son today!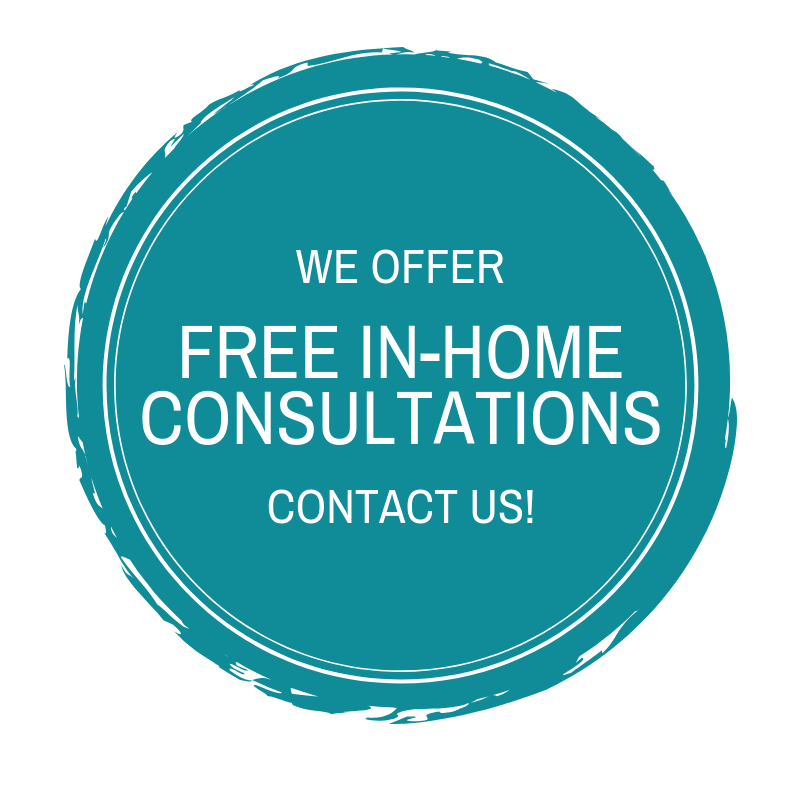 Are California Shutters Right For Me?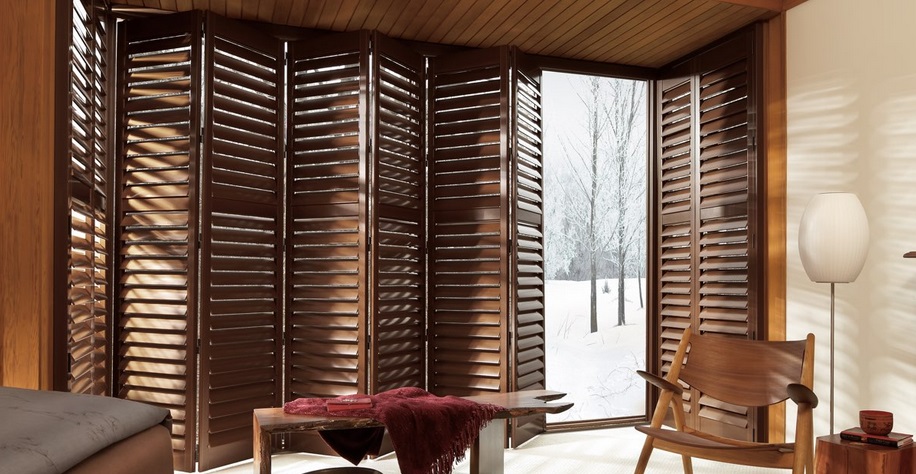 California shutters are great for large windows and doorways, and small windows too!
California shutters can be a great addition to nearly any room in your house – but so can many other window treatment options. So, when should you choose California shutters?
Great for families with children – Because shutters do not have dangling cords or drapes, they are a much safer option for kids' rooms and the rest of your home. According to USA Today, injuries from blind cords send two children to the ER each day. Shutters help avoid potentially fatal injuries to children.
Great for rooms that need airflow – Tired of your stuffy bedroom, bathroom, or home office? Because shutters allow for increased airflow, they are perfect for rooms that tend to feel stuffy and warm.
Great for kitchens & bathrooms – Kitchens often benefit from increased privacy, and most people want their bathrooms to feel 100% private! Shutters are great for both rooms as they allow lots of privacy but you can still get natural light too.
Great for large windows & doorways – California shutters can be placed in large windows and even doorways (such as sliding backdoors). For doorways, the shutters easily pull away when you need to get through, and allow in lots of light too.
Still not sure if California shutters are the right choice for you? Contact the window treatment experts at Graham's & Son to learn more about your window treatment options!
Discover the Advantages of California Shutters
Shutters are sleek and attractive – they generally require little maintenance (especially when compared to fabric drapes or curtains) and add aesthetic appeal to any room. However, the advantages go far beyond 'good looks.' If you still aren't sure if shutters are right for you, see below to learn more about all the benefits that come when you have California shutters!
California Shutters Provide Greater Insulation When Compared To Other Options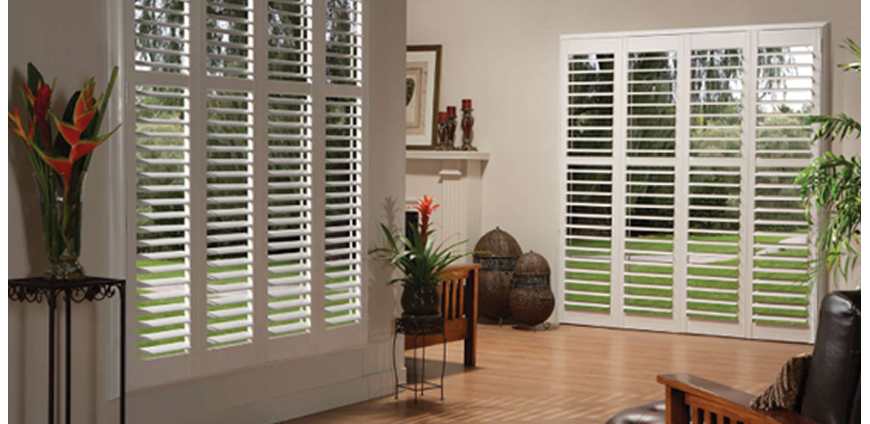 Shutters provide much more insulation than other window treatment options
When looking for energy-efficient window solutions, shutters are at the top of that list. When compared to other window treatments, such as traditional shutters, thin shades, or simple blinds, California shutters easily outperform these options. The design of shutters allow them to act as excellent insulators,
Because you can easily position the louvres to be as open or as closed as you like, you can choose how much sunlight enters (or doesn't enter) your home. This means that during the winter, you can let lots of sunlight in, helping to passively heat your home. In the summer, you can adjust the louvres to control the light without overheating your rooms. Over time, this can do wonders for your energy bill!
California Shutters Improve The Value Of Your Home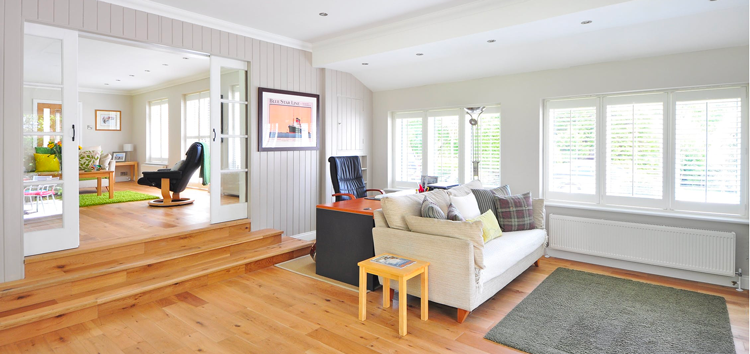 High-quality shutters increase your home's aesthetic appeal – and its value!
Shutters will not only help you save on your energy bill, can actually help increase the value of your home! This is something most homeowners should keep in mind, even if they are not planning to sell in the near future. Most people do not end up staying in the same house forever, so it's always a good idea to keep resale value in the back of your mind.
It's also important to remember that since almost all types of California shutters look attractive, prospective buyers are often more concerned with quality over aesthetics. If you replace all the window treatments in your home with the cheapest shutters you can find, they may look nice on the surface, but many buyers will notice the poor quality – and poor quality window treatments likely won't do you any favours!
That doesn't mean you need to splurge on the most expensive shutters either! You can find great, high-quality shutters for less when you choose the right materials (for example, vinyl shutters often cost less than wood shutters). You can also work with the professionals to help you choose the right style for your home and budget.
California Shutters Offer Great Lighting Control & Ventilation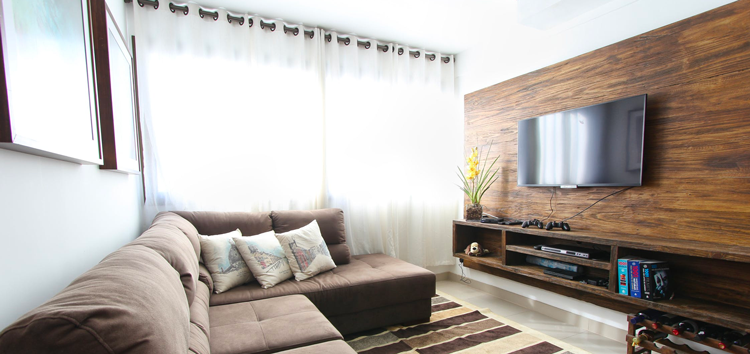 Unlike curtains, shutters offer more lighting control and blockage when you want it
As mentioned above, shutters offer better lighting control than almost any other window treatment option. With regular blinds, you can move them up and down (or side to side with vertical blinds) but don't have full control over how much light enters the room. With shades and curtains, you have even less control when it comes to light blocking and filtration.
Shutters also provide significantly more ventilation than other options. As shutters are firmly attached to the wall (unless you choose to pull them outwards), they won't move around or make loud noises while you open your windows. Plus, the breeze can easily flow through the louvres. Everyday Health says this about shutters:
"Shutters are the ideal choice because they make no noise. Blinds, shades, and other window treatments clank, bang, and flutter in the wind. In addition, shutters are easy to adjust. Simply grasp the crossbar and adjust the shutters."
When you have shutters rather than other window treatments, you never have to worry about keeping your windows open, or feel frustrated when the sun just won't get out of your eyes every single evening. As a side note, since shutters lack cords and strings, they are a safer option for households with children or pets – and are perfect for children's rooms!
California Shutters Offer Privacy and Aesthetic Appeal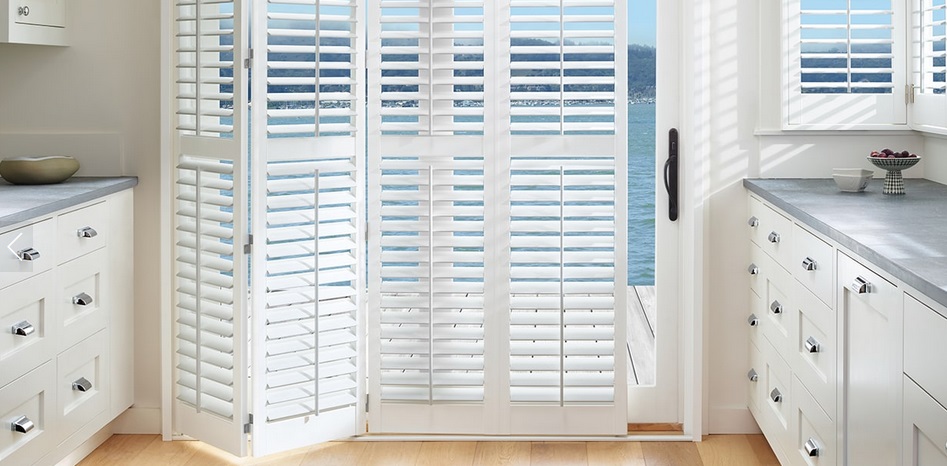 California shutters add a clean and sleek feel to any room in your home
Worried that your neighbours can ever-so-slightly see you through your drapes? Feel like you have to sacrifice your privacy when you open up your blinds or curtains to let the sunlight in? Shutters offer the perfect amount of privacy – even when they're open. The louvres help to block the view of potential onlookers without sacrificing sunlight coming through. Plus, you have full control over the louvres, so you can move and adjust them in seconds when you want more or less privacy.
There is also no denying it – shutters have lots of aesthetic appeal. They require little maintenance, which means they almost always look clean, sleek, and simple. Because you can also see shutters from the exterior of your home, they help make your house look great both inside and out!
How Do California Shutters Compare To Other Options?
Wondering how shutters compare to other popular window treatment options? Check out the chart below to learn more about shutters and their alternatives.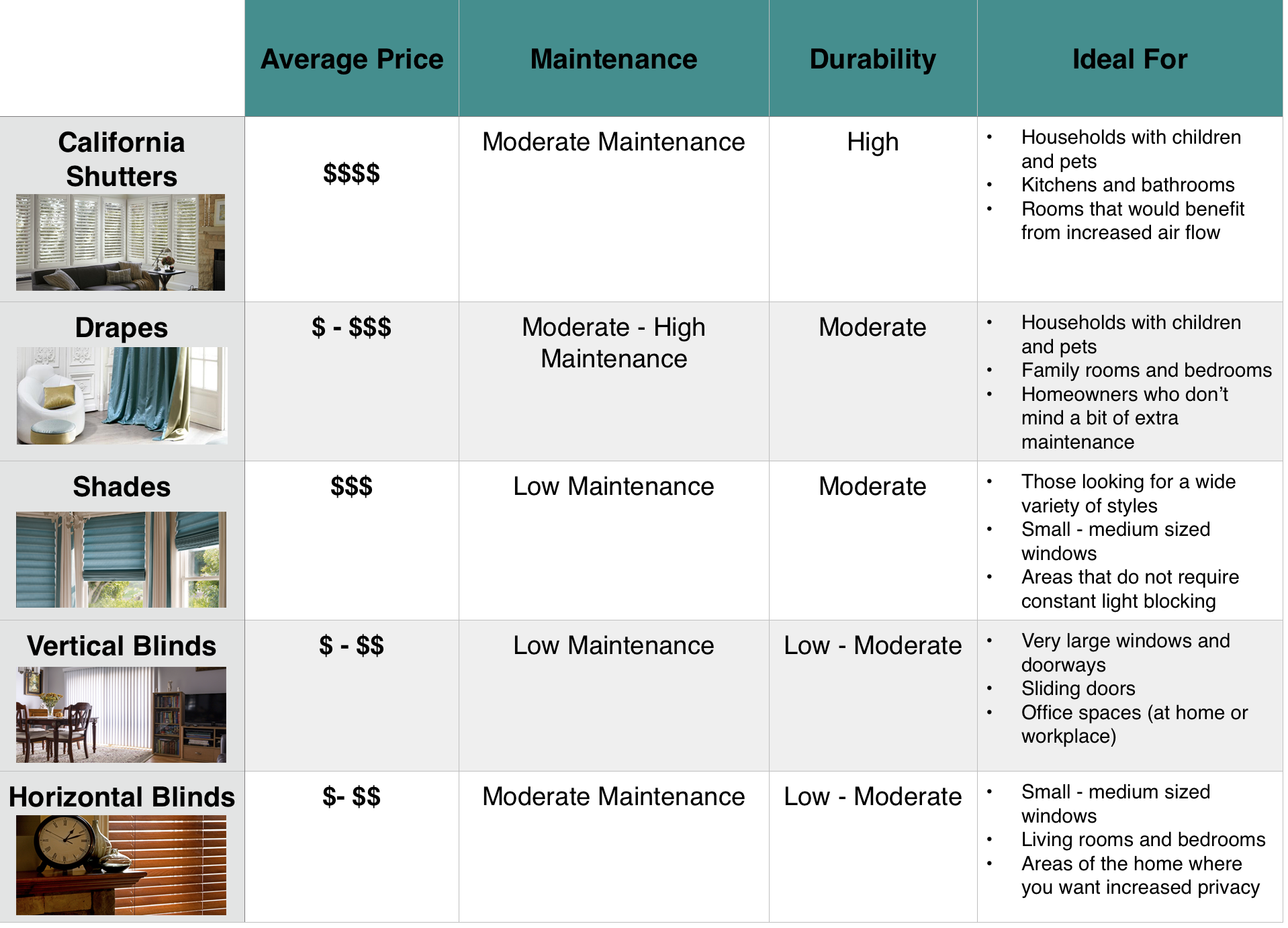 Comparison of window treatment options
Learn more about how shutters compare to other options with our article about everything you need to know about California shutters!
GET YOUR PERFECT WINDOW TREATMENTS WITH GRAHAM'S & SON!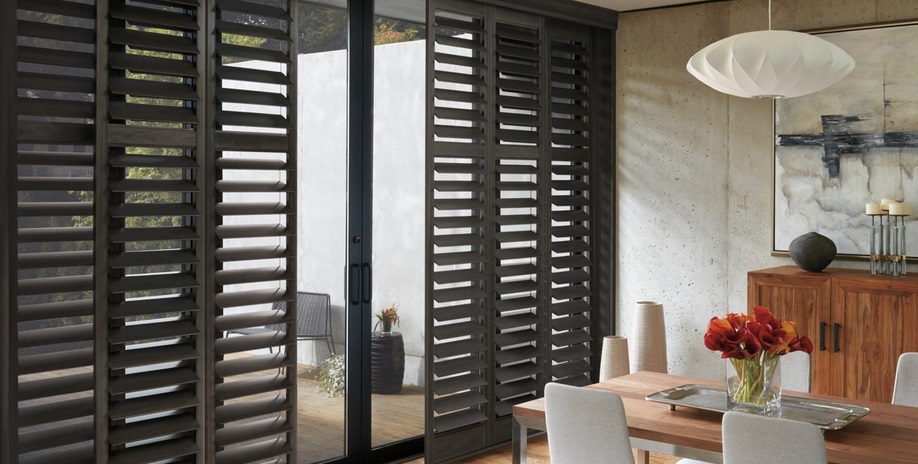 At Graham's & Son, we offer a wide variety of window treatments, including California shutters! If you are looking to update your current window treatments, contact Graham's & Son today for the most energy efficient and beautiful window treatments possible. Graham's & Son knows window coverings; we have been in the window treatment business for over 40 years. Our expertise and professionalism are second to none. In addition, right now we are offering an amazing deal on all our blinds, shutters, and shades – when you purchase any two, you will get a third absolutely free.
"Absolutely wonderful service from a great family business. They provided quality products at very affordable price.
Definitely recommend using Grahams & Son"
– John O'Leary

Read more customer testimonials
At Graham's and Son our customers have been so pleased with the high standard of our work that they selected us for the "Best Business Service – Interior Decorating: Platinum" and "Best Shopping – Kitchen Renovations: Gold" awards in the 2017 Cambridge Times Readers' Choice Competition.
Book a free in-home consultation today and find out for yourself why Graham's is the best in the interior design business. Contact us today to schedule. If you prefer, you can shop at home. Browse through our website, make your choice, and simply give us a call at 519-658-9025 to place your order without ever having to leave the comfort of your own living room.