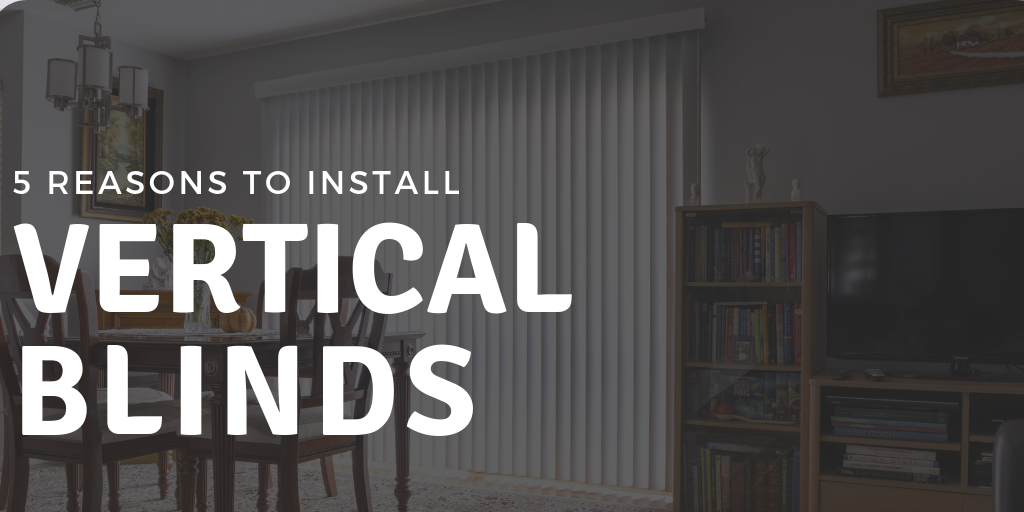 Considering vertical blinds for your home? Vertical blinds are not only a cost-effective window treatment solution, but can also be an attractive addition to any room. In this article, we'll take a look at the top 5 reasons why you should install vertical blinds, including their great aesthetic appeal as well as cost-effectiveness! We'll also provide some great ideas to help you get your own perfect blinds. To learn more about vertical blinds and other window treatments, contact the experts at Graham's & Son today!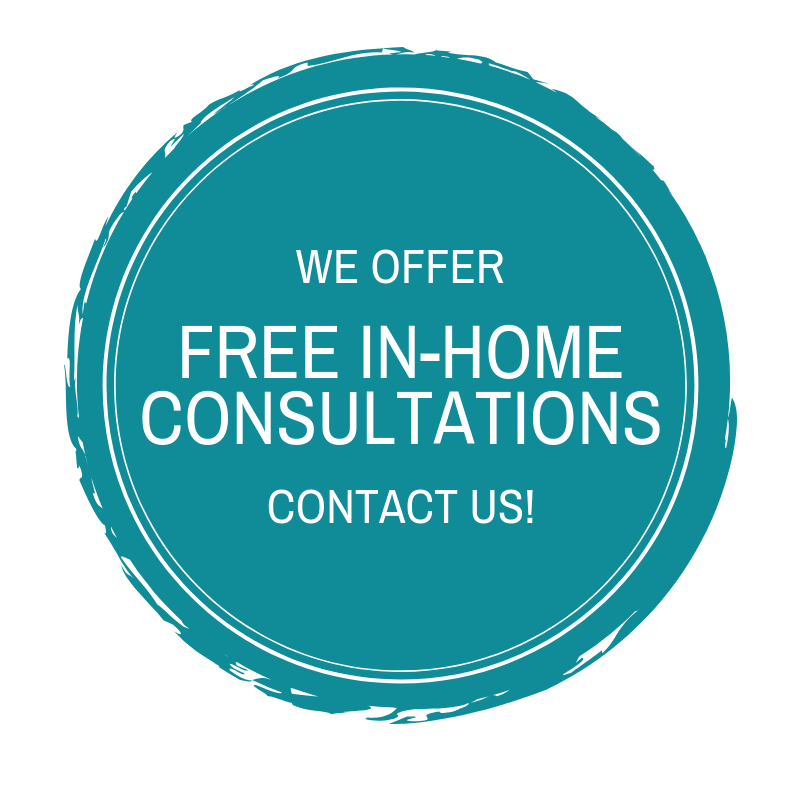 5 Reasons to Install Vertical Blinds
Although some people think vertical blinds are 'outdated,' that is just not the case! Vertical blinds have been revived – and act as a cost-effective, functional, and attractive window treatment option. See below to learn about the top 5 benefits of this type of window covering!
Perfect For Covering Sliding Doors and Large Windows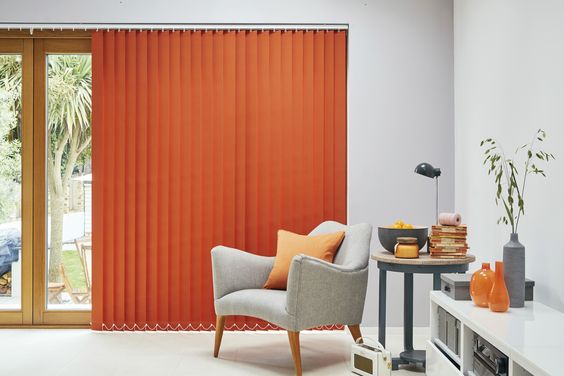 Vertical blinds provide privacy for large windows and sliding doors
Image source: Pinterest.com
Blinds are an excellent choice for covering your back sliding doors or very large windows. Choosing other options, such as shutters, can be costly to cover such a large space. With vertical blinds, you will be able to get a great deal while adding privacy to your back doors or big open windows.
They are also great for doors as they easily swing to one side, allowing light in (or blocking light from entering) whenever you want. This style of blinds gives you a significant amount of control over how much light enters your room. This is ideal in areas like your kitchen, where you may not want the sun beaming in your eyes as you attempt to cook!
For easy access to the outdoors, simply pull your blinds to the side and your door is easily accessible. Most vertical blinds move from one side to the other. However, some styles pull apart in the middle instead, leaving half the blinds on one side and half on the other. This is great for certain styles of windows or doorways that have a middle door and windows to the side.
Adds Aesthetic Appeal To Nearly Any Room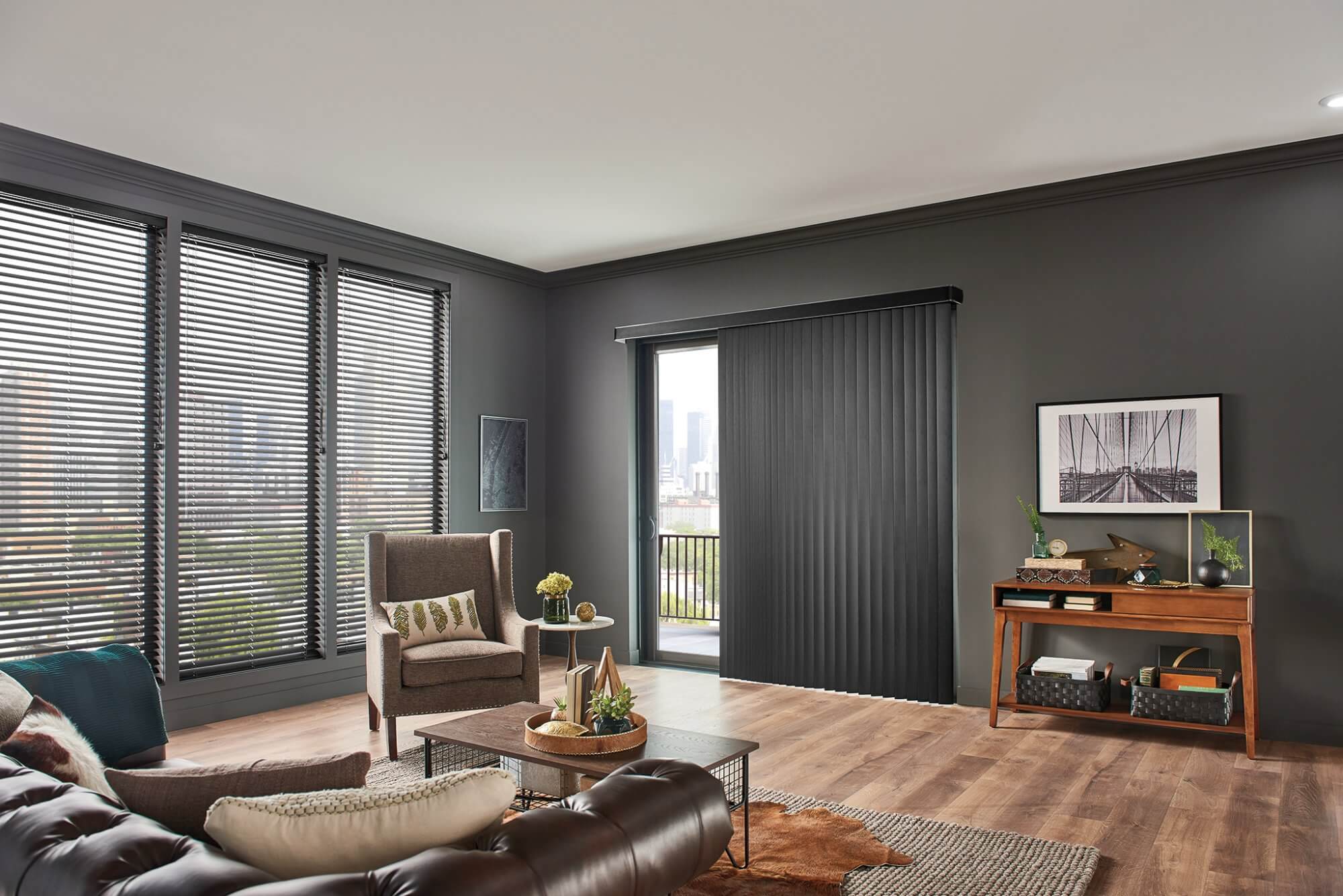 Vertical blinds can look attractive and modern
Image source: Graber Blinds
Adding new window treatments can often update any room of the house. From your kitchen to the living room to the bedroom, vertical blinds can add aesthetic appeal and even a pop of colour! Blinds today are often made with aesthetics in mind. Although vertical blinds in the past were often function-over-fashion, that is not the case today!
Nowadays, you can find lots of attractive vertical blinds in a variety of colours, styles, and patterns. If you're looking for a way to brighten up your kitchen, consider light coloured fabric blinds. Fabric blinds can provide a warm feel to any room – and as they say, the kitchen is the heart of the home! If you want a modern and sleek look in your living room, vinyl blinds are the perfect choice. Vinyl blinds look clean and are easy to maintain – great for high traffic areas such as your living room. No matter what your personal style preferences are, there's a good chance you can find blinds that will suit your wants and needs.
You also don't have to be a design expert to choose the perfect blinds. With all the different styles and materials comes their own pros and cons. If you aren't quite sure which style or material is right for you, don't hesitate to contact design professionals and ask for their opinion on what is best for you, your home, and your budget – at Graham's & Son, we even offer a free in-home consultation to make getting the right blinds as easy as possible.
Many Styles & Materials To Choose From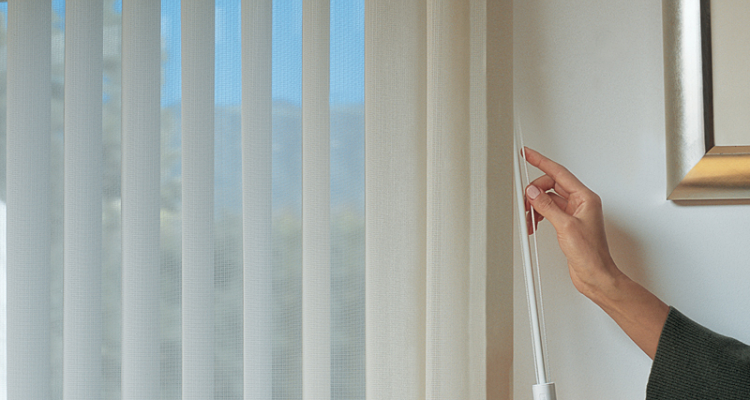 You can choose from many different materials, including fabric!
Image source: bbsedona.net
As we mentioned above, there are many different materials to choose from when it comes to vertical blinds. Not only does this give you a variety of styles to pick from, but it also means that you have different price points and preferences to choose from.
For example, wooden blinds will cost more than vinyl blinds, but wooden blinds require more maintenance than vinyl. See below to learn a bit more about the most common materials!
Vinyl – Vinyl blinds are popular due to their low-maintenance and sleek appearance. They come in a variety of colours and are a cost-effective option. When it comes to aesthetics, they are middle of the road. However, many choose them for their low cost and the fact that they are so easy to clean.
Wood – Wooden blinds are the most expensive option, but also tend to be one of the most aesthetically pleasing. They do require more maintenance, and it is best if they are kept out of moist environments.
Aluminum – Metal blinds are cost-effective and are resistant to dust and debris build up. However, they can be noisy when pushed around and are not the most attractive option.
Fabric – Fabric blinds can be a beautiful choice, but do require regular cleaning. With fabric blinds, you can choose from many styles such as sheer (which lets light through even when closed) to complete light-blocking options.
Which material you choose is completely up to you! It is important to weigh the pros and cons of each, and decide what is most important to you. For example, if you don't like the idea of an extra thing to clean, it's a good idea to go with vinyl or aluminum. If you are looking for an attractive addition to your room, then wood or fabric may be the better choice. Click here to learn more about different materials and styles for vertical blinds!
Easy To Use and Operate
Your new window treatments shouldn't be a hassle to use. Fortunately, vertical blinds are some of the easiest window treatment options to use and operate. See the quick video below from Hunter Douglas to see just how easy blinds are to use!
As you can see from the video above, many vertical blinds come with a simple-to-use chain. This chain allows you to pull your blinds to one side, allowing light in or blocking it from entering your room. It is important to note that blind cords and chains can cause injury to small children.
But don't worry – with vertical blinds, you can choose to use a wand, which is safe for children, or even an automated option! This means there are no dangerous cords or dangling chains that children (or pets) can get tangled in. Automated blinds are an ideal option for households with small children, and if you have large bedroom windows, for children's rooms.
Vertical blinds are not only easy to use, but they are also easy to clean. Although some materials are easier than others to clean, most require less maintenance than other window covering options. Because of their design, it is difficult for dust and debris to accumulate on the vertical surface. If you choose wood, vinyl, or aluminum blinds, you will also not have to worry about washing your blinds.
Provides Increased Privacy Over Other Options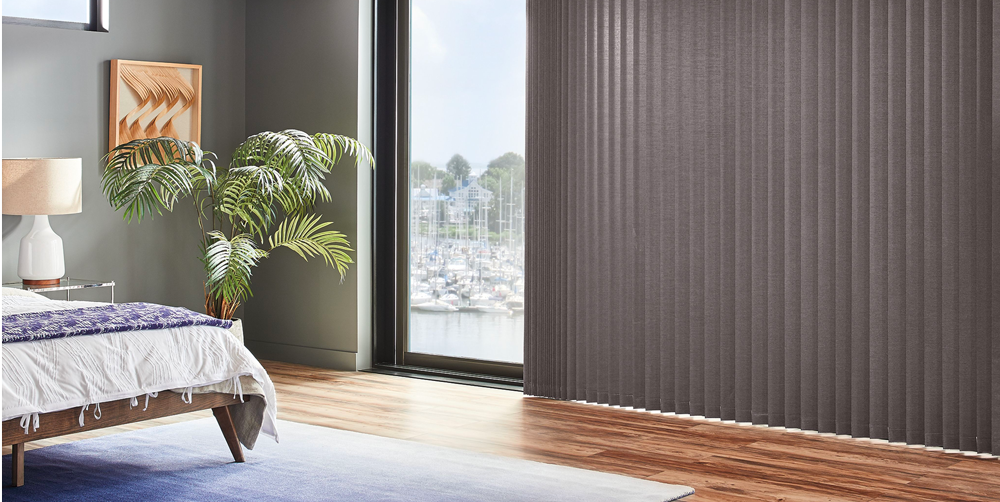 Vertical blinds can give rooms such as bedrooms more privacy
Image source: Graber Blinds
One of the main reasons why homeowners add window treatments is, of course, to add privacy to your home! Although most options will provide a good deal of privacy, blinds are one of the best options for adding privacy to large windows and sliding doors. Other options, such as drapes, will often leave gaps or are easily pushed out of the way – leaving openings and reducing your privacy.
By pulling your blinds all the way from one end to another and closing the panes, your window or doorway will be 100% covered. Vertical blinds cover your windows from the very top to bottom, so there are no gaps or openings. If someone accidentally brushes against your blinds, they will sway for a few seconds and then return to their original position, ensuring you always have a great deal of privacy when you want it.
GET YOUR PERFECT WINDOW TREATMENTS WITH GRAHAM'S & SON!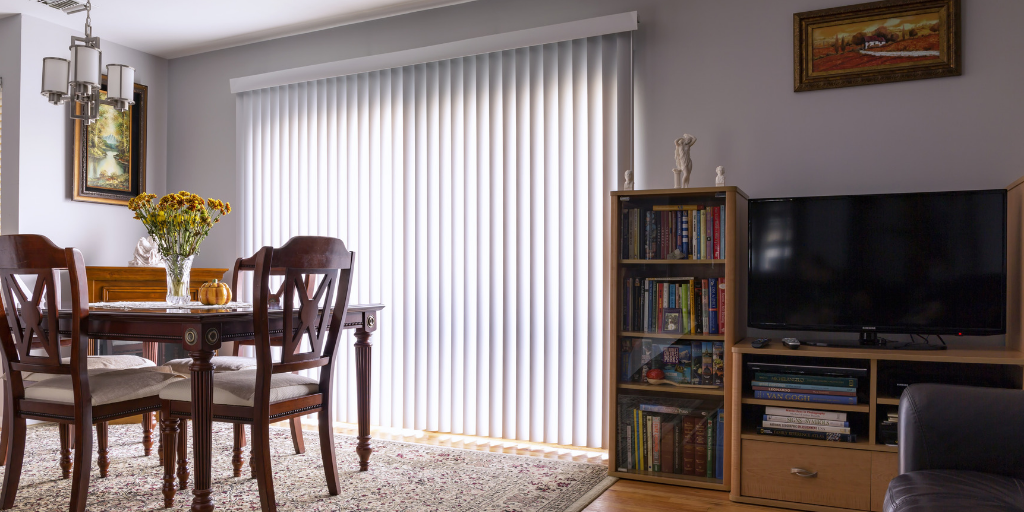 At Graham's & Son, we offer a wide variety of window treatments, including California shutters! Whether you are looking for vertical blinds, horizontal blinds, shutters, shades, and more – we've got you covered! If you are looking to update your current window treatments, contact Graham's & Son today for the most energy efficient and beautiful window treatments possible.
Graham's & Son knows window coverings; we have been in the window treatment business for over 40 years. Our expertise and professionalism are second to none. In addition, right now we are offering an amazing deal on all our blinds, shutters, and shades – when you purchase any two, you will get a third absolutely free.
"Absolutely wonderful service from a great family business. They provided quality products at very affordable price.
Definitely recommend using Grahams & Son"
– John O'Leary

Read more customer testimonials
At Graham's and Son our customers have been so pleased with the high standard of our work that they selected us for the "Best Business Service – Interior Decorating: Platinum" and "Best Shopping – Kitchen Renovations: Gold" awards in the 2017 Cambridge Times Readers' Choice Competition.
Book a free in-home consultation today and find out for yourself why Graham's is the best in the interior design business. Contact us today to schedule. If you prefer, you can shop at home. Browse through our website, make your choice, and simply give us a call at 519-658-9025 to place your order without ever having to leave the comfort of your own living room.