Learn how to keep your blinds clean by periodically dusting, vacuuming and spot cleaning. We've also included special cleaning instructions for the more difficult blinds to clean, such as wooden blinds or cellular shades. If you purchase blinds that are made from high-quality materials, they should stay beautiful for years to come with regular light cleaning. Contact the blinds experts at Graham's & Son today and find out how easy and amazing it would be to have our high-quality window treatments in your home. Book a free in-home consultation and we will bring samples right to your home.

How to Keep Your Blinds Clean: Summary Chart
The following is a chart that will help you see at a glance what the best cleaning methods are for your different types of blinds. Read on to find more detailed and specific cleaning tips.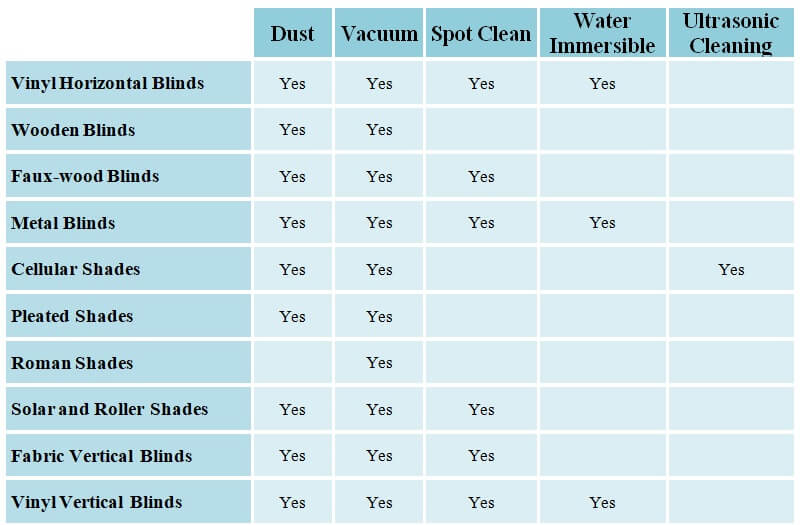 How to Keep Your Blinds Clean: Basic Cleaning Methods
Most window treatments can be kept clean and looking their best with a little bit of regular maintenance. This includes using one of the following basic cleaning methods from time to time.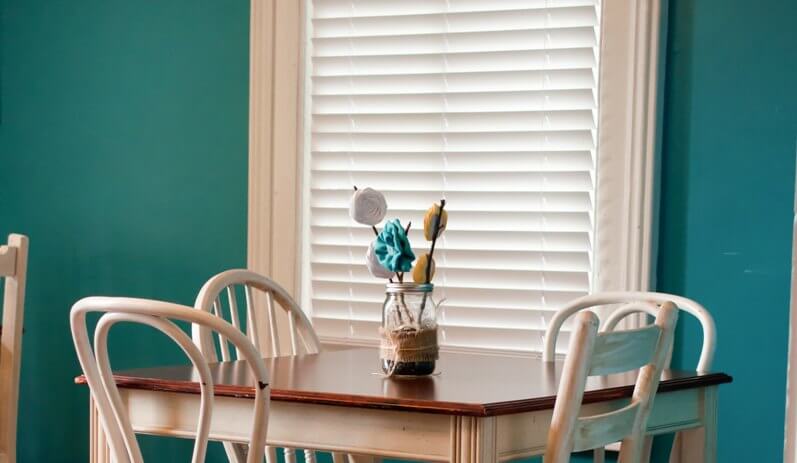 Dusting: Periodic dusting (about once a week) with a feather duster will help to keep your blinds looking new.
Vacuuming: Lightly vacuuming your window treatments with the upholstery attachment on your vacuum cleaner will give them a deeper cleaning. This can be done once a month. If you don't have an upholstery attachment for your machine, securely attach a nylon stocking over the end of your hose to safely clean your blinds.
Spot Cleaning: For blinds that are safe to spot clean, you can do the following to remove any stain. Using a soft cloth or sponge dipped in mild detergent and warm water, gently blot the affected area. Allow it to dry completely. If you are spot cleaning fabric shades, make sure that you are very careful not to crush or wrinkle the material.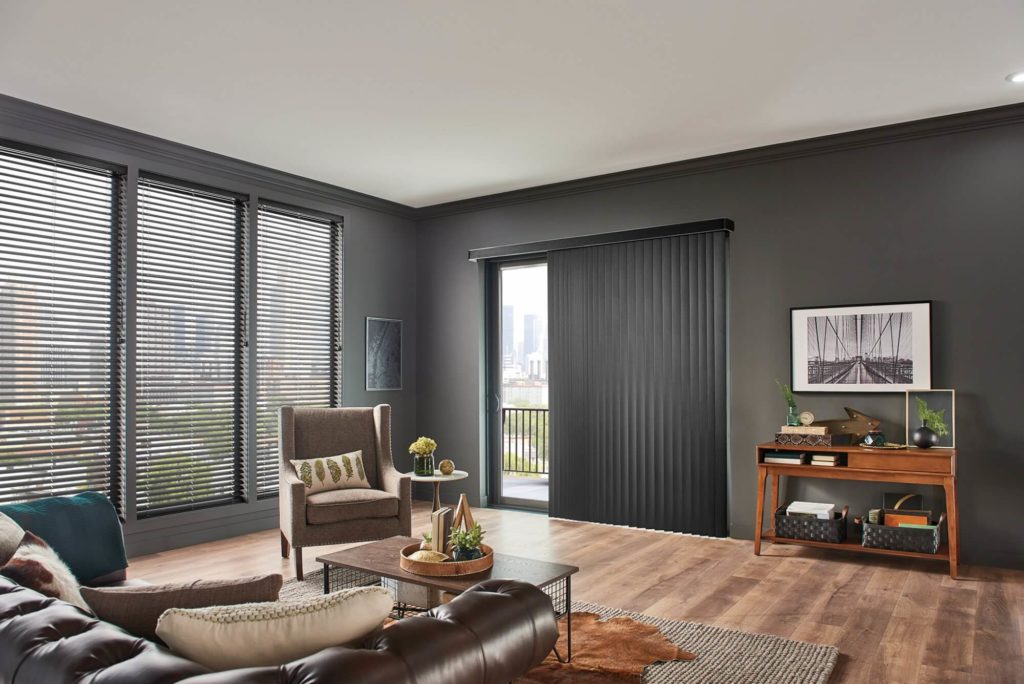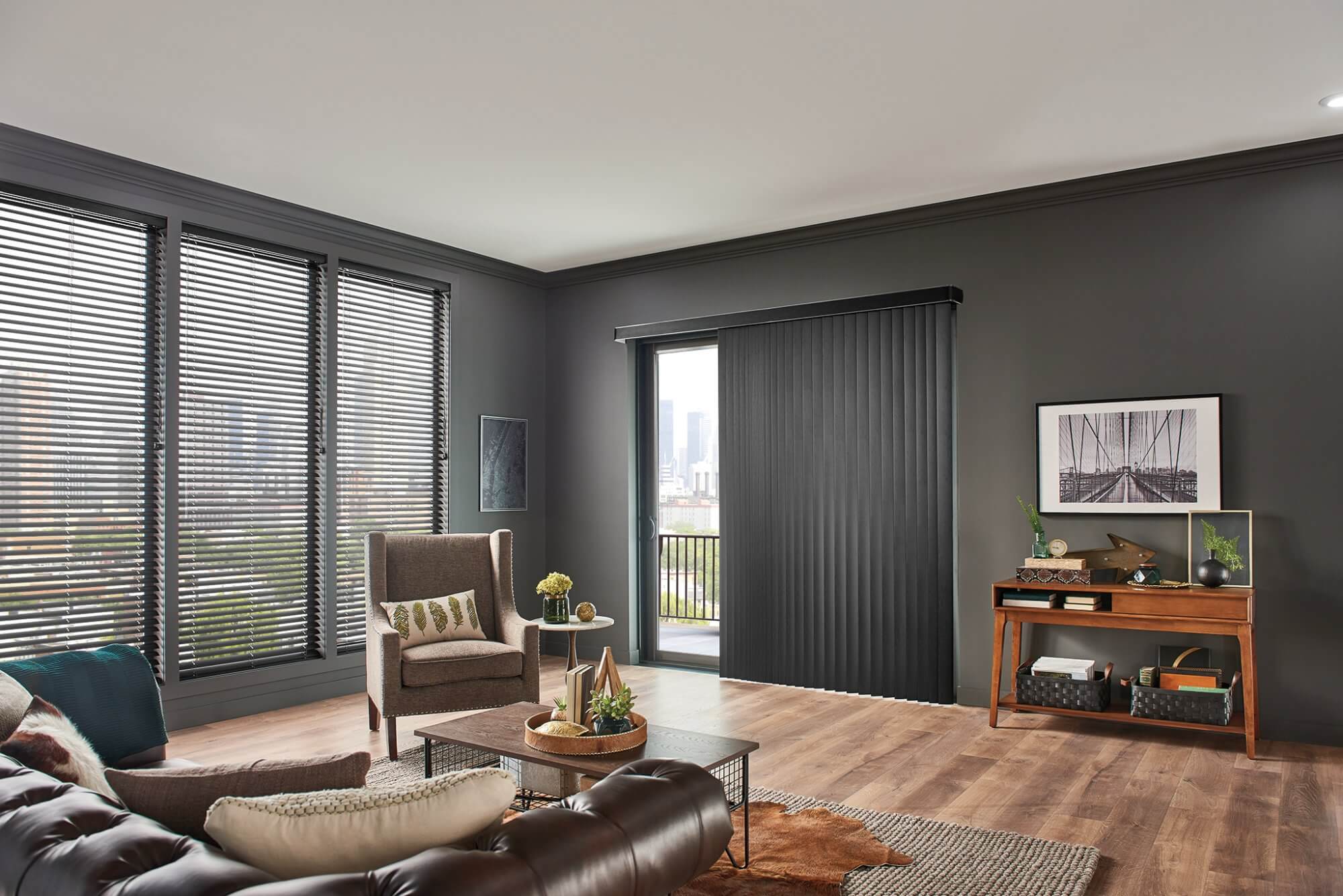 Specific Cleaning Instruction for Different Types of Blinds
The following is a listing of the most common types of blinds and shades with specific cleaning instructions pertaining to that particular window treatment.
Cellular Shades: Cellular shades are a popular window covering choice because of their great insulating ability, their ease of operation and their beautiful look. Because of their unique construction, they do, however, require special care when cleaning. Mild detergents like Woolite spot removers and dry cleaning may damage your cellular shades. If you need to get them deep cleaned, it is recommended that you get a company that does the ultrasonic cleaning to do it for you. The following video will show you how ultrasonic blinds.
Vinyl Horizontal and Vertical Blinds: It's okay to clean your vinyl blinds with mild soap and water. You can either clean them while they are up or take them down and immerse them in water. The vanes on your vinyl vertical blinds can be taken off and then immersed in water to clean them. If you would also like to help eliminate static electricity build-up, coat the vanes with a thin layer of a mild detergent. If you would rather not take your blinds down to clean them, then the following video will show you how to do clean while they are still up.
Sheer Vertical Blinds: During the manufacturing process, sheer fabrics are steam pressed. You may find that they need to be steamed again at a low temperature before you hang them up. You should not, however, iron out the permanent pleats in them. Make sure you remove the fabric from the vanes before you steam them. You can also machine wash on the gentle cycle your sheer blinds. Be sure to use warm water and a mild detergent. Never use chlorine bleach on them. Hang the damp fabric on the louvres and reshape them. Leave them to air dry in the open position.
Wood Blinds: If you have wood blinds that have a painted or stained finish, clean them with a spray polish such as Pledge, using a soft cloth. Never use water on any wood products as it will damage it. The following video demonstrates a good method for cleaning your wooden blinds to make sure you get each spot.
Natural Shades: Do not use water or liquid cleaners on shades made from natural fibres. All you need to do is give them a light vacuuming with a brush attachment to keep them clean.
Motorized Shade Remote Controls: If you have automated blinds and would like to clean your remote control, lightly wipe the plastic surfaces with a mild soap solution using a dampened cloth. Make sure you never submerge your remote in water or use a spray cleaner directly on it.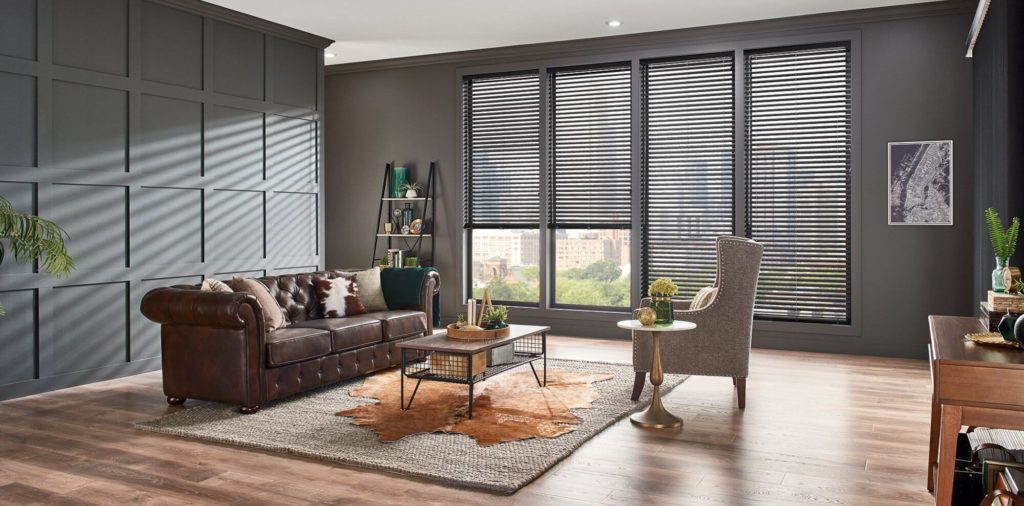 "Hi Christine, Thank you. The blinds look terrific. We were very happy with the quick and expert install. Our experience in dealing with each of you was wonderful. Thanks for taking the stress out of the project by getting us exactly what we wanted and installed perfectly, no clean-up after – it is a real treat to work with such professionals. Take care and hope to do business with you again. Thank you."
– Gayle Z, Brantford
Read more customer testimonials
Looking to Replace Your Current Blinds or Shades? Come to Graham's & Son
Tired of your current window treatments? Is it time to give your windows a facelift? Come to Graham's & Son for new blinds or shades for your home. If you have curtains instead of blinds and would like to have them cleaned. contact us. We do professional drapery cleaning for you.
Graham's & Son Interiors has over 40 years of design experience serving the Cambridge, Kitchener-Waterloo, and surrounding regions. We firmly believe that each of our clients deserves "superior design concepts, top-of-the-line materials, and timely project management." That is why our satisfied customers gladly recommend us to their friends and family. Our customers have been so pleased with the high standard of our work that they selected us for the "Best Business Service – Interior Decorating: Platinum" and "Best Shopping – Kitchen Renovations: Gold" awards in the 2017 Cambridge Times Readers' Choice Competition. Book a free in-home consultation today and find out for yourself why Graham's is the best in the interior design business.

| | |
| --- | --- |
| | |
Find out for yourself why Graham's & Son Interiors are Southwestern Ontario's premier interior decorators. Contact us today to schedule a free in-home consultation. If you prefer, you can shop at home. Browse through our website, make your choice and simply give us a call at 519-658-9025 to place your order without ever having to leave the comfort of your own living room.
Buy 2 Get 1 Free
Right now is the perfect time to purchase vertical blinds as we are offering an amazing buy 2 get one free deal on all of our blinds, shades, and shutters.
Buy Two Blinds, Shades, Or Shutters & Get One Free!