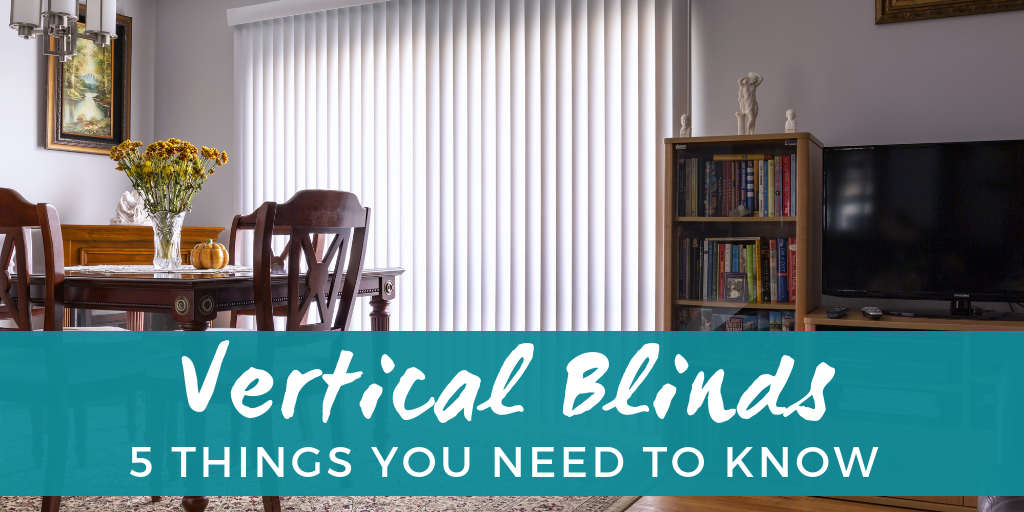 Are you considering adding new vertical blinds to your home? When it comes to window treatments, there are many options – so many that it can be overwhelming! Vertical blinds are a classic option that many homeowners still choose today. In this article, we'll outline the top 5 things you need to know if you're considering vertical blinds for your home. To learn more about your window treatment options, contact the experts at Graham's & Son today!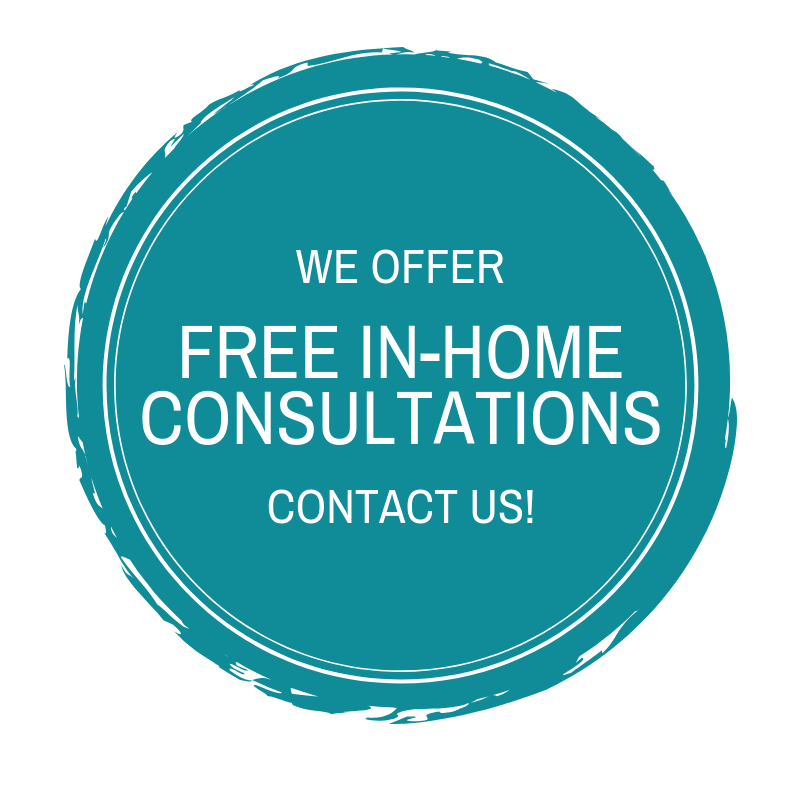 Vertical Blinds: 5 Things You Need to Know
Below, we'll go the 5 things you need to know including the different types of vertical blinds, materials, benefits, best places to install your new blinds, and how to get your own perfect new blinds!
1. Types of Vertical Blinds
All vertical blinds will have vanes (also called slats) that drop down vertically from the headrail. Many traditional versions looked fairly similar and let you adjust how much light entered the room as well as the positioning of the blinds (pulled all the way out or pushed to one side, etc). However, there are new versions available that come in a variety of styles.
Vertical Blinds with Chain & Cord
>
Traditional vertical blinds come with a chain and cord; Image source: hunterdouglas.com
These vertical blinds from Hunter Douglas show what many people think of when they think "vertical blind." These types of blinds operate by pulling on a chain and/or cord hung from the side. Depending on the way you pull on the chain, you can either bring the panes to the side or you can open/close the blinds. This type of blind is most often made from plastic, but you can also find it in other materials.
Cordless Blinds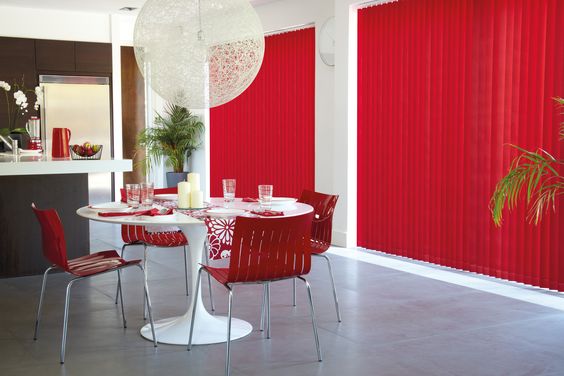 Some vertical blinds do not have a cord or chain; Image source: Pinterest.com
Instead of a cord, that can be a safety concern for children or pets, many vertical blinds now come with a small plastic wand attached to the control end. This wand serves the same purpose – you twist the wand to open or close the blinds or pull it along the track to move your blinds from one side to another. At a higher price point, you can also find motorized vertical blinds. You can control these motorized blinds with a remote, and it requires no wand or chain/cord.
Decorative/Sheer Vertical Blinds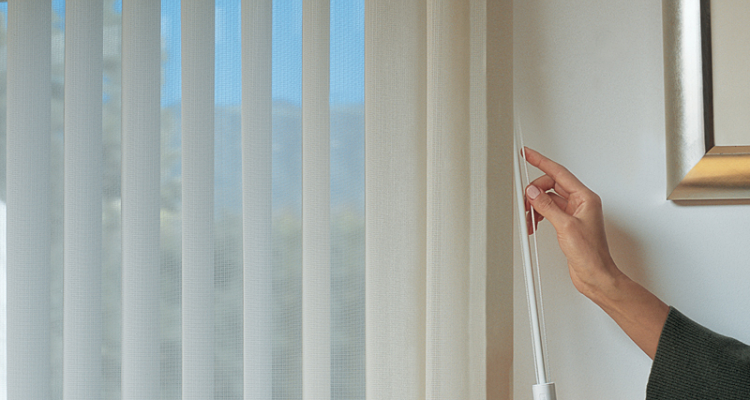 Sheer vertical blinds have a similar look and feel to curtains and drapery; Image source: bbsedona.net
In most cases, you will find vertical blinds made of materials you cannot see through to create privacy. However, as fabric vertical blinds become more popular, we are seeing some variations on sheer and decorative vertical blinds. These blinds may be controlled in the same way as the two options listed above,
2. Vertical Blind Materials
In the past, most vertical blinds were plastic. Now, you have a few different materials to choose from! Learn about these different materials below to help you make your choice easier.
Vinyl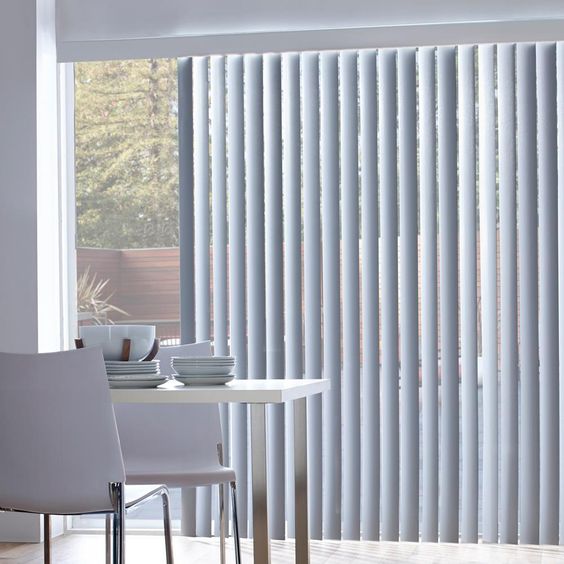 Vinyl blinds; Image source: Pinterest.com
If you are looking for the most economical choice for your new blinds, the clear choice is vinyl. Vinyl blinds are a cost-effective solution. They are available in a wide variety of colours and are a practical way to add privacy to your home. Vinyl blinds are relatively maintenance free, aside from occasional dusting. They are easy to clean and rarely look dirty. They are not the most aesthetically pleasing option on the list, but they are practical and economical.
Aluminum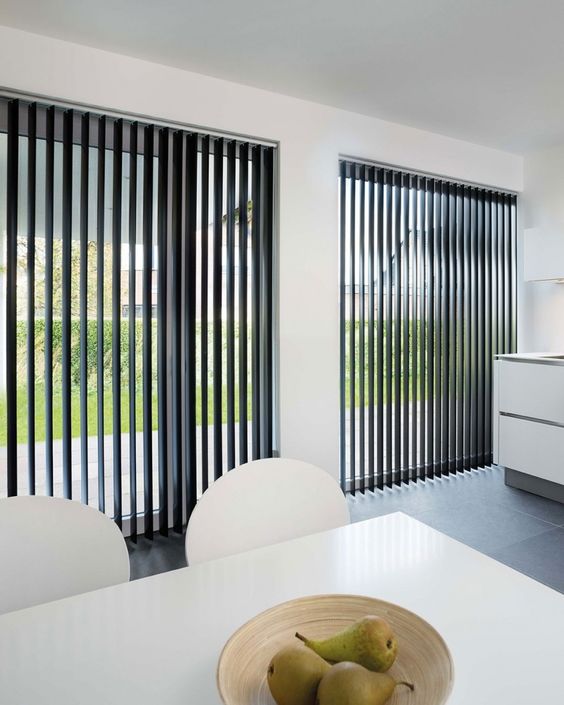 Aluminum blinds are sleek and simple; Image source: Pinterest.com
Many people have not heard of or considered aluminum blinds. However, they are a great choice for high traffic areas of your house, as aluminum blinds can have a protective coating that makes them resistant to dust and debris build up. Many aluminum blinds will look similar, but they do come in a wide variety of sizes and colours (so don't worry, your blinds won't have an obvious metallic look to them).
Fabric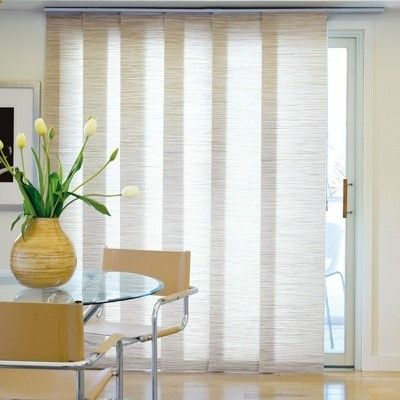 Unique fabric blinds; Image source: Pinterest.com
Fabric blinds are an excellent way to get that look and feel of drapes or curtains without sacrificing the practicality of blinds. With fabric blinds, the possibilities are nearly endless. You can pick from a wide variety of different fabric materials, you can choose sheer or completely light-blocking, and of course, you can choose from any colour available. Fabric blinds will require more maintenance as it's not as simple, for example, to clean a spill from fabric.
3. Benefits of Vertical Blinds
Vertical blinds are perfect for large windows and sliding doors, and come in many styles and colours
Still not sure if vertical blinds are right for you? Of course, vertical blinds are not always the right window treatments. They are ideal for large windows and sliding doors – you do not often see them installed in small or high windows.
Plastic and aluminum vertical blinds can also create a lot of noise when pulling in and out of place or if bumped into, something you should consider when thinking about blind placement. However, there are many benefits of verticals!
Increased versatility: Not only can vertical blinds be pushed and pulled to the sides of your window or doorway, but the panes can also be opened and closed. This allows you to adjust your blinds to block or allow light in ways that aren't possible with other options.
Lower price point: In many cases, verticals are the more cost-effective option, especially if you choose to go with more economical materials such as vinyl.
Less dust accumulation: Because of the style of vertical blinds, they do not collect as much dust as other options. With horizontal blinds, dust can easily pile up on the panes. With verticals, you won't have this problem as frequently so they will require less dusting.
Increased privacy: Because verticals cover your entire doorway or window from top to bottom, they often provide more privacy than other window treatment options. When made with opaque materials and pulled all the way closed, you will virtually have 100% privacy.
To learn more about the pros and cons of vertical blinds, click here!
4. Where to Place Your New Blinds
Vertical blinds can go nearly anywhere you have large windows or doorways

Love the look of verticals but aren't sure if they will fit well in your home? The good news is that these blinds can go nearly anywhere you have large windows! Check out the list below to get some ideas.
Living rooms: Verticals are perfect for living rooms with large windows. You may want to choose a fabric option, as it can mimic the warm look and feel that drapes bring while also being a practical and economical choice for large window openings.
Office: Whether you have a spacious at-home office or spend your workdays at a traditional office space, vertical blinds are a great way to give you privacy and block the light from reflecting off your computer screen.
Sliding doors: If you have sliding doors from your home to the yard, verticals are the perfect solution. Since you'll regularly need to access your doors, these blinds are easy to move into the right position so you aren't constantly frustrated by moving them
Kitchen and dining room: Often, the kitchen or dining area of your house will have sliding doors to the back! But, even if you just have large windows in these spaces, verticals can be an attractive and functional way to control how much light enters one of the most-used areas of the home.
Bedrooms: Large windows in the bedroom can easily be covered by verticals. Drapes and custom made blinds can be a more expensive option for large bedroom windows. So if you are looking for a cost-effective option, verticals are a great choice. Keep in mind, aluminum and plastic blinds can make more noise, so choose fabric if you're a light sleeper!
5. How To Get Your Own Perfect Blinds
A home decor professional can help you select the perfect blinds for you and your home
There are many ways to get your own perfect blinds. You should do your research to find out which styles and materials match your unique needs, preferences, and budget. You can do that by talking to professionals or researching online! If you enjoy doing-it-yourself, you can always try to create DIY blinds. However, unless you are an experienced DIYer, this may not be the best way to end up with a high-quality product.
One of the best ways to get your own perfect blinds is by working with the experts. When you work with window treatment professionals, they can help you pick the right style and material that will work best for you, your home, and your budget.
Graham's & Son Interiors has over 40 years of design experience serving the Cambridge, Kitchener-Waterloo, and surrounding regions. We firmly believe that each of our clients deserves "superior design concepts, top-of-the-line materials, and timely project management." If you are looking for your perfect blinds, we also offer a buy two, get one free deal on our window treatments!
That is why our satisfied customers gladly recommend us to their friends and family. Our customers have been so pleased with the high standard of our work that they selected us for the "Best Business Service – Interior Decorating: Platinum" and "Best Shopping – Kitchen Renovations: Gold" awards in the 2017 Cambridge Times Readers' Choice Competition. Book a free in-home consultation today and find out for yourself why Graham's is the best in the interior design business.