Bedroom Trends 2019 – Are you looking to remodel your bedroom, but want to know what's going to be in style for 2019 before you do so? This article will show you the most up-to-date trends for bedrooms, including furniture styles, paint colours, accessories, window treatments, and more! To learn more about remodelling and interior decorating, contact the experts at Graham's & Son today!

BEDROOM TRENDS 2019
Though your bedroom may not be the highest traffic area of your home, it should still be a place of relaxation and retreat. These trends will help you take back your space and finally get the bedroom of your dreams.
#1 – Dark Colours Continue to Trend Into 2019
Dark colours on walls and bedding continue to trend this year
One trend we saw really pick up in 2018 was dark wall colours and matching dark bedding. Dark "brooding colours" seem to have stayed on everyone's radar, and continue to trend into the next year. You will also see a splash of light colours mixed in, either with accent or side tables, light decor, and decorative pillows.
#2 – Contemporary Wallpaper

Contemporary patterned wallpaper is back in style
Source: hgtv.com
This may come as a surprise, but wallpaper is back and trending once again! Along with some other retro styles making a comeback, wallpapered bedrooms is another style that looks like it is here to stay, at least for the next year. Contemporary wallpaper is generally simple and patterned, though there are so many different styles to choose from! If you like the idea of wallpaper but find it a bit overwhelming, you can add a wallpapered accent wall instead of adding it to the whole room.
#3 – Warm, Earthy Colours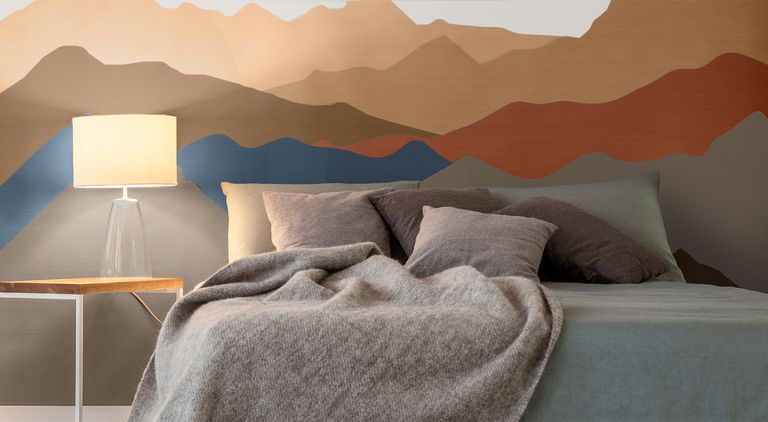 This bedroom combines lots of warm, earthy tones in both the wall colours and bedding
Source: Sherwin Williams; Retrieved from housebeautiful.com
According to House Beautiful, sun-washed, warm colours are trending into 2019 for bedrooms as well as the rest of your home! This example above shows how beautifully these warm tones can mix together. However, if you are a bit less adventurous, you can always pick just one of these paint colours! Any of them would help make your bedroom look warm and cozy for 2019.
#1 – Retro Decor

Retro Decor looks both cozy and modern
Source: bestfriendsforfrosting.com
Retro and vintage styled tables, patterns, rugs, and even throw pillows are trendy and super easy to find in stores – both big box stores for brand new items and antique stores for a more true vintage feel. These retro trends are often used together to create a trendy, vintage bedroom, or used in combination with modern items for a bit of old-time flare.
#2 – Super Simple Modern Bedrooms
Simplicity is always in style, but especially for 2019

White and grey have never really been out, but they are definitely shining into 2019! If you aren't into the complete retro look, clean and simple modern bedrooms may be more your style. These modern bedrooms integrate a lot of light colours such as white and grey, not just on the walls, but also within flooring, accent chairs, bed sheets and comforters, and bed frames. You may also want a pop of darker colour on the wall, like we see in the first picture. Accent walls are also trending!

#1 – Simple, Neutral Curtains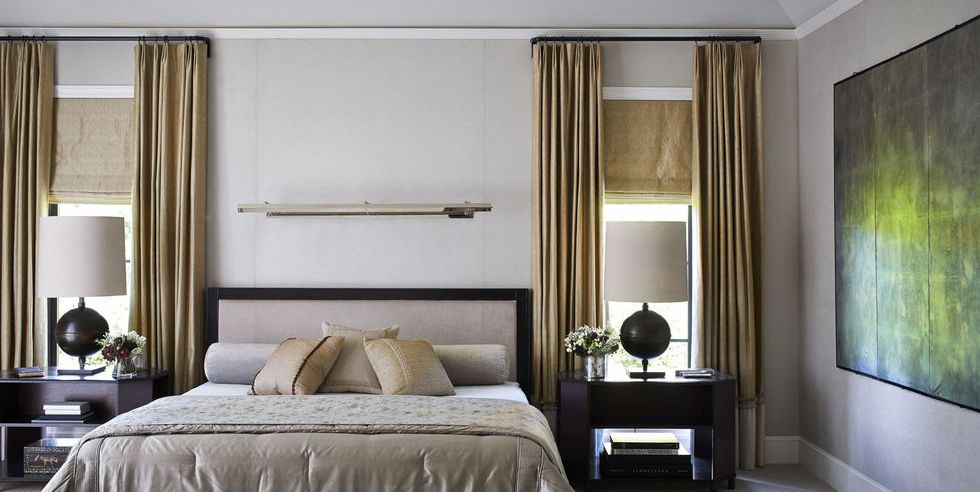 White, beige, and light coloured curtains look great this year
Source: elledecor.com
With one of the current bedroom trends being simple and modern, it shouldn't come as a surprise that understated, neutral curtains make the list of bedroom trends 2019. Although we are still seeing colourful curtains and accent pieces in the bedroom, many trends seem to be calming down a bit and settling more towards the neutral tones we've seen in the past.
#2 – Patterned Curtains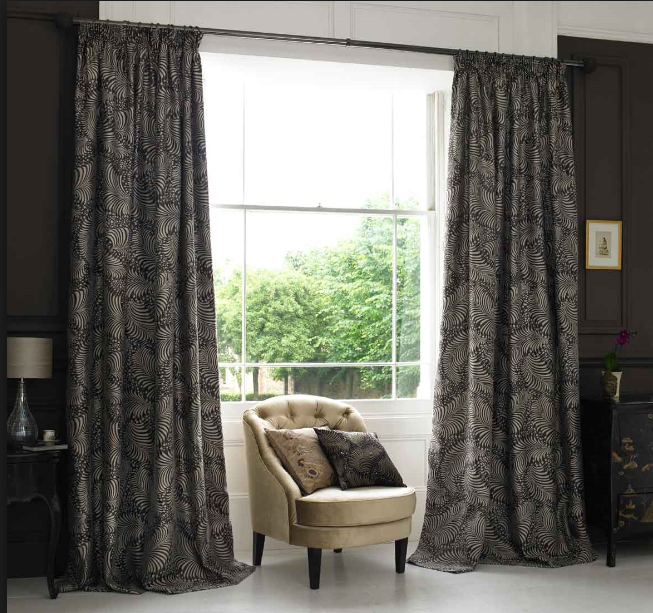 Like patterned wallpaper, patterned curtains are back in
Image from Graham's Gallery
Elle Decor showcases a number of patterned curtains in their master bedroom curtain article. Like wallpaper, patterned curtains can add extra flair to your room. But unlike wallpaper, they only take up a small portion of your wall space, so you can get even more creative – and maybe try something new!
#3 – Beautiful Shutters

Shutters are both beautiful and practical
Images from Graham's Gallery
Shutters are a timeless and perfect way to keep light out of your bedroom when all you want to do is sleep! Shutters will always be in style and continue to be found in a wide variety of bedroom styles. They can be paired with curtains for extra aesthetic appeal or left as-is. They can be bought in a variety of colours, from white to black and even wood – the wide variety of styles helps ensure they match the rest of your room!
For easy reference:
UPDATING YOUR BEDROOM? CONTACT GRAHAM'S & SON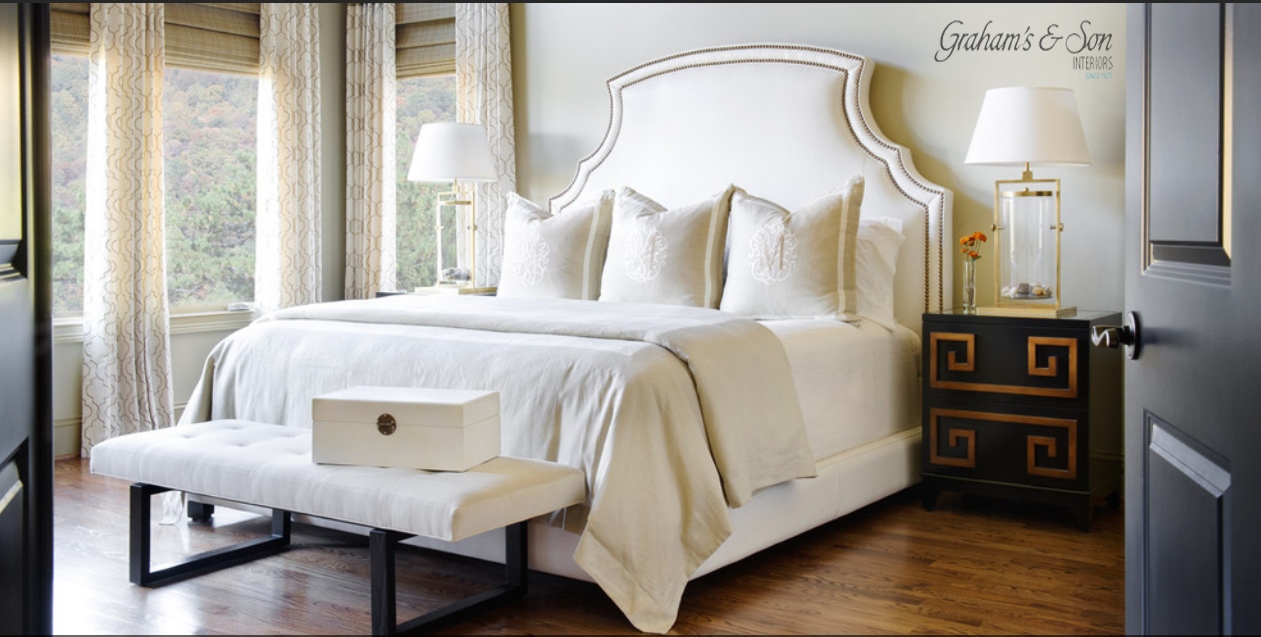 "Very happy with the Graham's & Son Interiors in terms of customer service, quality and price as well as workmanship. Can't ask for a better deal. We have already referred your company to three others."
– Jim & Joanne
Read more customer testimonials
If you are considering a bedroom remodel or renovation, talk to the design experts at Graham's & Son. Graham's & Son has been producing beautiful interior designs for more than 40 years. We are locally owned and operated and we specialize in all types of renovations. We offer free, in-home consultations and will take the time to listen to your ideas and dreams for your new bedroom. If you are thinking of remodelling your bedroom or any room in your home, contact the professionals at Graham's & Son to book your free in-home consultation today.