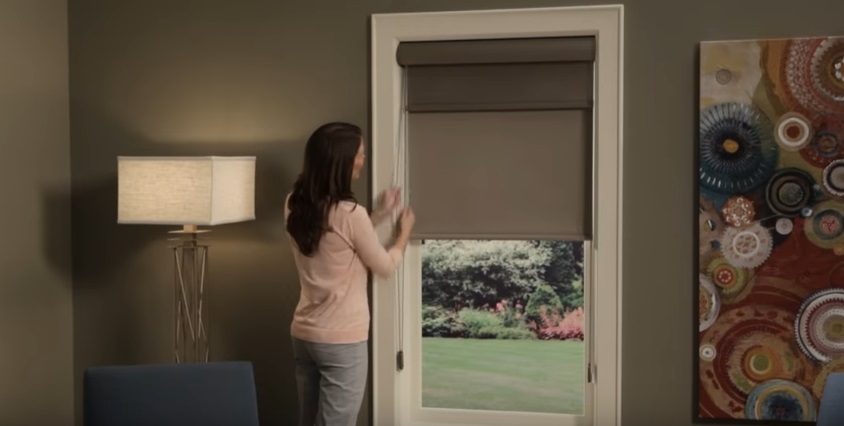 Would you like to update your current window treatments? Dual shades are a great choice as they give you the elegance and style of custom shades combined with the most flexibility in lighting options possible. And right now, Graham's & Son is offering a super Buy 2 Get One Free special on all shades, blinds, and shutters, so it is a great time to make that change. Graham's & Son's dual shades come in a wide range of colours and fabrics to perfectly complement any room decor. Come and visit our showroom at 11 Queen St. East in Cambridge! Or if you prefer, you can contact us to book a free in-home consultation and we can bring samples right to your home.

"Let me start by saying, I love my window treatments! Mr. Graham was very professional, easy to talk to; he talked with me, not above me, I was at complete ease. He listened to my thoughts, went through my options, and just like that – decision made. The installation crew was quite professional, friendly and efficient. They were in and out in no time, with cleaning up after themselves, and ensuring that I was satisfied with what was done. I would highly recommend Graham's and Son Interiors to anyone, and I look forward to working with them again!"
– Anne Allen
Read more customer testimonials

Why Dual Shades Are Great
Dual shades are a great way to make intriguing and varied lighting effects in your room. With the Hunter Douglas's Dual Roller Shade option, you can pair any two beautiful fabrics with different opacities on a single cassette. Or if you prefer you can choose to combine any woven textured fabric shade with a rear roller shade as an independently operated liner. Select either a light-filtering or room-darkening roller shade and raise and lower them independently to achieve just the right ambience.
Your dual roller shade will be installed on our easy to operate clutch-operated continuous cord loop cassette. The continuous loop uses a pulley which rotates a clutch to raise and lower your shades. Simply pull down on the front half of the loop to lower your shade or pull down on the rear half of the loop to raise your shade.
The following video demonstrates how easy it is to use the custom clutch operating system.
Buy 2 and Get One Free
To celebrate 40 successful years in business, Graham's & Son is rewarding its loyal clientele with an amazing Buy 2 Get One Free offer on all Shades, Blinds, and shutters. Take advantage of this great deal to update your existing window treatments. Buy any two shades, blinds, or shutters and you will get a third one absolutely free! Contact Graham's & Son today to start saving.
Types Of Dual Shades We Can Make
You can choose from a wide range of colours and patterns for your new dual shades. At Graham's & Son, we can even bring samples from our extensive palette of hues right to your home, so you can select the perfect match for each of your rooms. Our interior designer will help you test out different options until you get achieve just the right combination to suit your windows. Schedule a free, in-home consultation today.
Material Options
Hunter Douglas has an extensive collection of over 4,000 fabrics, materials, and colours so you can be sure that you will get just the right window treatment that you are looking for. Their handy Design Your Own Tool will let you easily view the product that you like in all of it available materials and colours. You can even see how tapes and edge bandings will look on certain products. If you like, you can even upload a photo or your room and see how your chosen window treatment will look on your actual window. Once you have a design that you like, you can save your design in their workbook section to print out later. You can take your finished design to Graham's & Son for more details, or you can book an appointment for one of our designers to come to your home and help your design your own shades.
Dual Shade Brands We Carry
Both the Provenance and Alustra series of shades offer you the dual shade option which operates on the same cassette. The Silhouette series allows you the option of including a roller shade behind that operates independently yet is installed on the same head rail.
Provenance® Woven Wood Shades are hand-woven from light-filtering reeds, grasses and woods. They come in four different styles which when paired with a beautiful second layer, give you the ability to transform the sunlight into a captivating design statement.
Pros
Hand woven
Natural fibers
Numerous light filtering adjustment options
If you would prefer to have an alternative to woven woods and solar screens, take a look at the Alustra® Collection of Roller Shades. Alustra® offers you a unique blend of quality fibres in sophisticated designs to achieve distinctive light filtering fabrics.
Pros
Unique blend of high quality fabrics
Sophisticated designs
Distinctive light filtering options
The Silhouette® Duolite™ shadings beautifully combine a Silhouette shading with an separately operated room-darkening roller shade. The shade is ingeniously located behind on the same head rail. This clever duet allows you to enjoy the softly diffused light of Silhouette with the option to darken the room when you would like more privacy.
Pros
Beautiful Shades that give a soft diffused light
Separately operating roller shades mounted on one head rail
Why Buy Your Dual Shades From Graham's & Son
Now is the best time to purchase your new dual shades from Graham's & Son so you can take advantage of our awesome 40th Anniversary Special: Buy any two shades, blinds, or shutters and get a third one absolutely free. Not only will you get an amazing deal, but you also get beautifully crafted and custom designed window treatments that will last and be the envy of your neighbours and friends. You can trust Graham's & Son to provide you with the highest level of customer service, right from the initial designing consultation to the expert installation. And you can enjoy your new dual shades in as little as 2 to 3 weeks from the time that you place your order. Come and visit our showroom today or book your free in-home consultation and we will come to you!