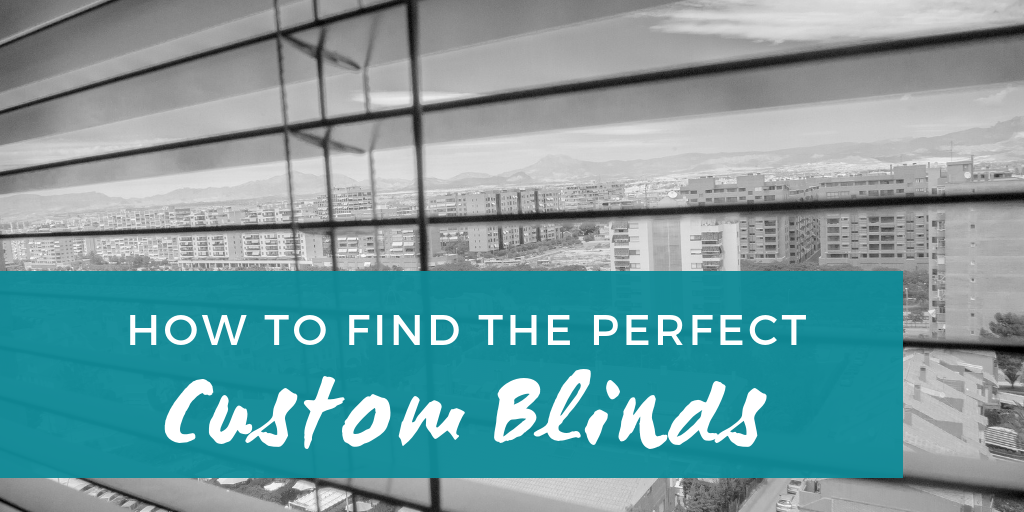 Adding custom blinds to your home is an excellent and cost-effective way to get more privacy and add aesthetic appeal to any room. However, when it comes to blinds, there are a lot of options to choose from. How can you find the perfect custom blinds? In this article, we will look at all of the most common options to help you narrow down your choice. Contact the experts at Graham's & Son to learn how you can get your own perfect custom blinds!
Graham's & Son Offers Free In-Home Consultations!

Custom Blind Styles
In order to find the best custom blinds for you, it's important to know about the common styles and materials that blinds come in. In the next section, we'll take a look at these different styles to help you make the right choice for you and your home.
Vertical Blinds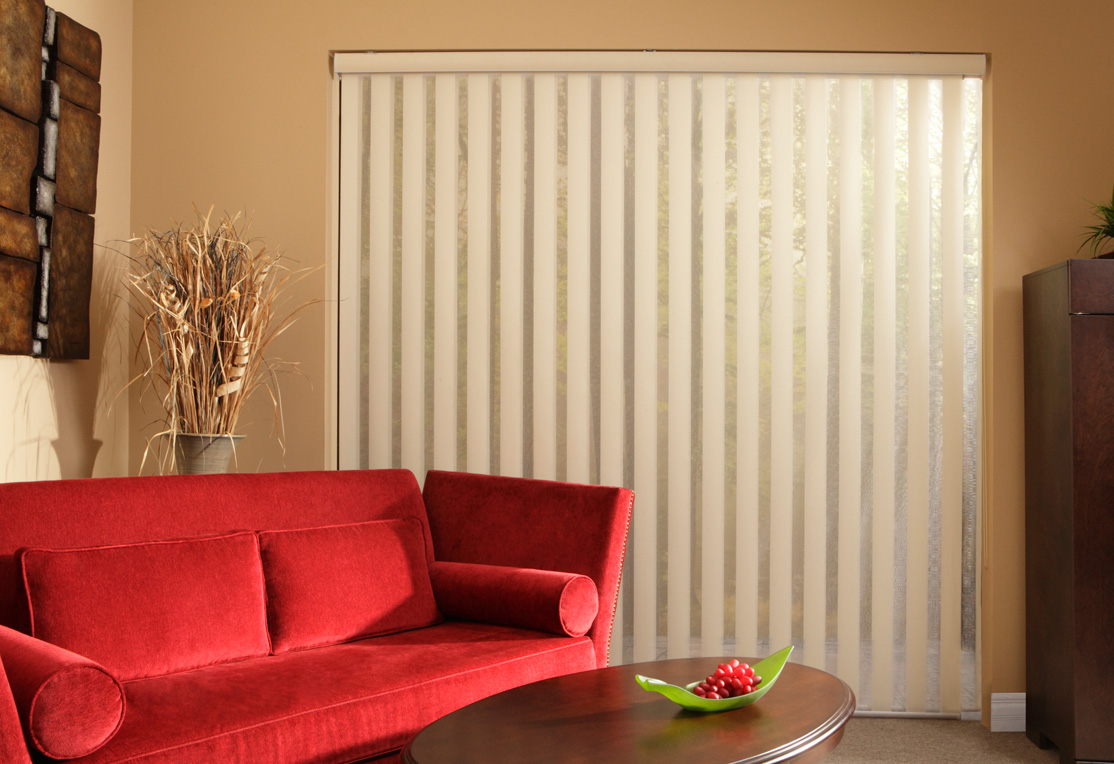 Vertical blinds by Maxxmar
Ideal For: Large windows and doorways (such as sliding doors to the backyard)
Description: Vertical blinds consist of long, thin panels of wood, vinyl, or other materials that are easy to control for more or less light in your room. They are most often used in front of sliding doors as they help create privacy and can quickly be moved out of the way when you need to access your door.
Horizontal Blinds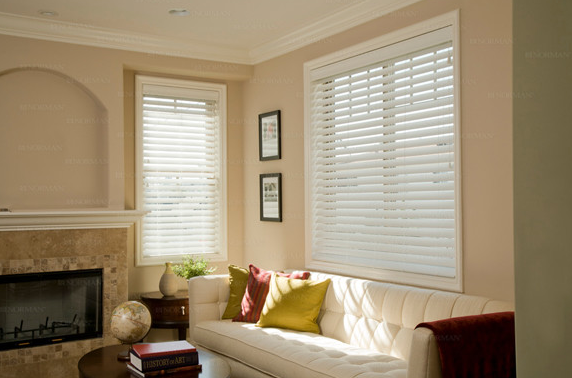 Faux wood horizontal blinds in a living room
Ideal For: Bedrooms and living spaces, small-medium sized windows
Description: Horizontal blinds are an extremely popular choice – it's very likely that you have or have had this type of blind in your home at some point in your life! Like most blinds, horizontal blinds come in a wide variety of styles – you can find them made of wood, faux-wood, vinyl, and more! Horizontal blinds are a classic and simple choice that will always look good in your home.
Roman Blinds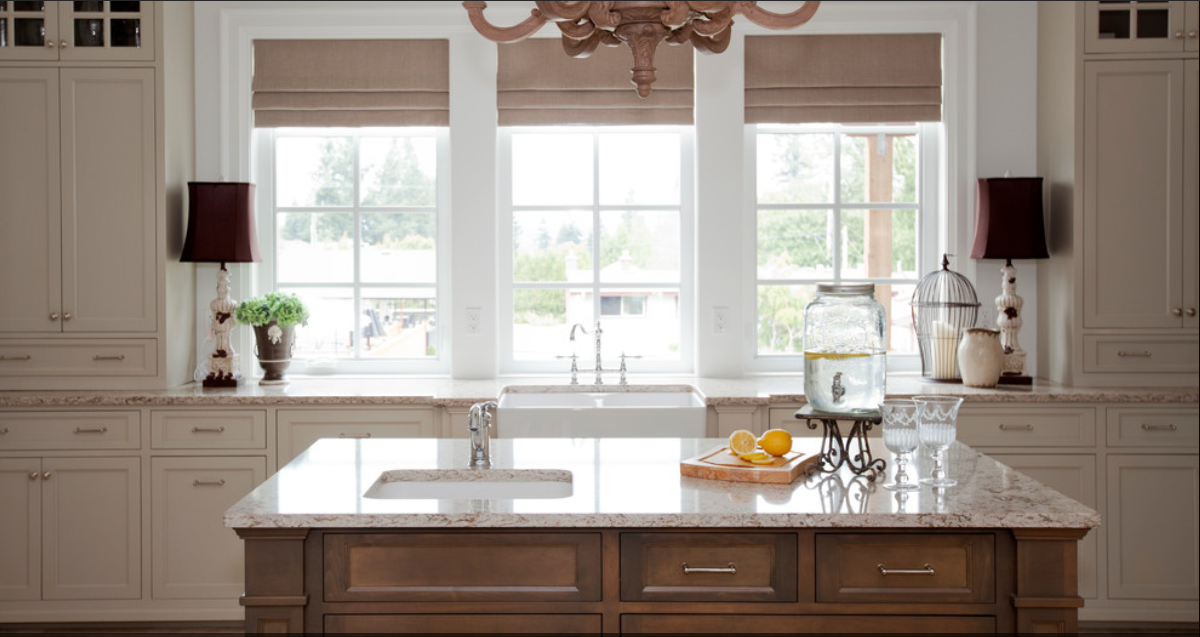 Roman Blinds in the kitchen
Ideal For: Both large and small windows, narrow windows, children's rooms
Description: Roman blinds, also called Roman shades, are a bit like a blind and a shade combined! They look similar to shades but come with the functionality of blinds. Roman blinds are often cordless, which makes them perfect for children's rooms or households with low windows near where children may be playing.
Cellular Blinds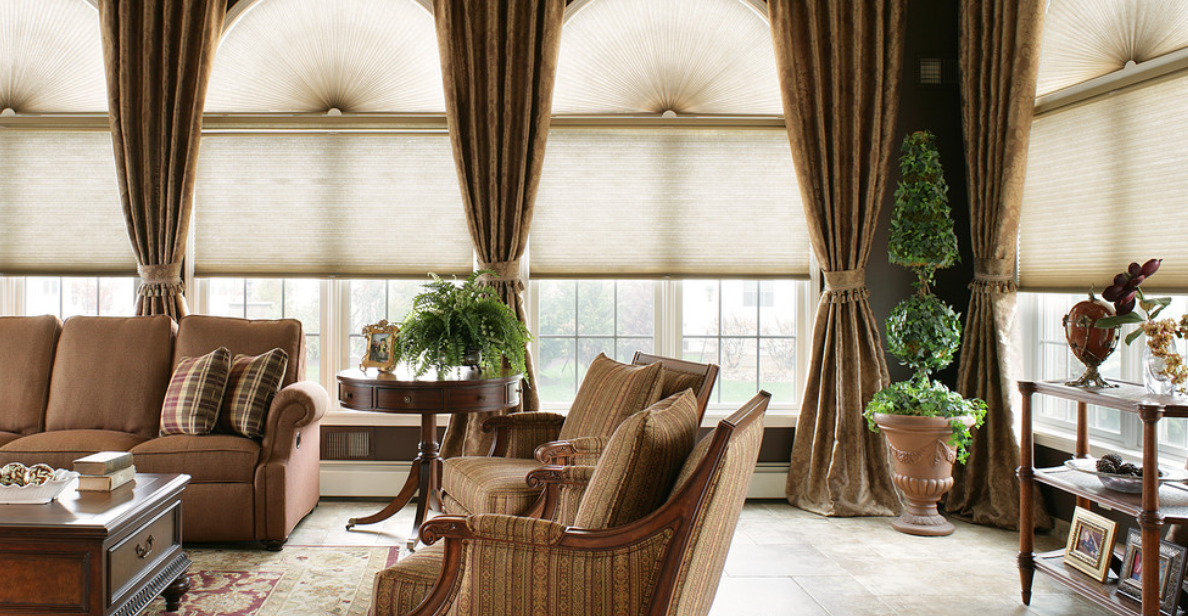 Cellular blinds covering a room with many large windows
Ideal For: Rooms where you want a lot of natural light, large and small windows
Description: Cellular blinds are also called cellular shades or honeycomb blinds. Due to their pleated design, they actually help insulate the room by creating pockets of air between the blind and the window. When pulled up, they nearly disappear completely, making them ideal for rooms where you want a lot of natural light during the day.
Cordless Blinds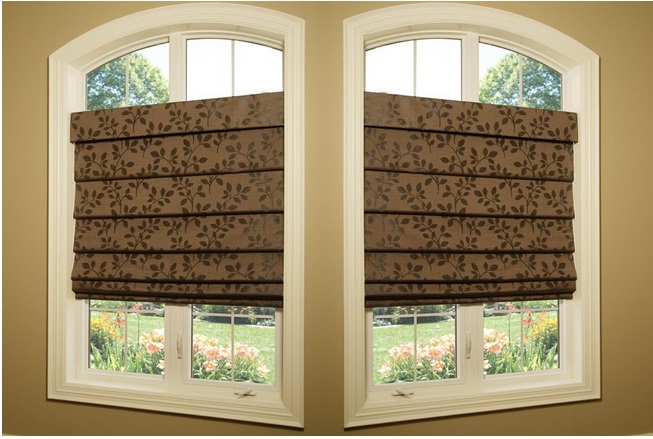 Cordless blinds by Maxxmar
Ideal For: Children's rooms and low-to-the-ground windows in homes with children
Description: Cordless blinds are not a single style of blind, but cover many types of blinds and shades that do not have cords. Instead, most of these styles allow you to adjust the blinds by tugging on the bottom of the blind or pushing them upwards. They are a great way to keep children safe in their bedrooms as well as the rest of your home, as blind cords can cause serious injury if a child gets tangled in them.
Custom Blind Materials
Many of the blind styles listed above, such as horizontal and vertical blinds, can come in many different materials. In this section, we will take a look at the different materials you can choose from when searching for your own perfect blinds.
Wood
Distressed wooden blinds
Price Point: Medium-High
Pros: Add an architectural element to the room, add a warm feel, comes in many different colours and textures
Cons: Are heavy compared to other options and can cause stress on inner cords, darker wood colours tend to show a lot of dust
Description: Wooden blinds are a natural product, and can add a beautiful element of warmth to any room. Because they are made from real wood, you will often find yourself with unique blinds unlike any others – with unique variations in grain pattern as well as colour. Some homeowners like this – others prefer a bit more predictability. Wooden blinds are not ideal for areas with a lot of moisture, as it can cause the blinds to bend or warp. Learn more about benefits and potential drawbacks of wooden blinds here!
Faux-Wood
Faux wooden blinds along dining room windows
Price Point: Medium
Pros: Looks almost identical to real wood, comes in a wide variety of colours and styles, moisture-resistant
Cons: Some varieties are heavier than real wood, does not add the same 'feel' to a room as genuine wood
Description: Faux-wood blinds are often made from vinyl, but can be made from other plastic materials. They have really gained popularity over the last few years, and nowadays, faux-wood blinds are nearly indistinguishable from real wooden blinds. Like wooden blinds, they come in a variety of colours and styles, making it easy to find ones that suit your preferences. They are also moisture-resistant, making them ideal for kitchens and bathrooms.
However, faux-wood tends to be heavier than real wood. If you are looking for the most natural 'feel' to your room, although faux-wood looks similar, it is not wood and won't give you the exact same aesthetic appeal as real wood. Click here to learn more about faux vs real wood blinds. You can also check out the comparison chart below to learn more. The same general information about wood vs vinyl shutters can also apply to wood vs vinyl blinds.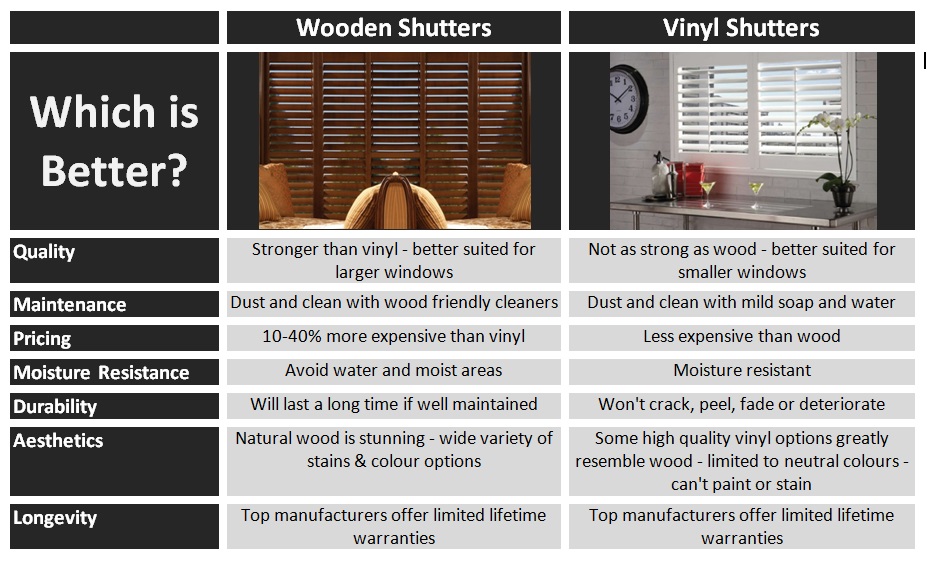 Check out our article on vinyl vs wood shutters here!
Aluminum
Aluminum blinds by Hunter Douglas
Price Point: Low
Pros: One of the most cost-effective options, many different colours available, durable when high-quality
Cons: Not always the most aesthetically appealing, can make a lot of noise, can collect dust over time
Description: Aluminum blinds are an extremely popular choice due to their low cost and ease of maintenance. In the past, they were not always an attractive option – however, recent aluminum blinds do have a bit more aesthetic appeal. Some varieties are dust-resistant, but the lowest-cost options are usually not. They are a great choice for smaller windows. They are very easy to clean, making them ideal for kitchens and windows above your sink. Click here to learn more about aluminum blinds.
Get Custom Blinds With Graham's & Son!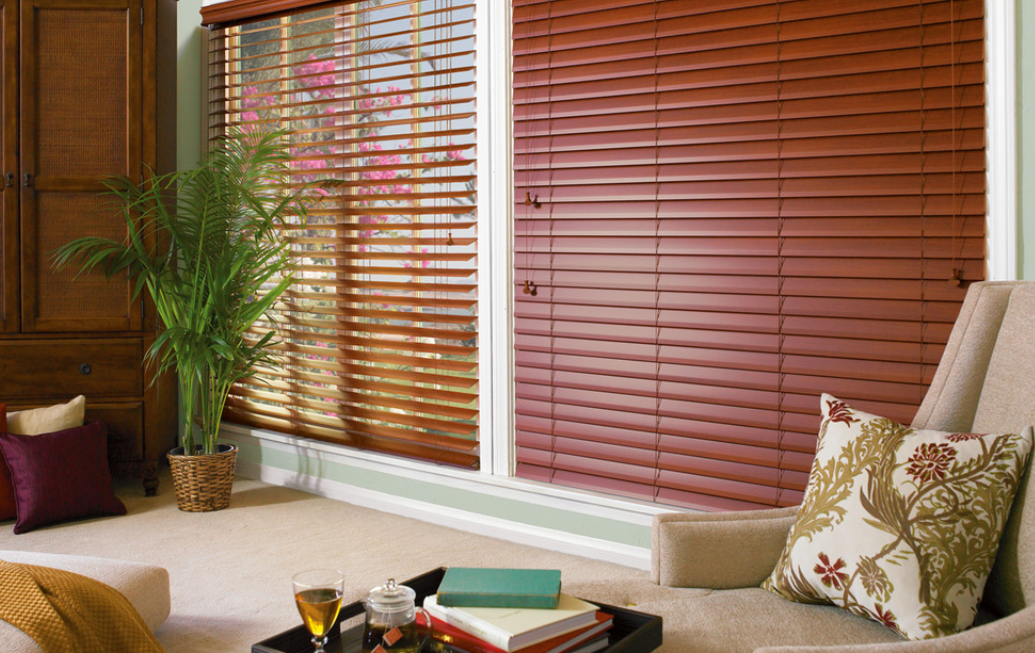 "We are very happy with not only our window treatments but with the excellent customer service we received all the way through from Graham's & Son Interiors. A special thanks also to Matt who looked after us from beginning to end. We are recommending you to everyone we know!"
– Sue & Stan
Read more customer testimonials
Are you considering adding custom made blinds to your home? Talk to the design experts at Graham's & Son! Graham's & Son Interiors has been producing beautiful interior designs for more than 40 years. We are locally owned and operated and we specialize in all types of renovations. We are also offering a buy two, get one free deal on blinds, shutters, and other window treatments!
We can help you find the perfect custom blinds for your home, based on your unique needs, preferences, and budget. If you don't know which option to choose from, we can help you select the ideal materials as well as the style that will work best for your home.
We offer free, in-home consultations and will take the time to listen to your ideas and dreams for your new space. If you are thinking of remodelling your kitchen, bath, or any room in your home, contact the professionals at Graham's & Son to book your free in-home consultation today.