Here are some simple bathroom designs for small spaces that will take your bathroom from tiny to tremendous. Just because it is small doesn't mean your bathroom can't look amazing and be practical at the same time. Follow these helpful design tips like choosing a clear shower door or using creative lighting to help create the illusion of space. If you are thinking about remodelling your small bathroom, Graham's & Son would love to help. Contact us today to book a free, in-home consultation.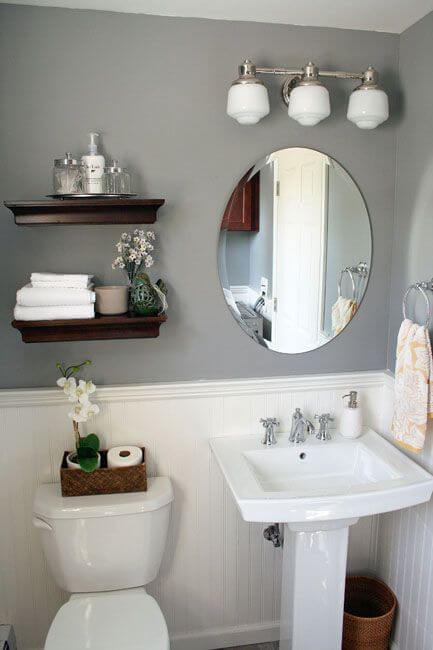 Choose a Clear Shower Door
If your bathroom is small then it is important to choose design features that open up the space. Choosing a clear shower door will allow the eye to see the full expanse of the space. A door with a pattern or lots of hardware will present a visual barrier and make your room seem smaller. The same principle holds for a shower curtain. One that is solid or heavily patterned will close up your space.
The above design wonderfully demonstrates how a clear shower door can open up the entire corner of a small bathroom. Another trick used in this bathroom is the choice of colour. The colours are very light and bright which give a sense of more space, however, they have cleverly introduced textures in the choice of flooring and tiles to give added visual interest.
Get a Trough Sink
A trough sink is perfect for a very narrow bathroom. It is long and narrow and lends itself well to the typical dimensions of a powder room or half bath. The following design shows how little width a trough sink actually takes up, but its extra length makes it very easy and comfortable to use.
This small bathroom design is also great for the choice of colour. White is a good option for making a space seem larger than it is. The addition of the mid-wall tile though cleverly breaks up the white to add a lovely decor feature. This room has an even brighter feel to it thanks to the deliberate choice of not having a window covering to block the natural light.
Install Floating Shelves to Maximize Storage
One of the biggest issues with a smaller bathroom is that there just isn't the space to store anything. That's why it's essential to make use of every last space available but at the same time you don't want to fill it too much or it will look cluttered and smaller still. A great storage solution is to install floating shelves on your wall. Use these shelves to showcase your colourful towels. Make sure to get the knack of folding them neatly so that they become an actual design feature. The following video will teach you how to fold both bath and hand towels so they will look fluffy and uniform when displayed.
Only Include Objects that Serve a Purpose in Your Bathroom
Make sure that everything you have in your small bathroom serves a purpose. This is not the place to display knick-knacks or other ornaments that do not have a function. Instead, transform your functional objects into your decor pieces. For example, display your cotton balls or swabs in an attractive glass jar and your toilet tissue in a decorative wire basket.
The above small bathroom design is a great example of how every item in the bathroom has a specific function, and at the same time adds to the overall decor of the space. The attractive wicker baskets are a great way to keep your toiletries organized and hidden from view. Having an assortment of various bottles and containers sitting on an open shelf is not very appealing and can give a sense of chaos. The baskets, on the other hand, give a beautifully uniform look. The wire magazine racks mounted on the wall are another great way to save floor space and yet allow you to have your reading material close at hand.
Use Lighting to Create the Illusion of More Space
You can use a design trick called "up-lighting" to give the impression of a higher ceiling and more expansive space. Installing wall sconces or cove lighting will visually draw the eye up to give an appearance of more height to the room. If your bathroom is narrow, try lighting up one wall to give the illusion of a wider space.
This beautifully designed narrow bathroom has utilized the above lighting tricks to maximum effect. We also like the way they have built in the vanity to span from wall to wall. This allows for the most counter space possible. The choice of the gorgeous stone tiles is quite bold, yet it works well the smooth wooden vanity in this small space to bring extra visual interest and class.
Additional Tips for Small Bathrooms
Diagonal Flooring: Placing your floor tiles on a diagonal will give a larger feel to the room. Another helpful tip is to use larger tiles that have smaller grout lines in between them.
Wall Hung Toilet: If you hang your toilet from the wall, you will be showing off more the actual floor tile. This will make your room appear larger.
Shower/Tub Combination: If space is tight, then a shower/tub combination can give you smaller bathroom the best of both worlds.
Round Vanity: The sharp corners on most vanities can be rather hazardous in a tight space. Choosing a vanity that has rounded corners can be much easier on your hips.
Mount a Towel Bar on the Door: Using the back of the door to hang your towel is a great way to save space and keep your towel handy. You could even use a couple of over the door hooks for your towels.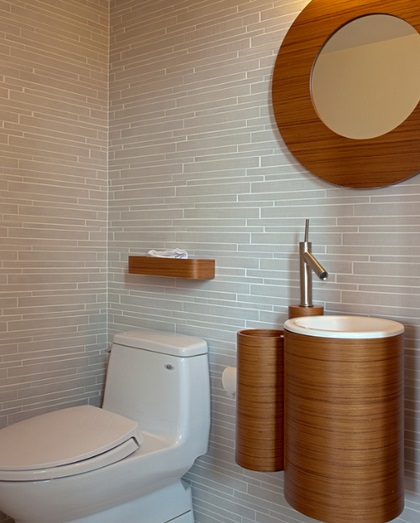 "Dear Mr. Wayne Graham, May 2016 be the best year for the Grahams and their company! I must take this opportunity to thank you for the renovation job done on my house, not only the input idea that made my home more modernized but the skill work that made the job done perfectly. I will not hesitate to refer you to my friends who may need a renovation on their house. Thank you again and have a healthy and prosperous year in 2016. -Yours Truly, Daniel Yu"
Read More Testimonials
Choose Graham's & Son for Simple Bathroom Designs for Small Spaces
If you have a smaller bathroom that you would love to give a facelift, but you aren't sure how to start, contact the professionals at Graham's & Son. Graham's & Son has been in the interior design business in Cambridge for more than 40 years. We are locally owned and operated and we can provide you with the design know-how and expertise to make your bathroom renovation a success. We offer quality, custom-made products, and top-notch customer service. Our customers have been so pleased with the high standard of our work that they selected us for the "Best Business Service – Interior Decorating: Platinum" and "Best Shopping – Kitchen Renovations: Gold" awards in the 2017 Cambridge Times Readers' Choice Competition. Book a free in-home consultation today and find out for yourself why Graham's is the best in the interior design business.

Sources:
25 Killer Small Bathroom Design Tips
30 Small and Functional Bathroom Design Ideas For Cozy Homes