Are you considering a bathroom renovation in the near future? Don't begin until you've taken a look at the 5 videos in this post. We promise you will definitely be inspired and better prepared after watching. Our final video is a real treat as it will show you all of the steps involved in a bathroom renovation so you'll have fewer surprises. A bathroom renovation is a big investment, so if you would like the assistance of a professional to help through the process from designing to the final reveal and all the steps in between, contact Graham's & Son Interiors. We'll come right to your home for a free consultation.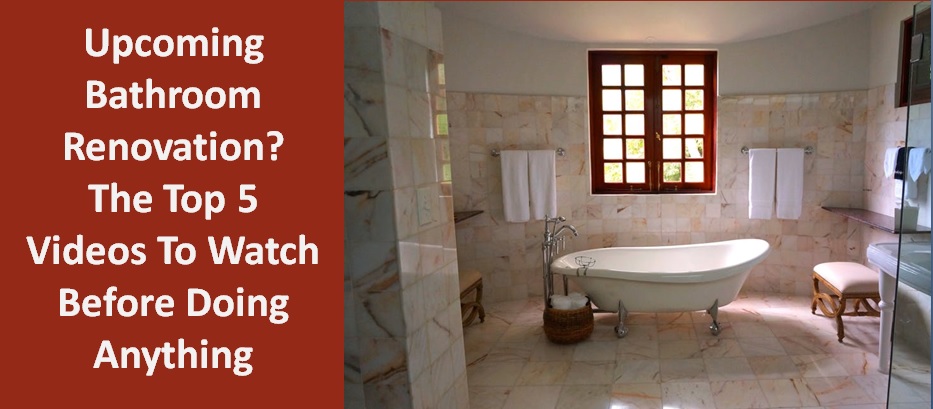 "Have been doing business with Grahams & Son for many homes and 2 real estate offices. So helpful with colour combinations, decorating ideas and has always looked so beautiful when completed…Great prices-Great Service & Exceptional Workmanship!"
– Wenda Allen
Read More Testimonials
Bathroom Renovation Videos
Before you start your bathroom renovation, watch the following 5 videos to make sure that you are as prepared as possible and you will be happy with the final result.
How To Plan A New Bathroom
Why It Makes The List
This is a great video for giving you ideas on how to start planning out your new bathroom. The video is divided into 3 main stages in the planning process: research, the practicalities of planning, and drawing up a plan. It is full of helpful tips for designing your new bathroom.
Key Takeaway
A great piece of advice that the presenters give is to start your planning process by listing everything that you like about your current bathroom including considerations such as style, colour, and layout. Then list everything that you dislike about it. This will give you a great basis for your design. If you have just moved into a new home, don't rush into a bathroom renovation immediately. Give yourself some time to discover what you like and don't like about it before you start making changes.
About the Video Maker
This informative and well thought out video is courtesy of the Youtube channel bandq which hails from the United Kingdom. This channel has over 100,000 subscribers and over 40 million views. Their goal is to help viewers get more out of their home through helpful how-to guides and creative ideas.
Source: How to Plan a New Bathroom
The Perfect (Small) Bathroom
Why It Makes The List
This next video makes our list because it deals with smaller bathrooms and let's be realistic – most of us have smaller bathrooms than we would like! Here are some great tips to help you give the illusion of space when designing your bathroom.
Key Takeaway
Focus on the vertical. Wherever you can, when dealing with a smaller space, trick the eye into looking up by enhancing the vertical appearance. Make sure all of your patterns go from floor to ceiling so that the eye doesn't break at any moment. This gives the room the illusion of more height. Mount your towel and shower racks higher than normal to bring the eyes up as well.
About the Video Maker
This video is beautifully presented by top interior designer Genevieve Gorder of The Design Network. The Design Network features some of the biggest names in home design. Their Youtube channel has over 37,000 subscribers and well over 3 million views.
Source: The Perfect (Small) Bathroom
Spacious and Minimalist Bathroom Design – Ideas For Making Your Space Appear Larger
Why It Makes The List
This video is full of great ideas for making a larger bathroom look even more spacious. Some of the tips you could apply to a smaller room as well. You'll have to watch just to see a close-up of the gorgeous and incredibly unique ceramic standalone bathtub. The bathroom featured in the video is actually from one of the resorts that the submitter visited, but the design could definitely be used in a home with a larger bathroom.
Key Takeaway
Use a minimalist brown and monochromatic grey colour scheme on the floor and walls to reflect and multiply the light in the room – natural light flowing in from the ceiling will make it appear even more spacious, so installing a dramatic skylight would be a great addition.
About the Video Maker
This helpful video comes from the "Indian Youtuber" also known as Sarita. Her channel has over 16,000 subscribers and close to 2 million views. She produces a combination of fashion, beauty, travel, and lifestyle videos, including home design.
Source: Bathroom Design Ideas – Home Decor | Indian Youtuber
101 Great Ideas! Bathroom Design
Why It Makes The List
One of the best ways to prepare to renovate your own bathroom is to look at as many different design ideas as possible so you can get a good feel for what is possible and what designs will suit your own bathroom's particular footprint. This video gives you modern designs for both large and smaller bathrooms.
Key Takeaway
There are 101 different design ideas to choose from. You are sure to find one or a combination that you will be thrilled to make your own.
About the Video Maker
Born for Entrepreneurs has been on Youtube since 2013 and currently has over 136,000 subscribers and an amazing 31 million views. This channel provides business ideas and plans.
Source: 101 Great Ideas! Bathroom Design
Time Lapse of Complete Bathroom Remodel
Why It Makes The List
Our final choice of video may seem a little unorthodox, but it is really cool. The submitter set up a time-lapse video camera to take footage as his bathroom was completely remodeled. He set the camera to take a picture every 30 seconds during the 34-day remodel.
Key Takeaway
Even though there is no commentary to this video, it is extremely helpful in giving you a sense of the huge amount of work that goes into a bathroom remodel and what you should expect over the many days it will take. If you've never been through a renovation then this is a must-see video to help prepare you for the upheaval.
About the Video Maker
This video was uploaded by Dan Bourque. He has a relatively small number of subscribers but this video has had almost 300,000 views.
Source: Time Lapse of Complete Bathroom Remodel
Found Your Inspiration And Want To Get Started?
If you have been inspired by some of the wonderful designs and ideas featured in the videos listed ab0ve and would like to renovate your bathroom, we'd love to help. Graham's & Son has been in the interior design business in the Cambridge region for 40 years and you can be assured that we will continue to be here for years to come. We are locally owned and operated and are thankful for our loyal clientele who readily recommend us to their friends and family members. For a stress-free renovation of your bathroom or any other room you would like updated, contact the design experts at Graham's & Son. We will come to your home and do a free, in-home consultation. We will also provide you with a quote during our first visit with you. Schedule your free in-home consultation or come and visit our showroom at 11 Queen St. East in Cambridge.