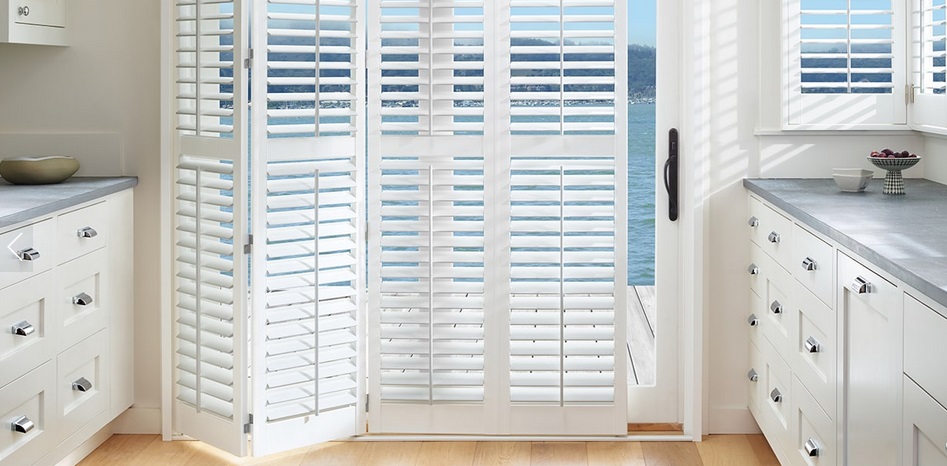 Vinyl shutters are a wonderful choice if you are considering updating your current window treatments. Now is a great time to purchase vinyl shutters from Graham's & Son. Buy any two shutters, blinds or shades and receive the third free! In this post we will look at all of the great benefits and features of vinyl shutters. Contact us today for a free in-home consultation, and find out how easy and inexpensively it can be to have attractive vinyl shutters installed today.

"Hi Krista, Thank you so much for your e-mail and lovely surprise of a gift certificate towards a future purchase! We are very happy with not only our window treatments but with the excellent customer service we received all the way through from Graham's & Son Interiors. A special thanks also to Matt who looked after us from beginning to end. We are recommending you to everyone we know! I'm sure my friend Heike will be as happy with her window treatments as we are."
– Regards, Sue and Stan Czubak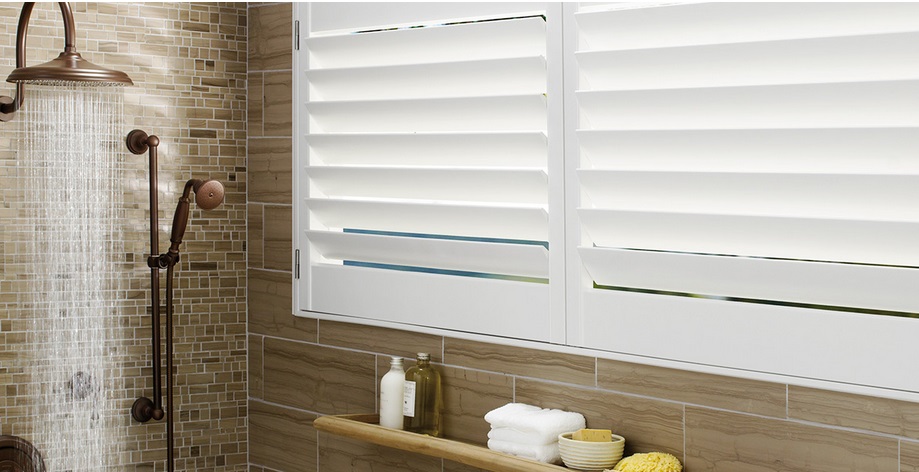 Why Vinyl Shutters Are Great
There are many great benefits to choosing to install vinyl shutters on your windows. They are energy efficient, they help protect againsy harmful UV rays, they give you light control flexibility, they are easy to care for, and they come with a great warranty. In addition, vinyl shutters are the most economical shutter options.
1. Energy Efficient
You can prevent as much as 50% of your home's heating and cooling energy from escaping through your windows by installing and closing your shutters. Your beautiful shutters can also provide additional insulation to help you reduce your energy costs. They can keep the cold Canadian winter air from entering your rooms and can also keep the hot, humid air out in the summer. In addition, they when fully open, they allow natural light to enter your room, thus reducing the need for additional lighting.
2. UV Protection
Shutters can help block the sun's harmful UV rays from entering your home and damaging your beautiful furniture, flooring, and artwork. When your shutters' louvers are fully closed, you can enjoy 99% protection from damaging UV rays.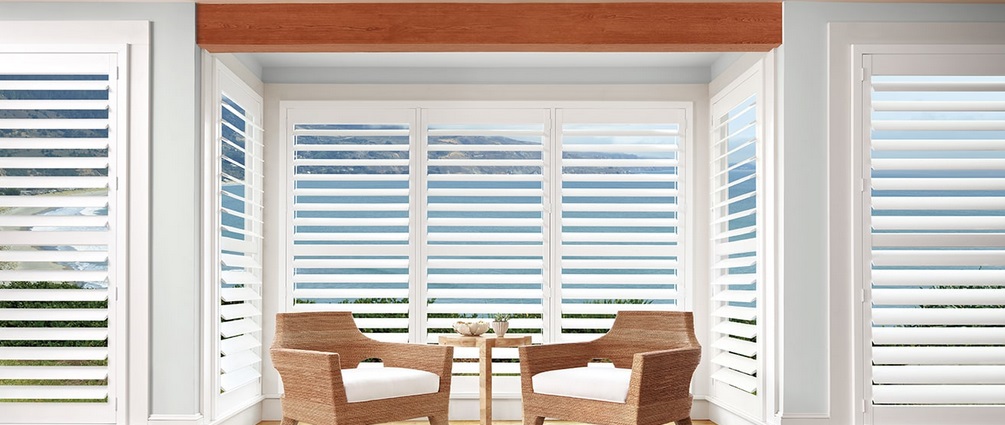 3. Light Control
Shutters give you great flexibility to modify the amount and quality of light which enters your room. You can easily make changes by simply adjusting their louvers or slats.
4. Easy Care
Our exclusive shutters crafted by Hunter Douglas are designed to require minimal care. Cleaning is easy with our vinyl shutters. No need to purchase expensive special cleaning agents. They clean up beautifully with just mild soap and water.
5. Great Warranty
All Hunter Douglas shutters come with a Lifetime Limited Warranty, to give you peace of mind when selecting, purchasing and living with your new window treatments. Their custom shutters are so well made that we guarantee them. Learn more about their great warranty here.
6. Economical
If you are on a budget, you can still enjoy the flexibility and beauty of shutters. Vinyl shutters are the least expensive of the shutter options, but they still provide the same benefits and they look amazing. At Graham's & Son, we can give you a free quote during our first visit.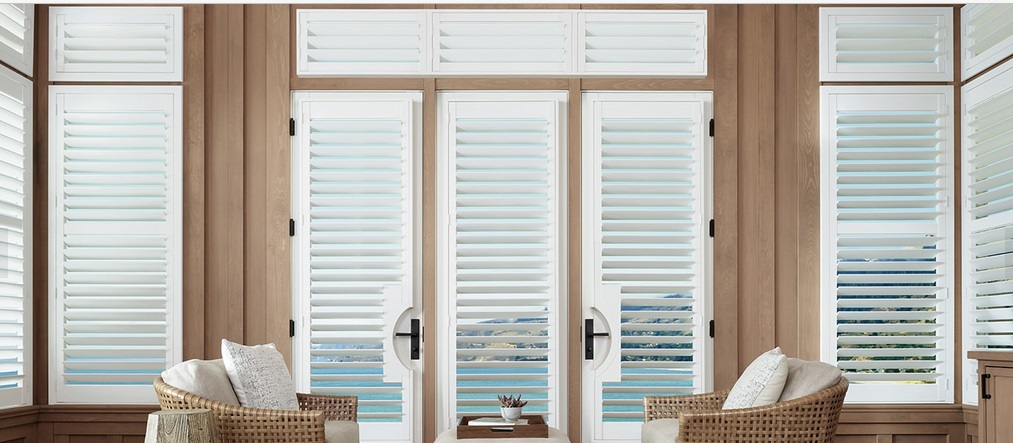 The Vinyl Shutter Brand We Carry
Graham's & Son proudly partners with Hunter Douglas to bring you the highest quality, custom made vinyl shutters on the market, Palm Beach™ Polysatin™ shutters.
Our Palm Beach™ Polysatin™ shutters are constructed with UV resistant Polysatin™ compound. They are plantation style shutters which come in your choice of colours. These awesome and economical shutters come with the following great features.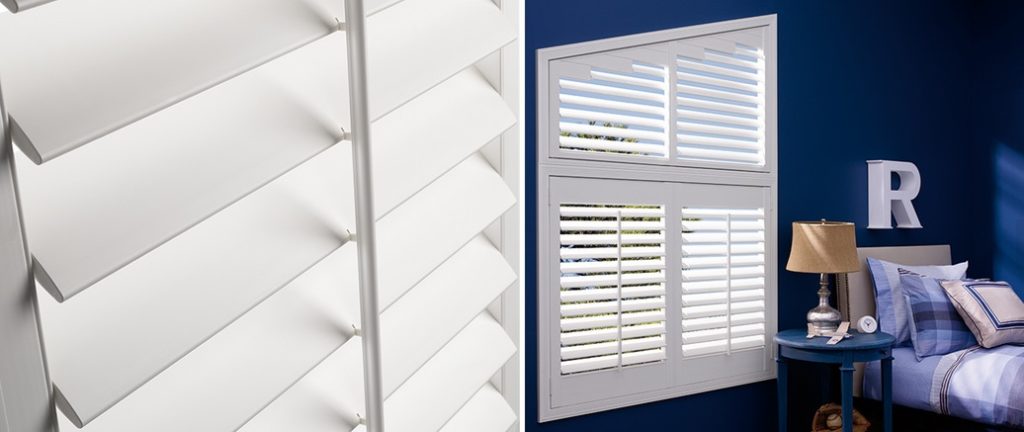 Maintenance Free Beautiful Finish
Our perfectly finished vinyl shutters are scratch and dent resistant. They never need sanding, staining or painting. Their DuraLux™ Finish looks almost identical to a finely painted shutter.
Moisture Resistant
The Polysatin™ compound of our vinyl shutters is specifically designed to stand up to damp or humid conditions.
Easy Clean
Cleaning is easy with our vinyl shutters. No need to purchase expensive special cleaning agents. They clean up beautifully with mild soap and water.
Reinforced to Make Them Strong
Our vinyl shutters are specially designed to make them exceptionally strong. They are reinforced in major stress points with interior aluminum bracing and resin blocks for extra strength and stability.
Three Operating Systems Options
All Hunter Douglas shutter products come with three different operating system options for easy opening and closing. They include the Bi-Fold Track, the Bypass Track, and Hinged Panels.
Choose the one that best suits your preferences.
Bi-Fold Track
With the Bi-Fold Track system, you can have up to 6 panels hinged together. The panels are attached to an upper track which supports the panels and guides them when they are being folded. Watch the following video to see how the Bi-Fold Track system works.


Bypass Track
The Bypass Track System allows your shutter panels to slide past each other on top tracks for easy opening and closing. The following video demonstrates how the Bypass Track system functions.



Hinged Panels
If you choose hinged panels, your shutters will be hinged both together and to the window frame using T-posts in the center of the opening to give you a wide range of design options. This video below will show you how the hinged panels operate.

Buy 2 Vinyl Shutters and Get 1 Free
Now is the best time to update your windows with beautiful and energy efficient vinyl shutters. To celebrate 40 successful years in business, Graham's & Son is offering an amazing deal. Buy any two vinyl shutters and receive the third one absolutely free! This offer also applies to all of our blinds and shades.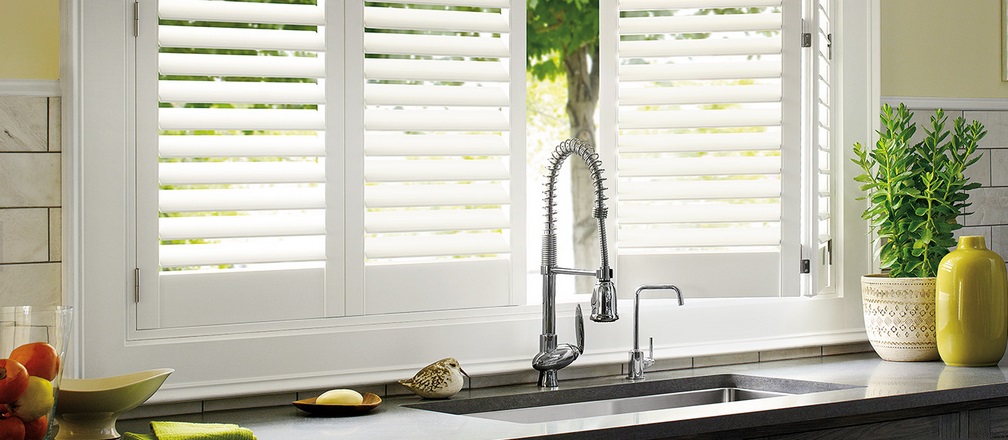 Why Purchase Your Vinyl Shutters From Graham's & Son
Our expert interior designers can come to your home and assist you in every step of the purchase and installation of your new custom vinyl shutters. We will come to your home, take all the necessary measurements, assess your room's lighting, and ensure that your purchase is perfectly customized for your home. Your new shutters will arrive in as little as two to three weeks. Then sit back and relax as our professional technicians install your new shutters expertly and seamlessly. Contact us today to book a free, in-home consultation.