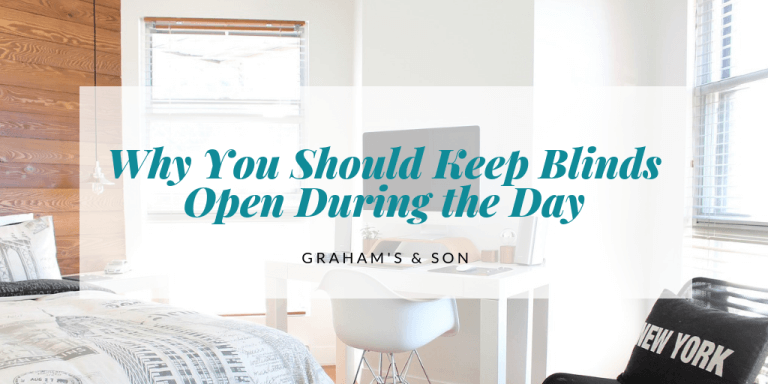 Keep blinds open during the day. Not only will this practice save you some money on energy bills during the winter, but it can also keep you and your family healthier. Read on to find out how sunlight can kill harmful bacteria present in the dust in your rooms. If you are looking for window treatments that are easy to operate and will allow you to maximize the benefits of the sun while looking amazing, contact the window design professionals at Graham's & Son today. We will come to your home, free of charge, for a consultation.

Take Advantage of the Sun's Heat to Save on Energy Bills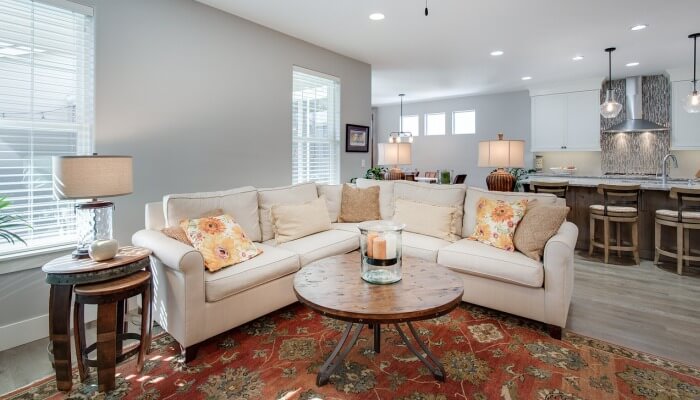 Keep your blinds open during the day to take advantage of the sun's warming energy
Many people already open up their blinds during the day to take advantage of the sun's energy to warm up their rooms during the colder months. This is a great practice and can help you save on your energy bills. According to Arthur Murray, Managing Editor of Choose Energy, the sun is a natural furnace and if you keep blinds open during the day, especially on south-facing windows, your room's temperature will raise naturally, keeping you more comfortable and cutting down on the time that your furnace needs to be working.
Take Advantage of Sunlight's Ability to Kill Bacteria that Live in Dust to Keep You and Your Family Healthier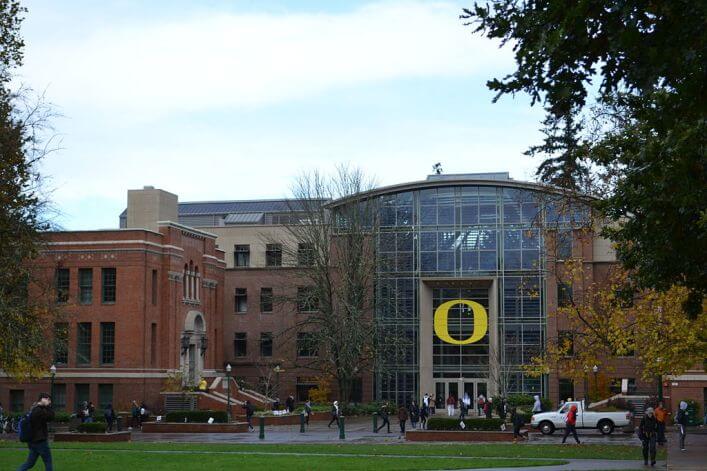 Image Source: Visitor7 [CC BY-SA 3.0 (https://creativecommons.org/licenses/by-sa/3.0)], from Wikimedia Commons
University of Oregon study shows sunlight kills bacteria on dust
Sunlit rooms contain less viable bacteria than dark rooms:
According to research done at the University of Oregon, an average of 12% of the bacteria found in dark rooms were alive and viable, which means that they were able to reproduce. In contrast, only 6.8% of the bacteria found in rooms that were exposed to daylight were viable and only 6.1% of the bacteria in rooms with UV light were viable.
Viable Bacteria Levels Comparison

Dark rooms contain dust organisms associated with respiratory diseases:
In addition to the greater amount of viable bacteria found in darker rooms, the type of dust bacteria is also different. The researchers found that dust kept in dark rooms actually had organisms that are "closely related to species associated with respiratory diseases." The dust however that has been exposed to daylight was almost free of this type of organism.
Because you and your family spend so much time indoors, especially during our Canadian winters, it's important to understand how our indoor environment can affect our health and learn ways in which we can improve it. When we are indoors we are exposed to dust particles that carry different types of bacteria. Some of these bacteria are pathogens that can actually make you sick. Dr. Fahimipour, an expert in experimental and computational biology at the University of Oregon, believes that this study supports the claim that sunlight has the ability to kill microbes on dust particles.
Pathogens are microorganisms that can cause diseases
Take Advantage of the Sun's Positive Effect on Your Mental Health
Lack of sunlight can affect our moods. Dr. Norman Rosenthal from Georgetown University labelled the condition of feeling lethargic, sad, and hopeless when people have less exposure to natural light, usually during the winter months, as Seasonal Affective Disorder, SAD. Keeping your blinds open during the day when you are home can help you to improve your mood and alleviate the affects of SAD.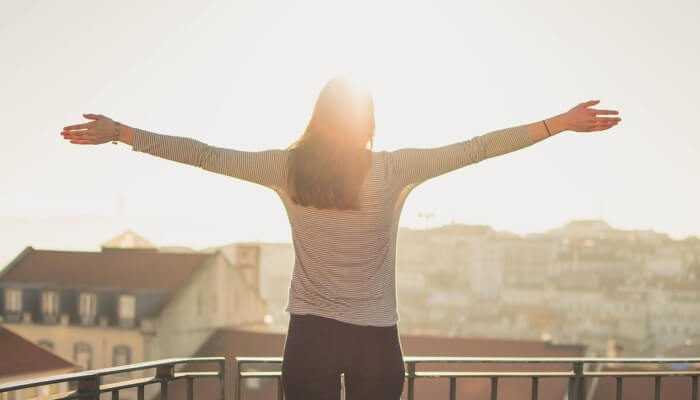 Sunshine can have a positive effect on your mental health
Opening Your Blinds During the Day Is a Good Safety Practice
Having your blinds open up during the day will give the appearance of you being at home. This can be a great deterrent to thieves or vandals. If you automate your blinds to open and close at different points during the day, it will really appear as if someone is at home as well.
It's Easy to Keep Blinds Open During the Day with Automation
If you are concerned about having to always be opening and closing your blinds to make the most of the sunshine to help keep your room healthier, you can get your blinds automated. There are many different ways in which your window treatments can be operated with very minimal effort. Once they are set to open and close at certain points during the day, you can forget about them and let your blinds do the work for you. You can choose to operate your blinds through a remote controller, your mobile device, or even by voice command.
Motorization also takes the worry out of going away for a few days. Even when you are gone you can remotely open and close your window treatments or you can program them to automatically adjust to give the impression that you are still home even while you are away.
Find out more about the great advantages of motorized blinds here.
Automate your blinds to make sure you catch all of the sun's healthy rays every day
Graham's & Son Window Treatments – The Highest Quality and Best Value
Looking to replace your old window treatments with high quality, modern ones? Graham's & Son can offer you expert advice on all of the latest trends in window fashion and they can also help you select the perfect styles and colours that will best suit your rooms and budget.
If you are looking for the most energy efficient and beautiful window treatments possible, contact Graham's & Son today. Graham's & Son knows window coverings; we have been in the window treatment business for over 40 years. Our expertise and professionalism are second to none. In addition, right now we are offering an amazing deal on all our blinds, shutters, and shades – when you purchase any two, you will get a third absolutely free.
If your drapes need a good cleaning and you don't have the time or are afraid of taking on the job, Graham's & Son also offers professional drapery cleaning at reasonable rates.
"Hi Christine, Thank you. The blinds look terrific. We were very happy with the quick and expert install. Our experience in dealing with each of you was wonderful. Thanks for taking the stress out of the project by getting us exactly what we wanted and installed perfectly, no clean-up after – it is a real treat to work with such professionals. Take care and hope to do business with you again. Thank you."
– Gayle Z, Brantford

Read more customer testimonials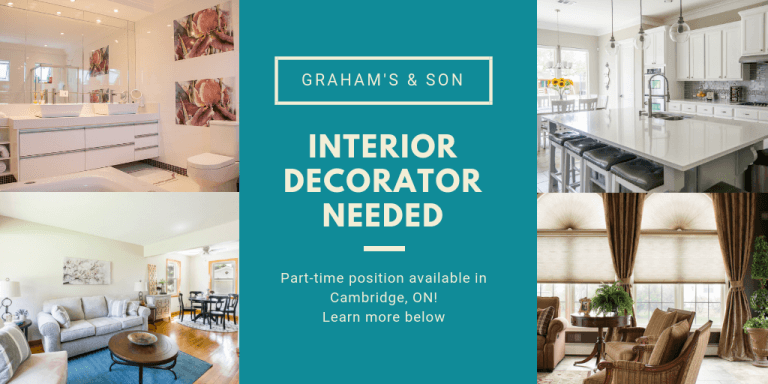 Interior Decorator Needed – Join Our Team!
Graham's & Son is looking for a highly creative person with imagination and artistic flair to join our winning team. The ideal candidate for this position will be someone willing to work a flexible schedule consisting of weekends, evenings, and day shifts. This is a part-time position in Cambridge, where a work week will consist of 5 to 40 hours, depending on how busy we are. If you have a passion for decorating and residential design, this could be a great stepping stone for you to be able to learn sales and interact with customers. We teach all our staff how to sell and equip them with the knowledge required to do so effectively. If you think this may be the perfect job for you, see the job requirements and overview by clicking here.
At Graham's and Son our customers have been so pleased with the high standard of our work that they selected us for the "Best Business Service – Interior Decorating: Platinum" and "Best Shopping – Kitchen Renovations: Gold" awards in the 2017 Cambridge Times Readers' Choice Competition. Book a free in-home consultation today and find out for yourself why Graham's is the best in the interior design business. Contact us today to schedule. If you prefer, you can shop at home. Browse through our website, make your choice, and simply give us a call at 519-658-9025 to place your order without ever having to leave the comfort of your own living room.