Window blinds can be a great way to rejuvenate your home, perhaps using wood or roman blinds. Or, for those looking to improve their environmental footprint, cellular window blinds have served homeowners well. Survey your home today with one of our qualified professionals with 40 years of experience to see how window blinds can be your next best renovation project.
Here are Great Ideas to Decorate Your Home With Window Blinds
Window blinds come in an extensive number of styles and colors. Guests will appreciate the attention to detail and style they evidence – great home decor is an often overlooked aspect of hospitality, but our team is here to help. Here are some great window blinds to help you start envisioning your next window treatment project.
Great Reasons to Consider Window Blinds for Your Home
Window blinds are the most conventional choice when looking to find a balance between privacy, energy savings, and value. Window blinds should be a top 3 consideration for any window treatment project whether your home is rustic, modern, or a period property. Here are just some of the great reasons window blinds will work well for your home:
Improve the value of your home with impressive additions and styles
Offer an easy way to control light for a great night's rest or even just a nap
Offers also the most privacy and aesthetic appeal
Dependable material and manufacturing means your blinds will stay pristine for years to come
Keep unwanted noise out by choosing blinds that suit your needs
Accent your home interior by choosing from a huge assortment of colors and styles
Our customers are thrilled with their window blinds and Mary is just one of many satisfied homeowners:
Wonderful service. We recently renovated our family room. Purchased blinds and custom drapery. Matthew provided an in home consultation. He brought samples and had creative suggestions to help me choose best window coverings to finish our room. Installation was very professional as well. I am so pleased with the finished result. Thank you Matthew and staff. I will recommend you to friends and family.
Knowing if Window Blinds are Right for Your Room
With so many different types of shutters to choose from, a savvy home decorator will know that window blinds are great when homes exhibit the following qualities or if the owner has a certain affinity for these factors:
The room is adjacent to lots of glare and changing light conditions that need to be managed
A low maintenance window treatment solution is important to the homeowner
Windows are facing high traffic areas
Environmentally conscious and cost-effectiveness related to cooling/heating are priorities
Modern and contemporary aesthetic is desired
Types of Window Blinds and Window Blind Materials
Wood Window Blinds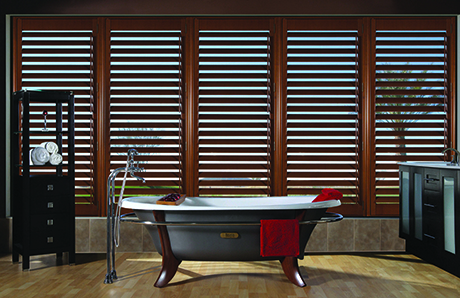 Like with other aesthetically oriented materials, hardwood window blinds will typically be more costly than other materials. They offer visual and aromatic features that should be experienced at least just once. Wood window blinds will also require additional maintenance and upkeep compared to faux materials.
Pros: great looking and aromatic materials that can be adapted to any home decor
Cons: more expensive and requires additional maintenance
Faux Wood Window Blinds
Faux (alternative) wood window blinds are great spot additions to specific rooms while maintaining the design and feel of your existing home. With the many versatile colours and stains available, your existing decor can certainly find a home for faux window blinds. This type of blind is great for those looking for a similar window treatment to wood but looking to be more economical.
Pros: Longer lasting than wood and more economical
Cons: Often not as appealing as real wood, colours/stains can typically be applied only once, and the material can end up being heaving than wood
Cellular Window Blinds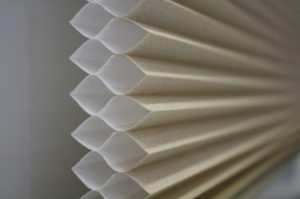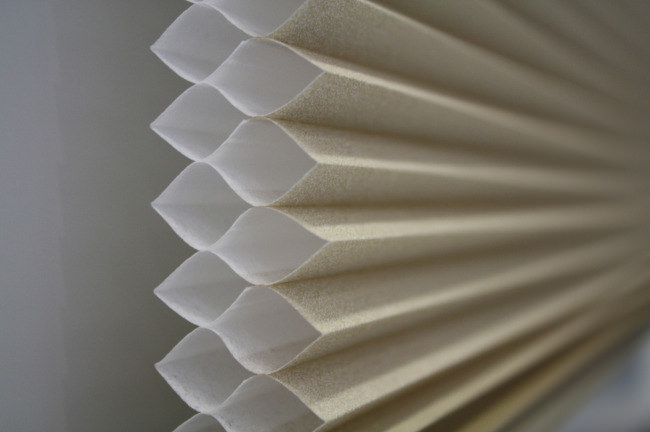 Appearing smooth and flat while open, these shades are very powerful in blocking the sun but retract much like a set of blinds, compressing on top of themselves to let light in as desired.
Pros: great for cost savings and home energy optimization
Cons: can sometimes look flimsy when used in luxury homes and not as versatile as other materials
To learn more about cellular blinds, see here for more design help.
Roman Window Blinds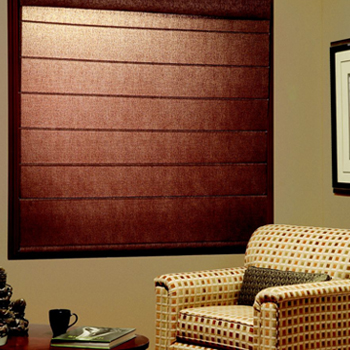 Appearing smooth and flat while open, these shades are very powerful in blocking the sun but retract much like a set of blinds, compressing on top of themselves to let in light as desired. The roman blind is the most luxurious option and channels economics and utility for great visual appeal whether open or closed.
Pros: unique decor accent and incomparable capability to block out light
Cons: the most expensive blind option and operating multiple cords to wind and unwind the blinds can be a hazard
How to Avoid Getting Scammed When Buying Window Blinds
Having been in the industry for a number of years, the team at Graham's and Sons have heard of a number of challenging circumstances. Here are some great ways to ensure you get what you pay for, along with the quality and service that every homeowner should expect:
Ask about the options for repair and fixing window blinds and ensure that there are cost-effective solutions available
Request that all blinds and materials are available during the scheduled installation. Don't let back orders create awkward situations. Some companies will ask customers to pay up front despite a project being incomplete.
Check to ensure the company helping you with the blinds has been in business for at least 5 or more years to reduce your risk
Don't get a bloated quote from overestimation, verify the square footage quotes provided
Be wary of factory direct pricing, always check where the window blinds are made
Check to see if installation is included in your quote
See here for additional tips on how to avoid a sour experience when considering your next window blinds.
Window Blinds Brands We Carry
Learn about the exciting brands we've carried for Window Blinds today by scheduling your in-home consultation and visit. We help you find and install the perfect blinds for your home. We bring real samples to your home so you can get the look and feel of quality and workmanship, first hand.
Get a Quote for the Best Brand and Service for California Shutters

Graham's & Son in Cambridge for Window Blinds: Let Us Manage Your Cost and Project for You
Graham's & Son Interiors has over 40 years of design experience serving the Cambridge, Kitchener-Waterloo, and surrounding regions. We firmly believe that each client deserves "superior design concepts, top-of-the-line material, and timely project management." That is why our satisfied customers gladly recommend our team to their friends and family. Find out for yourself why Graham's & Son Interiors are Southwestern Ontario's premier interior decorators. Contact us today to schedule a free in-home consultation.
If you prefer, you can shop at home. Browse through our website, make your choice, and simply give us a call at 519-658-9025 to place your order without ever having to leave the comfort of your own living room.
Did you know that to celebrate 40 years in business, we are offering an amazing buy 2 get one free deal on all of our blinds, shades, and shutters?