If you missed them the first time around, don't worry, some of the hottest design trends of the past are making a comeback in upcoming 2018 family room trends. This time they are even hotter than they were before. One of the biggest trends is transforming a once vacant wall into your very own art gallery. Read on to see what else is making a comeback this season. If you would like any advice on how you could incorporate any of the ideas into your own family room, contact Graham's & Son. We would love to come to your home for a free consultation.

"Have been doing business with Grahams & Son for many homes and 2 real estate offices. So helpful with colour combinations, decorating ideas and has always looked so beautiful when completed…Great prices-Great Service & Exceptional Workmanship!|"
– Wenda Allen
Read More Testimonials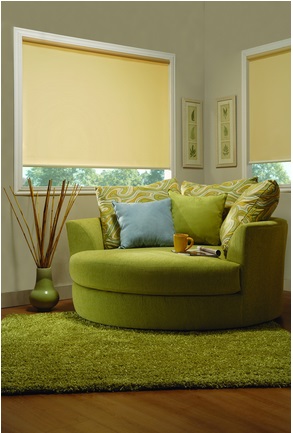 2018 Family Room Trends
What are the hottest 2018 family room trends? You'll be seeing lots of art gallery walls, oversized furniture, organic materials, and an abundance of brass accents. We've chosen some of our favourite examples of these trends and have described what's so great about each one.
Art Gallery Walls
It's time to dig out all of those classic prints and photos that you used to have hanging up around your home and bring them all together in a gallery on your family room wall. Art gallery walls are a wonderful trend you are going to see for 2018 and what a great effect they have! Your once isolated pieces can now be combined into a cohesive collection that will make the whole look so much more stunning than the individual parts.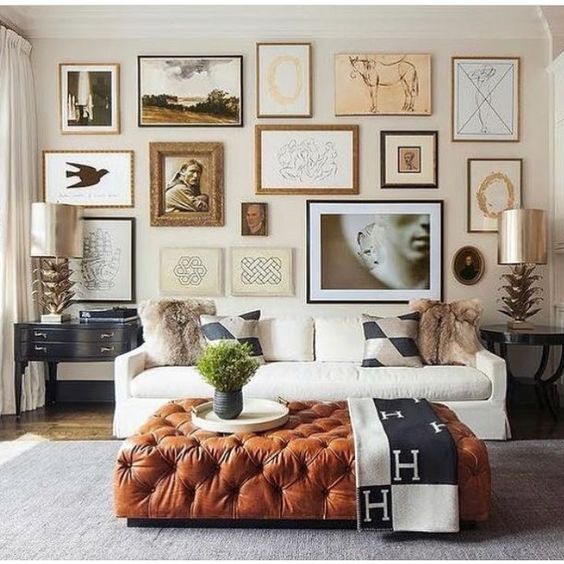 Designs by Maria has some great tips to remember when creating an amazing art gallery wall:
Choose a variety of different media to display such as photographs, art prints, paintings, illustrations, etc.
Vary the size, shape, and textures of your frames
Don't try to have everything match
Develop cohesiveness by selecting frames which match the colour palette of your room.
If you'd like to learn in more detail how to build an art wall gallery of your own, check out this helpful and informative article from Designs by Maria: How To Build A Gallery
Organic Materials And Tones
In 2018, watch out for lots of organic materials which will bring nature inside. To get the look, combine bamboo and wicker furniture with window treatments made from natural fibers like the shades by Maxxmar featured in the picture below. Also use colour palettes that are very organic with an abundance of earth tones. We really like the addition of the marble inspired vinyl flooring.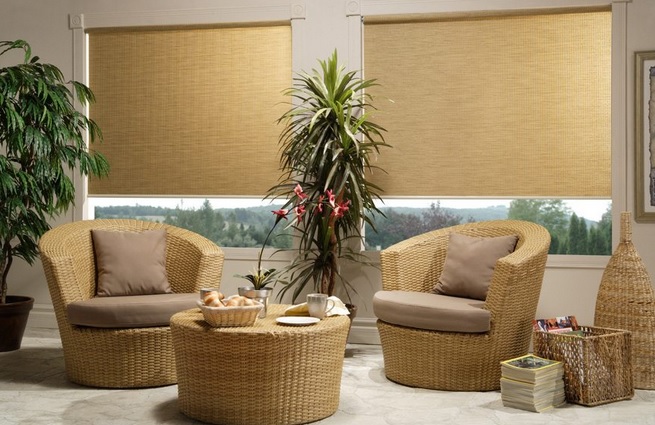 This next family room design is perfect for a basement. We discovered in on Pinterest but it originally came from Simply Home. The large screen is perfect for cozy family movie nights. If you want to bring in a bit of the great outdoors, try using gorgeous horizontal wood paneling on the wall as in the picture below, paired with a darker engineered hardwood on the floor. Add in cool grey couches and chunky ottomans for the perfect comfy spot for your family to curl up together on a cold winter's evening.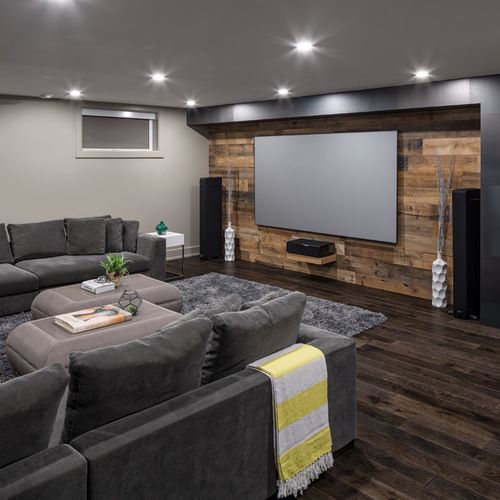 Oversized Furniture
You really should feel your most relaxed and at home when you are spending time with your family. That's why we think that this next 2018 family room trend is so appropriate. Purchasing oversized and extremely comfortable furniture is the order of the day and we certainly are not complaining about that. The whole family can easily fit on this sectional below. Make sure to also invest in plenty of pillows to curl up with or hide behind while you watch a scary movie together. You can buy this great piece from HOME but we first saw it on Pinterest.
Story time just got better with this comfy curvy love seat, with plenty of room for you and a few little ones. The shape is reminiscent of the 70's, but the warm tones and fluffy throw pillows are certainly an upgrade. Strategically place a retro style table lamp close by for lighting up a favourite storybook to read before bedtime. Once the little ones are safely tucked in for the night, you can trade in that storybook for a re-read of a Jane Austen or Charles Dickens classic. We found this design on Pinterest and you can purchase your own version from Cozy Comfy Furniture.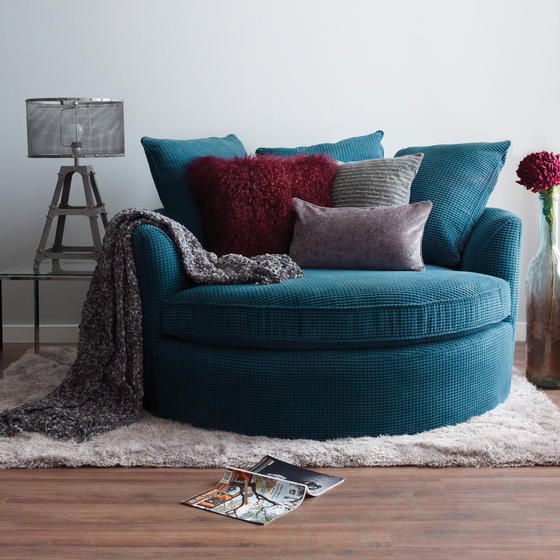 Brass, Brass, And More Brass
It's everywhere, but nowhere is it overstated. The key to using brass this season is to not even be aware of it, but make sure there is just enough that it cleverly ties all of your accent pieces together. From installing the brass handles on the doors to the understated centres and leaf of the orchid, the elegant brass beautifully highlights otherwise unnoticeable features. Even the antler has a hint of brass. We found the above design on Pinterest courtesy of DecorPad.
Remember the glass top coffee and end tables from the 80's? Well, they're back, but new and totally improved. The glass has been replaced with rich, solid marble and the shape has morphed from a simple circle or rectangle into a whimsical flower. This fun and sturdy piece would look great in any family room. We saw this gorgeous table on Pinterest and you can purchase it from Anthropologie.com.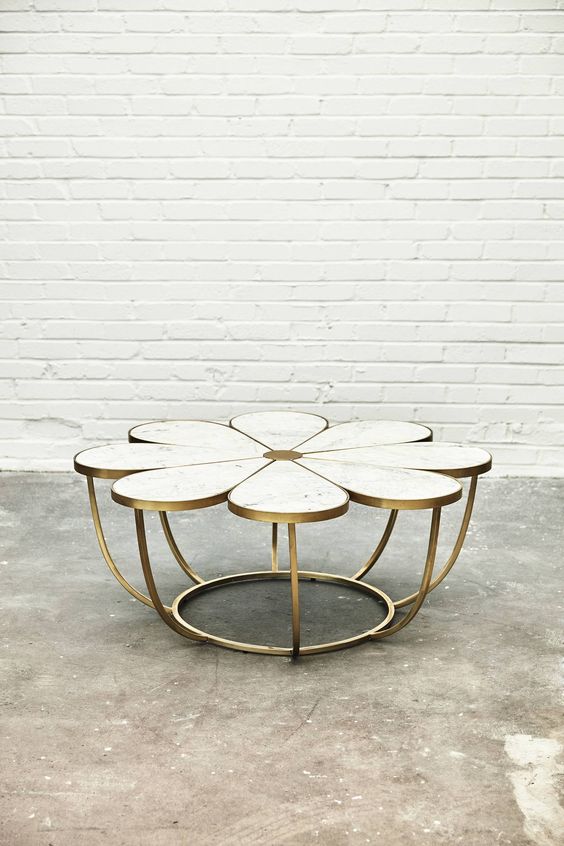 Graham's & Son Interiors
If you have been inspired by some of the wonderful trends from this post and would like to update your current family room, we'd love to help. Graham's & Son has been in the interior design business in the Cambridge region for 40 years and you can be assured that we will continue to be here for years to come. We are locally owned and operated and are thankful for our loyal clientele who readily recommend us to their friends and family members. For a stress-free renovation of your family room or any other room you would like updated, contact the design experts at Graham's & Son. We will come to your home and do a free, in-home consultation. We will also provide you with a quote during our first visit with you.