Trends for Window Treatments
Because they are both budget-friendly and easy to manage, roller shades (or roller blinds) are one of the top trends for window treatments in 2022. 
They are designed to open and close quickly, and they provide protection from the sun as well as privacy. Plus, they come in a wide variety of colours and are easy to clean. Try trending colours like shades of blue and green or even yellow. If you want to learn more about colour trends for 2022, read more from the Nordroom.
Watch the video below to see an example of how Maxxmar's BetterFit Roller Shades (also seen in the picture above) are designed to fit within a window frame allowing the shades to move with the window when it is being open or shut (particularly ideal for patio doors). 
2. Minimalist Curtains & Sliding Panels
You might be surprised to learn that curtains continue to trend – everything from French Provincial to Baroque styles. But since design trends for window treatments are leaning towards minimalism, let's take a look at 2 specific styles that influence both curtains and sliding panels for 2022: Scandinavian Style and Japanese Style.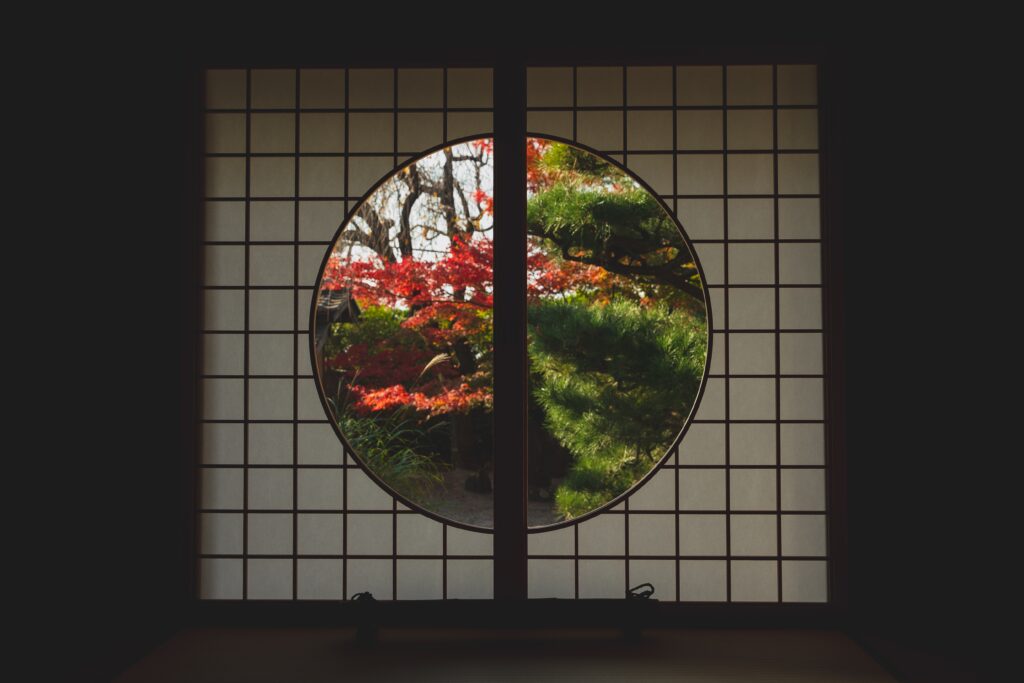 Consider sliding panels or curtains with elements of Scandinavian or Japanese design.
Scandinavian Style
Minimalist curtains are inspired by the clean, simple and natural elements of Scandinavian design. The idea here is light, airy, and flowing curtains – perhaps in a print or neutral colour. Fabrics used include cotton, chiffon, linen, and sometimes tulle. Often, these curtains only frame the window and are not meant for blackout purposes. However, you could pair patterned drapes with tulle for varying amounts of privacy, which is particularly helpful in certain rooms.
Japanese Style
Japanese design is known for intentionally creating peaceful atmospheres. Perhaps this type of design is popular right now because people want a peaceful escape from their stress-filled lives. No frills or bows, just 1 or more sliding panels can grace a window or door, sliding left or right to open and shut.
They are typically made with natural fabrics and materials. These are great for larger windows and patio doors. You can find them in neutral colours and designs inspired by nature. The concept of panels is similar to Japanese Shoji Screens which you can read more about here.
Or, get some more ideas here and put your own spin on this design concept, too!
3. Environmentally-Friendly Materials
With a push on reducing the damaging impacts on our environment and increasing wellness and health, many companies are finding innovative ways to create materials from natural resources or recycled materials. That's why the material used is at the center of trends for window treatments.
For example, Hunter Douglas has a screen shades line that has been designed with ocean plastic that would otherwise be on its way to the landfill. Have a look at their GreenScreen® Sea-Tex™ screen shade below which also provides UV protection.
As with materials that are environmentally-friendly, woven textures are also trends for window treatments this year. People are opting for natural products in their homes, including window treatments made from wood, bamboo, reeds and grasses. These organic textures offer a unique appearance and suit neutral palettes and colours that are trending in 2022.
Have a look at these Provenance® Woven Wood Shades below by Hunter Douglas.
5. Automated Window Treatments
With advancements in technology, people are looking for window treatments that incorporate automation. With automation, you don't need to fiddle with cords and wands, you simply use a remote, your phone or even your voice to control your window coverings. You can even program blinds to shut at certain times to help with energy consumption and make your home more energy-efficient.
There are plenty of options for automation, but you could try something like Cellular Shades with MaxxMotor. These shades open up from top to bottom and bottom to top, so you can decide if you want the bottom half of your shades open or the top half of your shades open – that gives you privacy and natural sunlight. Plus, you get some extra insulation.
Watch how it works below. 
While these 2022 trends for window treatments offer you ideas and inspiration, knowing what works for your home and budget is key to success. Also, having a trusted company with experience work on your windows and doors is sure to help you get those winning results. Contact Graham's & Son Interiors, your Cambridge, Ontario business for help in finding the window treatments that suit you. They have faithfully served the community for over 40 years and can offer you sound advice and guide you to quality products.
"After 28 years in the same house, we decided to downsize. One of the projects for our new place was window coverings. We invited 3 companies in to help us with this decision. We made the BEST decision to go with Graham & Son Interiors. Wayne Graham was prompt to follow up with us to book a time to come out. He was extremely knowledgeable. The quality and cost were excellent. The installer was highly experienced and paid attention to detail He did not rush. We will be repeat customers for future interior needs!"
"Amazing company to work with! We changed all of the blinds in our house with shutters or cellular shades. They had an amazing promotional offer which made the price incredible. They are very friendly and informal (this is a good thing) to work with. They installed the window coverings the same day the order arrived. We will be a repeat customer."