In this article, Graham's will review what 2022 California Shutters cost as well as provide some helpful information about what these shutters actually are and how they compare to other window treatments. 
Find out more on:
For more specific information on what 2022 California Shutters cost or for a free in-home consultation, contact Graham's & Son Interiors.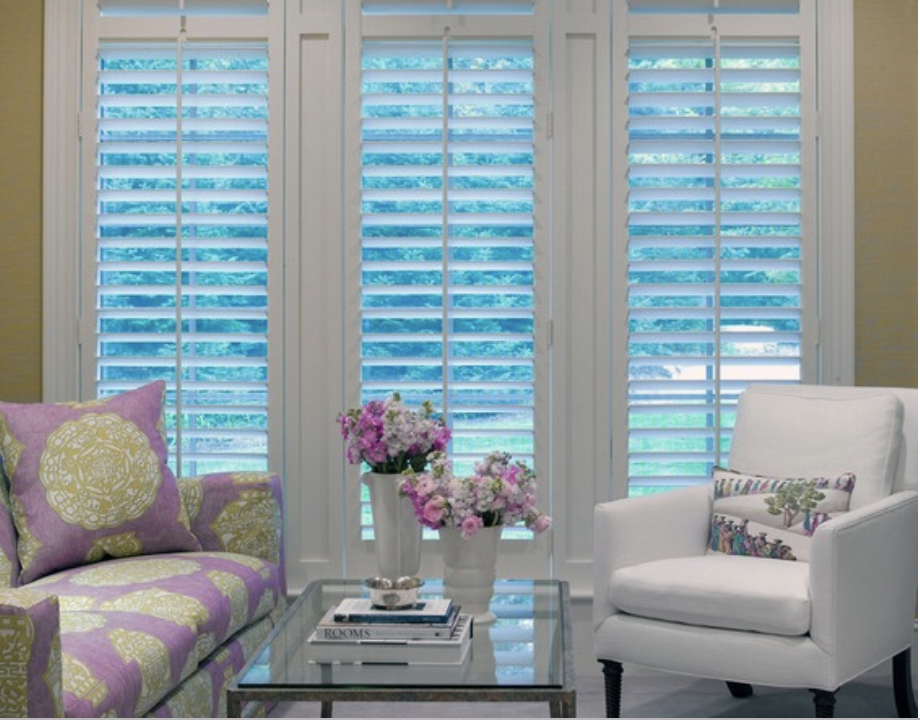 California Shutters are a beautiful addition to any room, but especially the living room.
2022 California Shutters Cost & Other Tips
1. What are California Shutters?
Slightly smaller than Plantation Shutters, California Shutters are window coverings made of slats (called louvres) that can be adjusted or tilted to control light, airflow, and visibility. The average size of California louvres is 2.5-inches; however, smaller sizes are available, too.
California shutters have long been an ideal window treatment because of their sophisticated look and the other following benefits:
Durability
Sound Insulation
Light and Privacy Control
Can be opened for complete airflow (if they are hinged instead of fixed to the window frame)
If you aren't very familiar with California Shutters, have a look at our other article, Complete Introduction to California Shutters to learn more.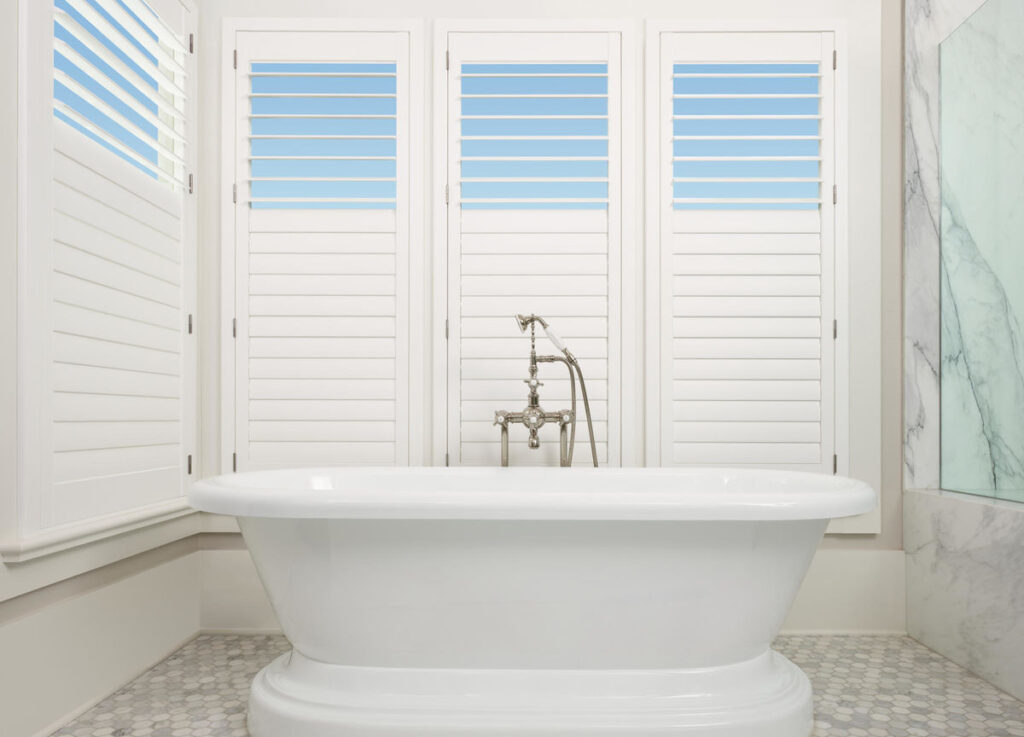 Notice how these Hunter Douglas shutters are hinged so you can open them completely.
2. Average 2022 Cost of California Shutters
According to Home Advisor, the average cost of installing California Shutters on 8 windows, including installation, is about $2,800, or somewhere between $1,200 and $4,300. Please note that we have quoted these costs in Canadian dollar amounts based on recent conversion rates.
Here is a breakdown of those costs:
Cost of Shutters per Window:  
$90 – $1450 
Cost of Labour per Window:    
$165 – $265 (Note: Each window usually requires about 2 hours of labour to complete the installation)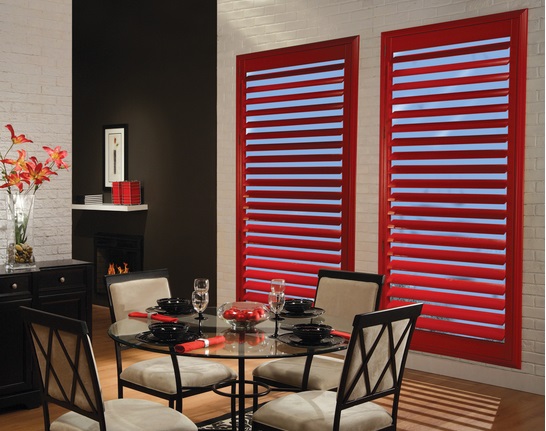 California Shutters by Maxxmar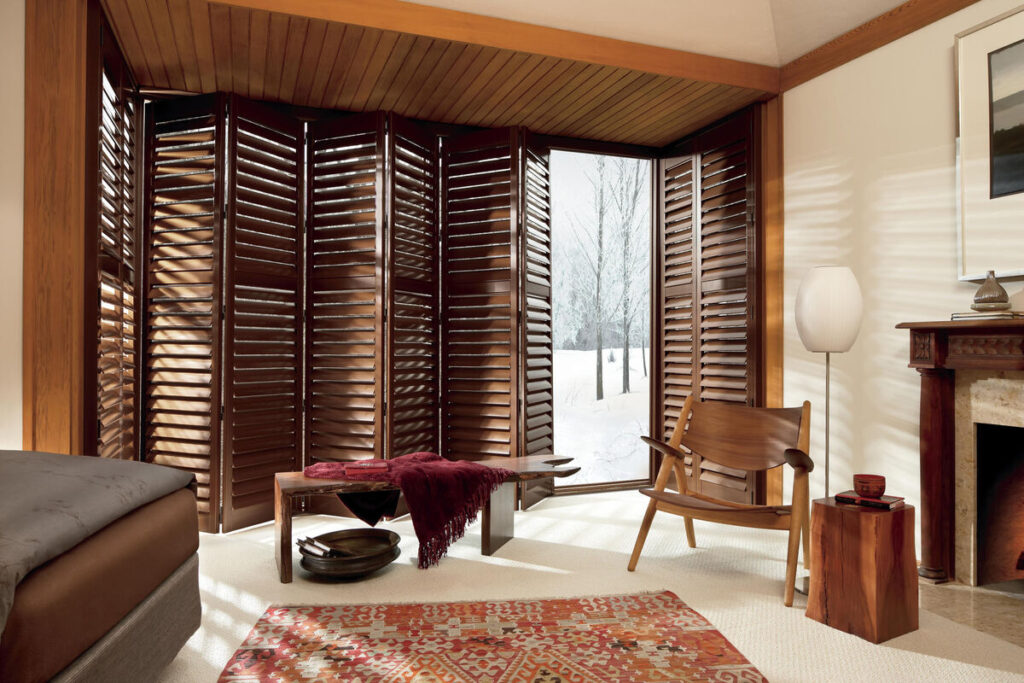 California Shutters by Hunter Douglas
While costs vary, California Shutters range between $90 - $1,450 per window.
3. What Impacts California Shutters Cost?
Depending on the materials of the shutters or the size and design of you window, you may be looking at different prices. Here are some examples:
Custom Panels
If you are considering custom panels, the price ranges from $25 – $60 per square foot.
Shutter Material
In general, real hardwood shutters will cost more than composite shutters. Here is an idea of how the costs differ. Although wood and composite/faux wood shutters are most popular, we've included vinyl shutter costs here, too. These costs are based on information from Home Advisor.
Hardwood Shutters: $70 – $530
Composite Shutters: $60 – $380
Vinyl Shutters: $125 – $380
Size & Design of Window
Of course, the larger the window, the more you are going to pay; however, specialty-shaped windows will generally cost more to install shutters on. For example, if you have an arch or circular-shaped windows, these shutters will cost more.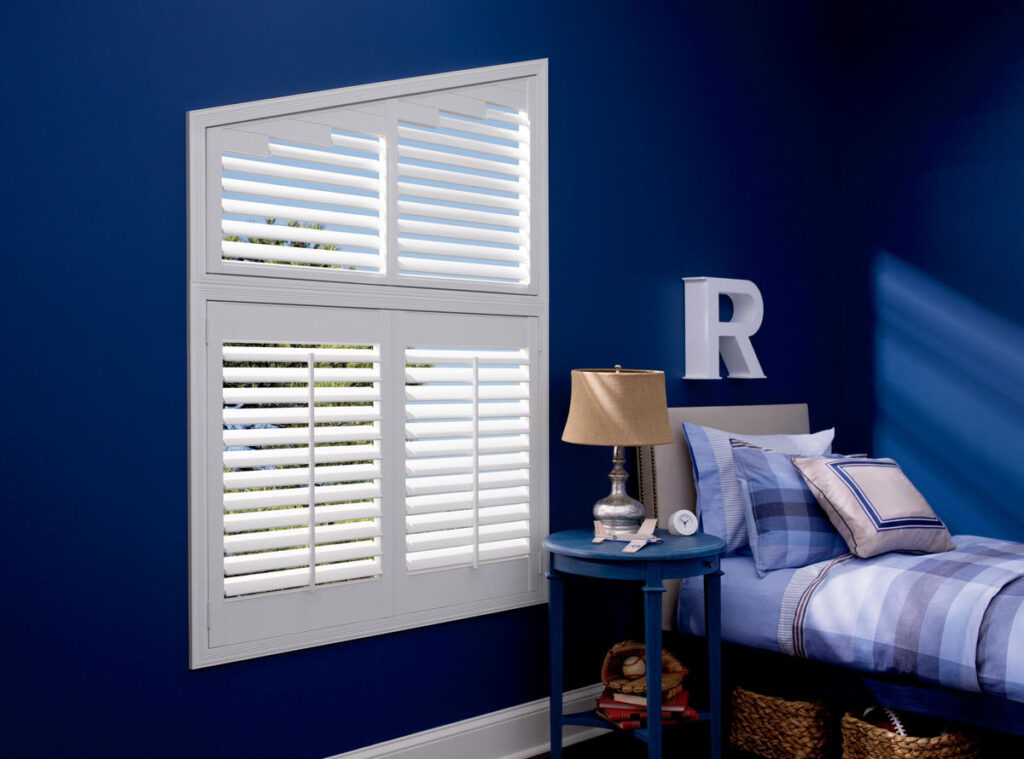 These California Shutters by Hunter Douglas may cost more due to their special shape.
4. Average Installation Fees
5. Comparing California Shutters to Other Window Treatments
Shutters are a great choice for your home's interior since they boost curb appeal and may even increase the value of your home. Let's take a look at how they compare to some other window treatments. Also, if you want to learn more about Privacy and Light control, check out this helpful article from Hunter Douglas. 
For a more precise quote on the 2022 California shutters cost or for more detailed information regarding the shutters available to you, Contact Graham's & Son Interiors. With over 40 years of experience in interior design and a showroom right in Cambridge, Ontario, these experts will give you advice on everything you need to know about California shutters for your home! 
Click the contact button below to get in touch with a friendly staff member or read some testimonials below to discover why Graham's is your trusted window treatment source! They provide complete services, from consultation to installation! 
"We want to thank everyone at Graham's and Son, for all of your efforts in working with us to 'beautify' our windows with your California Shutters. Service and communications have been professional, thorough and friendly, from start to finish! We are thrilled with the dramatic change the shutters have made throughout our home! The installation was so quick. The finished product is amazing and we feel like we are suddenly living in another home! We are thrilled with our Graham's and Son, experience! Thank you!"
"I just had shutters fitted on three windows in my home and they look fantastic. I'm particularly pleased with how they look and fit on the awkward shaped bay window in the lounge. I was happy with the ordering and measuring process in home and the installation was very clean and quick. Overall, I'd definitely recommend Graham's and Son Interiors for these shutters, in fact I'm ordering some more after Christmas."