It's a special one – the big Five-O! Do you already have some great 50th birthday gift ideas for your dad or husband, or would you like a little help? If you are like most of us, a little bit of help to find that perfect gift to celebrate this milestone birthday would be appreciated. That's why we have put together an awesome list of great gift ideas to help you with your search. Half a century of birthdays is quite the achievement, so make it special with just the right present. If you really want to go all out, why not consider having a room in his house renovated? Contact the interior design specialists of Graham's & Son today for a free, in-home consultation to find out how easy and inexpensive it would be to update window treatments, flooring, or to do a complete room renovation!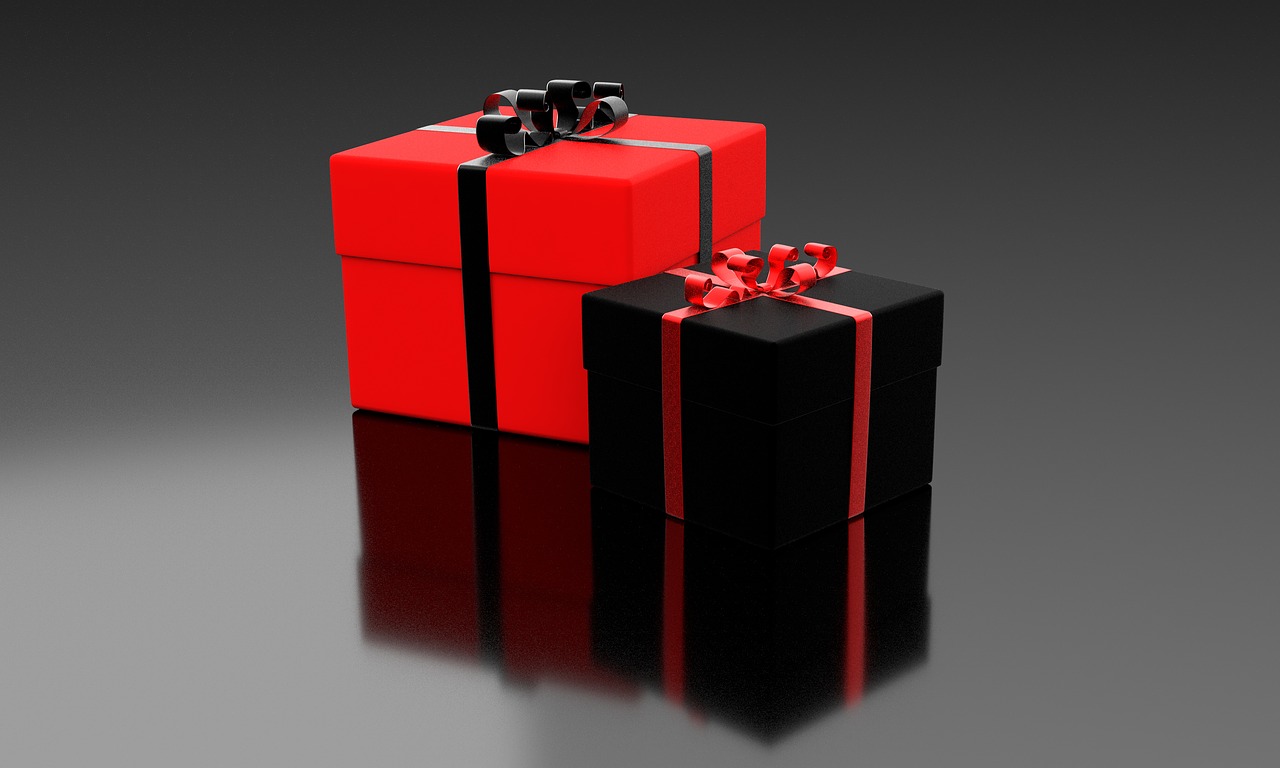 "Let me start by saying, I love my window treatments! Mr. Graham was very professional, easy to talk to; he talked with me, not above me, I was at complete ease. He listened to my thoughts, went through my options, and just like that – decision made. The installation crew was quite professional, friendly and efficient. They were in and out in no time, with cleaning up after themselves, and ensuring that I was satisfied with what was done. I would highly recommend Graham's and Son Interiors to anyone, and I look forward to working with them again!"
– Anne Allen
Read more testimonials here

50th Birthday Gift Ideas For Your Dad Or Husband
Here are some unique and thoughtful gifts for that deserving dad or husband in your life who is turning 50 soon. Choose from a variety of ideas to suit most budgets.
Gifts For the Golfer:
Personalized Golf Balls
Is your special man a golf fanatic? If so, he's sure to love these awesome and witty personalized golf balls. Choose whatever message you like or use some of the suggested ones here. They come in sets of 6 or 12, all with the same message or each with different messages. Either, way they are sure to please.
Price: Set of 6 $19.99, Set of 12 $34.99 on Gifts.com
Embroidered Golf Towel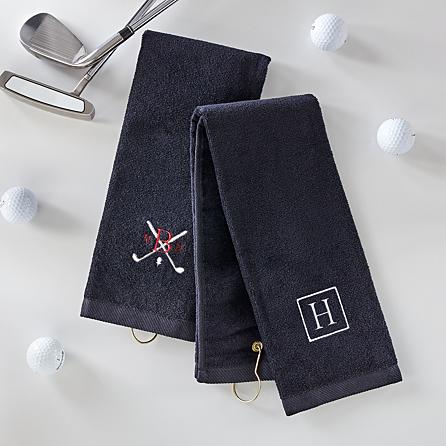 To go along with the personalized golf balls, why not also get him a beautifully embroidered golf towel? He can use it for cleaning his prized clubs or for keeping himself cool on the course. It is made from highly absorbent 100% cotton sheared velour terry. It features a grommet and hook design for easy hanging and can be personalized with either a single initial square monogram or club design with 3 initials.
Price: $35.00 on Gifts.com
Gifts to Wear:
50th Birthday T-Shirt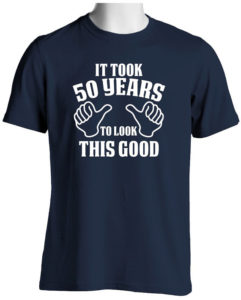 Is he a T-shirt kind of guy with a little bit of charming self-confidence? Then this is the perfect shirt for him. And what's even better, it won't break your budget.
Price: $19.63 from Etsy.com
Five-Star Plush Robe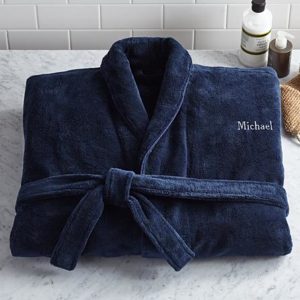 A 50th birthday means that your dad or husband deserves some extra pampering. Why not wrap him in a luxurious Turkish robe like those provided in five-star hotels. This soft, plush garment is perfect for after a bath, shower or a dip in a hot tub. It is made of a decadent polyester microfiber. It comes to mid-calf length in sizes M/L (42-46) and L/XL (48-52). You can even have it personalized with any name up to 9 characters or any single initial.
Price: $89.00 on Gifts.com
Hidden Message Tie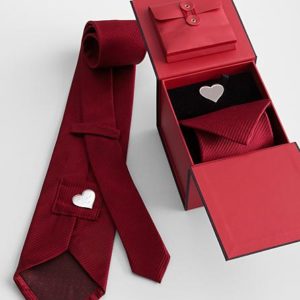 Now we know that a tie seems like a predictable gift, but this tie is anything but predictable. This 100% silk tie has a special pocket on the back where you can tuck secret love notes for him to find. It comes with 25 paper hearts for you to write your secret messages as well as a polished nickel heart charm that is engraved with the romantic words "Here is my heart, guard it well." The perfect gift for the husband that you love so well.
Price: $50.00 on Gifts.com
Locket Cufflinks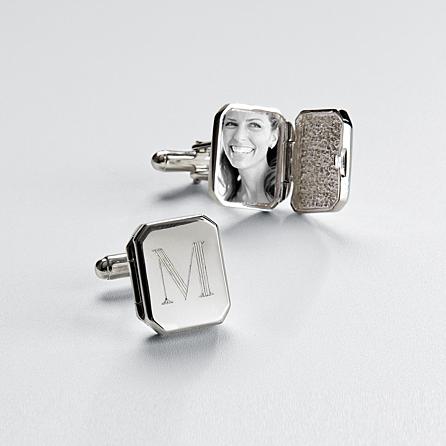 If your husband is always on the go, he can still keep a piece of you with him always with these stylish sterling silver locket cufflinks. Each rectangular locket can hold a tiny photo of a loved one. On the outside, the cufflink can be engraved with a single initial.
Price: $89.00 from Gifts.com
Wooden Watch
If he is fifty, then he probably hasn't traded in his watch for a cell phone. This gorgeous 100% natural wood watch with its one-of-a-kind style and personally monogrammed is sure to get noticed. And what's really wonderful is that for every watch sold, a tree is planted to help decrease deforestation.
Price: $140 on Gifts.com
Wooden Watch Case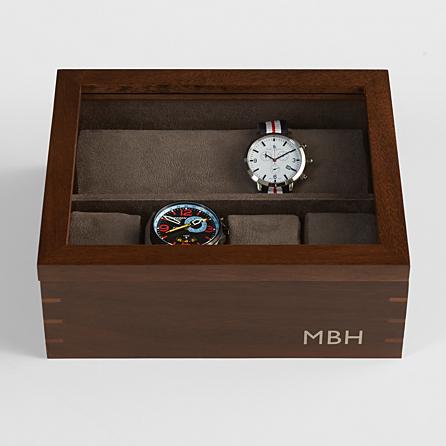 If your dad has multiple watches, then this wooden watch case would be the perfect gift. It safely stores each timepiece and beautifully displays them when they are not being worn. It is made of walnut with contrasting joinery details in ebony and a glass lid. It can hold up to eight watches. It can even be personalized with up to 3 initials.
Price: $79 with initials on Gifts.com
Gifts for the Coffee Lover:
Budget Friendly 50th Birthday Mug
If you are on a tight budget but you still want to get dad something to mark his big occasion, why not get this exclusive 50th birthday mug. It is made of ceramic, holds 15 oz., and is microwave and dishwasher safe. You can choose either a bright red or a fun teal.
Price: $16.99 on Gifts.com
Magical Hidden Photo Mug
This cool mug starts out black, but when you pour in a hot beverage, it magically reveals up to five photos of our dad's favourite people. He will love this novel and practical gift. It holds 11 ounces and is dishwasher and microwave safe.
Price: $16.99 on Gifts.com
Personalized Gifts:
The Year You Were Born Trivia Print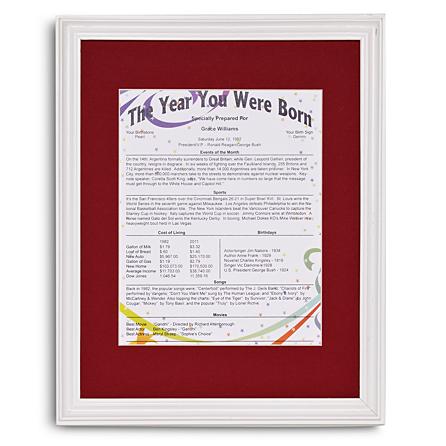 Here's a fun gift idea that everyone will want to read – the year you were born trivia framed print. It's a compilation of the top news stories from the year he was born. It comes in a lovely whitewashed wooden frame and is personalized with his first and last name as well as his date of birth.
Price: $29.99 from Gifts.com
Secret Message Compass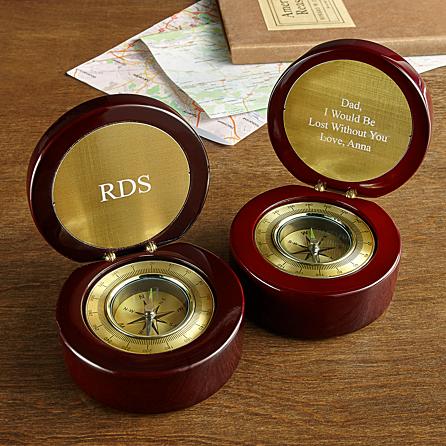 This beautifully crafted compass will make a wonderful 50th birthday present, especially since you can include your own secret message inside. The engraving can be any 1 to 4 line message up to 16 characters long or a 3 letter monogram. It comes in an elegant rosewood finish and has a hinged lid with a round brass plate.
Price: $49.99 from Gifts.com
Vintage Birthday Beer Mug
Does your dad enjoy a cool beer after work? If so, then he will probably love this personalized vintage birthday beer mug. It holds 25 oz. and is made of glass with a sturdy handle and heavy base with an attractive starburst design. You can engrave it with your dad's birthday year.
Price: $19.99 from Gifts.com
Outdoor Wooden Beverage Cooler
Does your guy like to party outside? This sleek and stylish outdoor wooden beverage cooler would be the perfect gift. It is beautifully crafted from fir, has a bottle opener mounted to one side, and is lined with galvanized metal and a drain for easy clean up. It can hold up to 60 lbs and can be personalized with any one line message up to 18 characters plus "established year."
Price: $249.99 on Gifts.com
NFL Sports History Book – The Front Page News
Is your dad or husband a big NFL fan? Then he is sure to treasure this personalized hardcover book containing his favorite football team's greatest moments from the archives of the LA Times, Dallas News, and Washington Post. Choose from 24 different NFL teams and relive their past events from the early 1900s to the recent past.
Price: $99.99 from Gifts.com
Gifts to Display:
Architectural Alphabet Of His Name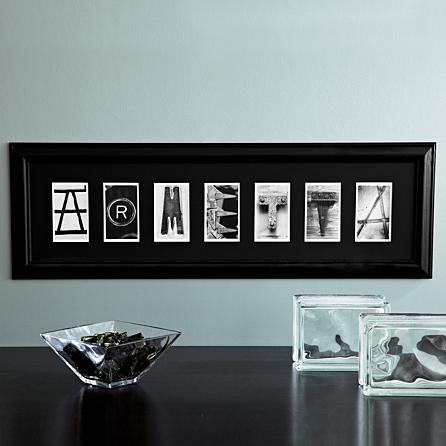 Here's a gift idea that you probably won't see anywhere else: your husband's name spelled out with black and white architectural letters. Each letter is represented by a different piece of architecture. This is sure to be a great conversation piece. The same photo will not be repeated even if his name has more than one of the same letters in it.
Price: $49.99 from Gifts.com
Record Wall Art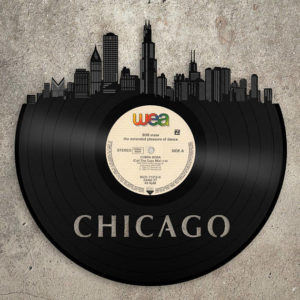 Now here is an incredibly unique gift. A vinyl record transformed into a work of art. You can get your husband or dad's city or a city that means a lot to him rendered in vinyl. A great conversation starter, and to top it all off, it's environmentally friendly.
Price: $39.28 on Etsy.com
Handmade Chopper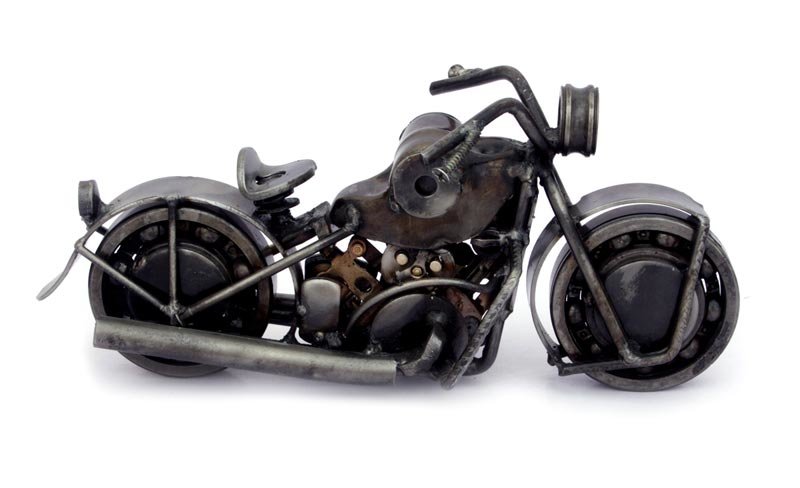 If you are looking for something that is one-of-a-kind, just like your dad, then this cool motorbike sculpture designed by Mexican artist Armando Ramirez is just the thing. The tires are bearings from a car's electric system and the gas tank is made from a rocker arm from a car's ignition. How cool is that!
Price: $129 on Wayfair
Fowlkes Sculpture by Mercury Row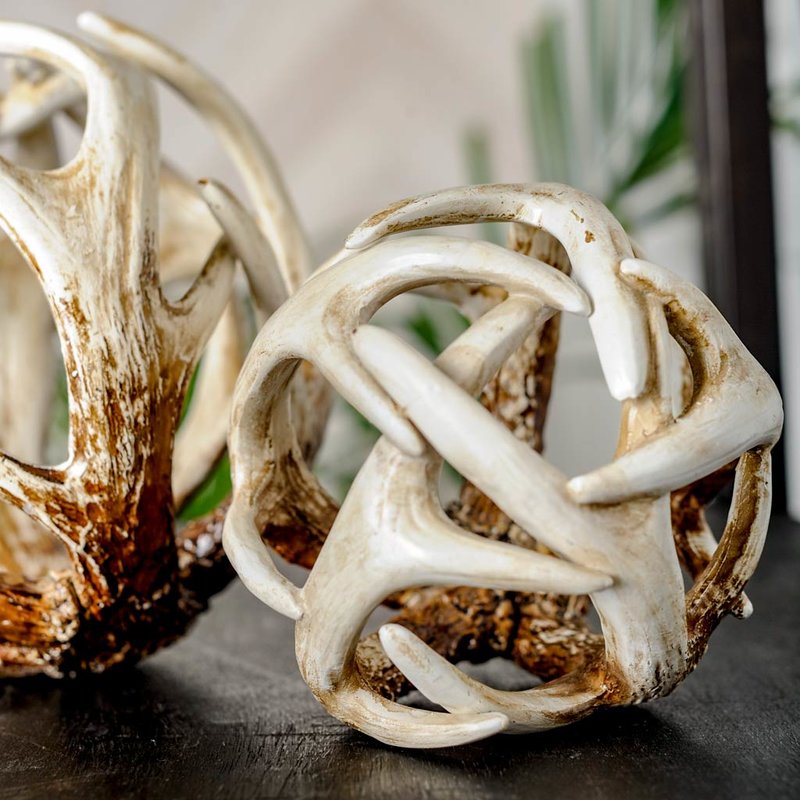 If your dad is into more abstract art, then why not get him something rather unique. This beautiful resin piece is a Fowlkes sculpture by Mercury Row and is reminiscent of driftwood branches or antlers. It would look amazing as an accent on his bookcase or desk.
Price: $42.99 on Wayfair
Wood Gramophone Sculpture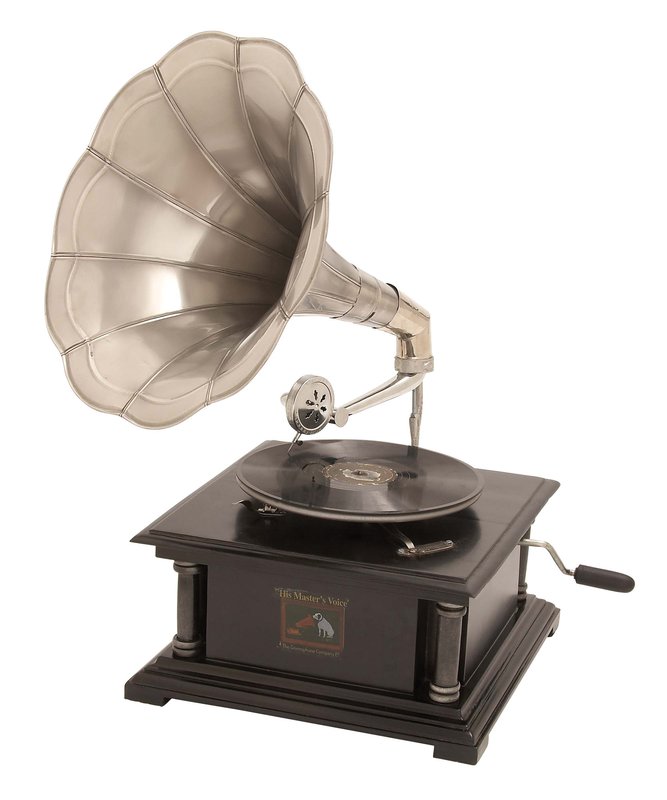 Does your dad like nostalgia? This lovely wooden gramophone sculpture by Cole and Grey is a beautiful reminder of a bygone time in musical history. It is finely crafted of quality varnished wood and will surely become a little treasure that your family will pass down to each generation.
Price: $172.99 on Wayfair
Close to His Heart Photo Canvas
Close to his heart – that's what this lovely gift will be. What dad or grandpa wouldn't be thrilled to have this personalized photo canvas proudly displayed in his office? Select your cherished picture moments with him, up to five in all, to be beautifully displayed on canvas stretched over a solid wooden frame.
Price: $39.99 on Gifts.com
Cast of Characters Family Pillow
Here is the perfect gift for the ultimate family man. Have your entire family immortalized in cartoon form on a cotton canvas pillow cover with a plush insert and zippered back. Choose up to 7 icons for Grandpa, Grandma, Mom, Dad, teens, children, babies, and even your dog or cat.
Price: $34.99 on Gifts.com
Gifts for the Handyman:
Personalized Hammer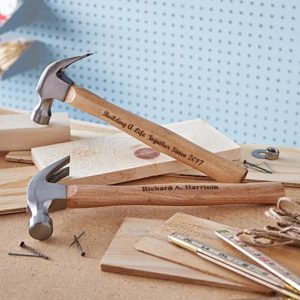 If your dad or husband is a handyman, he will really appreciate this lovely crafted wood and metal hammer. The natural variations in the wood make each hammer a unique piece. You can have it engraved with any 1 line message of up to 45 characters in either script or block font. It can be cleaned easily with the wipe of a damp cloth.
Price: $19.99 on Gifts.com
Magnetic Wristband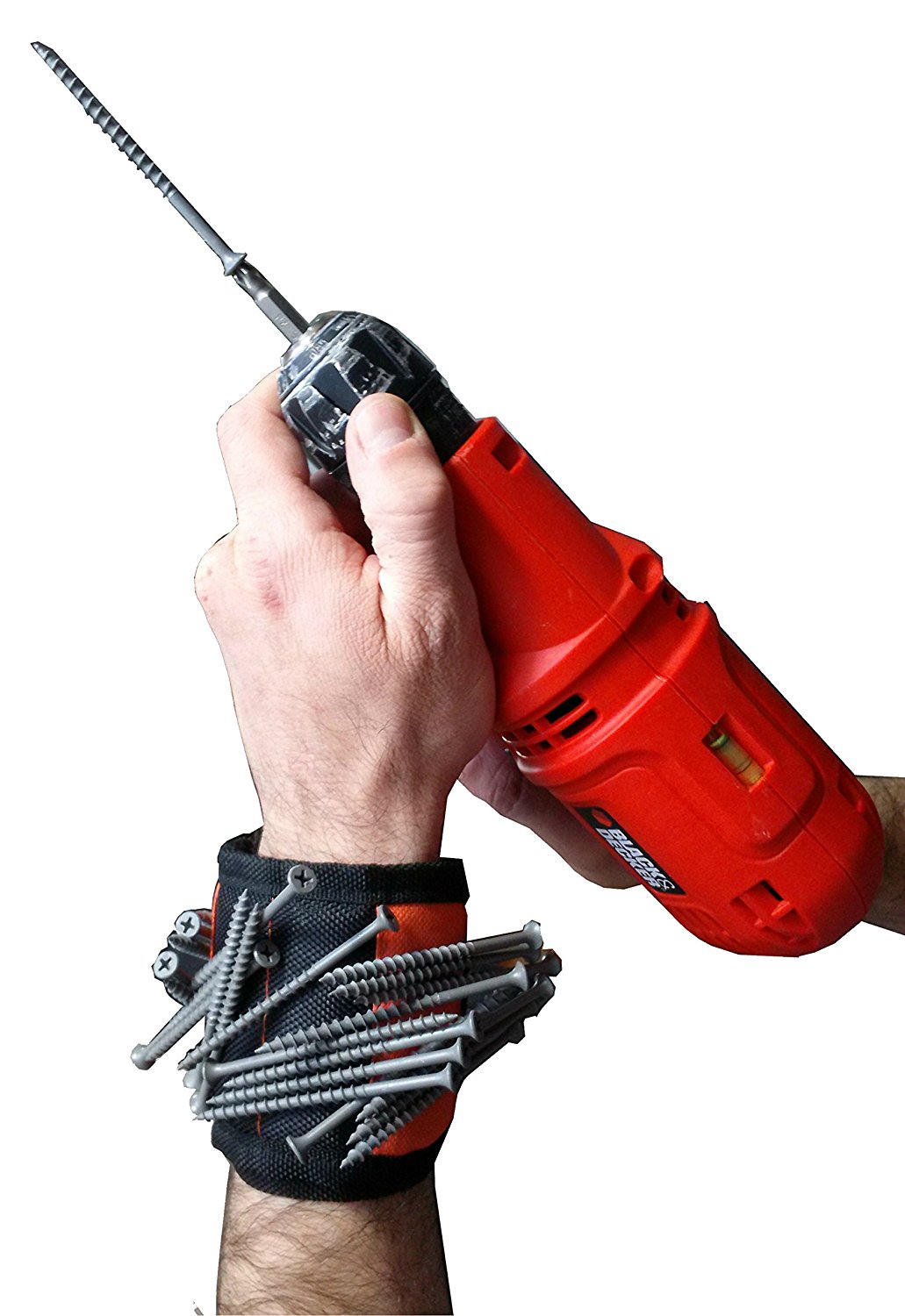 How cool is this! A magnetic wristband: it's perfect for the dad or husband who loves do it yourself projects or fixing things around the home. Now more slowing down to find the next nail or screw needed, because it is right there, stuck to your wrist. And to top it all off, it's a great price and it looks pretty manly as well.
Price: $9.99 on Amazon.ca
Garage Warning Sign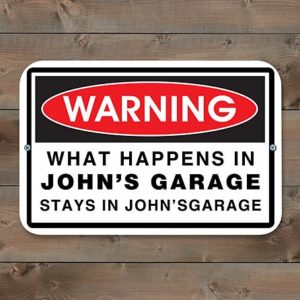 Does the special man in your life have a good sense of humour and like spending many hours happily working in his garage or tool shed? Why not get him this funny personalized warning sign to help him "mark his territory" and declare his ground rules.
Price: $24.99 from Gifts.com
Personalized Car Mats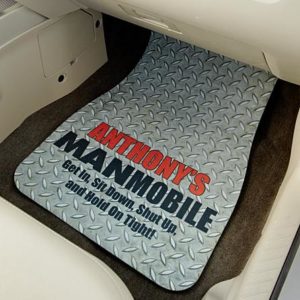 Is your man's car his pride and joy? Well, these personalized car mats may just be the perfect outlet for him to express exactly what he is feeling. Made of polyester with a nonslip backing, this set of 2 car mats can be personalized with any name up to 12 characters. They measure 27″ X 17″ and can be easily cleaned with soap and a hose.
Price: $29.99 from Gifts.com
Gifts to Help Him Organize:
Docking Station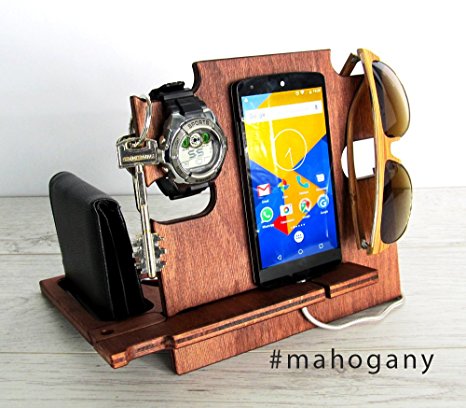 Does your special man have trouble locating his things? Here's a great solution to help him out. This awesome docking station has a spot for all of his necessities like his wallet, keys, cell phone, sunglasses, and watch. You won't have to be searching for his things for him and he will appreciate having a place to put his things where he can easily access them.
Price: $37.90 on Amazon.ca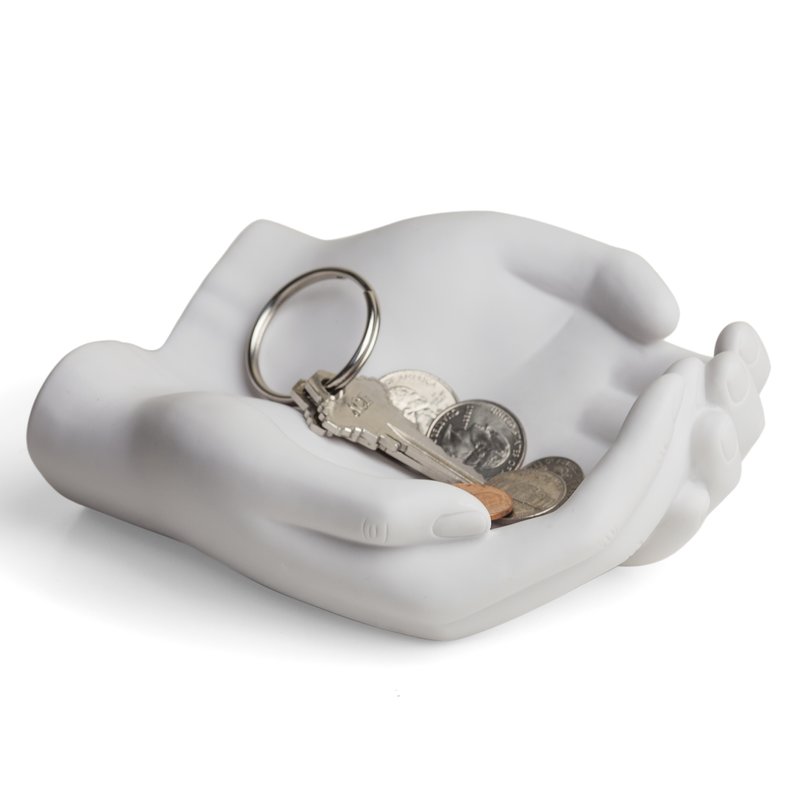 Does your husband have a hard time remembering where he left his keys? Give him a helping hand, or two. This novel holder will look great anywhere; place it near the front door so that it will be easy for your man to drop his keys in it as soon as he comes home and they will be right there waiting for him when he leaves the next day.
Price: $36.90 on Wayfair
Gifts for The Reader or Techie Dad:
Kindle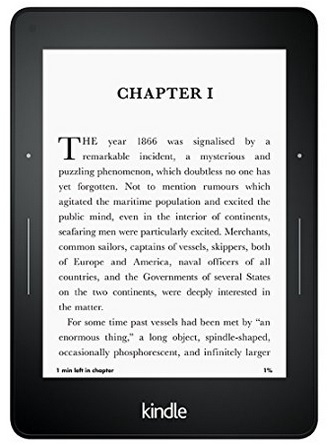 If your husband is an avid reader, he may really like the portability and convenience of an electronic reader; and you will really like the fact that he can store hundreds of books on one device instead of all around your home.
Price: $199.99 from Amazon
Steam Gift Card
If your guy loves to play computer games, and you aren't sure how to choose the right on for him, then a gift card from Steam is a great option. Steam is an easy way for your man to load his PC with all of the latest gaming titles and with over 1800 titles to choose from he is sure to have hours and hours of enjoyment.
Price: $20 each from Steam.
Man Cave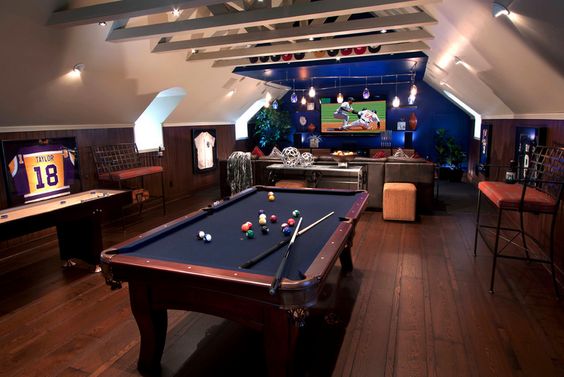 If you really want to blow his socks off with a gift your dad or husband will never forget, why not go all out and have a man cave designed for him. He'll love having the perfect masculine hideaway where he can relax and enjoy all of his favourite hobbies like playing pool or video games, exercising, or just watching the game on a big screen TV. We especially love the above design found on Pinterest, originally pinned from HouseSimple. The attic is a great place to locate a man cave. The gorgeously rugged hardwood floors are a beautiful foil for the wooden paneled half walls and the light colour on the ceiling brilliantly gives the illusion of extra height. Contact the interior design specialists at Graham's & Son today to book a free in-home consultation, and we will help you plan and design a stunning new man-cave that will have him thanking you for years to come. Ask us about our gift cards.