Make your home the most festive it can be this holiday season with these great Christmas window decorating ideas. See how easy it is to make your windows look amazing and then sit back and enjoy the celebrations. Before you begin to decorate your windows with Christmas cheer, you may want to update your window treatments. For expert advice on the perfect window treatments for your home contact Graham's & Son today to book your free, in-home consultation.

Winning Window Wreath
Rustic wreaths give a homey Christmas feeling – Image Source: Country Living – Photo: David Land
This year, instead of hanging your wreath on your door, why not switch it up and hang it on a window. Make your home stand out from the rest by going against the grain; after all, everyone hangs them on doors! You can use a traditional evergreen wreath with red bows and decorations. Or for a more rustic feel, use one made from twigs cleverly covered with moss and lichen. This truly unique wreath from CountryLiving is a definite step away from the traditional decor and will help your guests feel relaxed and comfortable as you enjoy a cozy visit with mulled wine and home-baked cookies.
Price: $$
We Three Wreaths…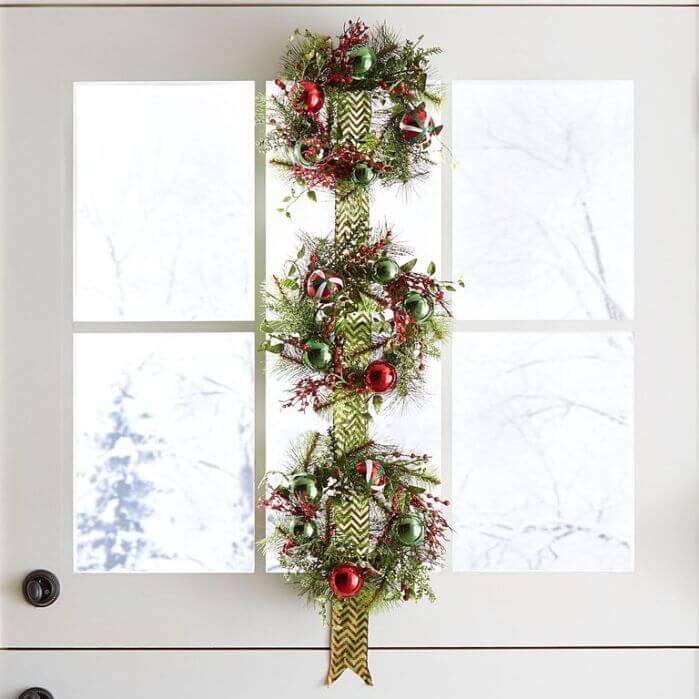 When one wreath is not enough; try three – Image Source: BrylaneHome
Don't stop at just one wreath, if you have a large or longer window, go for triple the effect. You can either make your own trio of wreaths if you are a crafter or if not, you can purchase your own like the one pictured here from BrylaneHome. This elegant combination would also look amazing hung on the window of your door.
Price: $$
Share the Beauty with Your Neighbours
Share your beautiful tree with your neighbours – Image Source: Country Living
Don't be tempted to keep the beauty of your Christmas tree hidden inside of your home. Share it with your whole neighbourhood by placing it in front of a big window. Not only will your neighbours enjoy the view, but every time you come back from a busy day of work or shopping for presents, your gorgeous tree will be there in plain view to welcome you back and light your way inside. If your tree isn't tall enough to fully encompass your window, try elevating it like this amazing golden tree by designer Eddie Ross from CountryLiving.
Price: Free – It will only cost you the time it takes to move your tree
Make It a White Christmas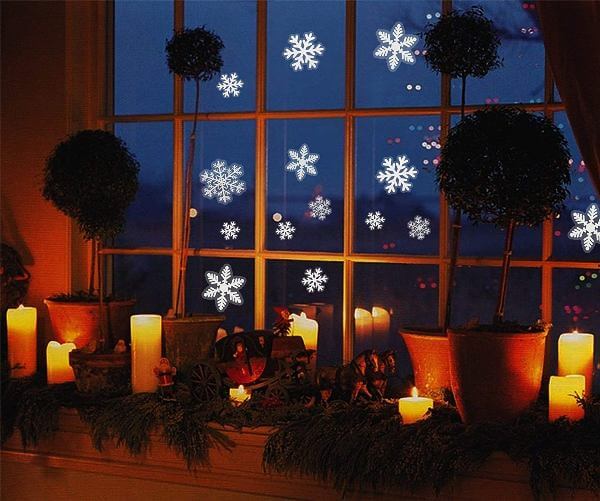 These decals won't leave a mark behind – Image Source: Amazon
Whether or not it actually snows this year, you can be sure to have the feel of a white Christmas with these beautiful winter Christmas white snowflakes decals. These inexpensive and lovely decals easily cling to any window and will add a festive and cozy atmosphere to your room. The best part is that they cling to your window with no glue or adhesives and will not leave any damaging marks. These wonderful flakes are a fun and safe decoration that your children or grandchildren can help you with. You can purchase a set of 166 for only $25.99 from Amazon.
Price: $
Star Light Star Bright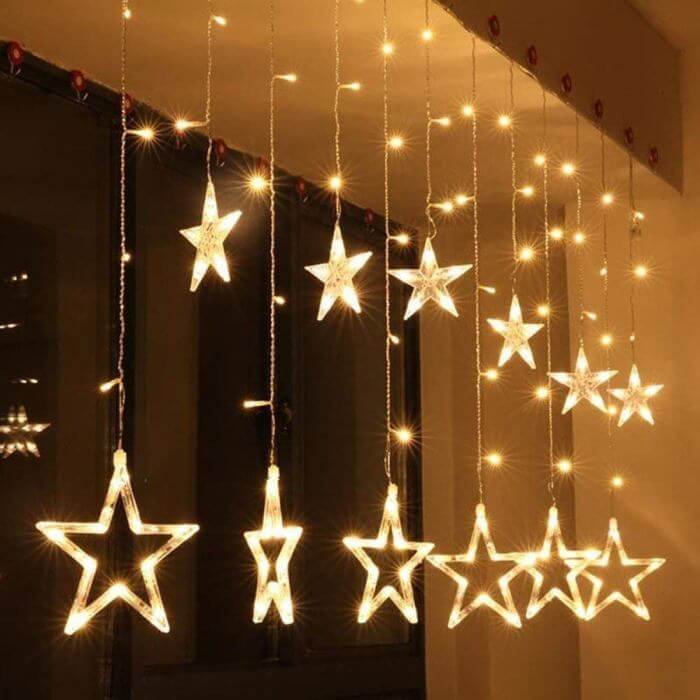 Make your windows the star – Image Source: Amazon
Bring some light and twinkle to your windows this Christmas with these star-shaped string lights from Amazon. They are battery operated, so you don't have to worry about hiding unsightly and dangerous electrical cords. They come in 5 different colours and use energy-saving LED lights. You can choose from 8 different lighting modes including combination, waves, sequential, slow-glow, chasing/flash, slow fade, twinkle/flash, or steady on.
Price: $
Frame Your Windows with Glorious Garland
Garland works well inside and out – Image Source: Elle Decor
Instead of a wreath, try framing your windows with decorative garland. This look from Elle Decor will work either on the outside or the inside or your windows; you could even do both for maximum effect. You will find that the garland is especially attractive paired with indoor or outdoor shutters. You can purchase an already decorated garland or try your hand at making your own.
Price: $$$
Don't Leave Any Empty Boxes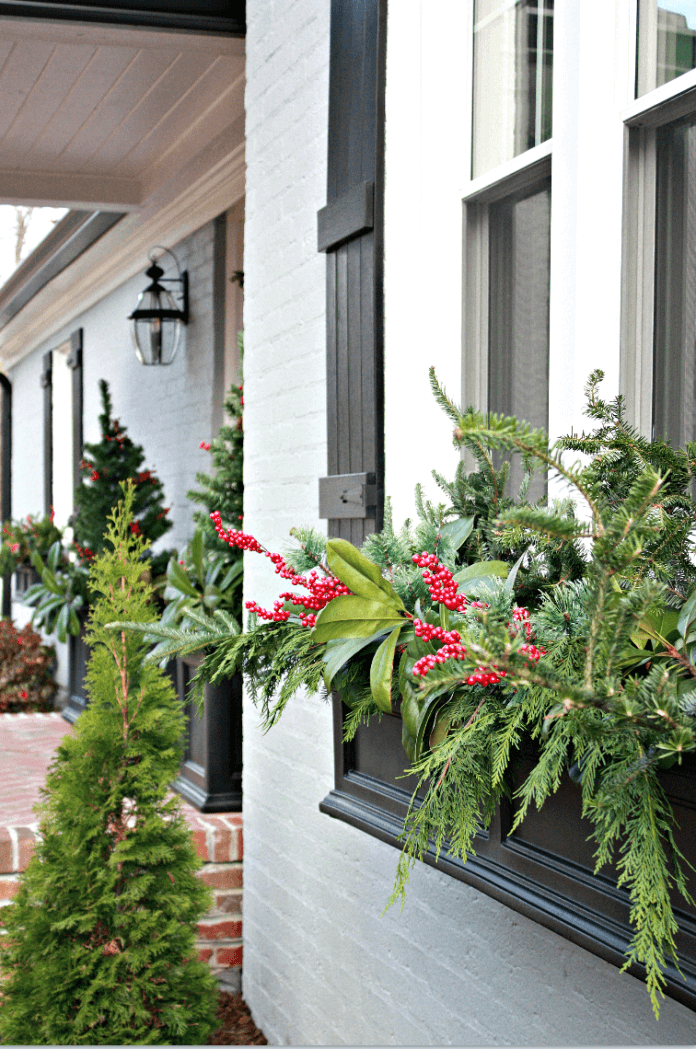 Fill this window boxes with Christmas cheer – Image Source: Elle Decor
If you have window boxes, why not take advantage of them and fill them with holiday cheer! Don't worry – it doesn't have to cost you an arm and a leg. Find out how easy and inexpensive it is to decorate your window boxes in this very helpful tutorial "How to Decorate Christmas Window Boxes and Outdoor Garland" from Nest of Posies. Most of the materials used in this design are all natural, including fresh Christmas tree clippings and well as cuttings from Magnolia and Cedar trees from the writer's own yard.
Price: $$
Accent your Sills with Holiday Cheer
A lantern on your sill will welcome your guests – Image Source: Elle Decor
If you have deep enough window sills, then take advantage of that space with some awesome decorating ideas. Create a compelling corner collage like the one pictured here from Elle Decor. You can put together a stunning display with simple elements such as an old-fashioned candle lantern, spray painted pine and brightly coloured berries and stars. The combinations are endless. Bring out your creative side and put together some different layouts to get just the right effect.
Price: $$
Graham's & Son – Your Christmas Window Decorating Professionals
Your Christmas window decorating should start with great window treatments. Graham's & Son can not only offer you expert advice on all of the latest trends in window fashion, but they can also help you select the perfect styles and colours that will best suit your rooms and help get them ready for the holidays.
If you are looking for the most energy efficient and beautiful window treatments possible, contact Graham's & Son today. Graham's & Son knows window coverings; we have been in the window treatment business for over 40 years. Our expertise and professionalism are second to none. In addition, right now we are offering an amazing deal on all our blinds, shutters, and shades – when you purchase any two, you will get a third absolutely free.
Our customers have been so pleased with the high standard of our work that they selected us for the "Best Business Service – Interior Decorating: Platinum" and "Best Shopping – Kitchen Renovations: Gold" awards in the 2017 Cambridge Times Readers' Choice Competition. Book a free in-home consultation today and find out for yourself why Graham's is the best in the interior design business. Contact us today to schedule. If you prefer, you can shop at home. Browse through our website, make your choice, and simply give us a call at 519-658-9025 to place your order without ever having to leave the comfort of your own living room.
"Let me start by saying, I love my window treatments! Mr. Graham was very professional, easy to talk to; he talked with me, not above me, I was at complete ease. He listened to my thoughts, went through my options, and just like that – decision made. The installation crew was quite professional, friendly and efficient. They were in and out in no time, with cleaning up after themselves, and ensuring that I was satisfied with what was done. I would highly recommend Graham's and Son Interiors to anyone, and I look forward to working with them again!"
Anne Allen
Read more customer testimonials