How much does a bathroom renovation cost? When renovating any part of your home, the first question you likely have is about the total cost. Knowing what to expect is important, as it helps you prepare, budget, and gives you some peace of mind. According to Home Advisor, homeowners can expect to pay anywhere between $3,500 – 14,000+ on a bathroom renovation. The final price depends on a number of factors, which we will go over in this article. To learn more about getting your own dream bathroom, contact the experts at Graham's & Son today!
Did you know that Graham's & Son offers FREE in-home consultations?

Bathroom Renovation Cost: What To Expect
The average cost for a full bathroom renovation is approximately $10,000. This cost varies greatly depending on a number of factors, including the size of the bathroom. For example, a small bathroom renovation can cost as little as $3,500, while a large, master bath renovation may cost upwards of $14,000!
Many other factors aside from size go into the final bathroom renovation cost. This is good for homeowners – it means that you can easily modify your plans if you begin to go over budget. Learn more about what to expect from each factor and option for your bathroom renovation below.
Installing Fixtures
Your new bathroom fixtures, including the bathtub, shower, sink, and toilet, will all have an impact on your final price. For example, if you choose the cheapest of all four options, your total price could be as low as $1,100 for all four pieces! Or, if you choose to go with the highest price range options for each, you could be looking at over $15,000 in fixtures alone. Check out the chart below to see the average price ranges for each fixture.
Varying prices for bathroom fixtures; Information from Home Advisor
As you can see from the chart above, you have a lot of options when it comes to fixtures. And remember, you can always "mix and match" price ranges! For example, if you're happy with a simple bathtub and shower, you can choose a low or mid-range option. And if you love the look of an elaborate sink atop of a beautiful vanity, you can choose to splurge there.
Choosing Your Cabinets & Countertops
Your countertops and cabinets will likely be one of the priciest parts of your bathroom renovation. When looking at the highest range for vanities, cabinets, and countertops, you could easily spend over $15,000. However, most homeowners will be looking at around $2,500 – $6,000.

Varying prices for countertops & cabinets; Information from Home Advisor
When it comes to countertops, you can choose from a wide variety of materials, such as laminate, quartz, or solid surface. For each type of countertop, you will find different brands all with their own price ranges and pros and cons. If you aren't sure which material is best for you, you can call on the professionals to get expert advice.
Not all homeowners choose to buy separate counters and cabinets. If you have a smaller budget, you can buy small – medium-sized vanities at many big-box stores for less than $1,000. There are usually a wide range of options. Most are made from lower quality materials to help keep the prices down.
These vanities come with built-in cabinets and countertops. Of course, you often get what you pay for – the quality is not often the best. However, sometimes you just don't have the budget and quickly need to find a cost-effective solution, such as, for example, if you have recently moved into a new home and discovered that the bathroom vanity was broken, or damaged in some way.
If buying a pre-made vanity isn't appealing to you, you could always choose to restore your existing vanity. This is a great, cost-effective solution and is perfect for vanities that are made of high-quality materials but have aged and just need some love! If you aren't in a rush, you can also check out discount kitchen and bath stores – you just may come across an amazing deal.
Other Factors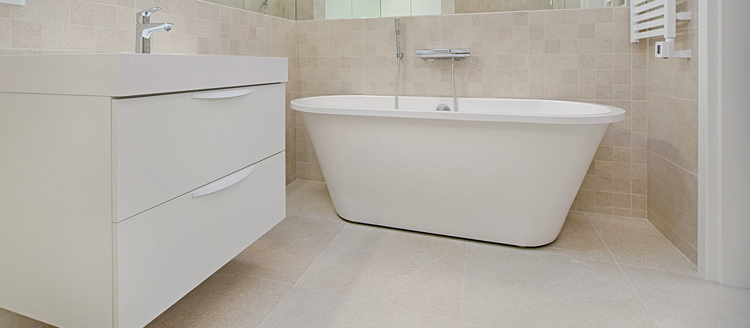 Flooring materials and tiling choices can impact the final price
The factors mentioned above will likely account for most of your bathroom renovation cost. However, there are other factors you should consider.
FLOORING
How much attention you need to pay to your flooring will also help determine overall price. When renovating your bathroom, it is a good idea to really consider your flooring. During a renovation, flooring can become damaged. If you change the layout, you may end up with spaces in your bathroom without any tiles! Most renovations include modifying or completely replacing the floors. The most common flooring options include:
Ceramic tiles: $3 – $5 per square foot of material; $6 – $8 per square foot for installation
Porcelain tiles: $6 – $8 per square foot for material; $6 – $8 per square foot for installation
Natural stone (e.g. marble): $15 per square foot for material; $6 – $8 per square foot for installation
Laminate: $0.62 – $8 per square foot for material; $2 – $8 per square foot for installation
Want to learn more about bathroom flooring costs? Click here!
UNEXPECTED COSTS
If possible, try your best to expect the unexpected. When you begin a renovation on any part of your home, things may not always go as planned. This is especially true if you have an older home. For example, while tearing down tiles or replacing a vanity, you may discover the unfortunate sight of water damage or even mold growth. This is not uncommon in bathrooms – and it's important to take care of it right away if you find a problem!
So, how can you prepare for the unexpected? The best thing to do is to find out your budget, and then set aside an extra amount that you are comfortable with, in case you run into a problem. Some homeowners choose to set aside an extra thousand or two just in case. If you have not set aside extra money and run into a problem, you can always choose to modify your budget. For example, if water damage repair will cost an extra $500, you may choose to buy a less expensive sink or skip purchasing new lights and other extras.
How To Get The Best Deal On Your Bathroom Renovation
Researching and planning ahead can help ensure you get the best deal
Fortunately, there are many ways that you can save money and get the best deal on your bathroom renovation. Of course, one of the best ways is to do your research and work with an experienced, professional design company that will ensure you end up with the beautiful bathroom of your dreams! Here are some other tips from HGTV to help ensure you get the best price.
Plan ahead – Planning ahead will help ensure that your plan is realistic, and that all of your ideas are within your budget. If you blindly go into a renovation, you may be surprised to find out how much everything will cost! Putting the work into prior planning and research will help eliminate these surprises, and help you create a practical budget.
Don't move your plumbing – You may be tempted to rearrange everything your bathroom, but that can quickly add up! Moving pipes and plumbing is expensive. If you keep all of your existing plumbing in place, you can save over $5,000!
Go thrifting – During a renovation, you will probably want to update your bathroom accessories such as the decor and mirror. Consider checking out thrift shops for awesome deals – and unique pieces!
Add shelves – Cabinets can be pricey, but shelves are often a lot cheaper. You may want to consider adding open shelves instead of additional cabinets to help lower your budget without sacrificing storage space.
Check online for discounts – Often, people will buy more tile than they need and end up returning it to the store. These returned tiles are then offered at a discounted price! Check for discounted tiles in online stores to see if there's anything you like before paying full price for new ones. You can also call manufacturers to find out when new lines will be released – during that time, their older styles may go on sale!
Plan your bathroom renovation with Graham's & Son today!
"Very happy with the Graham's & Son Interiors in terms of customer service, quality and price as well as workmanship. Can't ask for a better deal. We have already referred your company to three others."
– Jim & Joanne
Read more customer testimonials
If you are considering a bathroom remodel or renovation, talk to the design experts at Graham's & Son. Graham's & Son has been producing beautiful interior designs for more than 40 years. We are locally owned and operated and we specialize in all types of renovations. We offer free, in-home consultations and will take the time to listen to your ideas and dreams for your new bathroom. If you are thinking of remodelling your bedroom or any room in your home, contact the professionals at Graham's & Son to book your free in-home consultation today.