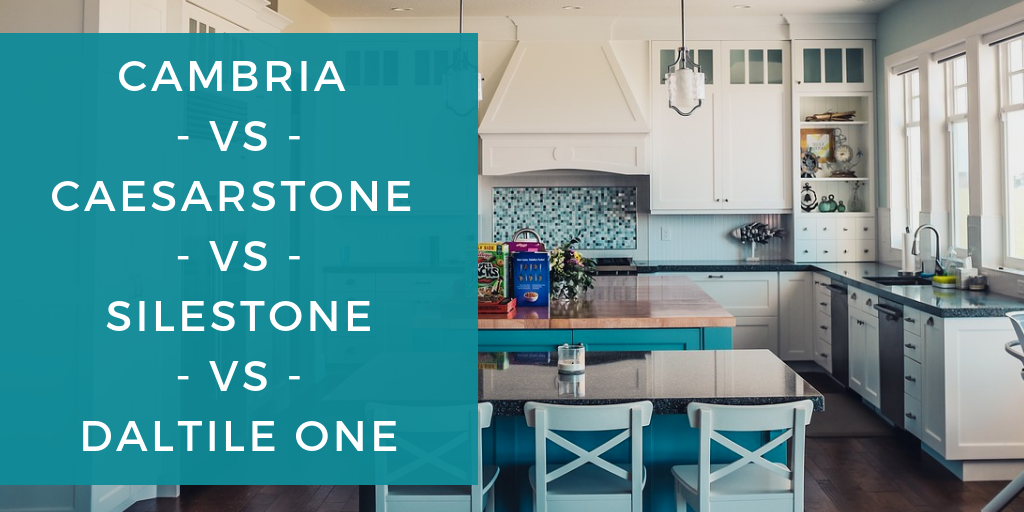 Are you looking to add new quartz countertops to your kitchen, bathroom, or somewhere else in your home? Quartz has become more affordable over the years, allowing homeowners with many different budgets to add quartz to their home. In this Cambria vs Caesarstone vs Silestone vs Daltile ONE Quartz Counter Tops article, we will take a look at each of the brands listed and provide you with their pros and cons, price range, and average reviews. To learn more about renovations such as adding new countertops to your home, you can rely on the knowledge of Graham's & Son Interiors!
Ready For a Kitchen Or Bathroom Remodel?

Cambria vs Caesarstone vs Silestone vs Daltile ONE Quartz Counter Tops

Quartz Brand Comparison chart – information retrieved from The Spruce
Nowadays, there are a variety of quartz countertop brands to choose from. However, did you know that ALL quartz countertops derive from the same brand?
"All quartz countertops, despite the brand, are derived from the Breton company's original Bretonstone technology created over 50 years ago by Marcello Toncelli. Bretonstone technology and machines are licensed to 52 companies around the world. While licensees add their own flair and nuances, they are still working off of Breton's original patent."
– Lee Wallender, The Spruce
Because of this, all quartz countertops will share many similarities, such as their hardness, heat resistance (up to 182 degrees Celsius for short periods of time), composition, and water resistance. However, if you are looking for quartz for your kitchen or bathroom renovation, each brand will have some differences. We will take a look at each unique brand below.
Cambria Quartz Countertops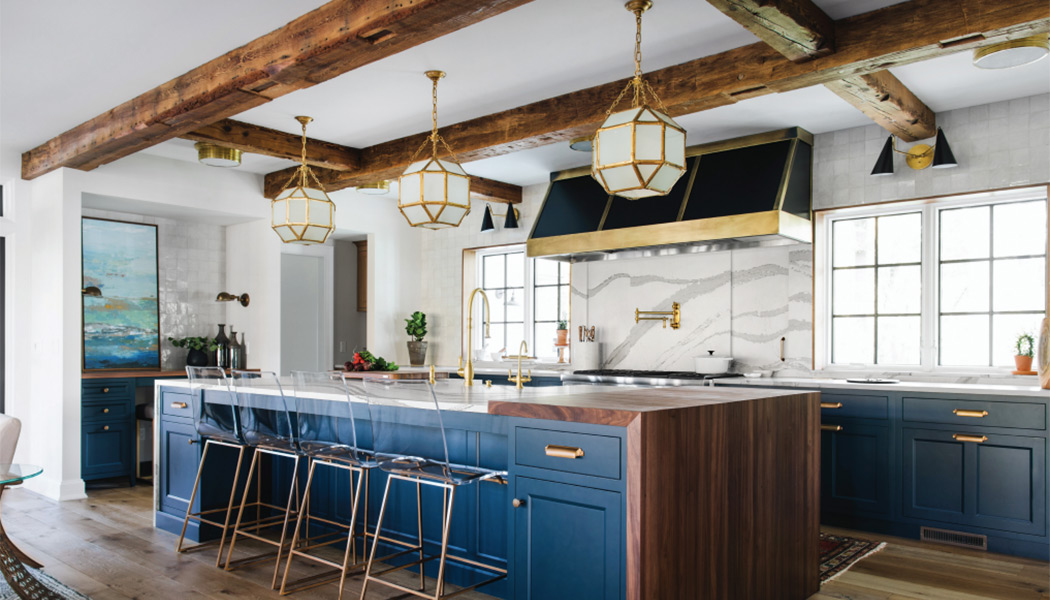 "Cambria design shown: BRITTANICCA MATTE™" – Image source: Cambriacanada.com
PRICE POINT
Approximately $100 – $200 per square foot depending on the style you choose
DESCRIPTION & REVIEWS
Like all quartz countertops, Cambria counters are easy to maintain and would make a gorgeous addition to any kitchen. Cambria counters come in a wide variety of styles – from simple white to swirls of brown, tan, and blue-grey. Cambria is also the only American company that makes quartz surfaces – making it a unique feature on our list.
Cambria is pure natural quartz, and is known for its strength and durability. Cambria also comes in designs that give off a similar look to marble. So, if you are a huge fan of marble but don't love the price tag that comes with it, you can buy your quartz counters to get the look.
Overall, Cambria countertops have great reviews and are loved by those who chose to add them to their homes. They are known for their durability and will last. They are also loved by homeowners due to their long warranty with no exceptions.
PROS & CONS
Although Cambria countertops are generally well-received, nothing is perfect! See below to learn more about both the good and the bad.
Pros: Cambria counters come in many different colours – over 100 to choose from. They are strong, durable, and like all quartz countertops is heat resistant up to high temperatures. It is easy to clean and resistant to bacteria, as there is virtually no grooves or sneaky places for germs to hide.
Cons: Unlike other brands, Cambria is not available at 'big box' home improvement stores. In order to buy a Cambria counter, you will need to find a specialty kitchen & bath dealer or purchase it through a builder or designer. Cambria tends to be a bit more expensive than other quartz countertops.
Caesarstone Quartz Countertops
Caesarstone Quartz Countertop; Image source: Caesarstone.ca
PRICE POINT
Approximately $50 – $100 per square foot depending on the style you choose
DESCRIPTION & REVIEWS
Caesarstone quartz counters are beautiful and tend to focus a bit more on unique designs. For example, one of their collections called the "Concetto Collection" actually integrates stones such as agate and tiger's eye right into the counter for a truly unique design (source).
Similar to Cambria, Caesarstone also comes in a wide variety of styles and colours. If you aren't into something a bit different – not to worry. There are also more traditional designs for the homeowner who prefers simplicity. However, if you are looking for something out of the ordinary, Caesarstone is definitely the way to go!
When it comes to reviews, you are likely to find many positive reviews. Caesarstone offers a lifetime warranty – though you may not have to ever use it. The slabs are manufactured with high-quality materials to the highest standard and the great workmanship shows in the product.
PROS & CONS
Caesarstone is also generally well-liked; it's difficult to find a negative review out there! However, like all quartz countertops, there are some negatives – and you should consider both the positives and negatives before deciding on your big purchase.
Pros: Caesarstone countertops all come from the same place, whether you buy from a dealer or from a 'big box' store. They are easier to find in common stores – Caesarstone is available at some IKEAs, for example. Caesarstone has 93% quartz content, ensuring your counter is strong, durable, and will last a long time.
Cons: Unlike some of the other brands listed, Caesarstone doesn't have as many colour options available (though this may be a 'pro' for those who prefer simplicity!) Because Caesarstone is imported, it can end up costing more even though prices may seem lower at first glance.
Silestone Quartz Countertops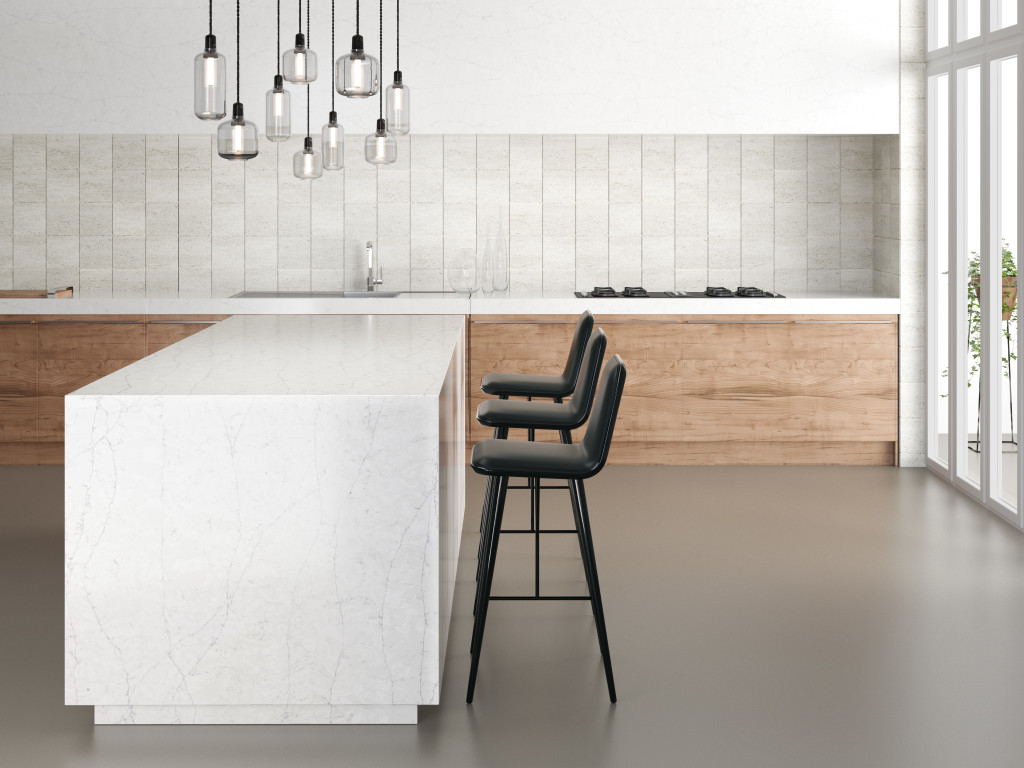 "Pearl Jasmine – Modern Kitchens" – Image source: ca.silestone.com
PRICE POINT
Approximately $50 – $100 per square foot depending on the style you choose
DESCRIPTION & REVIEWS
Silestone is a well-known brand that creates quartz countertops as well as matching sinks, shower designs, vanities, backsplashes, and more. Silestone is known for its many vibrant colours and wide selection of styles and options. It also comes in a variety of different textures, such as smooth, suede, and 'volcano' (containing larger pores).
Like all quartz countertops, you won't have to worry about scratches, dents, or bacteria build-up. Its quartz content is 90%, which is slightly lower than Caesarstone. However, that 3% doesn't really make a difference on the whole. Silestone comes in many sizes, including 'jumbo' sizes, making it ideal for both large and small kitchens.
Silestone has many favourable reviews, and is considered one of the most popular and common brands when it comes to quartz countertops. However, popularity doesn't always mean best. One reviewer said they wouldn't necessarily call Silestone 'the best' quartz countertop, though they still had mostly favourable things to say.
PROS & CONS
Like all the brands on this list, Silestone is generally well-liked, but does have some drawbacks. See below to learn more.
Pros: Has extra anti-microbial protection to help keep your kitchen surface even cleaner. Silestone has a huge selection of colours to choose from – you can pick from over 140 options.
Cons: Though Silestone does offer a warranty, it is not as long as some other warranties provided by other manufacturers. Some buyers are also intimidated by the large selection of styles and colours and may feel a bit overwhelmed with the variety of options.
Daltile ONE Quartz Countertops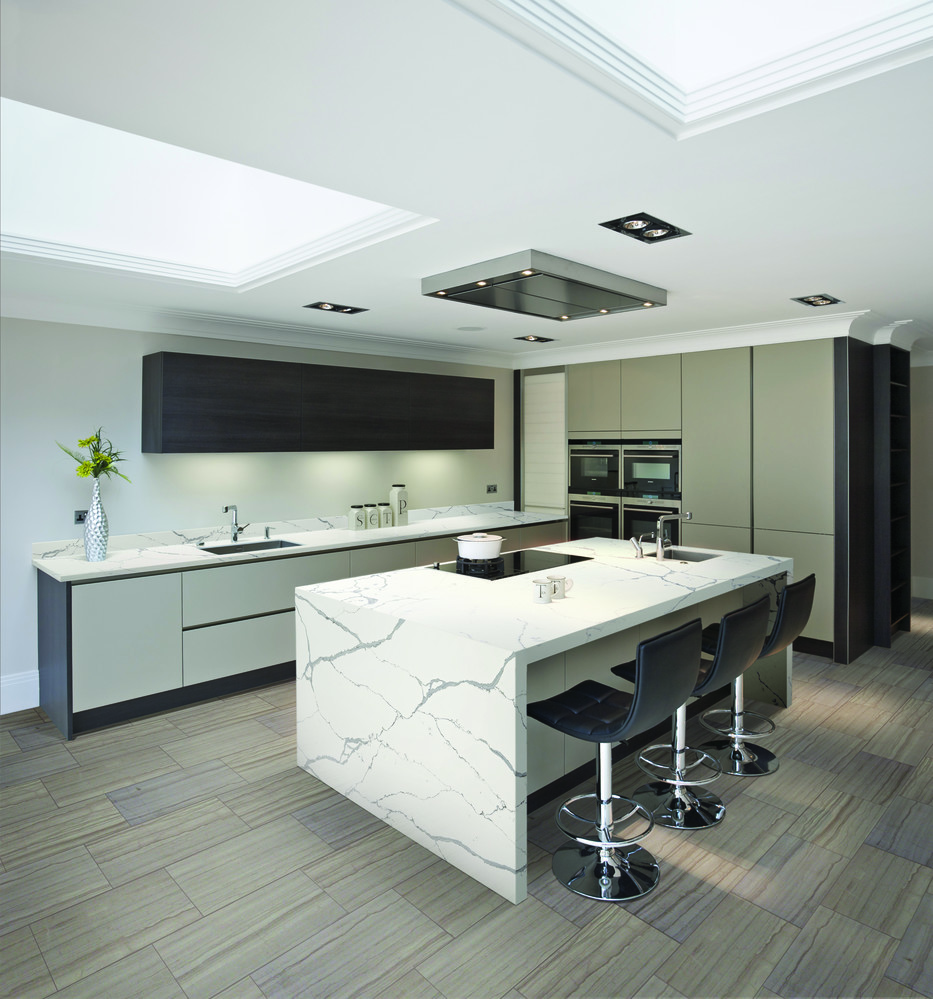 Daltile ONE quartz counter; Image source: Daltilestonecenter.com
PRICE POINT
N/A – However, it usually costs less than other quartz options
DESCRIPTION & REVIEWS
Daltile provides a large selection of other products, such as ceramic, porcelain, and glass – though they do have a relatively small line (compared to the others listed above) of quartz countertop products. The Daltile ONE line offers nearly 40 designs. Because it is not as well-known as other brands, you may get some cost savings with Daltile ONE.
Unfortunately, since Daltile ONE is still relatively new, there is not currently a lot of information available online or reviews – either positive or negative. As you can see from this forum on Houzz, most users had never heard of Daltile ONE before. However, that doesn't mean it's not a good option for you or your home! You can learn more about the brand on their own website, or check out this comparison article from The Spruce that includes Daltile ONE in their listing.
PROS & CONS
Though Daltile ONE may not be as well known, there are many pros to choosing it over other options.
Pros: Daltile ONE is known for its lower prices, and is recommended for those who want a quartz countertop at a lower price. Though it has a more limited selection of options than other brands, there are still a good number of choices. There are greens, greys, whites, swirls, styles that resemble marble, and more.
Cons: Because it is lesser known, it is harder to find information such as average price and reviews online. To find out more information, you may have to go directly to the manufacturer or dealer. It may also not be as readily available at your local home improvement store.
Cambria vs Caesarstone vs Silestone vs Daltile ONE – Which Should You Choose?
When it's time to pick out your new counter for your kitchen or bathroom, you can see from the list above that there are lots of positives for each quartz countertop available! Based on durability, brand reputation, positive reviews, and the amount of options available, it seems that you will get the most with Cambria quartz countertops.
However, it should be noted that although each brand of quartz countertops has their differences, there are many similarities. And although Cambria is a great choice, it may not be right for everyone. It's important to do your research to decide which counter will best suit your personal preferences, comes in a style you like, and fits your budget.
At the end of the day, you may feel stuck between many different options – and that's okay. It can be tricky to decide exactly which counter is right for you! It's good to take your time and decide on a countertop that works for you, your lifestyle, and your budget. If you need help selecting the best countertop for your wants and needs, don't hesitate to call us at Graham's & Son and ask for our professional opinion. We offer free in-home consultations too!
Book Your Renovation With Graham's & Son!
"Very happy with the Graham's & Son Interiors in terms of customer service, quality and price as well as workmanship. Can't ask for a better deal. We have already referred your company to three others."
– Jim & Joanne
Read more customer testimonials
If you are considering a kitchen or bathroom remodel or renovation and need new countertops, talk to the design experts at Graham's & Son. Graham's & Son has been producing beautiful interior designs for more than 40 years. We are locally owned and operated and we specialize in all types of renovations. We offer free, in-home consultations and will take the time to listen to your ideas and dreams for your new bathroom. If you are thinking of remodelling your kitchen, bath, or any room in your home, contact the professionals at Graham's & Son to book your free in-home consultation today.