Are you looking for some tips for how to hang curtains properly? Read on to get some helpful advice to make sure that your new drapes look the best that they can. If you are looking for some advice about what window treatments would look perfect for your home, contact the curtain and interior design experts at Graham's and Son today. We will come to your home, free of charge and help you choose an amazing look and then professionally install them for you. What could be easier than that?

Tips for How to Hang Curtains Properly
If you have purchased new curtains and are not sure how to properly hang them, read through the following tips before you begin. They will help you choose the best positioning and look for your curtains. If you are still unsure about doing the job yourself, contact the window treatment specialists at Graham's and Son. We can help you choose the perfect drapes and have them professionally installed for you.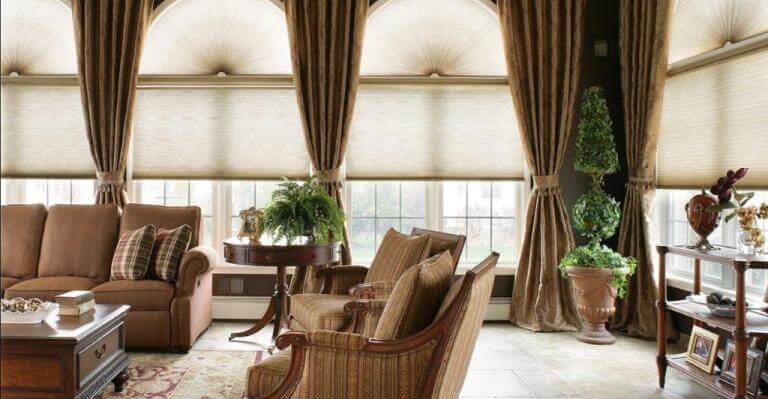 Tips for Positioning Your Curtains
Hang Your Curtains High to Create the Illusion of Extra Length
The current trend is to have floor length curtain panels that are hung above the outline of your window to give the illusion of extra height and elegance. The rule of thumb is to position your pole or valance at least 4 inches above your top window casing but no more than 12 inches above. This will make your windows seem longer than they actually are. The length of your curtains should also end about one half of an inch above the floor. This will allow you enough space to easily clean under them, while still giving the impression that they are actually touching your floor.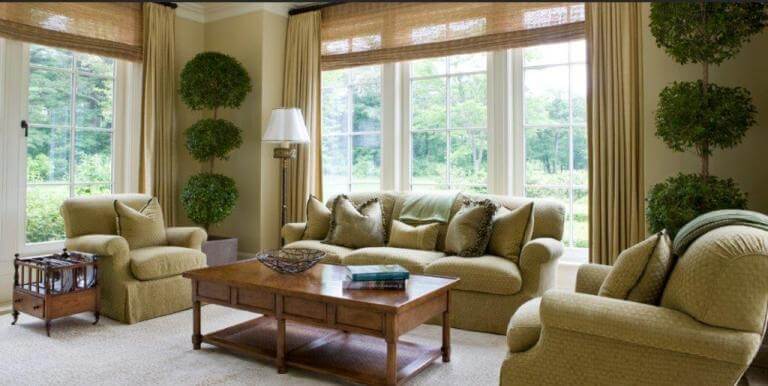 Add Even More Height by Pairing a Shade with Your Curtains
If you want to add the most height possible to your window but you don't want to have an unsightly space of empty wall between the bottom of your rod or valence and the top of your window, try incorporating a shade behind the curtain. A complementary shade can be pulled down to cover this space, allowing you to have the maximum height of curtain panel and it will also give you more lighting level options. The window treatment design from Centered by Design depicted below shows how this combination can effectively give much needed extra height to an awkwardly small basement window.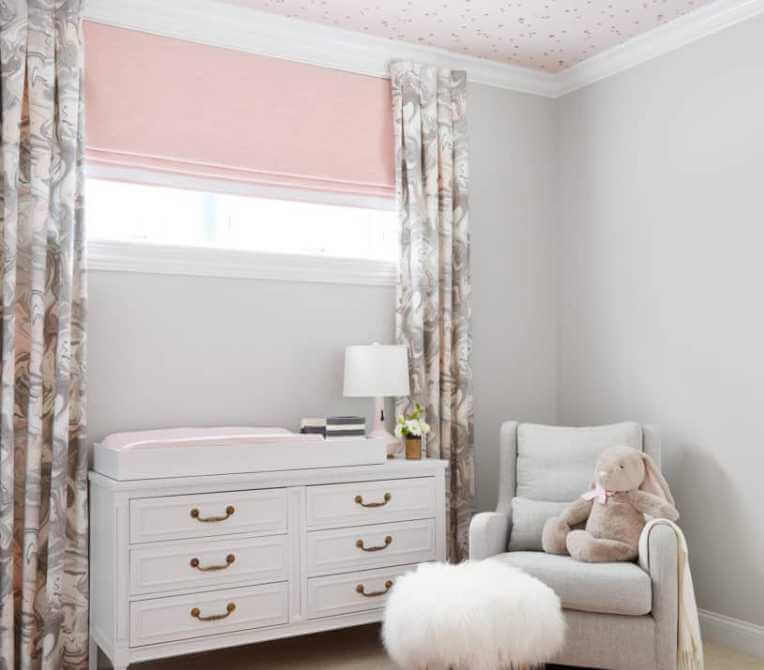 Tips for Installing Your Curtain Rods
Install a Curtain Rod that Is Wider Than Your Window
Make sure that you purchase a curtain rod that is actually wider than your window. It is recommended that you install your curtain rod brackets at least three inches out from your window or the molding. This is important as it will:
block light from entering around the sides of your windows when you want to make the room darker
allow you to open the panels the full width or your glass so that more light can enter your room
give the illusion that your window is wider than it actually is and will look visually more appealing than a cramped, closed in curtain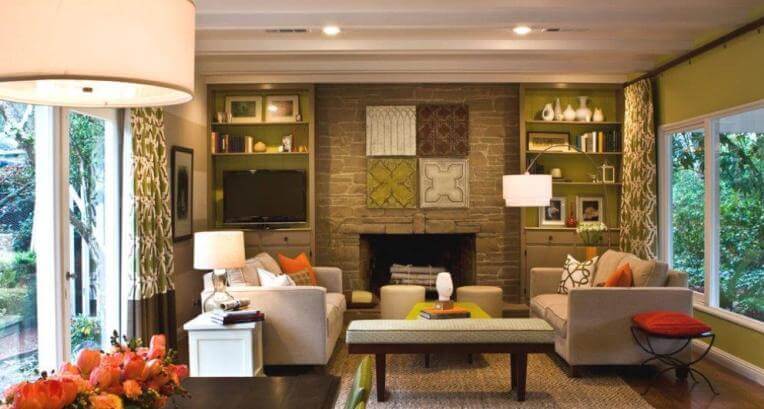 Measure Accurately Before You Start Drilling Holes
Plan out your project before you start drilling any holes. You don't want to make any unnecessary holes in your walls. If you use your window as a guide to measure and install your rod, your curtains will be plumb with your window as well as your ceiling line. The following video explains and demonstrates the proper placement of your curtain rod.
Tips for Adding Those Finishing Touches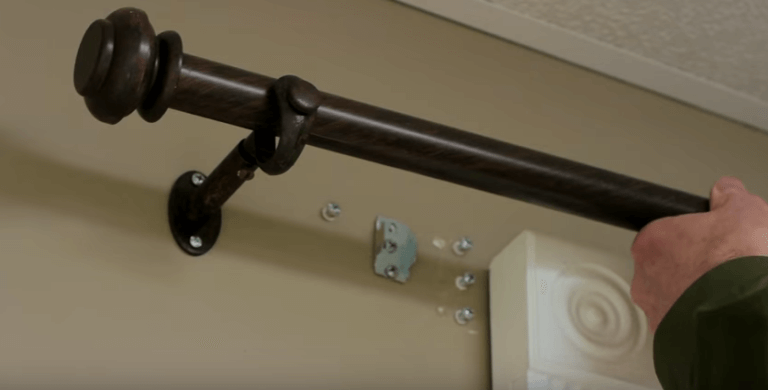 Choose a Decorative Finial to Add More Drama
You can incorporate more drama and interest to your curtains by using a rod that has decorative end pieces called finials. Finials are a very important design and style feature that can range anywhere from a smaller end cap to a larger ornate ball or geometric shape.
Steam or Iron Your Curtains Before You Hang Them
Make sure your drapes look their best by getting rid of all of the creases and wrinkles. It is not a good idea to hang up your curtains right out of the bag thinking that the wrinkles will fall out in time. They usually do not. If the material is delicate, place a towel on top of it while you iron on a very low setting. If you have a handheld steamer, then you can, however, hang your curtains up and steam them in place. The following video shows you how easy it is to steam the wrinkles out of your curtains with the Steam Duet from Tefal. It's a handy product as you can use it both as a steam iron and a steamer.
Contact Graham's & Son for the Most Amazing Window Treatments You Can Imagine
If you are looking for the most amazing window treatments possible, contact Graham's & Son today. Graham's & Son knows curtains; we have been in the window treatment business for over 40 years. Our expertise and professionalism are second to none. In addition, right now we are offering an amazing deal on all our blinds, shutters, and shades – when you purchase any two, you will get a third absolutely free.
Our customers have been so pleased with the high standard of our work that they selected us for the "Best Business Service – Interior Decorating: Platinum" and "Best Shopping – Kitchen Renovations: Gold" awards in the 2017 Cambridge Times Readers' Choice Competition. Book a free in-home consultation today and find out for yourself why Graham's is the best in the interior design business. Contact us today to schedule a free in-home consultation. If you prefer, you can shop at home. Browse through our website, make your choice, and simply give us a call at 519-658-9025 to place your order without ever having to leave the comfort of your own living room.
"Let me start by saying, I love my window treatments! Mr. Graham was very professional, easy to talk to; he talked with me, not above me, I was at complete ease. He listened to my thoughts, went through my options, and just like that – decision made. The installation crew was quite professional, friendly and efficient. They were in and out in no time, with cleaning up after themselves, and ensuring that I was satisfied with what was done. I would highly recommend Graham's and Son Interiors to anyone, and I look forward to working with them again!"
Anne Allen
Read more customer testimonials

Source: