Unique Upholstery Trends 2019 – Are you looking to add some flair to your living room, but just aren't sure how to do that? These 6 unique upholstery trends of 2019 will be sure to catch the eye of everyone visiting your home. We'll take a long at the top colours and material styles that will be and are currently trending into the new year. Learn more about how you can get your own beautiful new furniture by contacting Graham's & Son today!
We offer FREE in-home consultations!

Unique Upholstery Trends 2019
Reupholstering your current furniture or buying new pieces is a great way to liven up any home and help your living space look and feel more modern. Check out these great upholstery trends for 2019 so you can get the inspiration needed for your own living room transformation.
Top Colour Trends of 2019
1. Navy Blue
Navy blue continues to be a hot trend into 2019. Navy blue furniture is often paired with accents of bright white, silver, gold, and even hints of pink. Gates Interior Design calls navy blue the "hottest color in design right now" – and looking at those pictures above, it's easy to see why! Navy blue upholstery adds a regal and classy look to your room. It is also a relatively easy colour to find matching accent pieces for.
2. Peony
If you are willing to go bold, peony (a blush pink colour as seen in the furniture above) is becoming a clear trend for 2019. Over the last few years we've seen hints of pink pop back into mainstream items and designs – take the rose gold trend for example. However, we are now seeing pink in more than just an engagement ring or couch cushion – we are seeing entire pieces of furniture in peony! It can be difficult to design well with peony, but when done right, it will look beautiful in any home!
3. Teal
Another bold colour to make our list, teal is trending and it looks like it is here to stay! Teal is not as "out there" as peony or other trendy colours – and it is easier to work with for those who are new to the design world. It is often paired well with floral designs, white, grey, and hints of red or deep purple.
Top Material Trends of 2019
1. Velvet
Tactile and sensory materials may remind you of the 70's – but they're back! It's becoming more and more common to find furniture pieces such as chairs and couches made from velvet. If you want to add a glamorous look (and feel) to your home, adding some sensory pieces will get the job done! You may want to start small – each tactile piece can add a lot to a room, and you don't want to overdo it.
2. Fluffy Accent Pieces
Just as we see velvet trending due to its tactile nature, other hyper-sensory materials are gaining traction this year. Fluffy, puffy, and plushy materials are popular in accent pieces such as stools, chairs, and of course, for just a hint of fluff – pillows! These fuzzy pieces add warmth to any room and give off a retro vibe – perfect to pair with ultra-modern pieces to get a little bit of both worlds.
3. 3D Printed Materials
Could any design trend feel more futuristic than 3D printed furniture and materials? As many designers and homeowners alike are working towards more sustainable living, 3D printed couches, chairs, and their coverings made from bio-plastic or recycled and reused plastics are becoming more and more common. 3D printed furniture looks fresh, modern, and innovative – perfect for those with both design and the environment in mind.
Get The Living Room Of Your Dreams With Graham's & Son!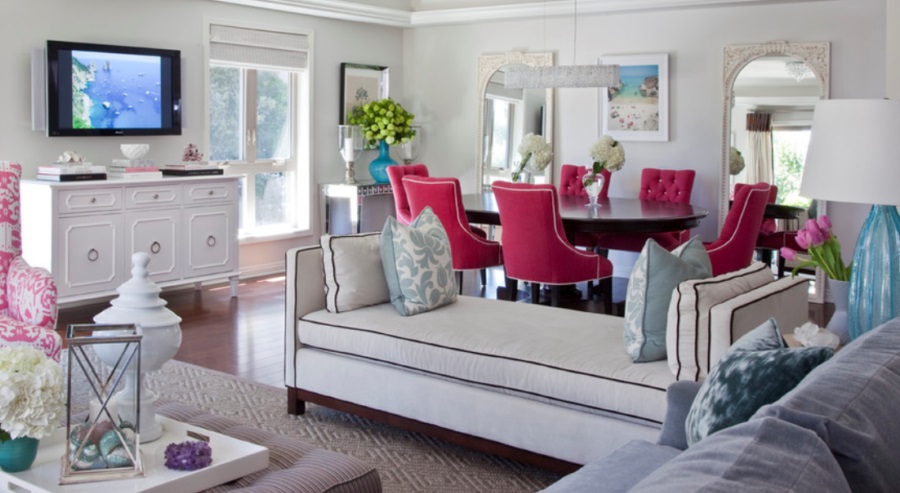 "Very happy with the Graham's & Son Interiors in terms of customer service, quality and price as well as workmanship. Can't ask for a better deal. We have already referred your company to three others."
– Jim & Joanne
Read more customer testimonials
If you are ready to transform your living space and update your furniture and upholstery, talk to the design experts at Graham's & Son. Graham's & Son has been producing beautiful interior designs for more than 40 years. We offer reupholstering, refinishing, and renovation services. We are locally owned and operated and we specialize in all types of renovations. We offer free, in-home consultations and will take the time to listen to your ideas and dreams for your interior. If you are thinking of reupholstering a beloved piece or remodelling any room in your home, contact the professionals at Graham's & Son to book your free in-home consultation today.

Sources: