Are wood or vinyl shutters better? With so many options available today, you may be wondering which you should choose. Vinyl tends to be less expensive, but wood looks amazing. Price and aesthetics aren't the only factors to consider. There are also durability, maintenance, longevity, and location. If you would like some expert advice before you decide, talk to the shutter professionals at Graham's & Son. We would be happy to come to your home, free of charge, for a consultation.

| | |
| --- | --- |
| Somerset Vinyl Shutters by Maxxmar | Cashmere wooden shutters by Maxxmar |
"We recently had California shutters installed in our bow window in the living room and a roller blind in our dining room. In both instances, Matthew was wonderful with suggestions and ideas. The installations were great and the results outstanding. We can't say enough about the staff at Graham's and Son Interiors and the final result was beyond expectations. We look forward to working with them again in the spring for flooring. Thank you!"
-Susan Ashley
Read More Testimonials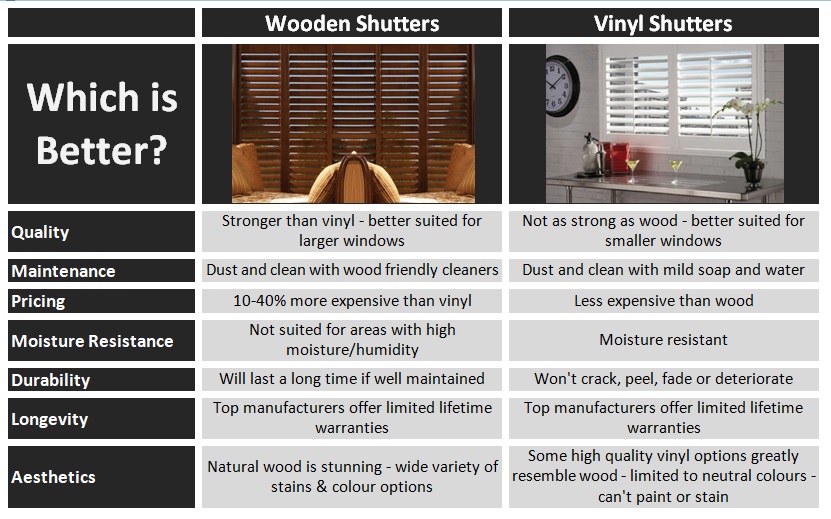 Quality
Wooden Shutters: Wood is naturally stronger than vinyl, and is therefore better suited to larger windows as it won't bow in the middle. According to homeadvisor.com, vinyl shutters larger than 29 inches can sag and will need divider rails or other supports to keep them straight. Different types of wood have differing degrees of strength. For the strongest possible wooden shutters, look for brands made from superior hardwoods. Tilia™ Wood Shutters by Maxxmar are constructed of select, top-grade North American hardwood that has been kiln dried for the highest levels of strength and durability.
Vinyl Shutters: Even though vinyl shutters are generally not as strong as wooden ones, you can find higher quality vinyl from top manufacturers which are quite strong. Maxxmar uses Enduralink TM connectors on their vinyl shutters to provide outstanding strength, allowing the louvres to close tightly in both directions and eliminating callback due to breakage. Hunter Douglas designs their quality vinyl shutters in a way that makes them exceptionally strong. They are reinforced at major stress points with interior aluminum bracing and resin blocks for extra strength and stability.
Takeaway: Wood is stronger than vinyl and is better for larger windows. Look for higher quality vinyl shutters for extra strength.
Maintenance
Wooden Shutters: Wooden shutters are relatively easy to clean. Simply dust them with a feather duster or microfiber cloth, and then clean them with any wood friendly, ammonia-free product to keep the finish looking gorgeous. Make sure that you never use water to clean your wood shutters. Any amount of moisture will seep into the surface of the wood and eventually warp it. If your shutters get scratched or dented, they can be carefully sanded and then re-stained or painted.
Vinyl Shutters: Vinyl is very easy to maintain. Unlike wood, it never needs sanding, staining, or painting. They also require minimal care and cleaning is easy. Simply dust them with a feather duster or microfiber cloth, and wash them with a mild soap and water. There is no need to purchase expensive, special cleaning agents.
Takeaway: Overall, vinyl shutters are easier and less expensive to maintain than wooden ones.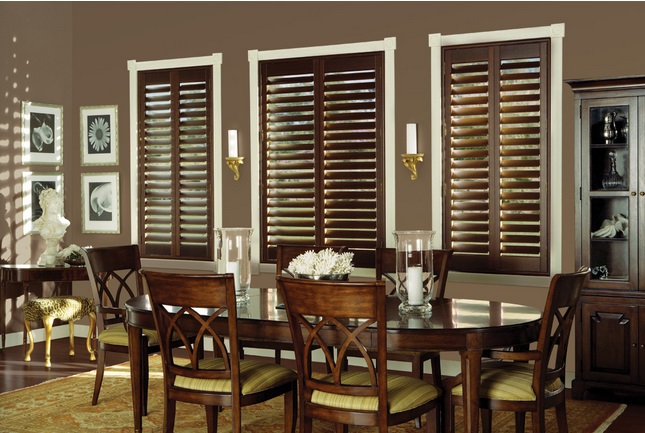 Pricing
Wooden Shutters: Wooden shutters generally tend to cost more than vinyl shutters, however, if you are not concerned about the price difference, then you can't beat the natural beauty of real wood. Another factor to consider when deciding between wood and vinyl is that wooden shutters will probably add more value and "curb appeal" to your home if you are considering selling it in the near future.
Vinyl Shutters: You will find that vinyl shutters are less expensive than wooden shutters, anywhere from 10 to 40% less. If you are on a budget, and you would still like to have beautiful shutters in your home, vinyl may be your best choice. If you are looking for a "wood-look", choose a higher quality vinyl shutter; there are many brands available today that look amazingly similar to wood. At Graham's & Son, we can give you a free quote during our first visit.
Takeaway: Vinyl shutters are less expensive than wooden ones, however, wooden shutters will add more value to your home.
Moisture Resistance
Wooden Shutters: Wooden shutters are not moisture resistant. They work better in rooms where the moisture content and humidity are low. They also should not come in direct contact with water as water will make the wood swell, damaging the paint and stain.
Vinyl Shutters: Unlike wooden shutters, vinyl shutters are moisture resistant. The Polysatin™ compound of Hunter Douglas' vinyl shutters and the PolySilk compound of Maxxmar vinyl shutters are specifically designed to stand up to damp or humid conditions.
Takeaway: Vinyl shutters are better suited to rooms with a higher moisture content.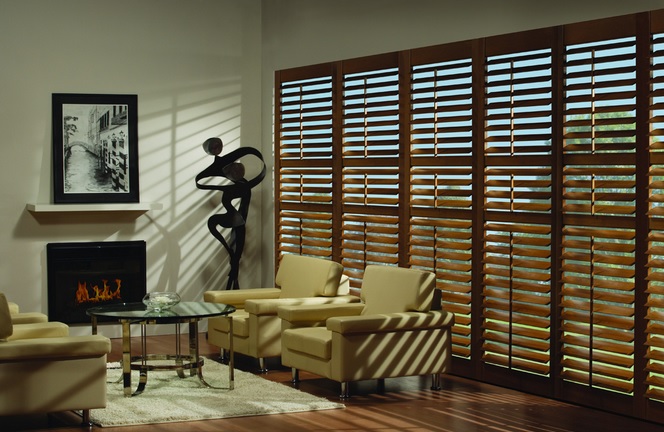 Durability
Wooden Shutters: If properly treated and maintained, wooden shutters can be very durable. Certain woods, such as North American hardwood, are straight-grained, which means that they will allow stains and paints to absorb into the wood to a better degree, giving them further protection and a richer look. Maxxmar's Cashmere shutters are made from a superior hardwood, which is firmer than most hardwoods. These harder woods have a reduced moisture content, making them extremely durable. In addition, all of Maxxmar's wooden shutters come with Enduralink™ connectors that are used to attach the louvres to the tilt bar. They do not need to use staples. The Enduralink™ connectors give added strength to the louvres so that they can close tightly in either direction. This greatly reduces the possibility of breakage. If wooden shutters are not properly maintained or if they are exposed to moisture they can become damaged.
Vinyl Shutters: Vinyl interior shutters will not crack, peel, fade, or deteriorate like wood. If you purchase higher quality vinyl shutters, they may also be scratch and dent resistant. The colour of the PolySilk compound used to make Maxxmar vinyl shutters is embedded throughout the shutter which means that it will never need to be sanded, painted, or stained. Normal scratches and dents won't affect the finish or the colour. This makes these shutters perfect for higher traffic areas.
Takeaway: High-quality vinyl shutters are more durable than wood and better for high traffic areas, however, wooden shutters can be very durable if well maintained.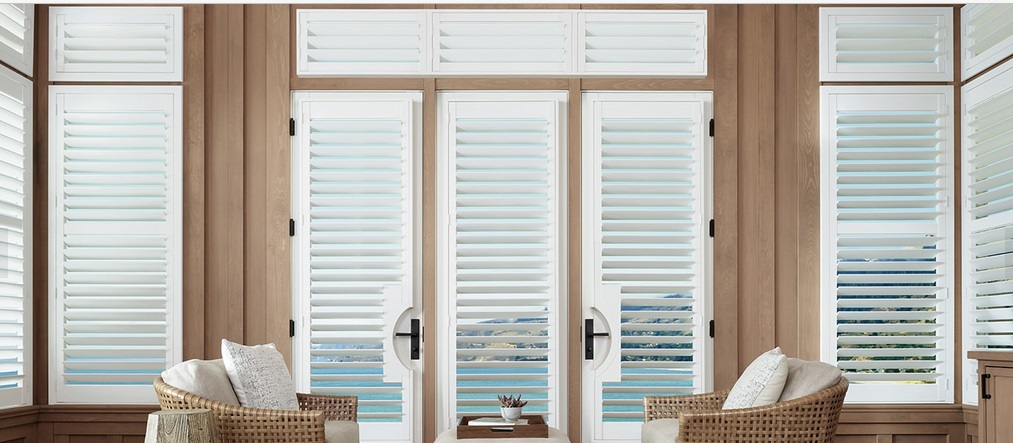 Longevity
Wooden Shutters: Wooden shutters can last a long time as long as the wood has been treated properly and it is well maintained. This especially means preventing it from being damaged by water. Most high-quality manufacturers of wooden shutters will offer a warranty on their product. Maxxmar, for example, offers a lifetime limited warranty on their wooden shutters. They are confident that their elegant window treatments will be a beautiful addition to your home for many years to come.

Vinyl Shutters: The longevity of your vinyl shutters will depend on how well they are made. Most well-made shutters will come with a warranty. All Hunter Douglas shutters, for example, come with a Lifetime Limited Warranty, to give you peace of mind when selecting, purchasing, and living with your new window treatments. Their custom shutters are so well made that they are guaranteed. Learn more about their great warranty here.

Takeaway: If you purchase high-quality vinyl or wooden shutters, you will be given lifetime limited warranties.
Aesthetics
Wooden shutters: Let's face it – real wood looks gorgeous. If you are looking for the "wow" factor, it is hard to beat the natural beauty and elegance of wood with its rich tones and intricate grains. Wood also gives you the option of changing the stain or paint colour to match your room as your decor changes.
Vinyl Shutters: Many top-of-the-line vinyl shutters, such as those with the DuraLux™ finish from Hunter Douglas, look almost identical to finely painted wooden shutters. The technology has improved over the years, so that you can get a look that is very close to wood.
Takeaway: Wooden shutters probably still have vinyl beat for natural beauty and elegance.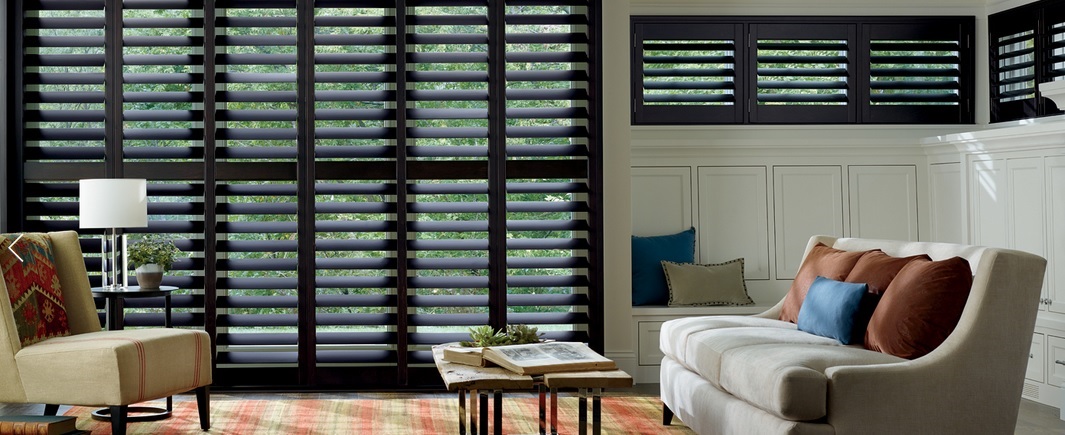 Are Wood Or Vinyl Shutters Better?
In the final analysis, are wood or vinyl shutters better? The answer is: it depends. If you are on a budget and you want the easiest shutters to clean and maintain, then vinyl may be your best choice. However, when investing in window treatments, you should consider the total cost of ownership. If you purchase lower quality just to save money, you may actually end up spending more money over time. Choosing higher quality will probably save you in the long run.
If budget isn't a concern, then go with the type of shutter that best suits your decor and the conditions of the room you have in mind for them. If you are looking for a richer, more classic feel, then wood is probably the better choice. If you want shutters for a room where there is a higher moisture content, then vinyl may be the better choice.
If you would like help deciding on the perfect shutters for your home, contact the window treatment specialists at Graham's & Son for a free, in-home consultation. Graham's & Son has been in business for over 4 decades, and we can answer any questions and concerns that you may have. And right now is the perfect time to purchase – when you buy any two shutters, blinds or shades, you'll receive a third absolutely free!