Get your own luxurious bathroom by design that you've always dreamed about. What exactly is a bathroom by design? It's one that has been specially conceptualized and stylized to match the perfect image that you have in your mind. Here are ten renovation ideas for 2018 that we hope will get your creative juices flowing and inspire you to choose that perfect design and remodel your outdated bathroom. Need some expert help? Contact the interior design specialists at Graham's & Son today. We'll come right to your home and give you a free consultation. Schedule your appointment today.

1. Geometric Patterns and Traditional Flare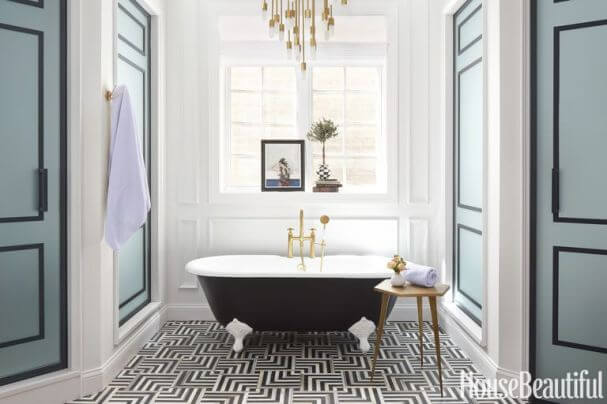 Suzann Kletzien's Chicago contemporary bathroom design from House Beautiful is the perfect blend of modern and traditional. The elegant Victorian claw-footed soaker tub softens the bold, angular lines of the geometric inspired flooring tiles. The choice of a brass faucet set and wooden side table give just enough of an accent colour to break up the striking black and white palette.
2. Modern Farmhouse Bathroom
If you are looking for a truly different design, take a closer look at this modern farmhouse bathroom. The double sink vanity is a rustic and rich solid handcrafted open construction that shows off the brass piping. A modern circular mirror is cleverly cradled in a leather horse strap. Add to this a factory window inspired private shower enclosure and you have a bathroom that will take your breath away.
3. Beautiful Blue Bathroom from House Beautiful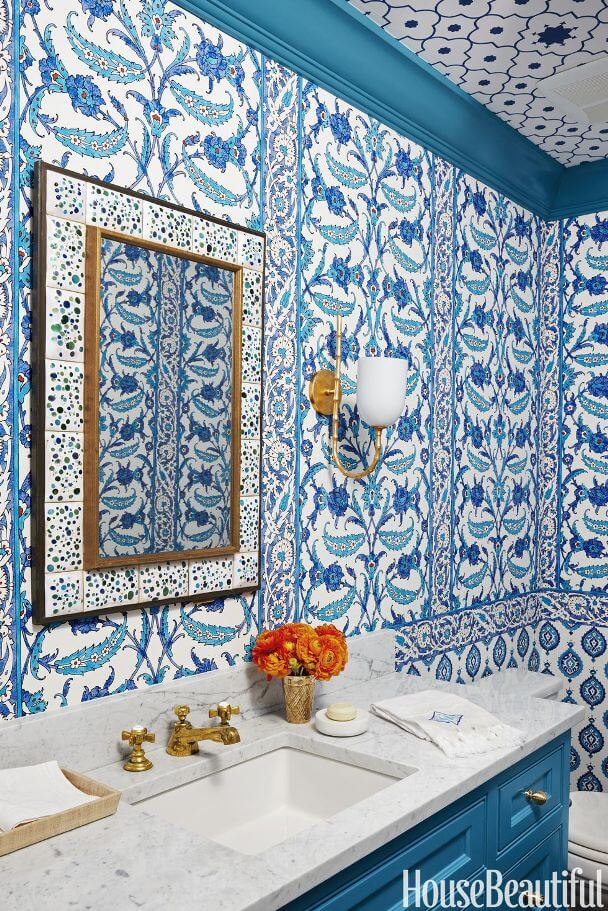 We found this next amazing bathroom design at House Beautiful as well. It's a windowless powder room that is hidden under the stairs of Andrew Howard's blue and white themed home. Howard wasn't afraid to go big with this small space, and the result is gorgeous. He enveloped the walls in three stunning designer wallpapers to make this room a work of art in blue. We love his choice of a rich marble countertop to perfectly finish off the blue painted vanity.
4. Gorgeous Grey Bathroom
Grey is definitely the new black this season. We love the double sinks with high-standing, elegantly curved silver faucets mounted in a beautiful marble countertop. The vanity cabinets in this master bathroom from Creeklinehouse are painted in a rich tone called Greyloft – it's by KraftMaid Cabinetry. And what a great idea to place an extra matching cabinet between the twin mirrors for that much needed additional storage.
5. Glitzy Bathroom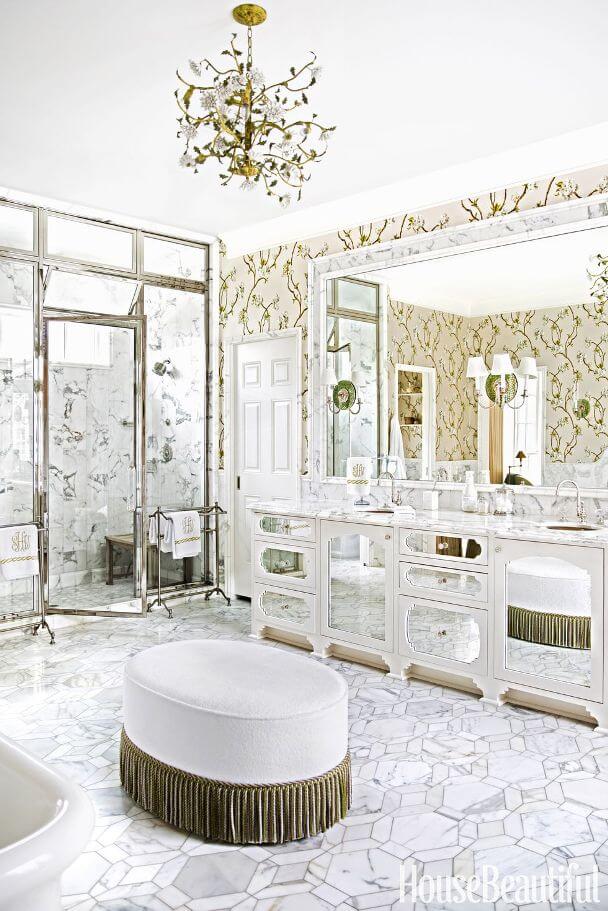 This bright and airy master bathroom from House Beautiful has a definite feeling of an outdoor garden with its orchard blossom wallpaper by Nina Campbell and custom-coloured porcelain chandelier with elegant brass branches from Canopy Designs. The cool white marble tiling on the floor, oversized vanity mirror and mirrored cabinet doors make this room seem even more spacious. This bathroom is so bright it actually sparkles.
6. Large Master Bathroom
If you want a large, luxurious master bathroom, here is a perfect design for you from Bickimer Homes. It features his and hers vanity areas on opposite walls as well as a third vanity space with cushioned seating and ample lighting to help you apply makeup like an artist. A free-standing deep soaker tub is the perfect place to soak away the pressures of your day or if you are short on time you have the option of a spacious shower area. It's finished off with a wide panelled, soft-grained engineered hardwood flooring.
7. Subway Tiles and Cage Wall Sconces
If you like the look of wood in your bathroom, but are not sure you feel comfortable putting it on your floor, why not try the ceiling to give your room a spa-like feel. The industrial styling of the white subway tiles combined with the black cage wall scones and factory window style shower enclosure creates a very contemporary look. Converting a beautiful armoire into a vanity cabinet is very trendy in 2018 and this beautiful piece is a wonderful addition to this modern bathroom.
8. Less is More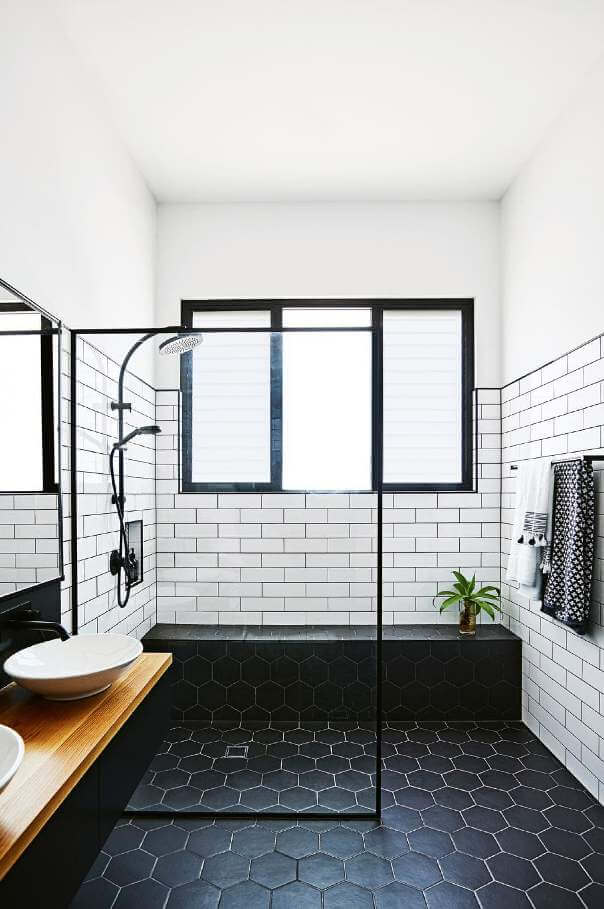 Less is definitely more in this modern bathroom renovation from InsideOut. You would never guess that this bathroom was inside a country farmhouse; there is nothing country about this design. The clean lines and minimalist decor is quite striking, especially with the stark black window frames and fixtures. The onyx coloured hexagon flooring and bench tiles pair nicely with the rectangular white subway tiles. The twin vessel sinks and wall mounted faucets are beautifully set off by the naturally rich solid wood countertop.
9. Make Your Own Old-World Charm
If you love old-world charm, you can quite easily create your own little piece of history in your bathroom as demonstrated by this lovely Jenna Sue Cottage design from Kelly Elko. The antique styled claw-foot tub and external brass piping will take you back in time. Add a simple wooden stool and sheer muslin bath curtain for an additional touch of history. Finally, the rustic stone floors and soft cream tones make this bathroom a romantic Victorian escape that you won't want to leave.
10. Rustic Meets Trendy
Rustic decor is combined with the most trendy fixtures in this awesome bathroom located in Golf Brook, Florida by Pegasus Builders as found on HomeAdore. Rich deep grained wall panelling is the perfect backdrop for this clean line, solid stone vanity with matching vessel sink. The understated, wall-mounted toilet and clear glass shower enclosure add to the spacious appeal of this room.
Bathroom by Design From Graham's & Son
If you are wanting to update the look of your bathroom, talk to the interior design specialists at Graham's and Son for expert advice. Whether you are looking for a quick freshen up with new window treatments and wallpaper or if you are ready for a complete bathroom by design, Graham's & Son can help. Graham's & Son has been in the interior design business in Cambridge for more than 40 years. We will give you expert advice, quality finished products, and top-notch customer service. Not only do we specialize in all types of window treatments (including blinds, shades, and shutters), flooring, wallpapering, but we also do amazing kitchen and bathroom renovations.
"Dear Mr. Wayne Graham, May 2016 be the best year for the Grahams and their company! I must take this opportunity to thank you for the renovation job done on my house, not only the input idea that made my home more modernized but the skill work that made the job done perfectly. I will not hesitate to refer you to my friends who may need a renovation on their house. Thank you again and have a healthy and prosperous year in 2016. Yours Truly,"
– Daniel Yu
Read More Testimonials
Click here to see a gallery of our work

Our customers have been so pleased with the high standard of our work that they selected us for the "Best Business Service – Interior Decorating: Platinum" and "Best Shopping – Kitchen Renovations: Gold" awards in the 2017 Cambridge Times Readers' Choice Competition. Book a free in-home consultation today and find out for yourself why Graham's is the best in the interior design business. Contact us today to schedule a free in-home consultation. If you prefer, you can shop at home. Browse through our website, make your choice and simply give us a call at 519-658-9025 to place your order without ever having to leave the comfort of your own living room.