Custom Colour Shutters by Graham's & Son
At Graham's & Son Interiors, we offer the best custom colour shutters Kitchener has to offer! We have the area's widest selection of the highest quality custom-created shutters that are perfect for windows and doors of any shape and size. 
We have over 40 years of experience helping our customers get the perfect window coverings for their home. We ensure our customers are always satisfied, as we will come to your home, expertly measure your windows or doors, and provide you with a competitive quote right then and there!
Learn More About:
1. Custom Vinyl Shutters
2. Custom Wooden Shutters
3. The Graham's Difference

Right now, when you purchase any two of our shutters, shades, or blinds, you get the third one absolutely free of charge! Let Graham's & Son help make your windows and doors look amazing today.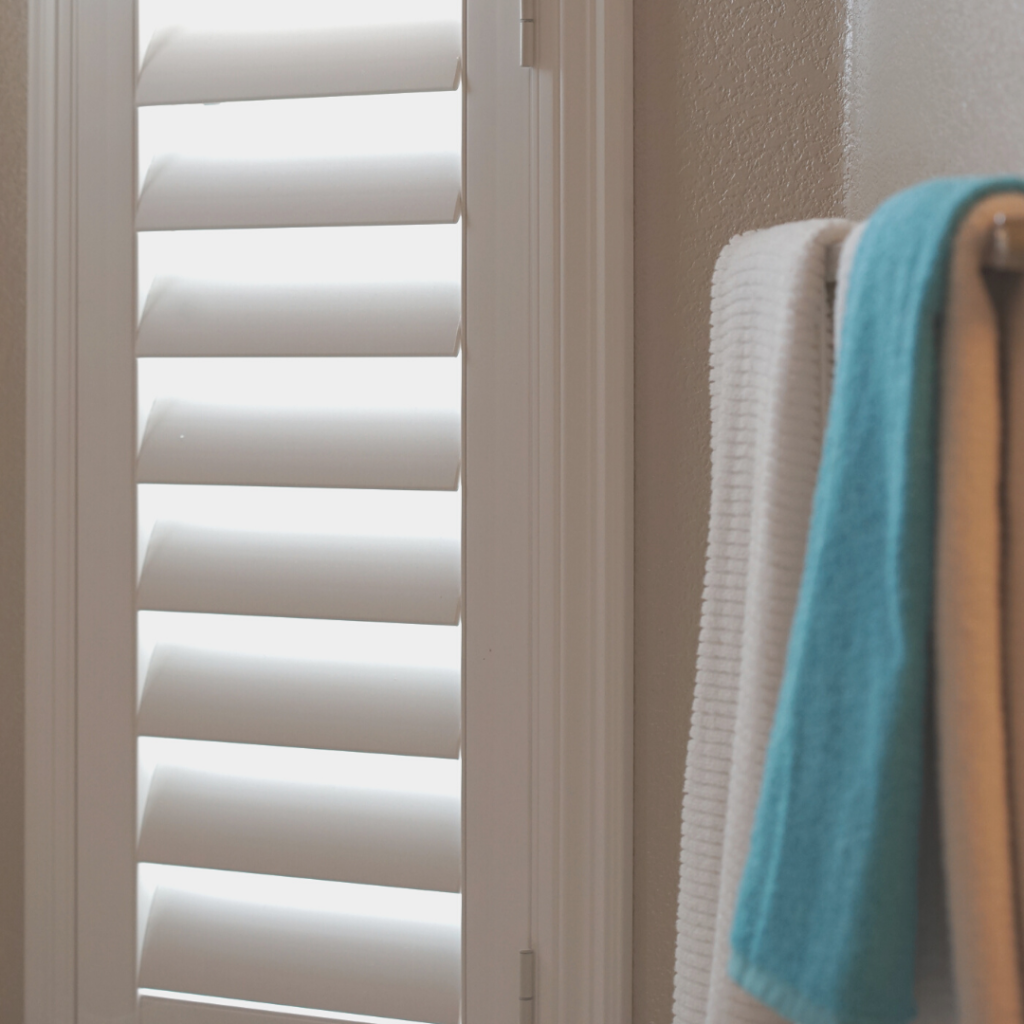 Custom Colour Shutters Kitchener
Shutters are a beautiful window treatment choice for nearly any room in your home. Whether you are looking to add shiny white shutters to your sunny kitchen, or fun custom colour shutters to your living space or child's bedroom, the choices are nearly endless! When choosing custom shutters, especially shutters in a unique colour, It can be difficult to find the right ones for your space. No matter what you are looking for, the expert team at Graham's can help you choose the perfect size, shape, and colour shutters for your home.
Shutters come in a wide range of colours, whether you choose vinyl or hardwood. Learn more about the difference between vinyl shutters and hardwood shutters below to help you make a decision about which is best for you. If you aren't sure what type of shutters to choose from, contact us at Graham's to learn more!
Vinyl shutters are a popular shutter choice as they are sleek, simple, and easy to clean and maintain. Vinyl shutters can be made from a wide variety of materials, and some varieties, such as the Newstyle® Hybrid Shutters from Hunter Douglas are actually made from a combination of composite wood and polypropylene coating. 
Unlike wooden shutters, you will not be able to paint them if you ever choose to change the colour, so it is important that you select the right colour when you first choose. Fortunately, many suppliers such as Hunter Douglas offer a wide range of colours, from bright white to light grey to deep browns that can rival true wooden shutters!
One of the benefits of choosing vinyl is that it is water-resistant, which means it can be the perfect choice for high-moisture areas in your home, such as bathrooms and kitchens.
When it comes to custom colour shutters, wooden shutters offer the widest range of customization because you can paint them yourself. However, for the most professional look and feel, it is best to order your wooden shutters in the colour that you want – unless you are an experienced painter, that is! 
At Graham's & Son Interiors, we work with high-quality shutter suppliers, such as Maxxmar to ensure you only get the very best wooden shutters for your home. Wooden shutters can be easily made to fit even the most unique windows and doorways, such as extra large or extra small openings, archways, and more.
Many homeowners choose wood shutters not only due to the many customization options but also because wood shutters offer a natural look and feel to any room in your home. They are sturdy, durable, and always look classic and elegant.
Custom Colour Shutters: See The Graham's Difference
At Graham's & Son Interiors, we strive to ensure every one of our customers has the absolute best experience possible. We understand that making any large changes to your home can feel stressful and overwhelming. That's why we are committed to helping you have the best experience possible, from the initial consultation to the final installation.
If you purchase from Graham's & Son, we promise to:
1. Give You a Quote During Our First Visit
We understand how important it is to get a quick and accurate quote. That's why we offer fast, free quotes. We will come to your home, accurately measure your windows or doors, and immediately provide you with a quote. We don't want to keep you waiting! You can see right away how affordable our shutters are.
2. Professionally Install Your Shutters
At Graham's & Son, you can rely on us during the entire process. Our expert team members will be the ones to take the first measurements, order the correct products, and finally install your beautiful custom shutters. Installing shutters can be quite a hassle, and you will never have to worry about figuring out proper placement, hardware, or complicated installation instructions. Our installers have years of experience installing window treatments, and they will always get the job done in a timely and professional manner.
Valuing High-Quality Service For 40+ Years
3. Ensure Your Complete Satisfaction
At Graham's & Son, you will always work directly with our staff who can answer questions or address concerns that you have. You won't have to worry about being transferred to multiple departments and being asked to wait days at a time for a response. We value all of our customers and want to ensure everyone has complete satisfaction. Therefore, we will do everything in our power to make sure you are happy with all aspects of our service – our reputation and business rely on our customer's satisfaction!
4. Sell You the Highest Quality Shutters that Are Safe and Easy to Operate
When you choose to get custom colour shutters from Graham's, you can rest assured that we only deal with the highest quality custom-manufactured shutters. All of our suppliers are the best in the business, which means all of the shutters you can choose from are of the highest quality and are the best available. Our shutters are a great choice for families with young children or pets, as they have no strings or cords that could pose a safety risk to your family members.
Hear From Our Satisfied Customers:
"The quality of communication, professionalism, installation and product is fantastic.
We couldn't be happier with our new shutters."
Graham's & Son Interiors is conveniently located in beautiful and historic Cambridge, Ontario at 9 Queen Street East, just 20 minutes away from downtown Kitchener.