This week, Graham's & Son Interiors is shining the spotlight on California Shutters. Find out what they are, how they are used, and some other alternative window treatments you might want to consider for your home, office or cottage. 
Don't forget to visit our main page on shutters and browse our photo album. Now let's help you decide if these shutters are the best window treatment for you!
Watch this video and see these California Wood Shutters by Graber made available from Graham's & Son.
California Shutters Explained
Definition 
California Shutters are a window treatment made of panels of louvers (horizontal slats) that are adjustable. Like blinds, the slats can be tilted to create a brighter environment (louvers open) or darker environment (louvers closed). The entire panel of louvers can be fixed to the window frame/wall or it can swing open and closed.
Louver Size
Some people will confuse Plantation Shutters with California Shutters because they look almost identical; however, they are slightly different because of their louver size. California Shutters have louvers that are 2.5 inches wide while Plantation Shutters have louver sizes that are 3.5 inches wide.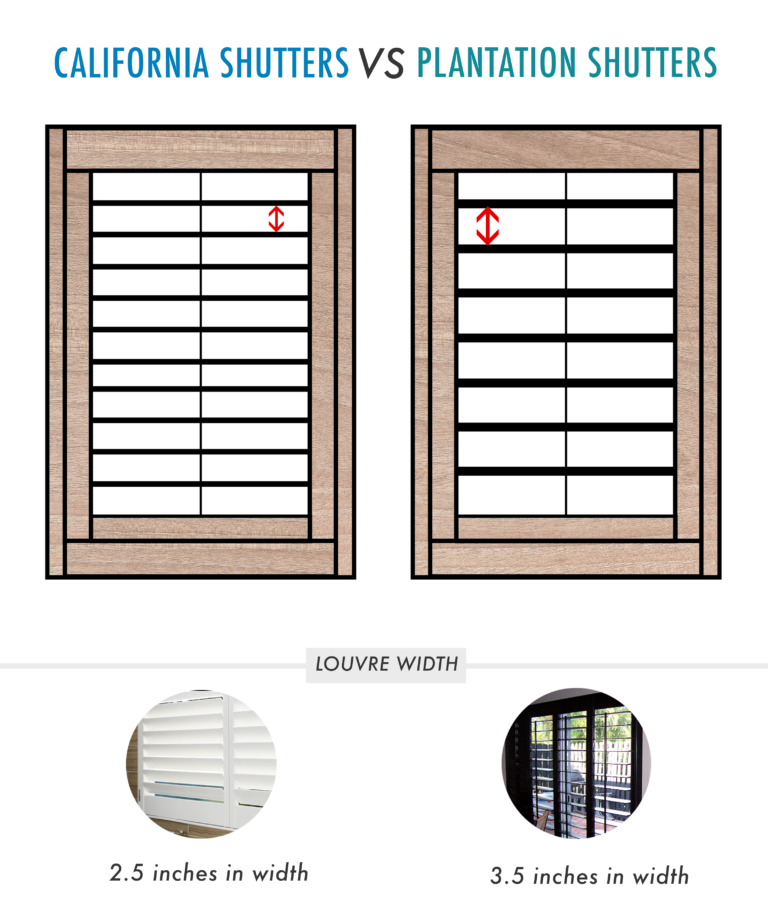 Materials
California Shutters are made with your choice of the following materials:
The cost of your shutters will vary depending on their size and the materials used.
Benefits
California Shutters are ideal for a number of reasons:
Control: Being able to adjust the louvers to different degrees gives owners a high degree of control over their environment. They can block out sun or let in a breeze. 
Durability: This window treatment is a classic option that is known for being a high-quality product that lasts a long time. 
Energy Savings: Shutters also help act as extra insulation, keeping warm or cool air out in the changing season. 
Ease of Care: Shutters require little maintenance. All you need to do to care for them is to occasionally dust them with a damp cloth or apply wood polish to wood shutters.
Safety: Since shutters don't come with dangling cords, they are a safe choice for homes with young children and pets. 
Besides these reasons, California Shutters are also a flexible option because you can get them in your choice of material, you can coordinate them with other window treatments such as drapes, and you can also get them in different colours. 
California Shutters come in a variety of materials as well as styles. Here is a list of some styles to consider for your interior design: 
Shutters For Folding Doors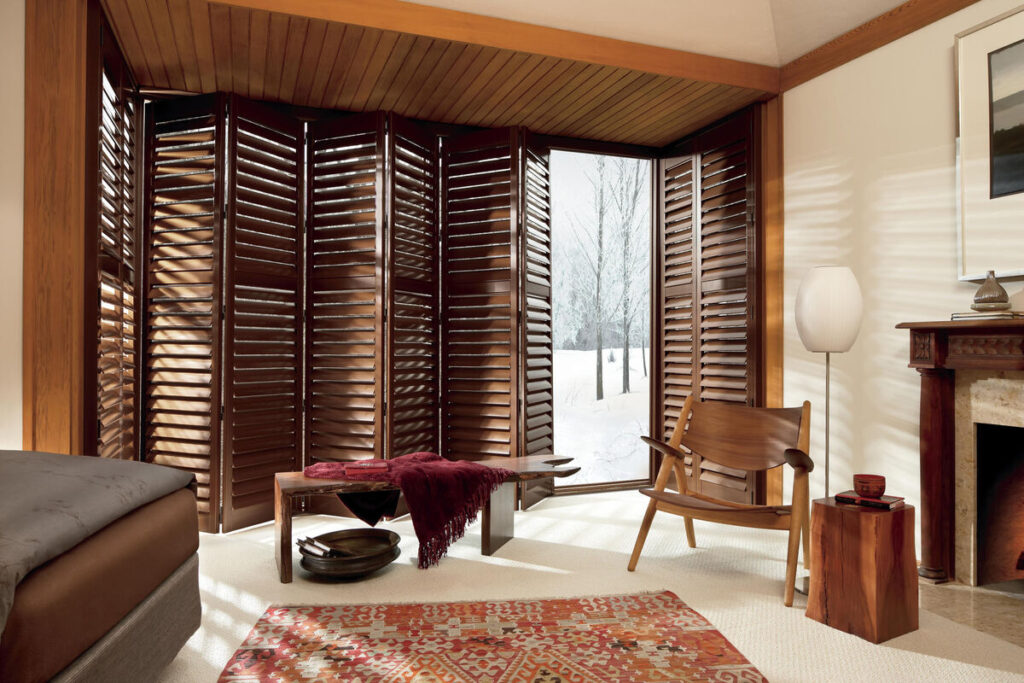 Shutters For Sliding Doors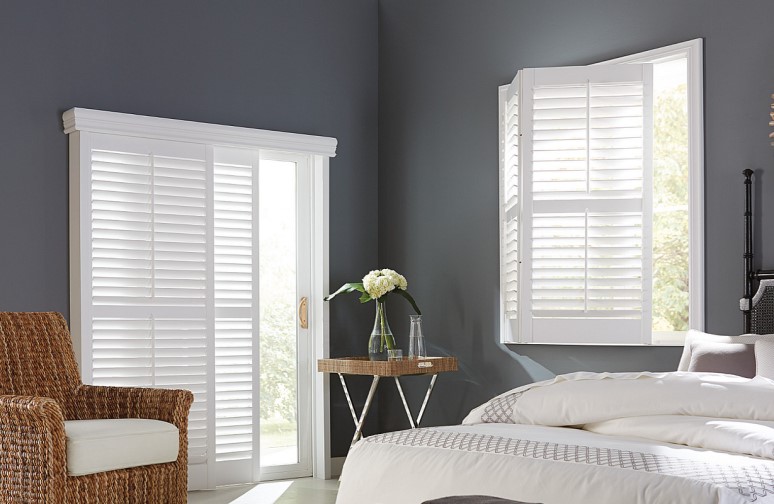 Irregularly-Shaped Shutters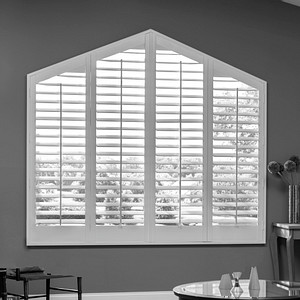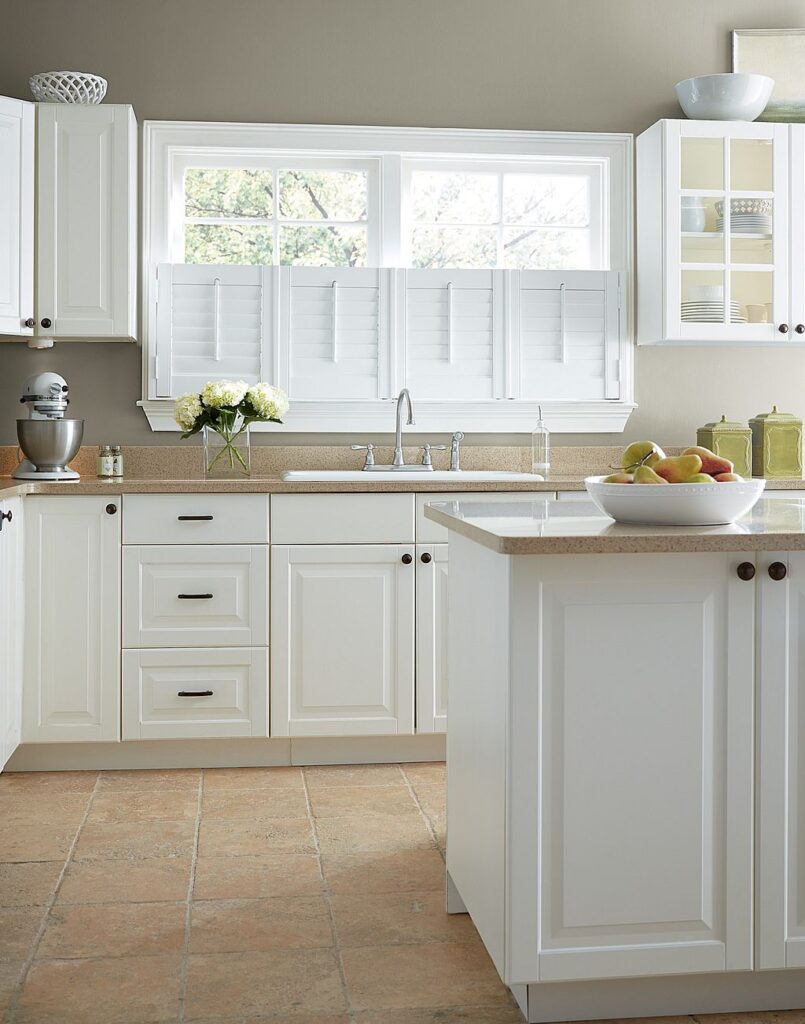 As you see below, you can use multiple panels to cover large windows and still have control over how many you want open or closed. You can also choose to cover the irregularly-shaped windows with shutters or leave them open for a combination of light and privacy!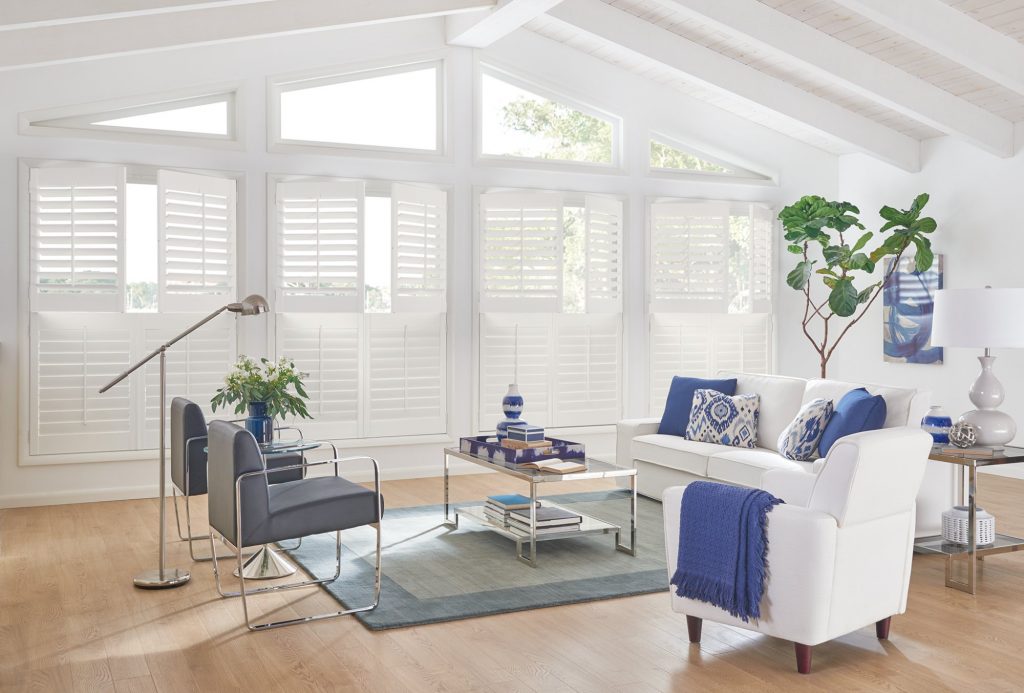 Multiple panels of shutters can be added to large windows – they are extremely customizable!
California Shutters are ideal for both small to medium size window frames and medium to large window frames; however, it is important to keep in mind that the larger louver size of Plantation Shutters suits larger rooms better.
For example, notice the high ceilings in the picture above. The grandeur of Plantation Shutters suits a grand room like this.
While it depends on how you end up styling them, California Shutters are generally more suited for smaller rooms because of their smaller louver size. You'll need multiple panels if you are covering large windows or doors.
Horizontal Blinds or Drapery make great alternatives to California Shutters.
Blinds & Shades
If you like the look of wooden California Shutters, you may also like horizontal wood blinds. You can also choose blinds that come in wood, vinyl or composite materials and you have the option to have your blinds painted or finished in a variety of colours.
Blinds may also be a more economical choice when compared to shutters which tend to come with a greater price tag.
Remember, if you do have small children or pets and decide to add blinds, it is safest to opt for automated controls like Somfy Motorized Blinds & Shades. Why? Because dangling cords put young children and pets at risk for strangulation. Prevent accidents and keep them safe. 
Curtains & Drapes
If you want a classic look like the look of California Shades, another alternative is to add curtains or drapes. They are highly customizable as you can choose from different fabrics, colours, and patterns and they are easy to control and maintain. You can even benefit from the insular properties of heavy drapery. 
Work with a local family-owned business like Graham's and you can relax while your window treatments are installed for you. 
California Shutters From Graham's
By working with a professional company like Graham's, you'll get more than the actual shutters themselves. You'll benefit from services such as:
Friendly advice based on decades of experience
A free in-home consultation
Exact measurements
Expert installation 
If you are considering California Shutters for your home, contact Graham's & Son Interiors. They'll show you the best products, the variety of styles and finishes available and how to get the most for your money.
In fact, Graham's is offering their Buy Any 2 Shades, Shutters, or Blinds & Get 1 FREE promotion right now! 
What Customers Are Saying...
Merv and I just wanted to thank Wayne for his advice and expertise. We are so glad that we decided to go ahead and put the California Shutters on both levels. What an amazing difference and feel to our new home. The installer did a fantastic job, very professional and informative. What a great decision to choose Graham's & Son Interiors!
We want to thank everyone at Graham's and Son, for all of your efforts in working with us to 'beautify' our windows with your California Shutters. Service and communications have been professional, thorough and friendly, from start to finish! We are thrilled with the dramatic change the shutters have made throughout our home! The installation was so quick. The finished product is amazing and we feel like we are suddenly living in another home! We are thrilled with our Graham's and Son, experience! Thank you!