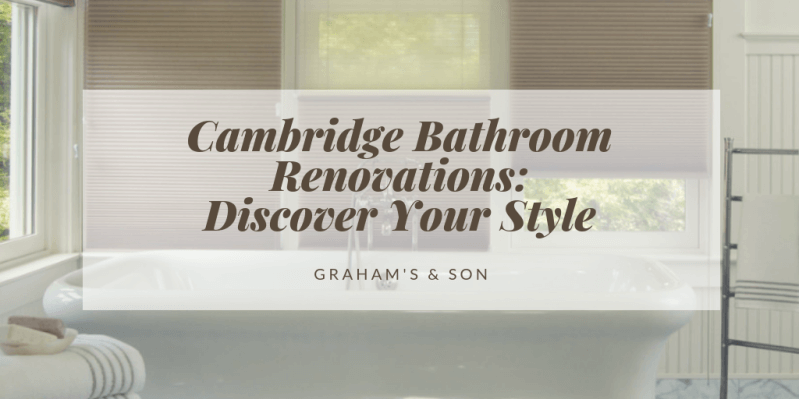 Contact Graham's & Son for all of your Cambridge bathroom renovations. Whether your style is traditional, modern, contemporary, or transitional, we have the experience and expertise to help you transform it into a luxurious bathroom you will be proud to show off as well as enjoy every day of the year. Graham's & Son will even come right to your home for a free consultation. Schedule yours today!

Modern Bathrooms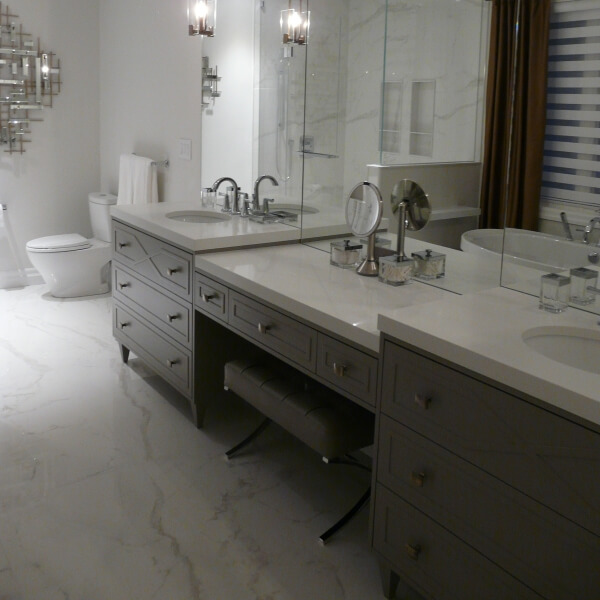 Modern bathroom featuring raised vanities – Image Source: Graham's & Son
Modern style refers to an actual time period. It's the design style that was developed from the early to mid-twentieth century, from about the 1920's to 1950's. It is connected with the age of machination and it is quite different from the pre-Industrial Revolution more traditional styles. Some people also refer to modern style as anything from the 20th century. Because modern style is trying to break from traditional, which tends to be "full," modern design is more simplistic and tends to favour lots of open space. Even though some people will use the terms "modern" and "contemporary" interchangeably, they are actually different.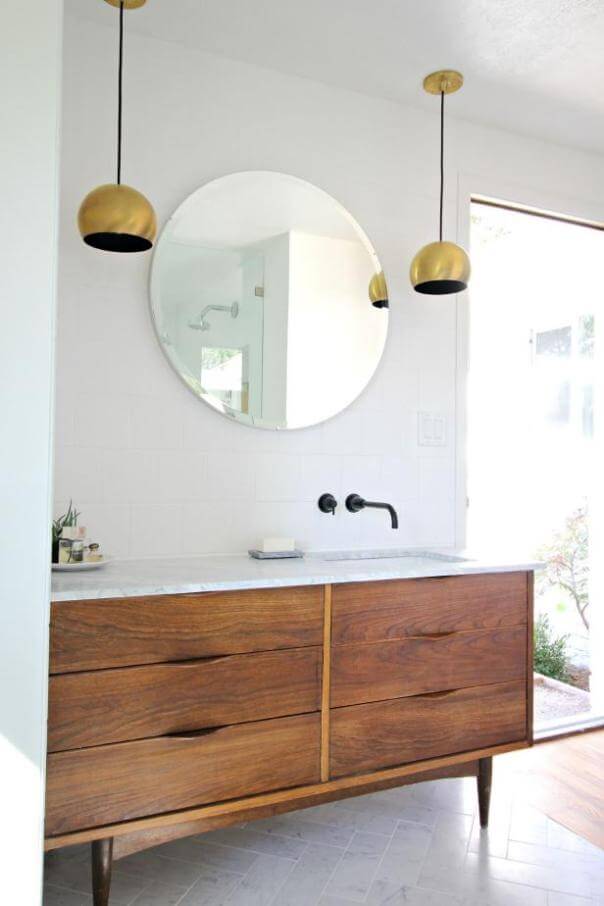 Some of the characteristics usually found in a modern bathroom design include:
Clean lines
Asymmetrical layouts
Distinct right angles
Simple and minimal adornments
Clean and fresh colours
Raised vanities
Contemporary Bathrooms
A vintage dresser used as a vanity is currently trending – Image Source:
Contemporary design refers to whatever trend is popular at the present time. The reason that is is often confused with modern design is that the retro features of the early-to-mid-twentieth century are currently popular. Therefore a lot of what is contemporary borrows its inspiration from modern design. In a few years, however, that probably will change as what is popular will probably be something completely different.
Contemporary design then is always changing; it is not tied to a specific era or time period. Currently what is popular in bathroom designs include:
Vintage dressers converted to vanities
Large bathrooms
Clean and refined style
Earth tones, grey and white with occasional colour pops
Ceramic and marble tiles
Asymmetrical accessories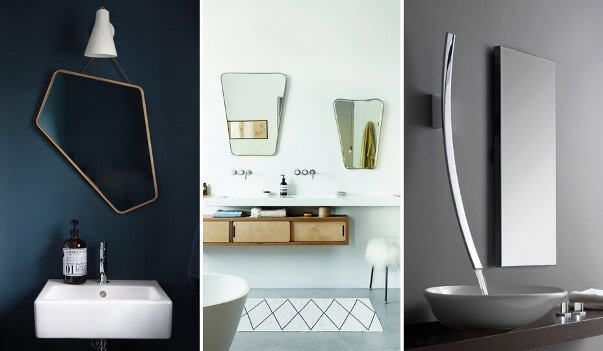 Asymmetrical mirrors are a contemporary design trend – Image Source: RenoAssistance, originally from Pinterest
Traditional Bathrooms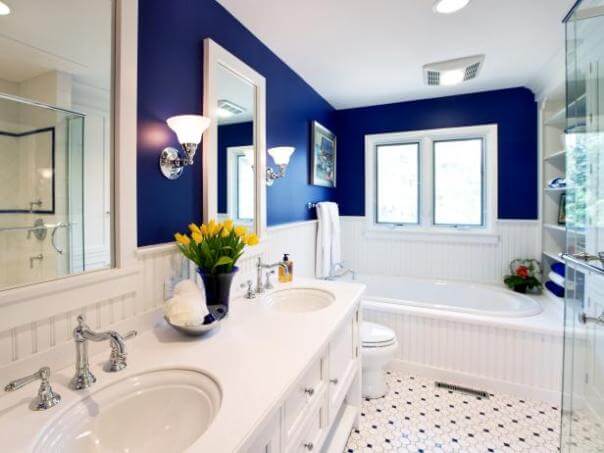 Traditional can reflect the Colonial era – Image Source: HGTV
When you think of a traditional design, often the picture of what was popular in the Victorian or Colonial eras comes to mind. A traditional style is quite the opposite from the sleek, modern, contemporary, or minimalistic designs. Symmetry is very important in traditional designs as well as having lots of details such as wall sconces and detailed millwork. A traditional bathroom will be characterized by warmth and comfort. It usually gives quite an inviting atmosphere.
Traditional bathroom featuring claw-foot tub and pedestal sink – Image Source: Sojorner
Traditional bathroom design features include:
Countertops of natural or faux-natural materials (stone, slate, or granite)
High-quality wood vanities, chairs, and storage spaces
Claw-foot tubs
Pedestal and basin of porcelain or stone
Copper, iron, and bronze fixtures
White, brown, red, blue, and green are common colour choices
Transitional Bathrooms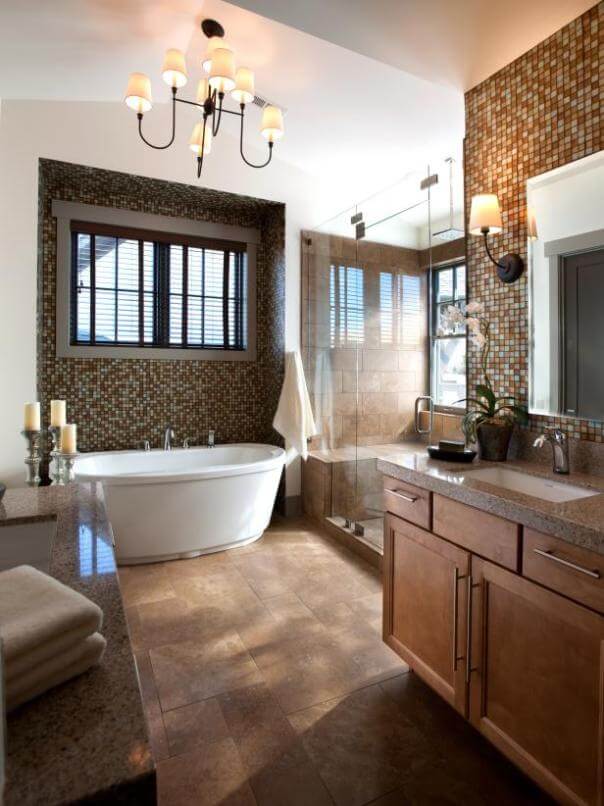 Transitional combines traditional with modern – Image Source: HGTV
A transitional design combines the features of different time periods; often it works well to combine elements from two eras that are adjacent to each other. For example, if you decide to pair your claw-foot tub and pedestal sink, both features that are traditional, with modern, angular storage pieces, then that would be a transitional style. You need to be careful that you don't combine features that really don't go well together, so you may wish to consult with a design professional to get their advice.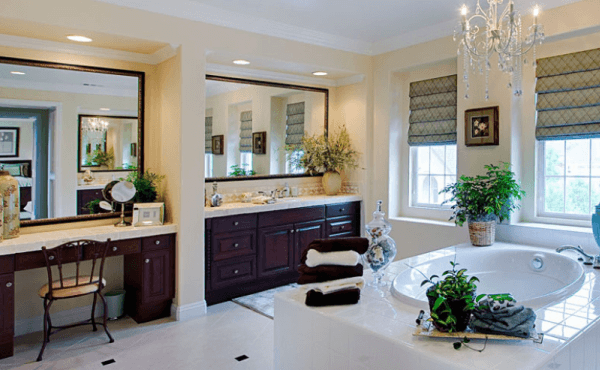 Victorian vanities meet modern tub in this transitional design – Image Source: Graham's & Son
Some examples of what you can do to create your transitional design include:
Pairing a modern glass-walled shower stall with a traditional porcelain tub
Modern vessel sink paired with a vintage stand-alone tub
Claw-foot tub combined with modern cabinets
Traditional wood flooring and exposed beams paired with contemporary cabinets.
Gallery of Bathroom Designs by Graham's & Son
Browse through a gallery of some of our sumptuous designs and be inspired. Then contact us for a free in-home consultation. We can help you design your dream bathroom today.
Choose Graham's & Son for Cambridge Bathroom Renovations
Graham's & Son Interiors has been producing beautiful interior designs in the Cambridge area for more than 40 years. We are locally owned and operated and we specialize in all types of renovations, especially bathrooms and kitchens. We offer free in-home consultations and will take the time to listen to your ideas and dreams for your new kitchen and help you with a design that will suit your budget. If you are thinking of remodelling your kitchen, bath, or any room in your home, contact the professionals at Graham's & Son to book your free in-home consultation today. In addition, right now we are offering an amazing deal on all our blinds, shutters, and shades. When you purchase any two, you will get a third absolutely free.
Our customers have been so pleased with the high standard of our work that they selected us for the "Best Business Service – Interior Decorating: Platinum" and "Best Shopping – Kitchen Renovations: Gold" awards in the 2017 Cambridge Times Readers' Choice Competition. Book a free in-home consultation today and find out for yourself why Graham's is the best in the interior design business. Contact us today to schedule a free in-home consultation. If you prefer, you can shop at home. Browse through our website, make your choice, and simply give us a call at 519-658-9025 to place your order without ever having to leave the comfort of your own living room.
"Very happy with the Graham's & Son Interiors in terms of customer service, quality and price as well as workmanship. Can't ask for a better deal. We have already referred your company to three others."
– Jim & Joanne
Read more customer testimonials