Choose your own fabric and hardware with custom drapery from Graham's & Son Interiors!
1. Types of Drapes & Curtains
In this section, we'll look at what drapes and curtains are and the different types that are available. If you are interested in custom drapery, you may be asking the following questions:
Is There a Difference Between Curtains and Drapes?
Drapes & curtains are two words that are often interchanged, so let's first start by understanding what some people mean when they use these words. Both window treatments are made from large pieces of fabric which are hung from a rod (also wire, rope or knobs) and swung open or shut. 
They can be made from heavy and thick materials or light and sheer materials. When someone differentiates between curtains and drapes it is because drapes more specifically refer to thick panels of fabric that drop all the way to the floor (they drape down). Curtains, on the other hand, are generally cut to fit the size of a window; however, most times we think of curtains and drapes as the same thing. 

Some people consider drapes to be a thicker, heavier fabric that is floor-length.
What Kind of Drapes and Curtains are There?
Drapes and curtains come in a variety of styles. We've already touched on the fact that they come in a variety of fabrics and can be hung in different ways. 
Here are some of the main styles you'll see. The styles of drapes are based primarily on how the fabric is sewn at the top and formed to attach to the rod (or other means), whether the fabric is gathered in pleats or not, how it is pleated or sewn at the top of the fabric panel, etc. The bottom section of drapery is quite consistent, usually sewn as a double-turned hem or a Eurohem. Let's look at a few common styles.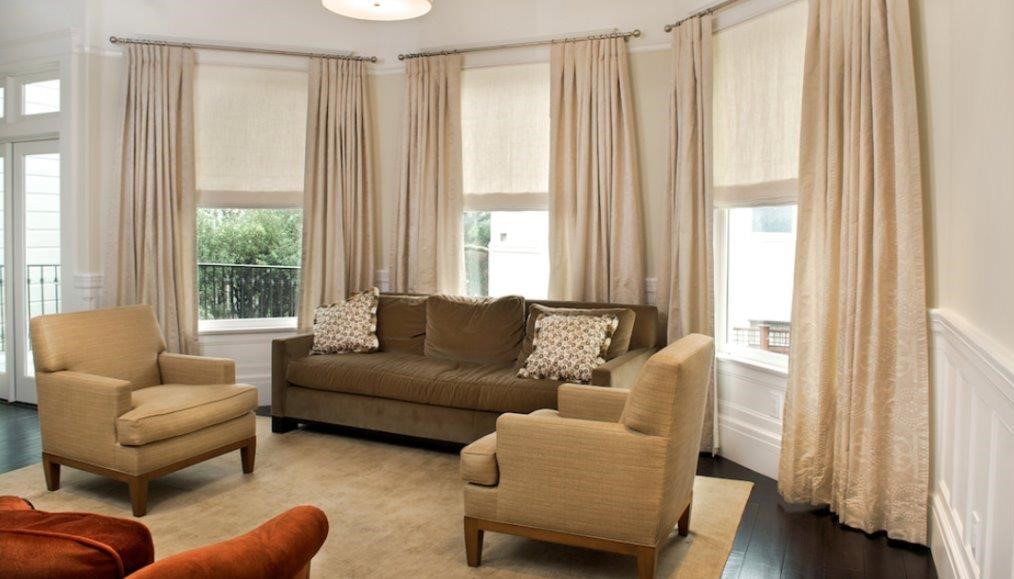 The picture above features Bohemian Pleat Drapery.
Pleated Drapes 
This style of drapery is the classic style you have likely seen at some point. This traditional look features a decorative header of evenly-spaced sections of the panel that have been gathered together, pinched and then sewn to create folds that stack when closed. The standard pinch pleat is a 3-finger pinch pleat, meaning the fabric has 3 folds that when pinched together form a fan. Other pleated drapes include the following types:
Bohemian Pleat Draperies: The pleat only fans out from the bottom while the top is tacked and attached to rings. This is a more minimalist/contemporary design.
Goblet Pleat Draperies: The pleating above the pinch is embellished with stiff paper or cardboard to make the pleat look like a goblet or wine glass  
Pencil & Cartridge Pleats: Pencil pleats are thin single pleats while cartridge pleats are single pleats that have been spaced widely.
As you can see, there are some sophisticated pleat styles out there!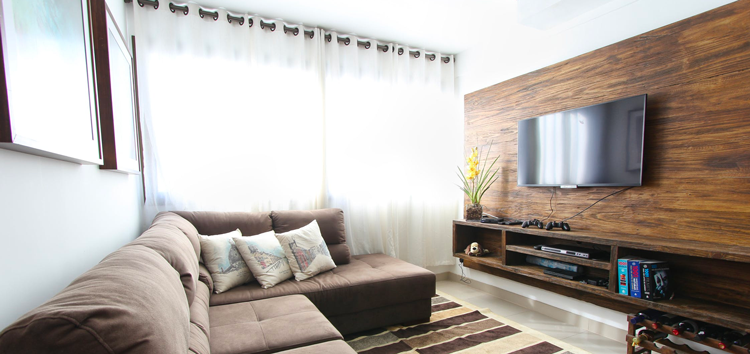 The curtains above feature ringed or grommet panels of fabric.
Ringed / Grommet Drapes 
This style of panel is also common but is more modern/contemporary. The panels of fabric are either attached to clip rings that slide onto the curtain rod or there are
grommets
 built into the top hem of the fabric to insert the curtain rod into. 
Rod-Pocket Panel Drapes 
This type of drape is more casual and is designed by sewing a channel at the top hem of the fabric through which the curtain rod can pass. The fabric will naturally bunch to form a decorative header. Some rod-pocket panels may have a straight-top or ruffled header.
Tab-Top Panel Drapes
This type of panel is designed with small tabs of fabric which are folded over and sewn along the top of them. The curtain rod passes through the top flat-hanging loops which look like tabs. This forms a style that is more casual and often looks good with striped or floral fabrics.
Click here for some examples of tab-top curtains
.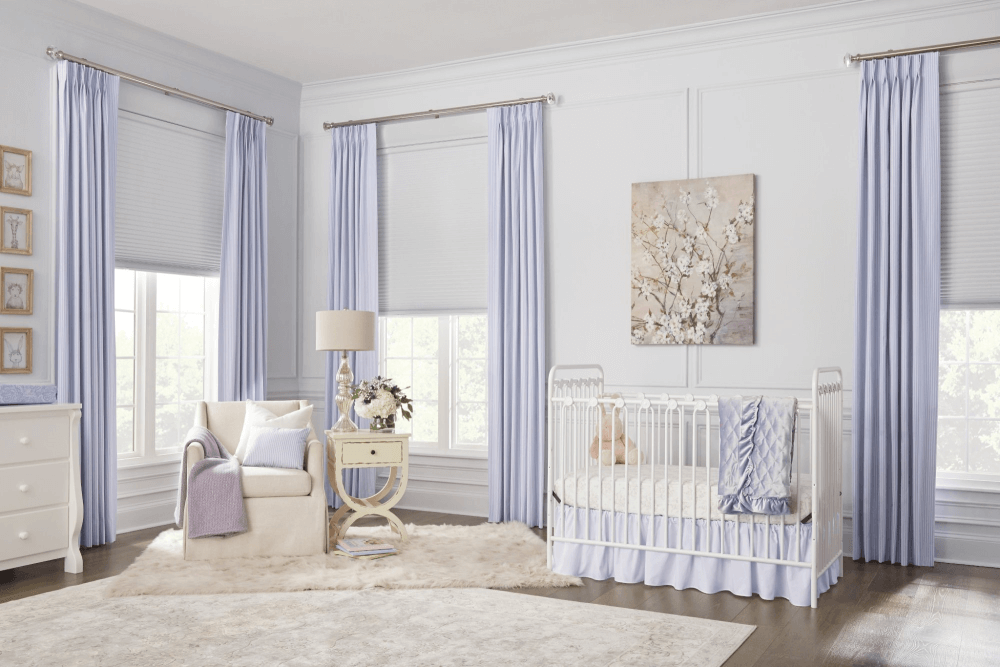 Designers generally advise you to install curtains that skim the floor or window sill. 
2. Tailoring Drapes For Any Room
There are numerous factors that go into how to size your custom drapery. First, let's look at two basic factors, height and width.
Height
On average, no matter what the height of your ceiling is, the curtain rod should be a minimum of 2 inches above the window frame.
If you wish to create an illusion and make your windows look bigger, you can go between 4 and 12 inches above the window frame (depending on how much room you have).
Length
Curtains come in standard lengths and most designers will advise you to let them skim the floor. The general guide is to let them fall to between a ¼-inch and a ½-inch from the floor.
This will look different depending on whether you want to frame the window with a short curtain skimming the window sill or a dramatic effect where the drapes puddle on the floor. 
Sometimes it is just not practical to have long curtains. You may have kitchen or bathroom counters to consider, furniture or even radiators.
Consider the Style of Your Room
Keep in mind that the style of drapes you choose should reflect the room you are styling. Here are some examples:
If you have a traditional living room, you may want to opt for pinch-pleated curtains. 

If you have a modern kitchen, you might want some ringed draperies with metal grommets. 

If you are styling the bedroom, you may want to invest in blackout curtains, and heavy and thick drapes to block light out and help you sleep
Don't limit drapes or curtains – they can be used in new and creative ways like you see as this romantic canopy.
(Image Source: Keegan Checks)  
Creative Ways To Add Drapes 
With a wide variety of fabrics, colours and patterns to choose from, there are many ways to incorporate custom drapery in your home. Here are some ways you can use drapes aside from dressing your windows with them! 
As an alternative to wall-paper or painted accent wall – create an accent wall or a beautiful backdrop with fabric instead of paint or wallpaper
As room dividers or doors – you can even create a walk-in closet!
As patio shades
As a canopy for 4 poster beds
As closet or cabinet doors – create privacy or hide what's stored away below in cupboards and shelving
Whatever you decide to do with drapes, have fun! It is a very versatile window treatment. Just be sure to measure it accurately when installing them. Better yet, contact a professional to install your window treatments!
Come visit our showroom! Graham's can help you find custom drapery in styles that suit you. 
3. Custom Drapery From Graham's
Graham's & Son Interiors is a local, family-owned business that has been specializing in window treatments for almost 50 years! Providing custom drapery, Graham's offers clients a wide variety of fabrics to choose from and the opportunity to have them made to the specific measurements of your windows and rooms. 
When you work with Graham's, your interior designer will come and provide you with:
A FREE In-home consultation
Complete measurements
Material ordering 
Professional installation
Graham's
will keep you up-to-date with current curtain rod styles and hardware choices such as decorative 
finials
, the caps at the end of your curtain rod that can be designed to look like orbs, pineapples or gold leaves!
If you have other window treatments that you want to pair with your custom drapery, they can help you with that too. They can even equip you with motorized curtains and other motorized window treatments that open and close with the touch of a button or a voice command. Talk to someone from Graham's or visit our showroom to see our fabric selection!
Contact Graham's & Son Today for Your Custom Drapery!
"After 28 years in the same house, we decided to downsize. One of the projects for our new place was window coverings. We invited 3 companies in to help us with this decision. We made the BEST decision to go with Graham & Son Interiors. Wayne Graham was prompt to follow up with us to book a time to come out. He was extremely knowledgeable. The quality and cost were excellent. The installer was highly experienced and paid attention to detail He did not rush. We will be repeat customers for future interior needs!"
"I had Graham's and Sons make a custom drapery for my daughter's room. It was a great experience since they provided a quality product for a reasonable price. I'm very happy with my purchase and would highly recommend their services! Thank you very much!"