In this blog post, Graham's & Son Interiors will provide you with some glass cleaning tips for when you're cleaning the windows of your home. Even just starting with the right equipment will have an impact on the quality and success of your job. Learn what you should and shouldn't do when glass cleaning.
Read our blog and discover ways to better maintain your home. Also, feel free to contact us directly to discuss your home interior needs.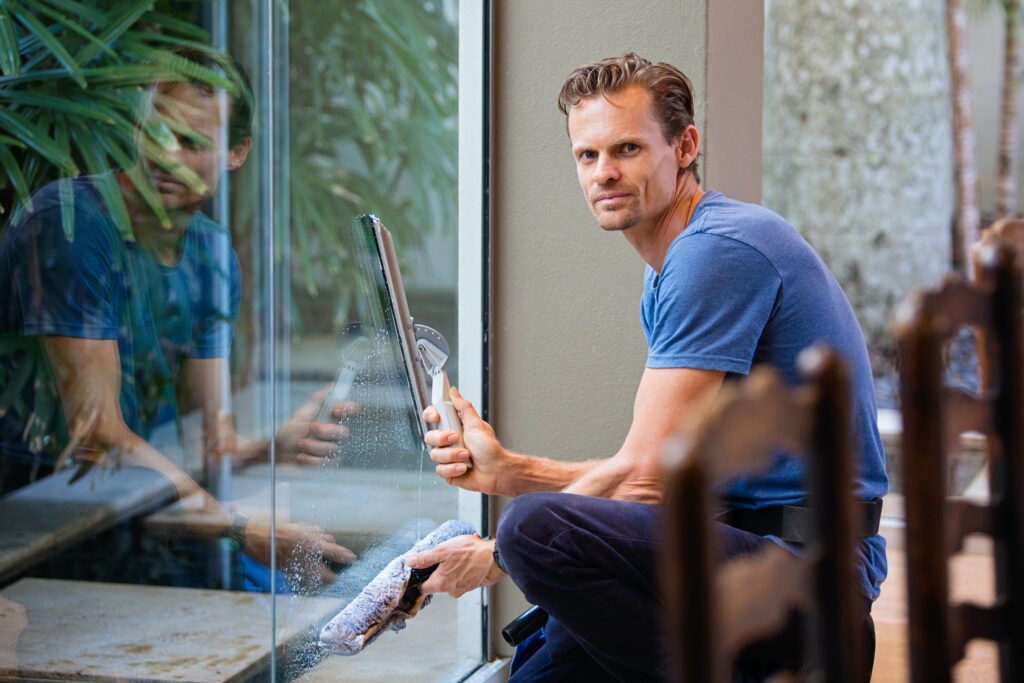 Follow these glass cleaning tips for streak-free windows! (Image Source: Nathan Cowley)
a) Start With the Right Equipment
You don't need many tools for glass cleaning, but your windows will look best if you use certain tools over others.
For superior glass cleaning, you'll need the following tools:
Note: When cleaning the glass of exterior windows, some people also use water from a garden hose to rinse their windows clean. This is optional, but we wouldn't skip using a squeegee. 
b) Clean From Top Down
As you clean windows, water is going to drip. So go with the flow and work from top to bottom, especially when you use the squeegee to clear the cleaning solution. You can use a towel to catch drips as you go so you don't have a bigger mess to clean up afterwards.
Touch up window edges and corners with a soft microfibre cloth. (Image Source: Tima Miroshnichenko)
c) Use an "S" Stroke or "Snake" Method
As you use your squeegee to clean your windows, use an "S"-shaped stroke. Go from one side of the window to the other in sweeping motions in a somewhat imperfect form of the letter "S" as you clear each area. You can start in the middle and return over your starting point, working your way down. Watch a video of this method here. 
Alternatively, you can use the "Snake" method. Begin with your squeegee in the top left or right corner of the window and work your way across to the other side of your window. When you reach the other side of the window, turn and wipe across the window in the opposite direction. You continue in this motion from the top down.     
Remember to wipe off the edge of your squeegee when pausing between strokes. This reduces the water run-off. When finished, you can wipe down corners and edges with a clean and soft microfibre cloth.
d) Try Using Cotton Swabs
If you want to get into those tough-to-reach corners of your window, try using cotton swabs! You can easily touch up the corners while glass cleaning. 
e) Use Drop Sheets
Whether you are attempting to use a squeegee for the first time or you are a window-cleaning pro, remember to use drop sheets in your home below any interior windows you are cleaning. You'll save yourself the headache of cleaning walls, floors or carpets should you have spills.
a) Don't Clean Windows on a Hot & Sunny Day
Don't be caught glass cleaning on a hot, sunny day. Why? Because the hot sun will actually dry your cleaning solution before you get a chance to remove it with a squeegee. This will leave soapy residue and streaks. 
If you choose to clean your windows on a cool and cloudy day, chances are you'll be left with clearer and streak-free glass.
b) Don't Forget to Dust or Pre-Clean
If you begin cleaning your windows directly with your wet cleaning solution and have forgotten to first dust or vacuum your window, you'll end up accidentally grinding dust and dirt particles across your glass. You'll also end up with dirty water leaving streaks on your window and your window frames. So don't skip the step of dusting first.
You can also clean exterior windows by rinsing them with the water from your garden hose. Use a low water pressure and loosen up different forms of dirt and grime. For tough stains, try applying pure vinegar to them and let them sit for a bit before removing them.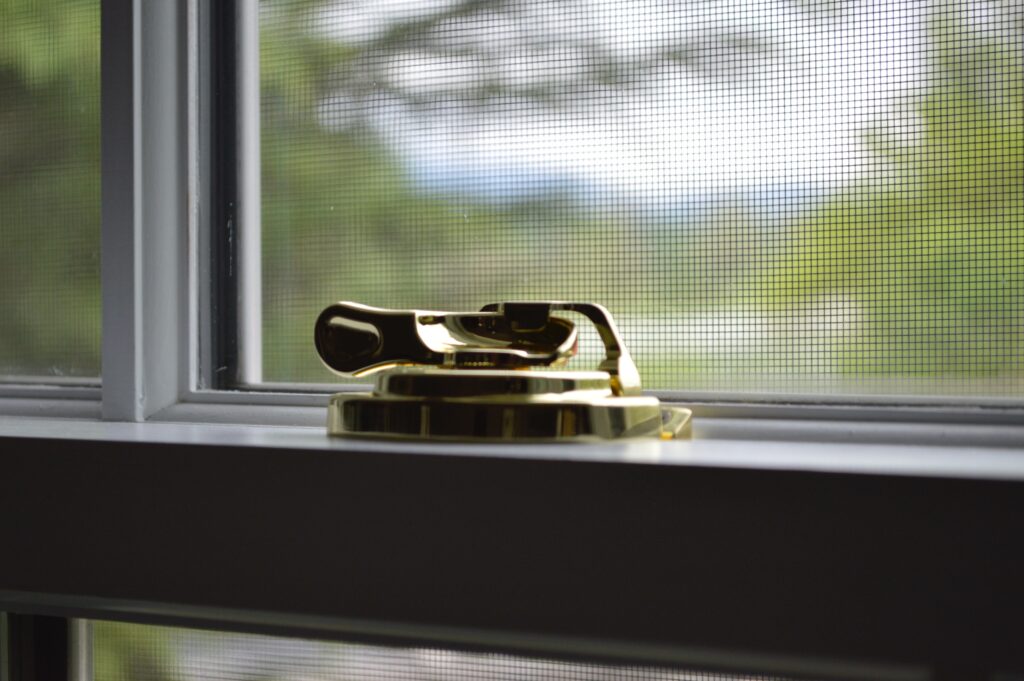 Don't forget to clean the screens of your windows. (Image Source: Chris Thornton)
c) Don't Forget to Clean Screens
Even if you've cleaned the glass of your windows, they can still appear dirty because the window screen is dirty. When cleaning your windows, pop out the screens and wash them with warm soapy water and a brush. Afterwards, rinse them and let them air dry. 
d) Don't Oversaturate Windows
Don't overdo it with your cleaning solution and water. Too much water and cleaner can cause damage to your window frames, especially wood window frames. Use a towel to protect your window frames and catch any drips as you go along. 
For more tips on window glass cleaning, read our other blog post, Window Cleaning – Doing It Right. Along with window cleaning tips, you'll also learn how to know when your windows need cleaning. It is important to note that if your windows ever get cracked, damaged, or any of their mechanisms stop working, it is time to replace them. When cleaning your windows, remember to inspect them so you prevent any further damage in your home and keep your homes energy costs under control.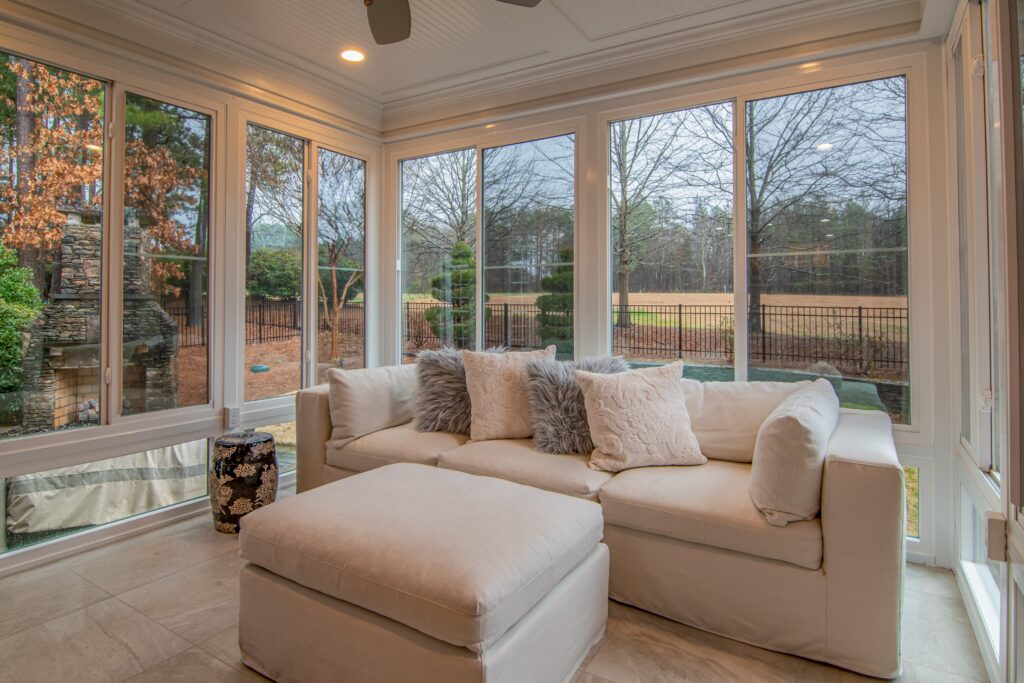 Ensure a clear view to the calm of nature with proper glass cleaning techniques. (Image Source: Curtis Adams)
Graham's & Son Interiors is a local, family-owned business that cares about its customers. That's why we provide tips to help you maintain your home and keep it comfortable. After all, you spend a lot of time there!
With over 40 years of experience, Graham's has expert advice, service and products. We offer FREE In-Home Consultations and products and services such as:
Contact us to learn more about what we can do to improve the interior of your home. We would love to hear from you! And don't forget to read what other customers are saying about our work. Scroll down or click on More Testimonials.
"Wonderful people to deal with, and my house looks amazing!! Both Wayne and Matt were fantastic. Consultation and measurements were all done in my home everything arrived as promised and looks perfect. These days customer service means everything and these guys knocked it out of the park. Thank you Grahams I will be back!"
"We contacted Graham and Son Interiors for interior design advice and ideas when we purchased our new home in the Deer Ridge area. The entire team at Graham and Son Interiors were amazing. Polite, professional, and details were perfection! They listened to our initial ideas and responded with designs that not only matched but exceeded our expectations. Their timelines are expedient yet not rushed. Our home looks so much more elegant and polished due to their involvement. We still have a few projects to go and will upload photos at the completion of the designs and install. If you are looking for high quality, professional seamless service I highly recommend Graham and Son Interiors and Team."