Just because a piece of furniture is old doesn't mean you have to get rid of it; instead, you can learn how to reupholster a chair or sofa. In this blog, Graham's & Son Interiors will let you in on their expertise of reupholstering chairs. Click on the links below to learn about reupholstering a chair so you can retain its value and all those special memories: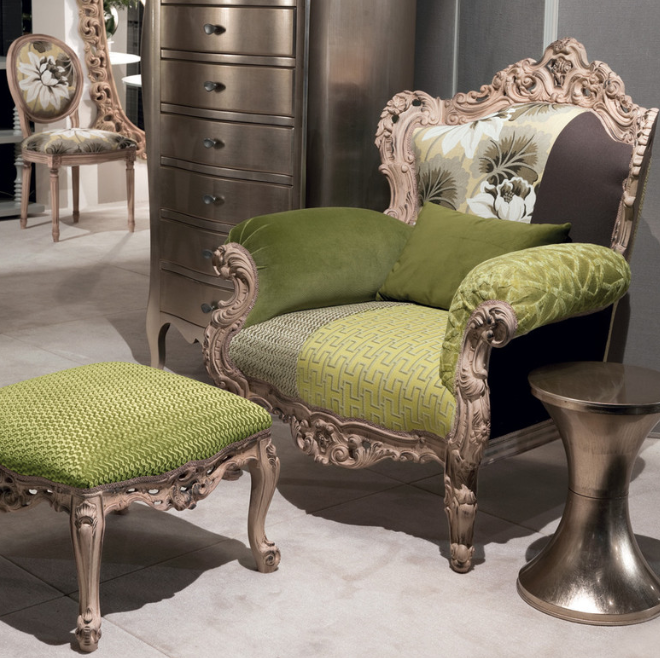 For those interested in reupholstering a chair, you have a lot of creative liberty!
How to Reupholster a Chair & Other Questions
Before we dive into the topic of reupholstering a chair, it is important that you know what upholstering is. We found a great definition for you from the blog post, What is Upholstered Furniture? from The Inside by Havenly: "In its most basic form, upholstery refers to the materials, including the padding, webbing, coil springs, polyurethane foam and fabric that make up the soft coverings of furniture." If you read the whole blog, you'll learn that the term actually goes back to the middle ages.
For the average person, it is the soft padding and fabric used to cover the frame of the furniture. Upholstery can be found on chairs, sofas, stools, ottomans, etc. 
To reupholster furniture means you take off the old upholstery and add the new upholstery, a fresh new covering of fabric and cushioning!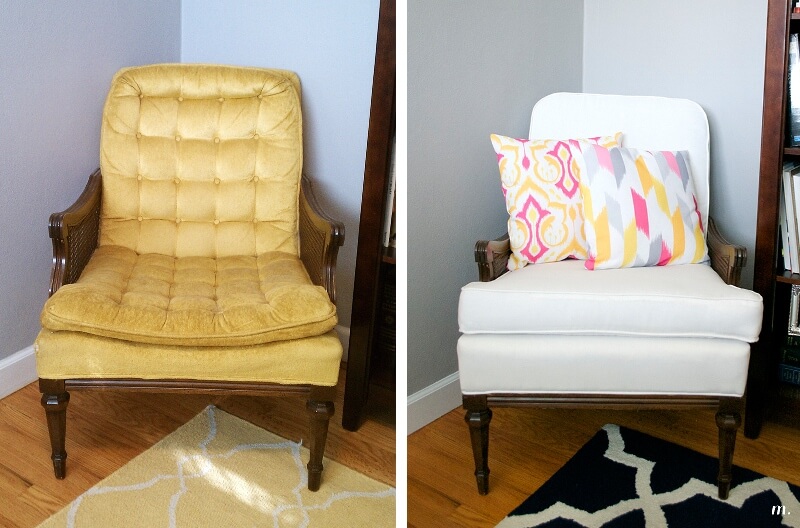 Turn a saggy and worn chair into a firm and stunning beauty!
2. Why Reupholster a Chair?
While people may automatically assume they need to buy new furniture when it is faded or worn, reupholstering is an option. But you may be wondering why you might choose to reupholster a chair. Here are some reasons:
To increase the value of a chair you already own 
To preserve your chair
To improve and give new life to your treasured possessions
To create something of your own design (remember – you get to choose the fabric)
To coordinate with another interior décor
For sentimental reasons (I bet there is someone reading this who owns a piece of furniture from a grandparent!)
Before starting a reupholstering project, especially like this dining set, inspect furniture and assess any damage.
3. When not to reupholster a chair
We can't speak for each individual, but we can say that, for some reason or another, not every piece of furniture is worth reupholstering. Apart from sentimental reasons, you'll know by looking at a chair when it's time to reupholster it. But here are some tips for knowing when not to reupholster a chair:
When the chair frame is damaged (warping, cracking, rocking, etc.) and it cannot be fixed or is not worth fixing.
When the chair frame is not made from quality materials or workmanship like kiln-dried hardwood or dovetail joints. Since reupholstering can be expensive, you want to invest in quality furniture that is durable and ready to withstand time and use.
If you are unsure, you can also ask an expert to help you decide whether or not your chair is worth the time and money of reupholstering. You can contact Graham's for a free consultation, too.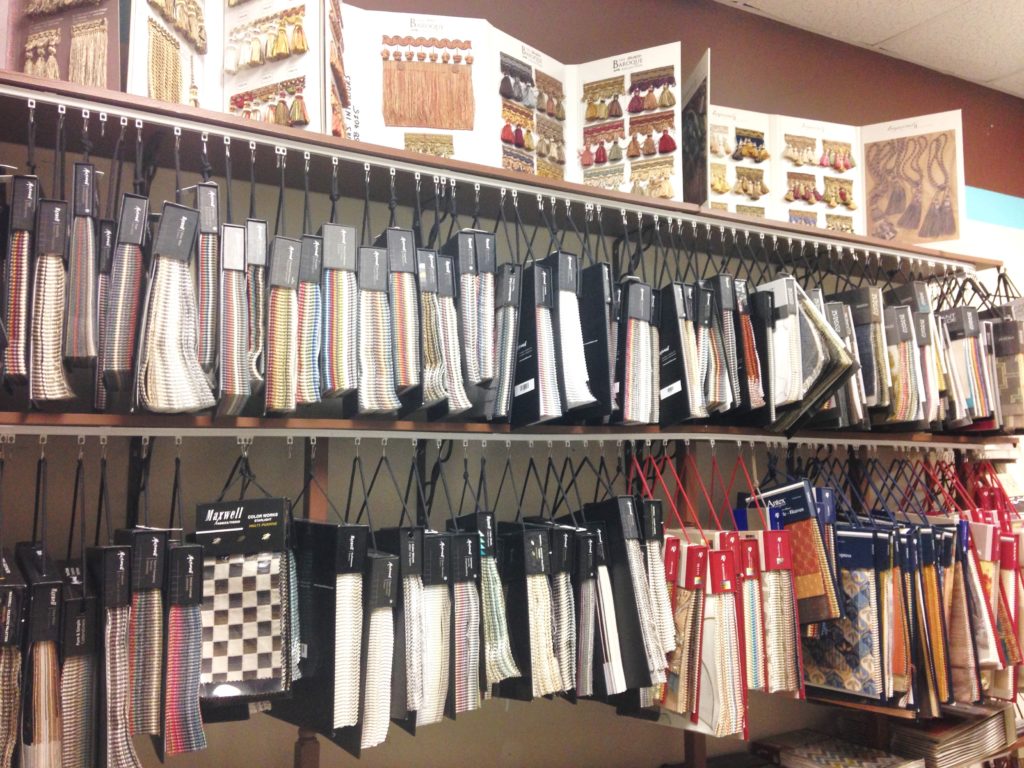 Part of learning how to reupholster a chair involves the fun of choosing your own fabric(s).
4. How to reupholster a chair
In this section, we will outline the basic steps of reupholstering a simple chair. We have summarized the steps for you from Better Homes & Gardens. Please refer to the article if you want more details, specifically about making and adding welting. You can also watch the video below which shows the reupholstery of a winged chair or have a look online for different guides. Better yet, contact a professional from Graham's to do it for you!
Step-by-Step Guide
1. Get Your Pattern
a) Carefully remove old fabric and materials; You will need a reupholstery staple remover or a flathead screwdriver and needle nose pliers to do the job.
b) Measure existing fabric and materials to get an idea of how much you will need of the new materials (remember to keep buttons, cords and other accessories for reference)
c) Label each piece so you'll remember where it belongs and how it attaches to your chair (top, front, back, left side, right side, etc)
2. Deal with Batting/Cushioning
a) Depending on the quality of any batting, you may need to remove it and replace it.
b) Check springs and webbing for damage; replace or fix as required
c) Staple new batting on as needed beginning with the back of the chair and then the seat.
3. Make Your Pattern
a) Using the old fabric pieces, you will make your new pattern. Lay pieces of old fabric onto new fabric, right sides together so that the wrong side is facing up. Pin fabrics together and trim around each pattern piece, but leave 3-4 inches of fabric so that you have extra material to work with (it will be trimmed off later). 
b) Mark instructions/labels on new pieces of fabric with chalk.
4. Recover Your Chair's Seat
a) Place pieces onto the seat of the chair, adjusting as needed to get the right fit. Pull fabric smoothly across the chair and staple it in place. 
b) Trim any excess material
5. Recover Your Chair's Back
a) For the back of the chair, place the fabric in the right position, but fold the right side of the fabric over the top of your chair back.
b) Add a tack strip to the top of the back of your chair and staple it. 
c) Take the fabric and fold it back over the chair and then pull it underneath the bottom, folding the edge and then staple it in place to the underside of the chair
d) Trim any excess material
6. Add a Dust Cover
The final step is to cover the bottom of your chair, concealing any webbing or springs and staples and trimmed edges. Based on your pattern, you can cut a piece of lightweight material and staple it in place to finish off your chair. 
Although it is a big commitment, you can learn how to reupholster a chair as Heidi Sonboul shows in this video above.
If you watched the video above, you'll see that reupholstering a chair is a big commitment. You'll need the right tools, time, patience, observation skills, creativity and maybe even strong hands! In fact, if you are considering a reupholstery project with leather, then you'll need a bit more strength. Read How to Reupholster Furniture with Gorgeous Leather from Lovely Etc.
If you enjoyed learning how to reupholster a chair but feel you'd rather leave the job to a professional, Graham's would be happy to hear from you. They provide in-home consultations, a vast selection of fabrics and finishes, pick-up and delivery! They can give that special piece an update or an entirely new look. You may even want to check out their fabric for drapes to complete your new look.
Contact Graham's to get started with your very own reupholstery project!
"Received my furniture back including living room, wing chairs, 4 other pieces. Turned out beautiful, looks like new, well beyond expectations. A great family business, dealt with all of them - cooperative, patient, positive dialogue, easy to deal with."
"Wonderful people to deal with, and my house looks amazing!! Both Wayne and Matt were fantastic. Consultation and measurements were all done in my home everything arrived as promised and looks perfect. These days customer service means everything and these guys knocked it out of the park. Thank you Grahams I will be back!"