Learn how to make your home Internet of Things ready. Technology is improving and becoming more affordable at an incredible rate. You can make your life easier and benefit from these rapid changes by taking advantage of the Internet of Things. Find out what the Internet of Things is and how easy and affordable it can be to connect common devices like your lighting, heating and air conditioning, kitchen appliances, and vacuums to the Internet. If you would like to have your home decor as up-to-date as your technology, contact the interior design experts at Graham's & Son today. We will come right to your home for a free in-home consultation. We can also show you how easy it is to have all of your window treatments automated.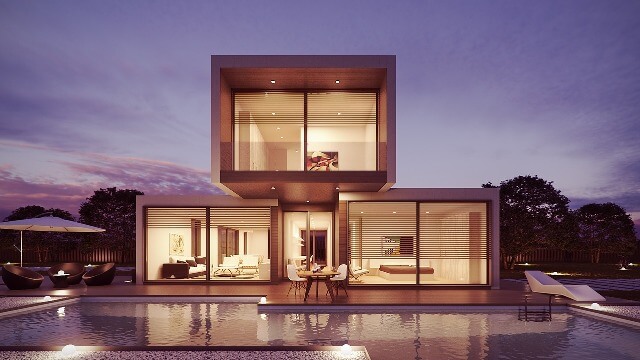 What Exactly is the "Internet of Things?"
According to Forbes magazine, the Internet of things (IoT) is the connection of devices that you can turn off or on to the Internet and to each other. These connected devices could include traditionally "dumb" devices such as coffee makers, washing machines, headphones, lamps, etc. as well as your "smart" devices such as cell phones and tablets. Even components of machines like the engine in your car or a drill on an oil rig can be connected as well. Some analysts estimate that by 2020 there could be more than 100 billion devices connected this way. The Internet of Things also includes people so that in essence people are connected to people, people are connected to things, and things are connected to things.
What are the Advantages of the Internet of Things?
There are countless advantages to having things connected to the Internet and talking to each other. For example,
if your vehicle is connected to your calendar and traffic is heavy, it could send a text to your work letting them know that you will be late
if your office photocopier is running low on supplies it can automatically re-order more.
if you are away from home or on vacation you could turn on your lights remotely to make your house look 'lived-in'
if you have children or pets, automated blinds don't require cords, making them much safer
How to Make Your Home Internet of Things Ready
You can also take advantage of the Internet of Things in your own home. This is also referred to as having a smart home. There are already many devices on the market that you can connect to the Internet such as controllers, lights, heating and cooling devices, kitchen appliances, and vacuums which can make your life easier.
Controllers for your Internet of Things Devices
When setting up your Internet of Things, you will need a central system that will allow you to control all of your connected devices with voice commands or by using a touchscreen.
Amazon Echo:
The Echo is a Bluetooth speaker that is operated by Alexa, the voice assistant from Amazon. Alexa can work a number of smart home devices by the sound of your voice. With the Echo, you can play music, make calls, set alarms and timers, ask questions, check your calendar and control your devices with simple voice commands.
Price: $129.99 from Amazon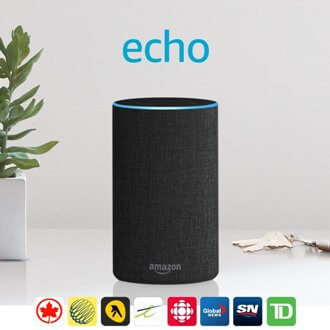 Echo Dot:
The Echo Dot is relatively inexpensive as it can work with your favourite speaker using either Bluetooth or a 3.5 mm stereo cable to make it function with Alexa. It can play music, control your smart home devices, make calls, send and receive messages, provide information, and set alarms.
Price: $69.99 from Amazon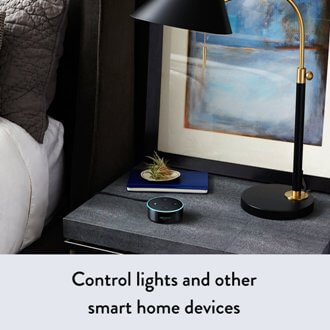 Echo Spot:
If you prefer a touch screen, Echo Spot will allow you to see search results, make video calls, watch videos, set alarms, and show commute times or trending news.
Price: $169.99 from Amazon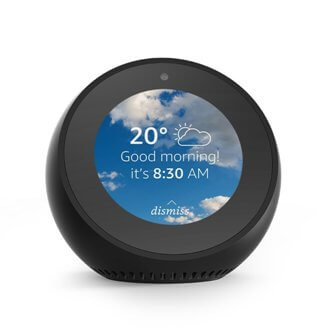 Internet Controlled Lighting for Your Home
Philips Hue Bulbs
With the Philips Hue bulbs you can control your lights using Alexa, Apple HomeKit, and Google Assistant. You can also purchase accessories (sold separately) to expand your lighting system, such as a dimmer switch and motion sensor. With these partner systems you can do cool things like have your lights change colour when your team scores or alert you in case of smoke. You can experiment with 16 million colours and shades of white to get that perfect lighting setting for every mood.
Price: $52.26 from Amazon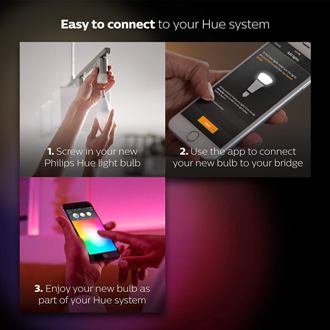 Heating and Cooling with the Internet of Things
Nest Learning Thermostat
The Nest Learning Thermostat 3rd Generation works with Alexa to control the temperature in your home. Its Auto-Away feature adjusts the temperature after you leave so that you aren't cooling or heating an empty home. You can also check your energy history to see how much energy your use and when.
Price: $298 from Amazon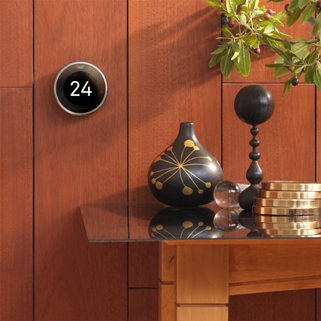 Hisense 10,000-BTU 3-in-1 Portable Air Conditioner with Wi-Fi
This air conditioner is portable and it uses Hi-Smart technology so you can control it from anywhere using your smartphone, Google home, or Amazon Alexa. It comes with a built-in temperature sensor which you can operate from the comfort of your favourite chair.
Price: $479 from Lowes
Kitchen Appliances for the Internet of Things
Perfect Bake Pro
If you love to bake but hate measuring then you might want to check out the Perfect Bake Pro. The virtual bowl on the screen fills up as your pour and tells you when to stop. It can auto-scale recipes for the number of servings that you require and will adjust a recipe if you only have half a bag of chocolate chips. How awesome is that! The following video explains some more of this handy device's great features.
Price: $77.27 from Amazon
Gourmia Sous Vide Precision Cooker
Sous vide cooking, which cooks food sealed in plastic to perfection in a hot bath, is becoming very popular and with the Gourmia Sous Vide Precision cooker it has also become more convenient. It uniformly cooks food to within .1 degrees and can be remotely controlled via Wi-Fi.
Price: $129.99
Vacuum for Your Smart Home
Ecovacs Deebot N79S
If you really hate vacuuming but have avoided buying a robot vacuum cleaner because of the high cost, then you may be excited to know that the Ecovacs Deebot N79S is relatively affordable and it gives you quite a lot for the price. It has a long battery life, manual steering, and is compatible with Amazon Alexa or it can be controlled by an app. Combine this with strong cleaning power and you've got a smart vacuum that is worth checking out. The following video will give you a great overview of the Ecovacs Deebot N79S.
Price: $289.98 from Amazon
For Further Reading:
You may also be interested in our article "How To Make Your Home Smart."
While You are Connecting Your Home to the Internet, Bring Its Decor Up-To-Date As Well
If you are making your home compatible with the latest technology, why not give it a facelift as well so that it looks and acts completely up-to-date. Graham's & Son knows home decor; we have been in the interior design business for over 40 years and we can help you remodel your home with the latest styles and trend. Our expertise and professionalism are second to none. In addition, right now we are offering an amazing deal on all our blinds, shutters, and shades. when you purchase any two, you will get a third absolutely free.
Our customers have been so pleased with the high standard of our work that they selected us for the "Best Business Service – Interior Decorating: Platinum" and "Best Shopping – Kitchen Renovations: Gold" awards in the 2017 Cambridge Times Readers' Choice Competition. Book a free in-home consultation today and find out for yourself why Graham's is the best in the interior design business. Contact us today to schedule a free in-home consultation. If you prefer, you can shop at home. Browse through our website, make your choice, and simply give us a call at 519-658-9025 to place your order without ever having to leave the comfort of your own living room.
"Very happy with the Graham's & Son Interiors in terms of customer service, quality and price as well as workmanship. Can't ask for a better deal. We have already referred your company to three others."
– Jim & Joanne
Read more customer testimonials

Sources:
A Simple Explanation Of 'The Internet Of Things' https://www.forbes.com/sites/jacobmorgan/2014/05/13/simple-explanation-internet-things-that-anyone-can-understand/#7695cc0d1d09