Refresh your décor with customized reupholstery from Graham's & Son Interiors.
1. Average Reupholstery Cost
While it is difficult to project the average cost of reupholstering furniture since there are so many different types of furniture, most people will spend an average of between $200 and $2000 to reupholster their furniture. That being said, people can spend anywhere between $50 and up.
According to HomeGuide, a bar stool will be the cheapest to reupholster and a leather couch will be the most expensive when compared with other types of furniture. Using their guide, we have listed the furniture that is most commonly reupholstered below and showed you in stars how expensive that would be. Keep in mind that there are varying factors which determine price, so keep reading to find out more.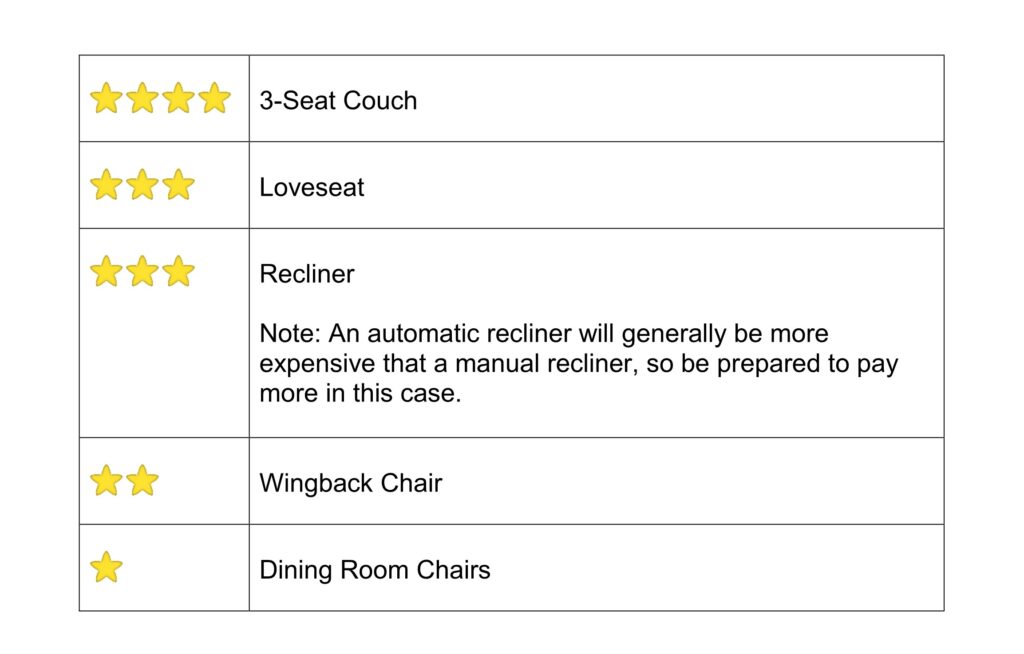 Ultimately, to get the most accurate estimate on your reupholstery cost, you need to contact a professional. A staff member at Graham's & Son Interiors would be happy to help you get started. Contact them for a free in-home consultation.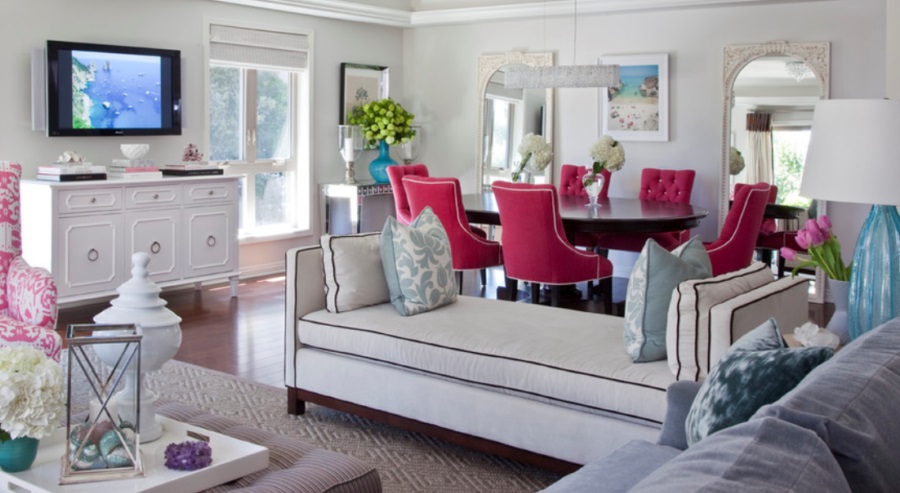 2. Factors Affecting Reupholstery Cost
As you know, it is difficult to provide someone a standard quote for their reupholstery cost since there are a variety of factors that can change the cost of reupholstering a couch from $600 to $1000. 
Here are some factors to consider in reupholstery cost:
Size
As you have probably guessed, the larger the piece of furniture, the more the reupholstery cost. This means more fabric, more time and more labour.
Labour Costs
In the averages above, labour costs have been factored in; however, labour costs will vary depending on the reupholstery you hire.
Repairs to Furniture
Once fabric has been removed and the structure of the piece of furniture is in full view, sometimes damage is evident and the furniture needs to be repaired before being covered up again! This is a cost that cannot be anticipated, but you could keep that in mind when budgeting for your project. Before you begin your reupholstery project, you may want to have a look at this article from Better Homes & Gardens, Crucial Tips You Need to Know Before You Reupholster Furniture.
Fabric
The fabric chosen is another main factor in your reupholstery cost. For example, if you are going to reupholster using fine leather, you will likely pay more (unless you discover a really great sale!). Also, if you are trying to match colours with any existing materials, you will also likely pay more. So do some research about your fabric choices before selecting one. Take some fabric swatches home too, so you can test out the colours or patterns at home to see if they suit your general décor.
Roman Shades are another option for cordless window treatments and although they can be quite expensive, it really depends on the fabric used for making your roman shades. With that in mind, you will find roman shades in the $$ range.
If you watched our first video, you will see an example of Roman Shades by Hunter Douglas. Below we have featured more Hunter Douglas Design Studio Roman Shades which are available with a variety of cordless operating systems like PowerView, UltraGlide and LightRise.
Graham's has a limitless selection of fabrics for your reupholstering
3. Reupholstering vs Buying New
While reupholstering your furniture can be more expensive than buying new furniture, that isn't always the case. You may find that great deal on fabric or the structural quality of your furniture makes reupholstering it more valuable over the long term.
Here are some reasons to consider reupholstering your furniture rather than buying new:
Sentimental Value
Many people choose to reupholster their furniture because it has sentimental value. Maybe you have an antique or other item that was passed down to you from your grandmother and it is simply irreplaceable.
Quality Workmanship
Others decide to reupholster their furniture because it is well-built. Older handcrafted furniture is known for its superior quality and durability. The furniture is structurally designed to last a lifetime and just needs worn out fabric or cushions replaced. My family still has items in our house from my great grandparents and you can see the attention to detail in the woodwork, the careful dovetailing, and more!
Customization
Perhaps you are interested in reupholstering your furniture because you have yet to find what you're looking for on the market or you want a custom look.
Graham's offers a complete renewal or refresh of your antiques
4. Graham's & Son Interiors
Whether you are looking for a custom look, need to update the faded fabric of your favourite chair, or you want to maintain a special family heirloom, Graham's & Son Interiors can help. With over 40 years of experience, Graham's will help you with consultation, fabric selection, labour estimates, and your overall reupholstery cost. Graham's offers in-home consultation, pick-up and delivery! View some of their work in their photo album or chat with them about their upholstery and refinishing services.
With a showroom in Cambridge, Ontario, you can visit Graham's in person. Their current store hours are Monday – Thursday from 9AM-5PM, Friday from 9AM–1PM, or by appointment. You can also give them a call at (519) 658-9025 or email them at sales@grahams.ca. 
They are passionate about interior design as well as quality customer service. As a family business, Graham's takes pride in their expert work as well as the good relationships they have built over the years with the people in Cambridge and surrounding areas. Contact them today or continue reading below for some testimonials to get to know them better.
"Received my furniture back including living room, wing chairs, 4 other pieces. Turned out beautiful, looks like new, well beyond expectations. A great family business, dealt with all of them – cooperative, patient, positive dialogue, easy to deal with. Used their services in the past, again in 2001, and will again if this service is required. Always 100% satisfied."
– Blayne Rennick
"Great experience working with Graham's & Son Interiors. Highly recommend their services. We had excellent service, advise and workmanship right from quote to job completion. All the staff, the owner, project manager, store staff and installers were incredible to work with. Excellent customer service and quality workmanship. Thank you for your help, patience for a job well done!!"
– Karen Darnell