Roman Blinds or Shades allow you to incorporate beautiful fabrics.
1. What Are Roman Blinds?
Roman blinds, also known as Roman shades, are panels of fabric that can be gathered or folded up to allow light in from your window. They are a great window covering option if you like drapes but want the look and practicality of a shade.
Graham's carries hobbled roman shades as well as flat fold roman shades which you can read more about here. You can operate your roman blinds manually or with the help of a cordless operating system which we look at further when we consider the special features of these window coverings.
2. How Much do They Cost?
The cost of these blinds can vary greatly. According to Home Advisor, each shade can cost between $30 to $120. Compared to other window treatment costs, this average is a moderate price. 
So that you are not blindsided when you go shopping, here are some factors that will influence the price of your roman blinds:
Type of Fabric: The quality of the fabric used in your blinds will impact your price. In general, the higher the quality, the higher the price. Also, if you require customized roman blinds, you are more likely to pay more.
Installation Cost: Get a quote before your roman shades are installed so you know what to expect. 
Window Size & Shape: If you have larger windows or irregularly shaped windows, you may pay more for your roman shades.
Extras: Items like liners or motorized operating systems will increase the price of your blinds. An example of this is if you need a black-out liner to darken your room.
For a more accurate idea of how much you will pay for your roman blinds, talk to a window treatment specialist at Graham's.
3. How do They Compare to Other Blinds and Shades?
Many people who are considering Roman Blinds or Shades may also be considering other types of blinds or shades. Here are some things to consider:
Light Control: Roman Shades offer you less light control rather than blinds that can be tilted, but just as much as other shades.
Price: The average cost of roman shades is moderate compared to other window treatments. Compared to traditional vinyl blinds, they may be more expensive but less expensive than cellular or solar shades. 
Privacy: Depending on your chosen fabric(s), Roman Blinds can do just as good of a job as giving you privacy in your home as any other blinds or shades. 
Wear & Tear: Since Roman Shades are typically made from fabric, they are susceptible to fading with exposure to sunlight. However, you may find materials that are specifically designed to resist fading.
4. Styles of Roman Blinds
Roman Blinds come in all sorts of styles. As noted earlier, you can get a hobbled fold style which means the excessive fabric creates a billowy gathering of material when closed. Or you can get a flat fold style so that the fabric lays flat when closed. there is also a roman shade that gathers at the sides and forms a swooping, curved edge. See the picture below!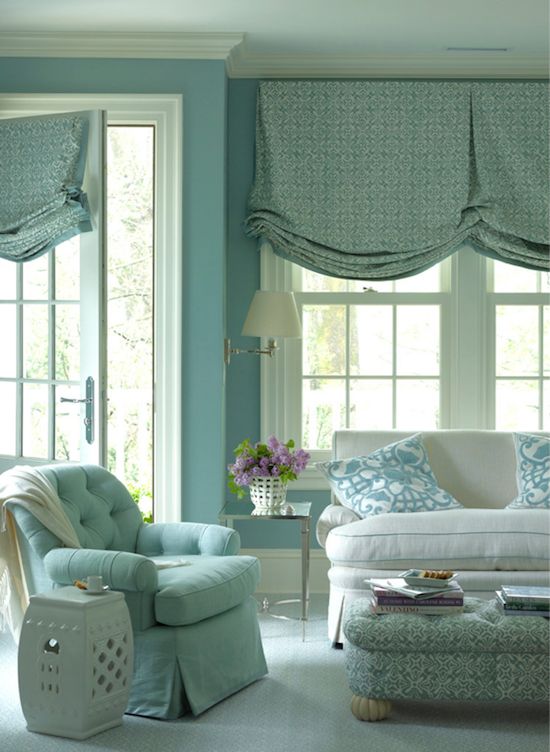 Swooping Style Roman Blinds
You can also consider a hybrid which is a blend between cellular shades and roman shades like Solera Soft Shades by Hunter Douglas that are specifically designed for increased energy efficiency and sound absorption. Another option from Hunter Douglas is the Vignette Modern Roman Shades known for their clean look and enhanced child safety. Watch the video below to learn more about the many options available with these modern shades.
5. Special Features of Roman Blinds
If you watch the video above, you will discover that there are a lot of extra features you can get with your blinds. Besides choosing between the hobbled fold, stacked styles and flat fold styles, you can also choose Top Down Bottom Up styles and Cordless Operating Systems.
Top Down Bottom Up:
Traditionally, these blinds have been opened one way and that is from the bottom up. Now providers like Hunter Douglas are offering a twist – you can open your shades from the opposite end, top down. Or, you can adjust your shades so that you can have openings on top and bottom. Watch the video above for an example of this, or check out the picture below. Read more about Top Down Bottom Up from Hunter Douglas.
Cordless Operating Systems:
Our top suppliers; Graber, Hunter Douglas and Maxxmar all offer a variety of operating systems with their Roman Blinds. While the options may vary depending on the specific product, here is a summary of what they have available. You can get manual cord operations, motorization or smart home features like voice control. Contact Graham's Specialist to find out what options are available with your Roman Shades.
Graber
Hunter Douglas
Maxxmar
Motorization – MaxxMotor & Somfy (Child-Safe)
Plastic or Metal Beaded Chain
DecoraSafe – Concealed Cord (Child-Safe)
Genius – Pump Action System (Child-Safe)
6. Graham's & Son Interiors
With so many extra features and fabrics available, as well as factors to consider when buying roman blinds, we recommend that you contact a specialist at Graham's and Son Interiors for a better idea of the cost. They offer a FREE In-Home Consultation and will respond quickly with expert advice that goes beyond this blog post!
With over 40 years of experience and knowledge of the interior design industry, Graham's can help you find roman shades of any style and for any budget. As a small business that is family-owned and operated, they are about quality products and quality service.  
Located at 9 Queen Street East, Cambridge, ON  N3C 2A7, you can visit the team in person at the showroom, or you can call (519) 658-9025. Visit the website for more information or to book your free consultation. The team is excited to serve you!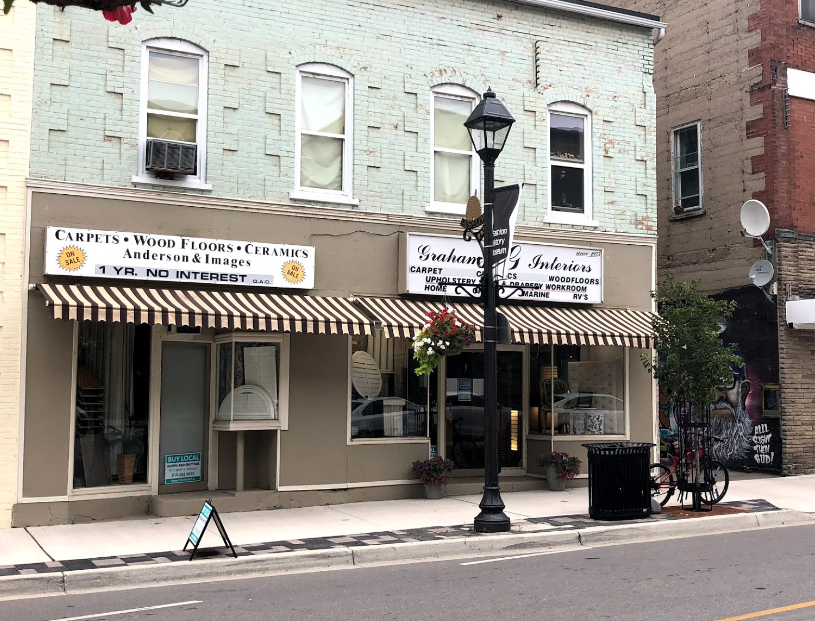 "Graham's Interiors recently installed approximately 24 blinds at our new office location. The blinds work great with the features exactly as described. The quality exceeded our expectations and their recommendation of Wayne was perfect. Their years of experience and knowledge really showed in this installation. Great job!! Thanks again!!" – Edward Smith
"We purchased roller shades from Graham's & Son. Measurements were done at home, very professional and knowledgeable on product offerings. Prices were comparable, we had shopped around. Blinds were delivered directly to our home and were very easy to install." – Theresa Kuntz