Whether it's Graber vertical blinds like these or custom curtains, Graham's can help!
Vertical Blinds vs Curtains
1. Vertical Blinds and Curtains: A Summary
Before we begin our comparison of vertical blinds vs curtains, let's start by making sure it's clear we know what vertical blinds and curtains are. Vertical blinds are slats of material that slide sideways as opposed to up and down like horizontal blinds. The individual slats can be thin or wide like panels. They can be made of fabric, metal, vinyl and other manmade materials like wood, real or faux. They are generally chosen for larger windows and patio doors like the sliding doors that adjoin to backyard patios. For more information about vertical blinds, have a look at another one of our blogs, Vertical Blinds: 5 Things You Need to Know.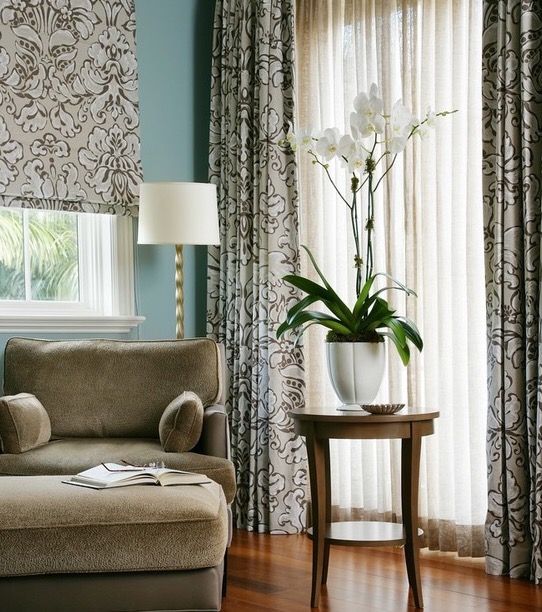 Curtains are easily customized and can be layered for a luxurious look.
Based on a recent visit to homeadvisor.com, the average cost of a panel of vertical blinds is between $30 and $80 USD. For large sliding doors, the cost is in the higher range. The following factors will determine the cost of your blinds:
Size of windows or doors
Materials used (In general, vinyl is the least expensive and wood is the most expensive)
Motorization
Installation Costs
It is somewhat harder to estimate the cost of curtains because that depends on the type of materials used and the cost of the fabric itself. It is suggested that "most homeowners pay around $370". Remember, this is in USD and will depend on the materials used. That being said, generally, curtains will be more expensive than a set of vertical blinds, but it depends on the specific type of blinds or curtains you choose. For a more accurate quote, it is best to contact a consultant like those at Graham's. 

Long, thick curtains that fall to the floor in a puddle are generally considered to be drapes.
As briefly mentioned earlier, vertical blinds are typically made from fabric, metals like aluminum, vinyl and other manmade materials, or a type of real, faux or composite wood. 
Fabric:
Fabric is a great option if you want versatility. A wide variety of fabric materials are available and you can get sheer blinds or heavy blinds that block the light. The only downside to having fabric vertical blinds is that they may fade with exposure to sunlight and can be more difficult to clean when compared to metal or vinyl blinds. Occasionally vacuuming will help clear up dust.
Aluminum:
Typical metal blinds are made with aluminum. This is a unique but modern-looking option. Although they can bend under pressure, these blinds are generally durable. They are also easy to maintain since cleaning simply involves wiping the slats down with a wet cloth or duster. 
Vinyl:
One of the most inexpensive materials available for your vertical blinds, vinyl blinds make an economical choice. Like metal blinds, vinyl blinds are easy to clean (wipe down with a wet cloth and dust to maintain) and can last a long period of time. You may see materials like PVC which is also a type of vinyl or plastic. 
Wood:
Wood is a classic look, but is prone to warping and can be costly. Composite materials that are designed to withstand wear and tear may be more economical. Again, like vinyl and metal, blinds made from wood or faux wood are pretty easy to keep clean. Follow care instructions or check out this blog from Chet's Cleaning for tips on how to clean your blinds.
There are so many different materials used for curtains which are why they are so versatile and perfect for customizing your home! Here are some sample materials that are used for curtains:
Light Curtains:
Light-Heavy Curtains:
Cotton or Cotton Blends
Linen or Linen Blends (Linen & Rayon)
Silk
Synthetic Blends
Velvet
4. Style / Aesthetic Appeal
While your choice between vertical blinds vs curtains is based on your personal preferences and budget, these window treatments are generally associated with certain styles. Vertical blinds have a more contemporary style based on one's preference for practical, everyday use. Curtains on the other hand tend to create a more classical and traditional style which can be, depending on the materials and hardware used, can be quite dramatic and theatrical even. 
Another thing to consider is vertical blinds made from larger panels or vertical blinds that are made with sheer materials and look like a blend between curtains and blinds. Have a look at these 2 styles below.  Or, better yet, get a free in-home consultation from Graham's and talk to an interior designer to get an idea of what would best suit your personal style! 
With advancements in technology comes motorized options for vertical blinds and curtains, but be prepared to pay a bit more than for your manually operated window treatments. It is also important to note that motorization options seem to be rarer for these 2 types of window treatments since a wand or your hand does the trick easily! Nevertheless, there are some options that are available, including Hunter Douglas's Powerview ® Automation which we have featured in the video below. Ask a Graham's expert for more information about which window treatments come with motorization so you aren't disappointed as you decide between vertical blinds vs curtains!
Discover Powerview® Automation from Hunter Douglas.
If you still have questions about vertical blinds vs curtains, Graham's can help you decide. With over 40 years of experience in interior design, Graham's can direct you to the best window treatments for your style, your lifestyle and your budget. They offer free in-home consultations and are committed to quality products and quality services. They are a locally-owned business in Cambridge, Ontario, and would love to meet with you to understand what it is that you are looking for and direct you to what is available.
Once you decide on a window treatment, vertical blinds vs curtains, Graham's will do all the measurements, ordering, and installations. They will also ensure that you are satisfied with the end result. Contact Graham's for the best results! 
"We had wooden blinds installed in every window, together with an automatic awning when we first moved into our house nearly 7 years ago. Graham's & Sons provided excellent guidance and the installation was prompt and friendly. Recently we had an issue with one of the blinds not opening properly. A representative came to our house and resolved the issue to our complete satisfaction AND at no charge. I highly recommend Graham's & Sons to anyone looking for professional and friendly service." - Gerry Colquhoun
"A great family business, dealt with all of them - cooperative, patient, positive dialogue, easy to deal with... Always 100% satisfied." - Blayne Rennick