Wondering what options are available for specialty shutters? Graham's & Son Interiors offers a variety of shutters that can be customized to suit your needs, style and budget! Let's look at some of the styles.
Keep reading to learn more about the many options available for your custom shutters. Or, if you already have a style of shutters in mind, Contact Graham's here or click the button below to get started with your order! Order today and take advantage of their Buy 2 Get 1 Free Promotion on All Shutters, Shades, & Blinds!
Specialty shutters can be customized for windows or sliding doors just like you see here in this lovely dining room.
Your Guide To Specialty Shutters
Shutters are a classic window treatment that has been around for years. It is no wonder they can be customized to suit the preferences of each individual. Shutters come in different styles and can be categorized as follows:
1. Exterior & Interior Shutters
There are 4 main exterior shutter types which you can read more about in the article, Here Are the Four Types of Exterior Window Shutters:
Bermuda
Board & Batton (BnB)
Louvred
Panelled
The 2 main types of interior shutters are: 
California Shutters
Plantation Shutters
These are the most popular shutters homeowners choose when treating their windows and doors. These shutters are almost the same except for their louvre size.
California shutters have louvres that are traditionally 2.5 inches while plantation shutters have louvres of 3.5 inches. Learn more about the differences by reading our blog, California vs Plantation Shutters Designer's Guide. The chart below also shows some of the differences. Generally speaking, California shutters are recommended for smaller windows while plantation shutters look great on large windows and doors.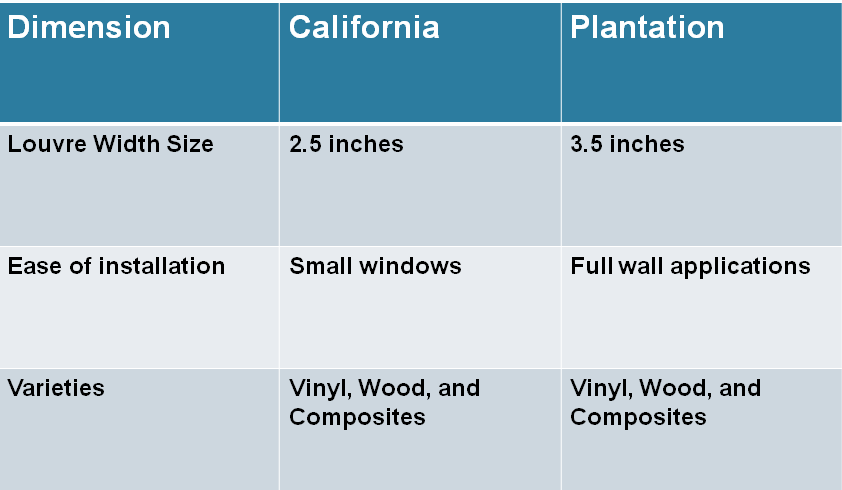 2. Varieties of Interior Shutters
Once you select your louvre size, you can also choose between different varieties. Here are some:
Café-Style
Full-Height
Tier-on-Tier
Bypass Track Doors
Bifold Panels
Below are some pictures of these varieties and some advice on when these styles are useful.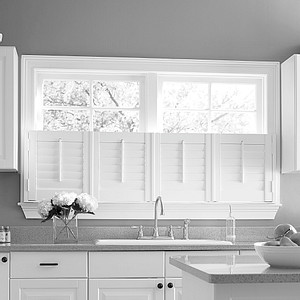 Useful for rooms where both privacy and sunlight are desired.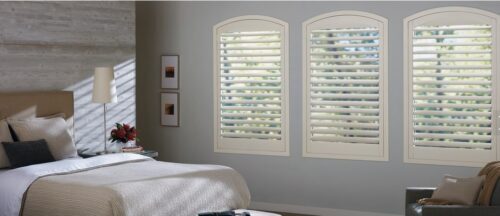 Useful for complete privacy and room-darkening.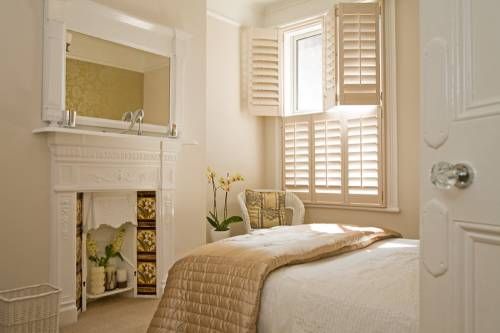 For control over which parts of the shutter you want to be left open or closed.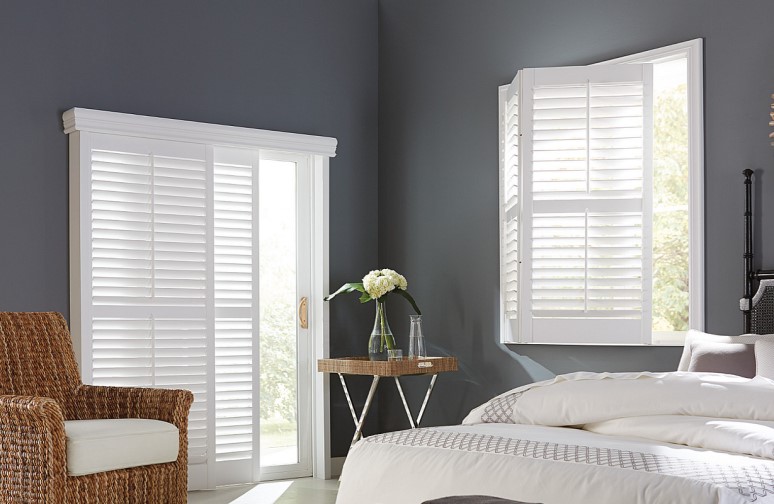 Useful for patio doors when you want to slide the panels back and forth for exiting and entering doors.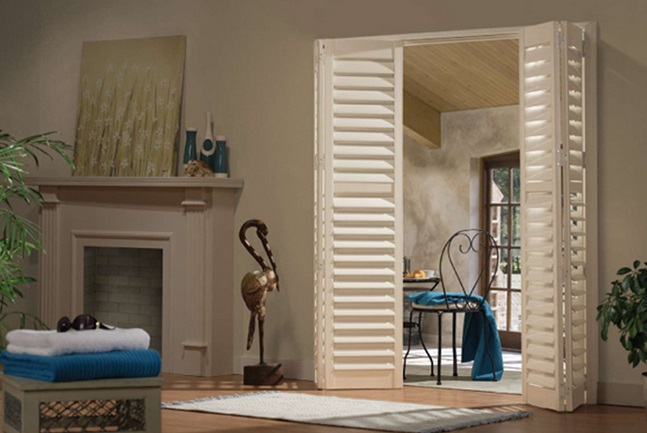 Useful for doorways or on large windows where a clear view or entrance is desired. They can even be used as a type of room divider. e
See some examples of the different varieties and styles of shutters in the video below from Hunter Douglas.
Watch the video to see some custom shutters from Hunter Douglas.
3. Materials
Shutters are always being made from new materials. In the past, shutters were first designed with marble in Ancient Greece. We've come a long way since then and now you'll see shutters made from these three most popular materials:
While wood is generally considered the most expensive material, it is durable and natural. With technological advancements, composite materials are also designed for longevity and may even outlast wood. Vinyl tends to be the most economical option and is easy to maintain. Beware though, vinyl shutters may not be as customizable.
Contact an expert to learn more
.
4. Colours
Shutters can be customized with a wide range of colour options! While the traditional colours are white and wood stains, you can get them painted in almost any colour!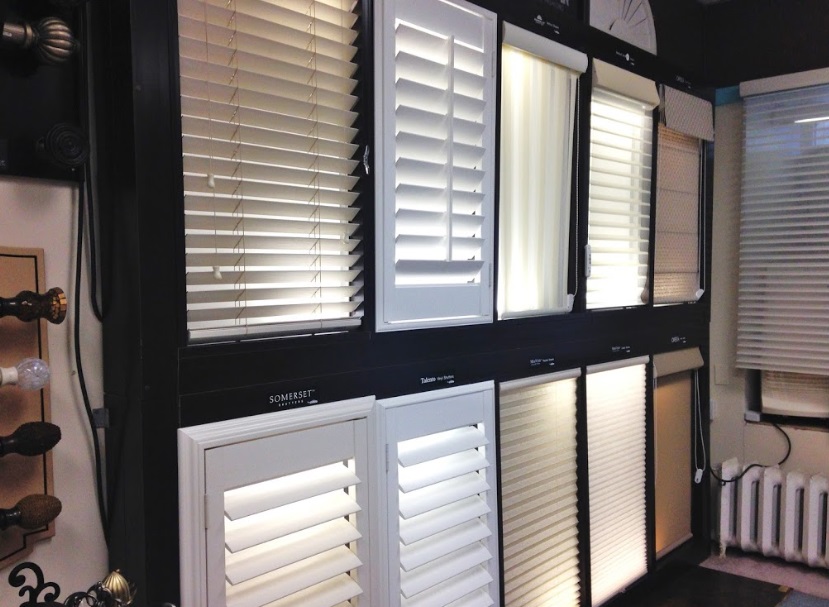 Visit Graham's showroom to see what shutter styles and colours are available!
The beauty of specialty shutters is that the shape of your shutters can be adjusted to fit a specific window shape, and custom-built to fit your décor. Depending on the brand or make, shutters can be adapted for the following shapes: 
Arches
Eyebrow Arches 
A-Frames
Inverted A-Frames
Circles
Angles
Octagons
Hexagons
Watch the video below to get an idea of Maxxmar's specialty shutter shapes.
Your specialty shutters can be fit to unique window shapes!
If you are a homeowner who is interested in specialty shutters, Graham's has something for you. As a renovation company specializing in window treatments for over 40 years, you'll receive the following perks:
Superior & Friendly Customer Service

High-Quality Shutters

Competitive Rates
Perfect Measurements & Installation
A FREE In-Home Consultation
They also specialize in the following top brands:
Maxxmar – 100% Canadian Owned & Operated!
Have a look at their gallery or browse the photos below to see some samples of their work. Also, don't miss their testimonials at the end!
Graham's will transform your home!
If you would like to learn more about our incredible Buy 2 Get 1 Free Promotion, specialty shutters, other window treatments, or any of our other home renovation services, Contact Us!  
We make it our aim to help each of our customers find the perfect window treatments for their home, office – or even that vacation home that needs an update! We personally visit you to determine your style and to take measurements. We will also take care of the ordering and installation.
"We needed something (shutters) custom and unusual for our window, we called a few places with no luck, found Graham's and Son Interiors. They worked with us and we got exactly what we hoped for. Great customer service. We would definitely go back and recommend to our friends and family."