In this blog, Graham's is showing off 8 great modern bathrooms. We'll highlight some of the unique features and characteristics of each design. You can click on each of the links below to see a certain style or keep reading to scroll through them all!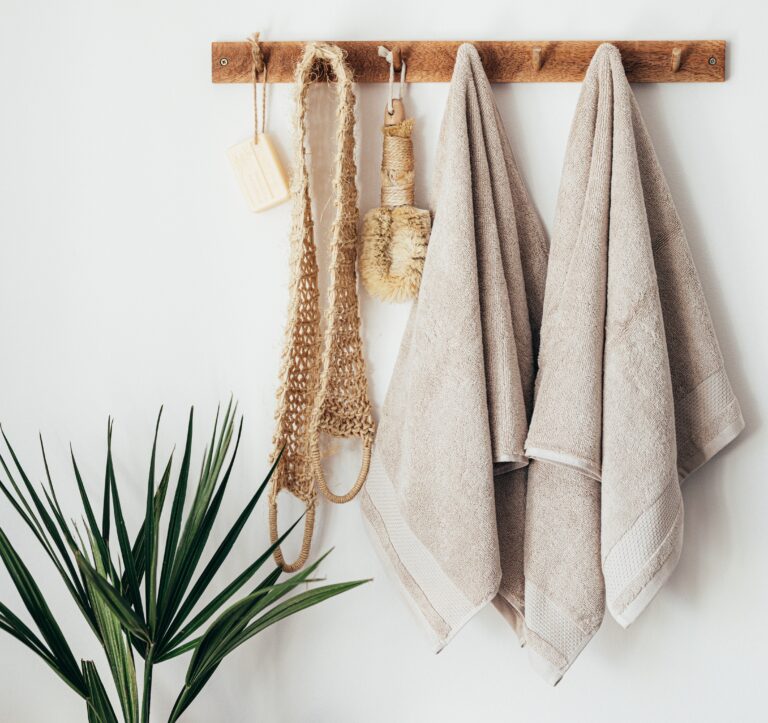 Modern bathrooms are often described as sleek, geometric, minimalist and natural.
We chose this first example of a modern bathroom because of its warm wood textures. There is warmth and relaxation brought on by the natural wood materials here and our curiosity is peaked by the lines and angles on the wall. Even the unique angle of the sink makes it extra sleek.  
Image Source: Jonathan Borba  
This next bathroom features wood but it is in contrast with the dark, marbled tiling. More contrast is also added with the white tub, sink and drawers. Again, you see natural materials, sleek installation of the vanity and tub, as well as clear and clean lines throughout. This design also saves a lot of space, so you could use these ideas for a small bathroom. 
Image Source: Victoria Akvarel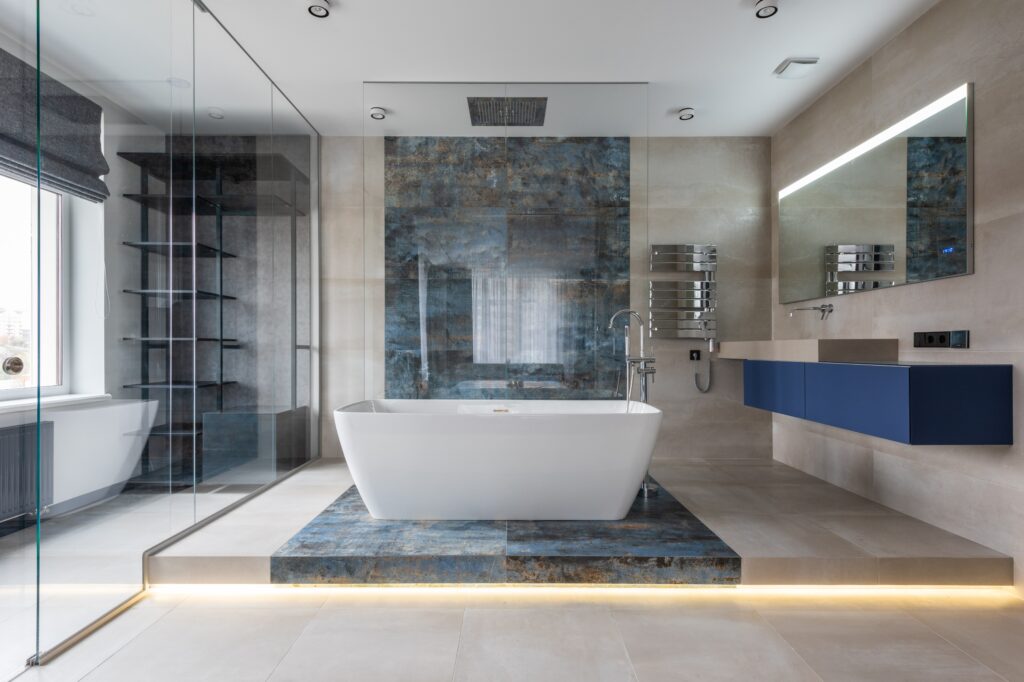 This bathroom features a deep free-standing tub centred in the room set against a backdrop of marble. This gives the impression that there is some sort of tapestry behind it and carpet below it. The glass is another natural element that makes this bathroom look modern. We love how the blue vanity is sleek and coordinates with the blue shades in the marble. The vanity and sink hint at cubism as well.  
Image Source: Max Rahubovskiy 
Many people like the clean look of a white bathroom such as this. This bathroom is basically white with shades of gray. Any one of your favourite colours would pop on this backdrop. The flooring appears to be a type of marble and the tub is set off at an angle behind the door. The angle of the right wall, the straight lines of the vanity and the double oval-shaped sinks create simple, geometric pleasantries.
Image Source: Jean van der Meulen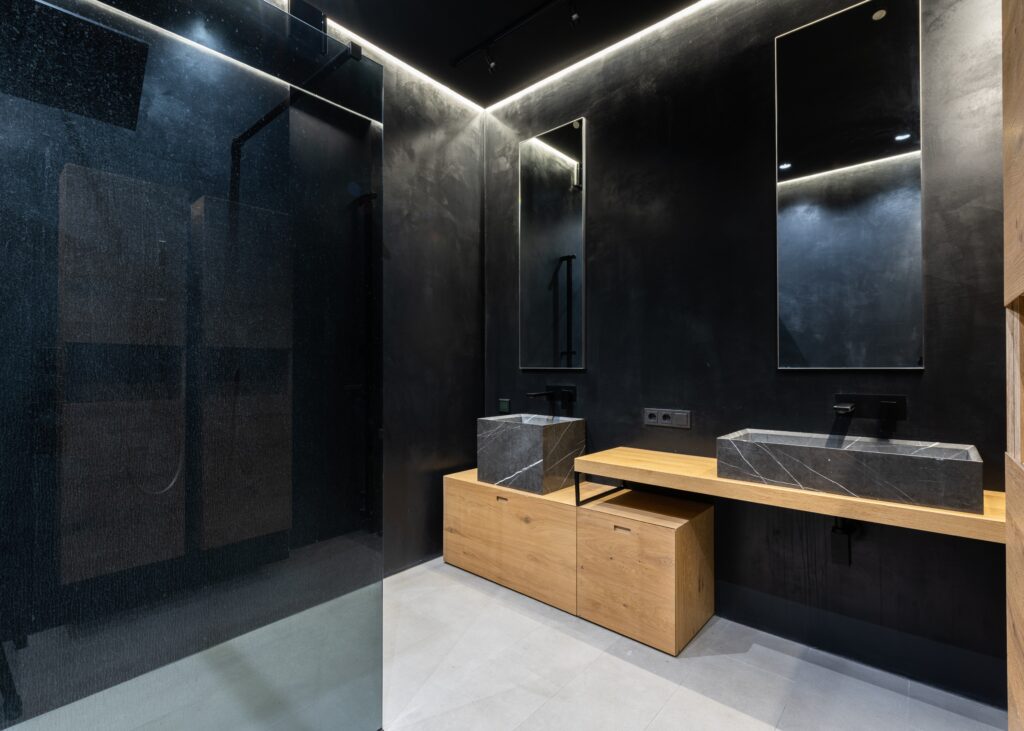 5. Dark & Moody Minimalist
Minimalists love modern bathrooms. This bathroom features marble sinks that look like rectangular prisms, the one on the right almost appears to be floating. The glass and wood elements give it warmth while the lighting above and the flooring below bring out the streaks of white in the marble below. 
Image Source: Max Rahubovskiy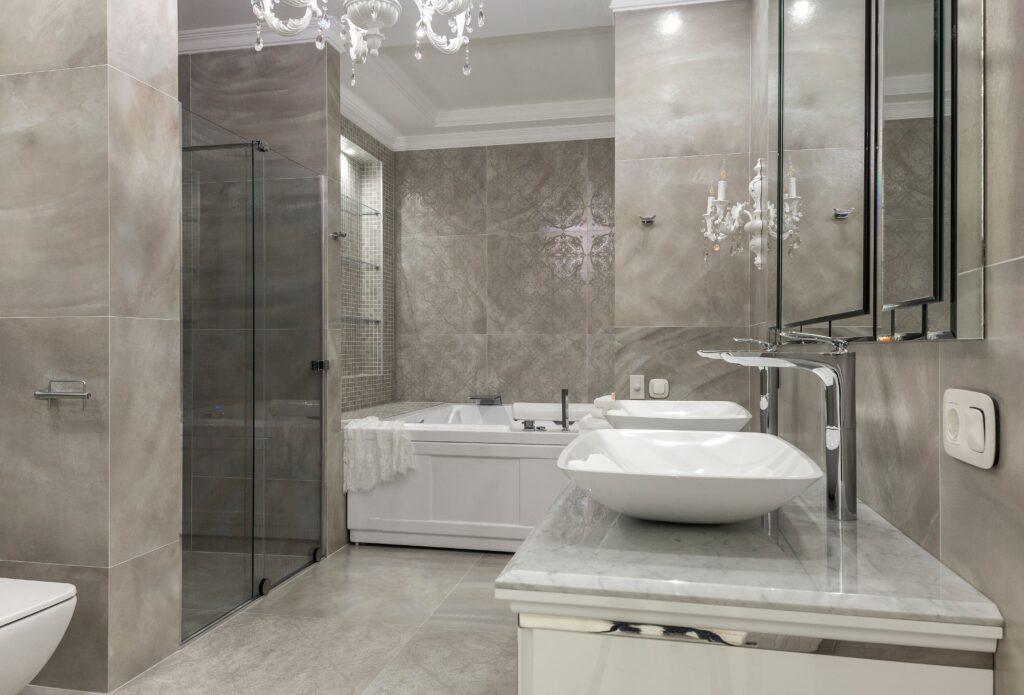 This design is quite luxurious with its fill of marble, overhead chandeliers and intricate sconces. What makes this style modern is the materials used: marble and glass. The designer made good use of space with built-in shelving above the bath and thought of convenience with the installation of a double sink. 
Image Source: Max Rahubovskiy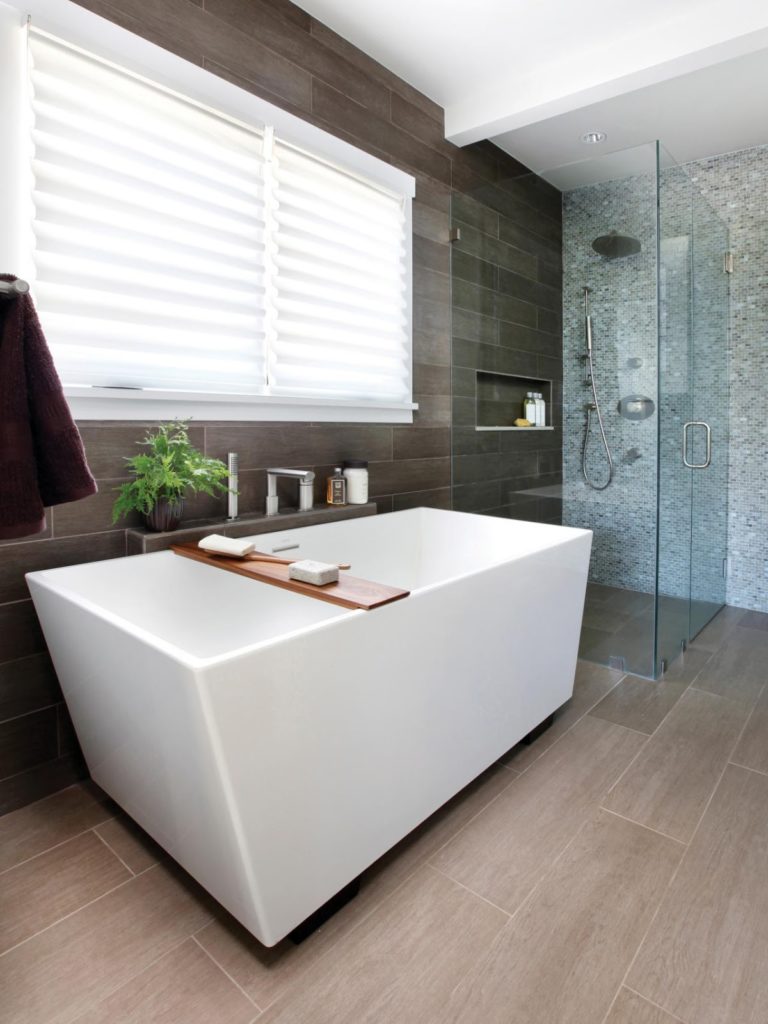 Some modern bathrooms can be too minimal or stark in style for some people's tastes. This bathroom is different. The blend of natural colours throughout the wall tiling, floor tiling and shower tiling adds warmth while simultaneously maintaining clean lines. We feel this bathroom is refreshing in its simple, natural look. The large tub and shower shout relaxation and one can imagine being outdoors.  
Image Source: NORD Architecture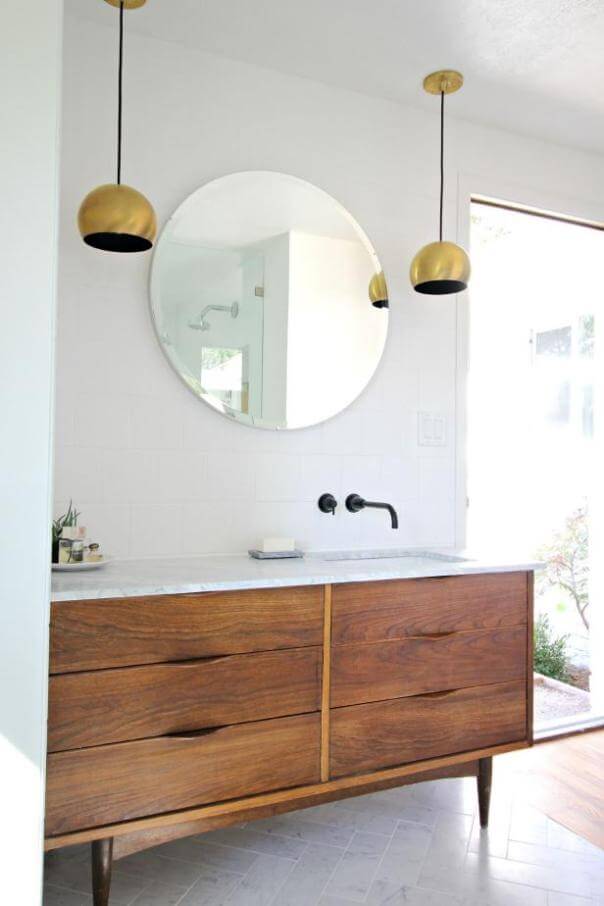 This modern bathroom features a mid-century wooden vanity. The gold pendant lamps hark back to decades past and the white marble tiles offset the countertop of the vanity. The circular mirror fits perfectly with the lamps and the feet of the vanity balance with the sink fixtures. 
Image Source: DigsDigs
Graham's & Son Interiors offers complete bathroom renovations and can offer you any bathroom style that suits your preference, including modern bathrooms. They will install your new bathroom as well as finish the interior decorating of it. They offer FREE In-home consultations so they can learn your preferences and help you meet your budget. They will do all the measurements, ordering and installation. 
With over 45 years of experience as a local, family-owned business, you can trust your bathroom renovation to Graham's. Contact them to learn more or to get started with your bathroom renovation.
"Great experience working with Graham's & Son Interiors. Highly recommend their services. We had excellent service, advise and workmanship right from quote to job completion. All the staff, the owner, project manager, store staff and installers were incredible to work with. Excellent customer service and quality workmanship. Thank you for your help, patience for a job well done!!"
"We had an extensive home renovation completed by Graham's & Son Interiors. The finished product is an amazing transformation which came alive with the help of the design team and especially the very hard work done professionally by their contractor."
Located in Southwestern Ontario, Graham's serves customers in
Cambridge, Kitchener, Waterloo, Guelph –
and the surrounding areas!