With summer just around the corner, why not consider solar shades from Graham's as a new window treatment for your home? In this blog, we will look at what solar shades are, how to use them and what different options are available. See some examples along the way, too!
Click on the links above to jump ahead or contact Graham's to speak with someone directly about solar shades.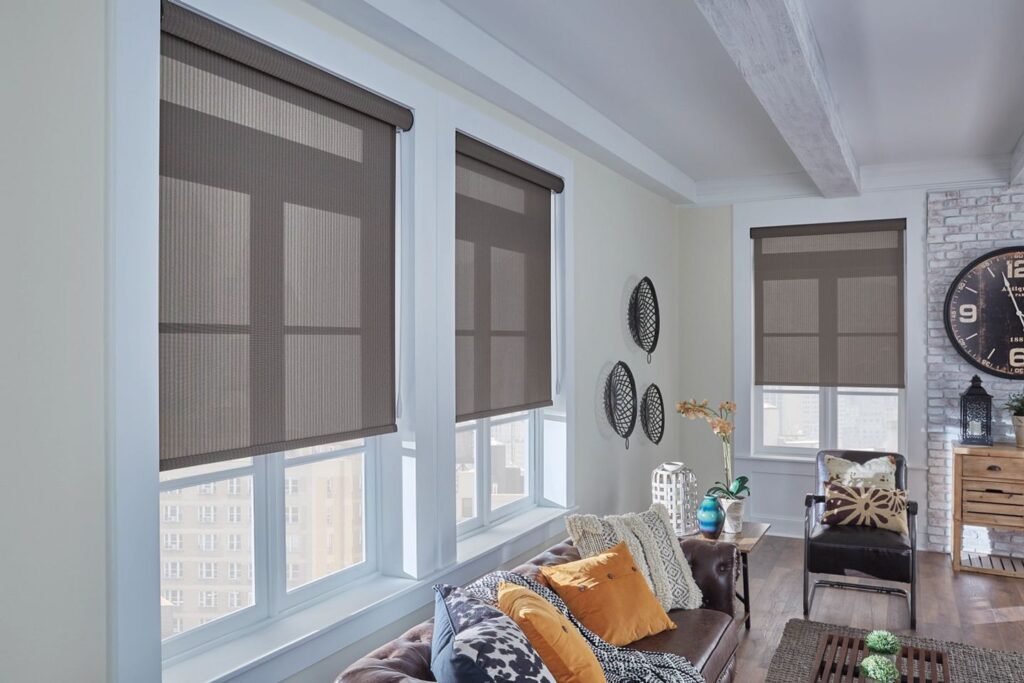 These solar shades are perfect for windows facing south.
1. What are solar shades?
Definition
Sometimes referred to as sun shades, solar shades are a type of roller shade/blind that is made of protective, UV-blocking fabric or other materials which vary in opacity. You can get sheer solar shades that allow a lot of light to filter through or more opaque solar shades that block a greater amount of light from passing through the shades. 
Benefits
This window treatment is an ideal choice because of the following reasons:
Solar Shades provide a view of the outdoors while maintaining privacy and reducing the glare portrayed on TV and computer screens

Solar Shades help protect

furniture from

fading – even preventing damage to carpet, hardwood and artwork

Solar shades help keep your rooms cooler in the summer, helping you to reduce your energy costs
These are also a great choice for people who live in hot climates or for anyone with rooms that get a lot of sun exposure
Origins
These shades likely originated from paper and developed into the spring-loaded form we now know today as new technology became accessible through the industrial revolution and beyond. As technology continued to develop, shades were created to be safer, more durable, and easier to use.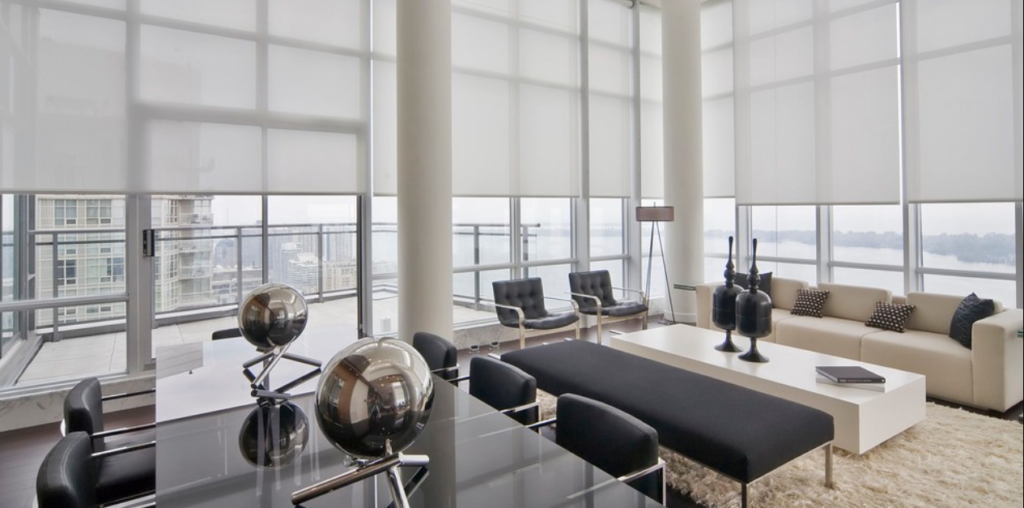 Solar shades are especially useful in rooms with plenty of sun exposure.
Function
As mentioned earlier, solar shades are so simple to use. They are cordless, which is a safe option if you have young children or pets. They can be moved up and down manually by hand or by automation such as PowerView® Automation for Hunter Douglas, Maxxmar's Motorization, and MaxxMotor & Somfy. You can also quietly adjust your solar shades with Graber's UltraLite Lift System.
Mounting
Solar Shades can be mounted to a ceiling, wall, window or door frame. They can also be secured at the bottom of a window or door with brackets or they can hang loosely; however, it is recommended that solar shades are secured on doors.
Cleaning
Solar shades can be dusted for light cleaning or wiped clean with a cloth dipped in warm soapy water. However, be sure to let them dry before you roll them up! This may damage your blinds. If you have exterior solar shades, however, you might need to remove them and use a gentle brush to clean stains. 
Design
Solar shades come in various sizes and styles, but all look great on windows as well as doors, especially French doors. For sliding doors, sliding panels are a great alternative. Watch the video below to learn more. 
Solar shades can also come as panels like you see from Graber in the video above.
Interior vs Exterior Shades
The great thing about solar shades is you can use them indoors or outdoors! Exterior solar shades differ from interior solar shades in that they are designed to withstand the weather. When fitted to the outside of windows, they help add another layer to block the sun. 
Styles
Graham's has a wide collection of solar shade styles including:
Jacquards
Stripes
Woven Textures
You can also add the following decorative elements:
Whatever look you want, Graham's can help you express your unique creativity!
Design Ideas
If you want to add more dimension and texture, try pairing solar shades with drapes.
You can also try what Better Homes & Gardens suggests and add some exterior solar shades to your balcony or patio! You can lower them for privacy and shade or open them for a clear view and some Vitamin D!
And if Solar Shades are not your thing, read about other options in our blog post, 8 Stylish Window Treatments. You can also learn more about the types of blinds and shades in our other blog, Blinds vs Shades: Which Are Best For Me?
Solar Shades from Graham's & Son Interiors
With Graham's & Son Interior's wide collection of options and friendly service, you'll want to choose them for your next interior design project. Graham's can order and install your new solar shades or provide you with coordinating drapes and even reupholstery for a complete makeover! Take advantage of the current Buy 2 Get 1 FREE Promotion on any Blinds, Shades, or Shutters!
Serving the Tri-cities of Cambridge, Kitchener and Waterloo, Graham's welcomes customers to their showroom. They can also visit clients personally via their free in-home consultations. Contact them today for your new solar shades. Or find out about their other products and services. 
"We worked with Graham's and Son on our new vacation home to install a solar blind system. From the get go, they were were informative, professional, communicative and just a pleasure to deal with. These folks know their stuff and as an exacting customer who cares about quality and aesthetics, it says a lot that they have my full trust! Their recommendations were spot on, the installation was fast, and the final product is just beautiful. We plan on putting in a few more blinds based on their recommendations - they have years of experience and they are great people as well. Highly recommend working with them. Thanks guys!"
"We purchased roller shades from Graham's & Son. Measurements were done in home, very professional and knowledgable on product offerings. Prices were comparable, we had shopped around. Blinds were delivered directly to our home and were very easy to install."