From wooden mirror frames to claw-foot tubs, there are plenty of farmhouse features for traditional bathrooms.
Farmhouse Features for Traditional Bathrooms
Before we look at the features that create the traditional farmhouse bathroom, let's review the warm and inviting features that create the look of a traditional bathroom in general:
Neutral colours
Symmetry
Wall sconces 
Warm wood furniture or décor
With that in mind, now let's turn our attention to some more specific examples. 
This photo has a few features in it that create a farmhouse style, such as:
Tulip-shaded sconces

Wood stands

Woven baskets
Medicine cabinet with distressed finishes
Neutral colours
However, the main farmhouse features are the farmhouse sinks! Deep and wide, these sinks are perfect for making a splash!
In this blog, you'll notice wall sconces in many of our feature photos. While not the feature element in this bathroom, we are pointing it out because they are a common theme in traditional bathrooms.
You can add different shades in different colours, but light and neutral-coloured shades are ideal. Or, get a real rustic look with industrial sconces.
And how could we not point out this fabulous, vintage-looking copper tub? You could pair it with other casual or fancy furnishings.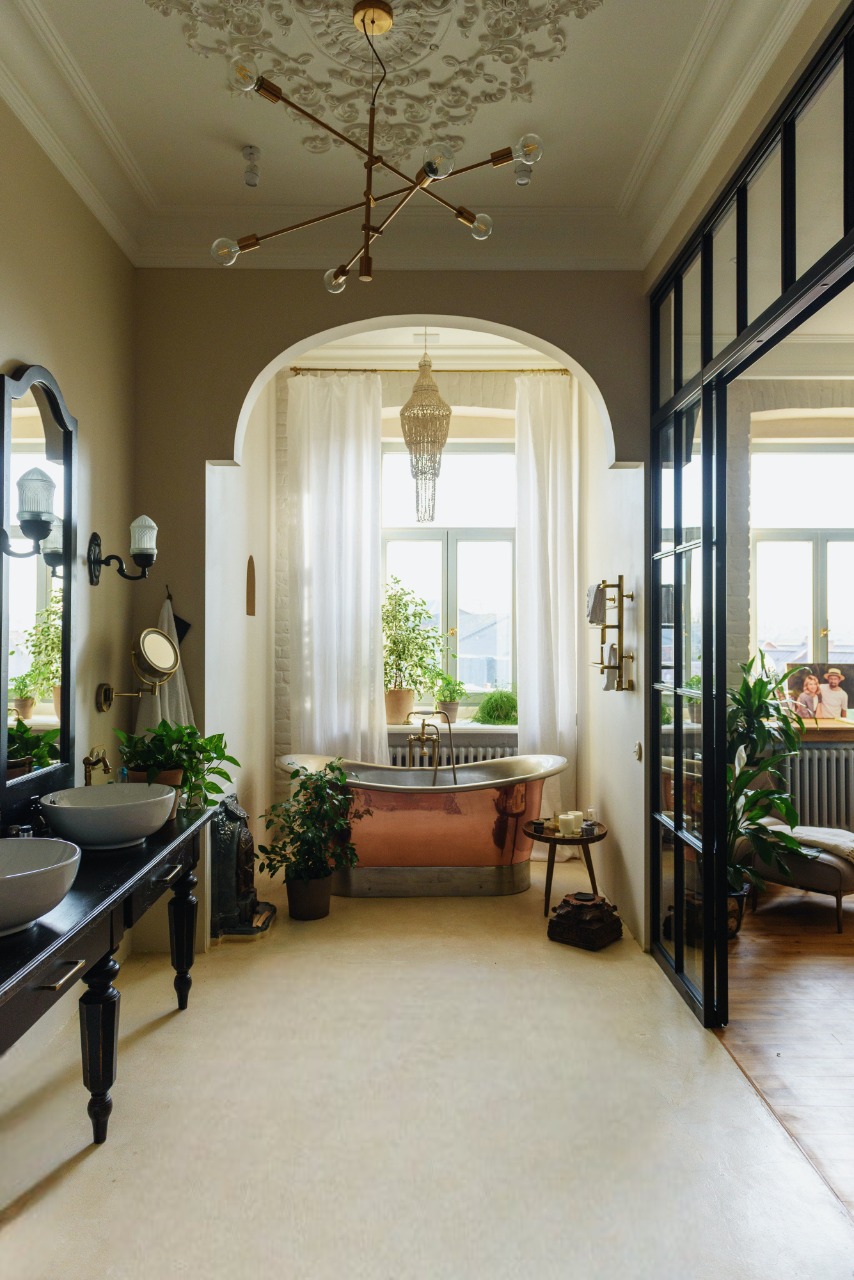 Super elegant, this luxurious bathroom features upscale traditional bathroom features such as:
Wall sconces with matching chandelier

Warm wood 

Metal detailing

Symmetrical mirrors and framed art
But, like our previous photo, the main farmhouse feature here is the knock-out claw-foot tub in burnished metal!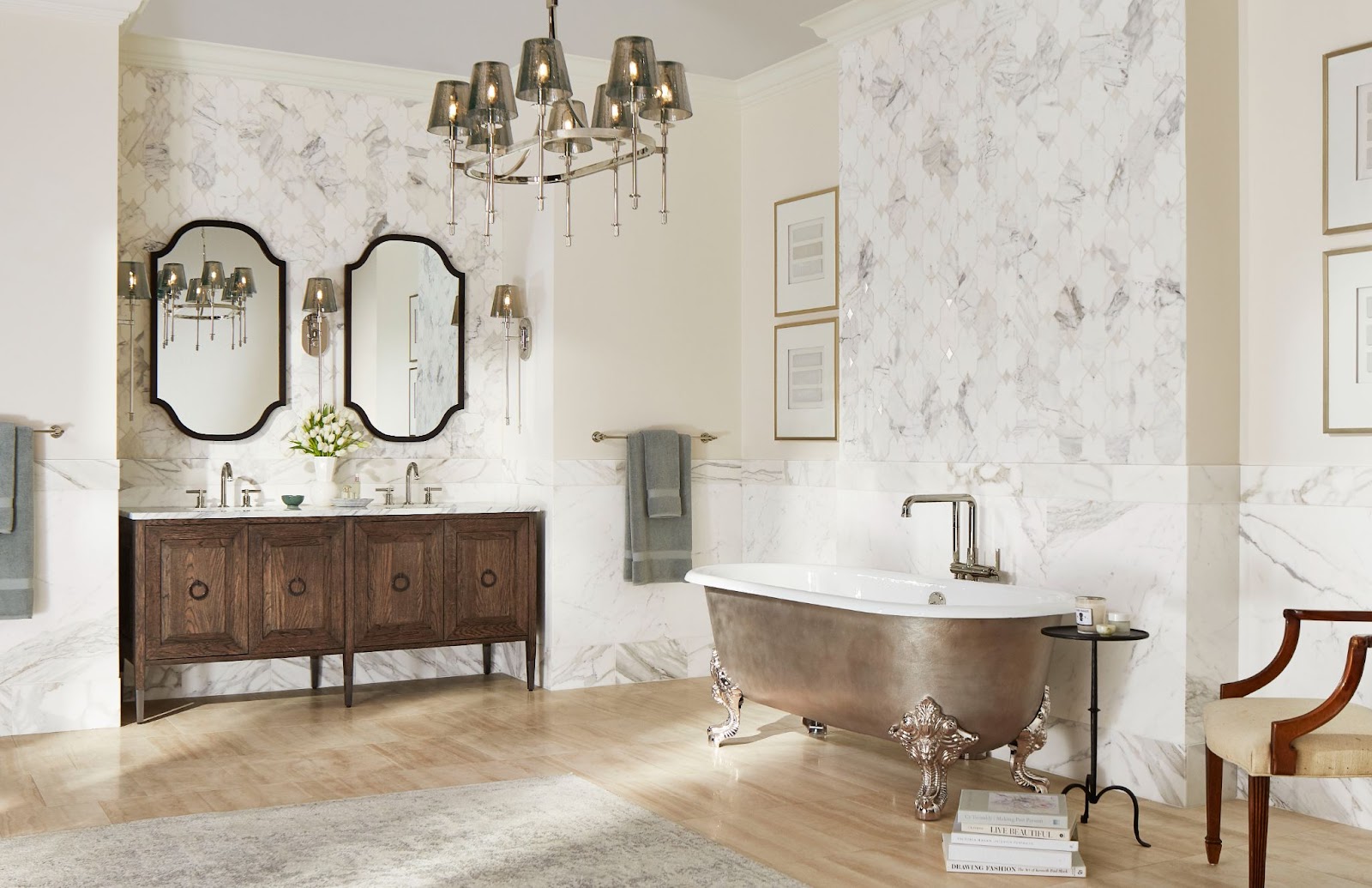 4. Country Wood Panels / Shiplap
What makes this traditional bathroom suit the farmhouse style is the country wood paneling. You can also get this look with shiplap. 
The floor tiling also creates that country feel and provides some nice contrast with the soft blue and white. 
The tiling also coordinates with the vanity top, adding to the complexity of this design. 
We imagine a white wooden-framed mirror above this vanity, too!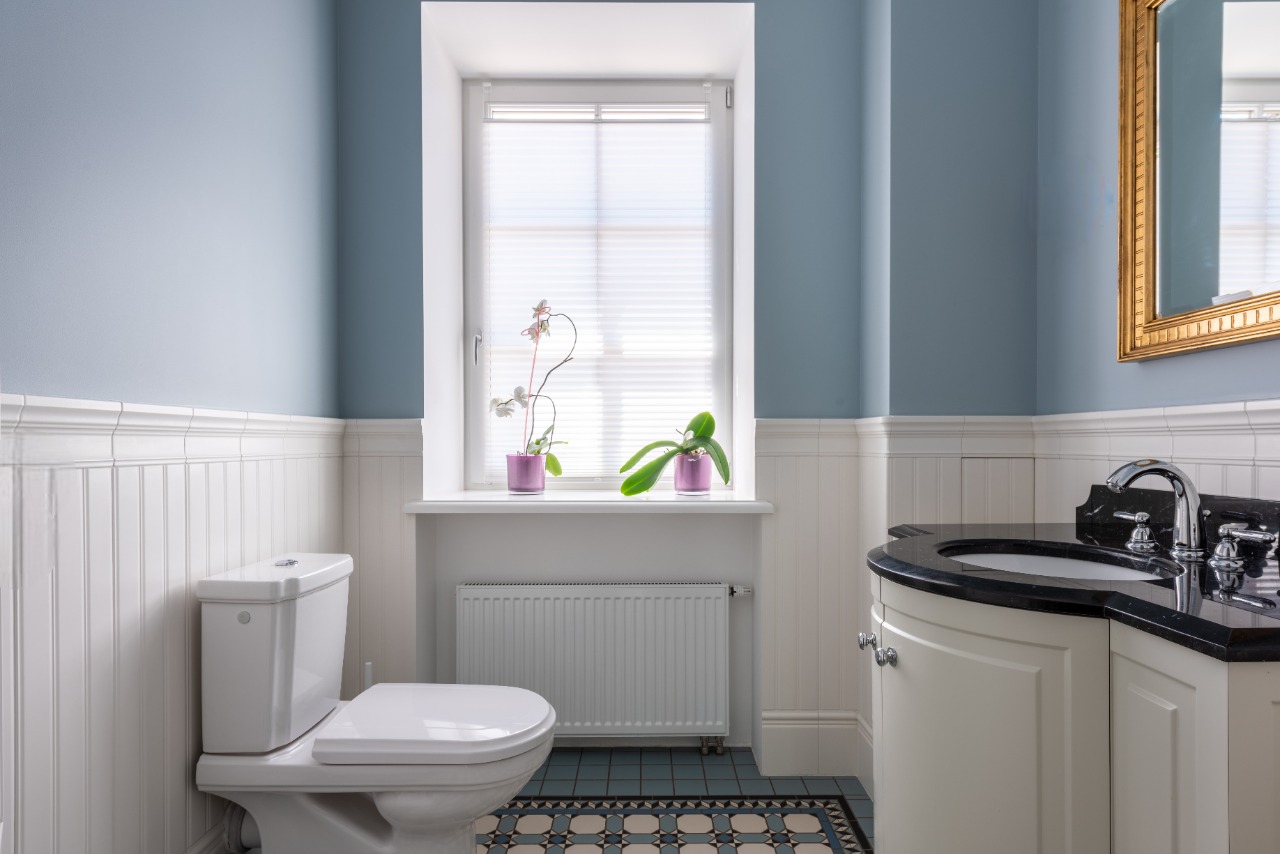 This bathroom just screams country charm with its cheerful bouquet of yellow flowers on the windowsill and its cute patterned curtain! 
However, the main farmhouse feature we want to point out here is the use of knotty pine. 
You can see that the natural wood shelf and mirror frame have been whitewashed. It looks traditional yet slightly contemporary.
The open-concept shelving also creates that country feel, and you can see everything you need daily access to.
Perhaps you could add a wall sconce here in this bathroom – and don't forget about the possibility of new flooring to match!
Wood, wood and more wood!  Traditional bathrooms love those warm wood tones! The main farmhouse feature here is the use of wood, particularly the exposed wooden beams above which are absolutely stunning!
Other features that create a traditional bathroom style are:
Symmetrical mirrors
Wall sconces
Neutral colours
This bathroom could also be categorized as modern because of the vanity's angular legs. 
If you want to create a traditional bathroom with that farmhouse feel, think of adding antique furnishings. In this example, you see that an antique wooden bench has been included. The proportions of this 3-seater bench are symmetrical to the 3 framed pieces of artwork above. We love it!
The vintage feel is also created with the:
Claw-foot tub
Wood flooring
Exposed brick
Keep in mind that you can personalize any upholstery in your bathroom – imagine how you could put your own spin on this bench cushion.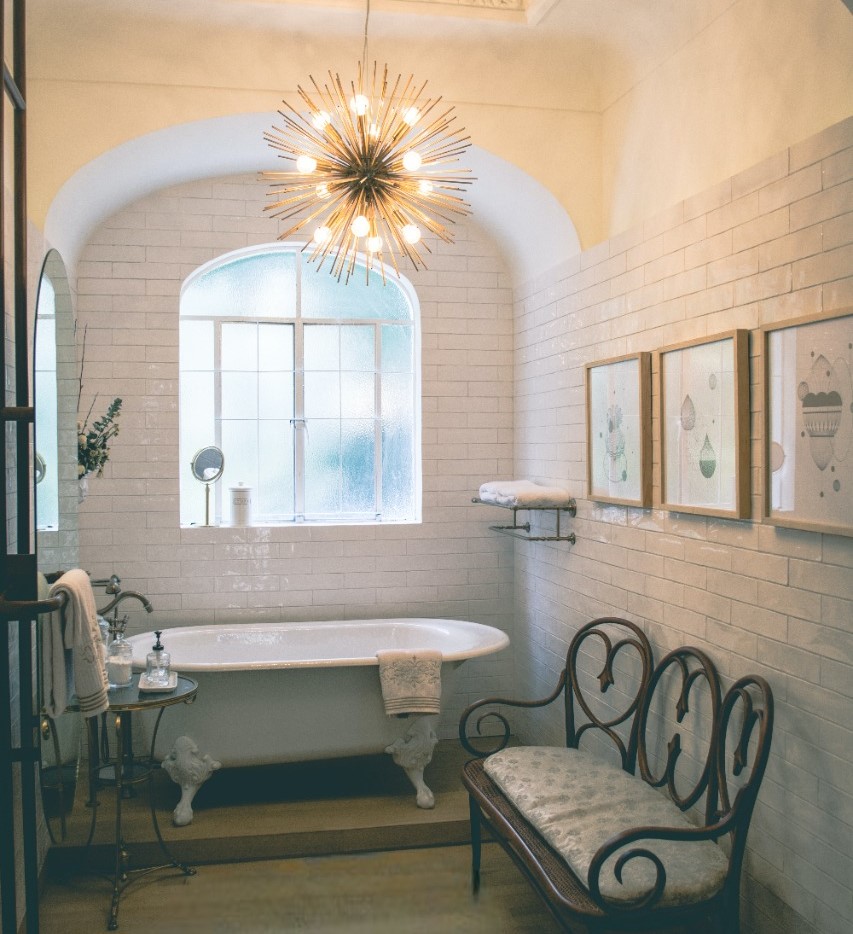 Earlier we showed a picture of a bathroom with exposed wooden beams. While the wooden beams created that farmhouse feel, high ceilings can create the same effect.
While this picture is an oldie, it's still a goldie because it shows a high vaulted ceiling with large windows.
If you have an airy, open-concept bathroom with a high ceiling, consider adding other farmhouse features as you see here: 
Warm wood vanities with curved legs
Symmetrically placed mirrors and wall sconces 
A big, soaker tub
This traditional bathroom has just a hint of farmhouse without being out of place in modern homes. 
We hope you've been inspired by all of these options for traditional bathrooms. Whether you want one of the farmhouse features we highlighted in this article installed in your traditional bathroom or you have something else in mind, Graham's can help! And if the traditional style isn't one you love personally, see our article 8 Gorgeous Modern Bathroom Ideas. 
Received a FREE In-home consultation and plan your bathroom renovations with Graham's. With almost 50 years of experience, you can trust that you will get quality products and quality service from a local and family-owned business. 
Contact Graham's to get started today or browse the gallery to see samples of our work and get even more inspiration.

"Great experience working with Graham's & Son Interiors. Highly recommend their services. We had excellent service, advise and workmanship right from quote to job completion. All the staff, the owner, project manager, store staff and installers were incredible to work with. Excellent customer service and quality workmanship. Thank you for your help, patience for a job well done!!"
"Wonderful people to deal with, and my house looks amazing!!"